Latinx Heritage Month Coloring Pages
Latinx Heritage Month, also referred to as Hispanic Heritage Awareness month is celebrated during the month of September. Click and print from our library of free coloring pages featuring important people to study during Latinx Heritage Month.
Celebrating those with Hispanic heritage is an important step in creating an inclusive environment for all kids. These coloring pages are free to use at home, school, and church. We hope you will share these free resources with other educators. Click the thumbnail for a free full sized image. We do not require anyone to sign up for our emails or pay for the current coloring pages. We simply ask that you share this page and site with others. If our site continues to grow I can justify adding more and more free resources. I would rather create free coloring pages for teachers to use than list on sites that charge a fee. I would love for this site to provide more and more free resources for teachers! Thank you for visiting! You never have to click on an ad, but just being here and sharing with others who can use activity sheets helps this page grow. Thanks for stopping by!
Coloring Pages for Latinx Heritage Month
Click the link for Women's History Month coloring pages which has a full sized image of AOC to instantly download.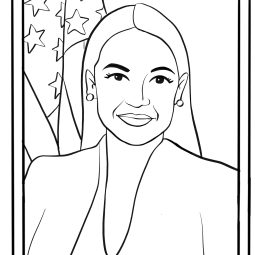 Dolores Huerta Coloring Page – also available on the Women's History Coloring Pages Collection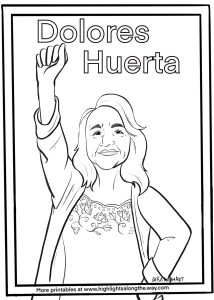 Frida Kahlo Coloring Page– Click the thumbnail drawing or the link for a full sized coloring page