LEGO Ninjago Coloring printables
Disclosure: This site uses affiliate links
Below are LEGO NINJAGO printables, coloring sheets, and activity sheets for your family. Print them all or pick and choose. LEGO Ninjago is one of our family's favorite movies. NINJAGO themed birthday parties can use these free printables as fun activities and even decor! LEGO fans are sure to enjoy printing these fun high resolution activity sheets from their home computer! Enjoy! A big thank you to LEGO for allowing us to share there printables with our readers. Free printables are a really fun activity for kids. Make sure to check out our entire free printable library. We have fun and educational printables that are perfect for the days ahead.
Learn with LEGO during your social distancing time! Amazing selection of LEGO
here! LEGO sets help with fine motor skills, problem solving, math, and are just plain fun.
If you enjoy the printable coloring sheets featuring LEGO Ninjago, make sure to check out our printable section featuring Raya and the Last Dragon, Flora and Ulysses Coloring Sheets, Go Dog, Go! Coloring sheets Gabby's Dollhouse Coloring Sheets , We Can Be Heroes Coloring Sheets, Sharkboy and Lavagirl Coloring Sheets, American Girl Doll Coloring Sheets , Olaf Coloring Sheets, Coco Coloring Sheets , Trolls Coloring Sheets , and so many more on our site!
LEGO NINJAGO MOVIE PRINTABLE COLORING SHEETS
LEGO NINJAGO PRINTABLE ACTIVITY SHEETS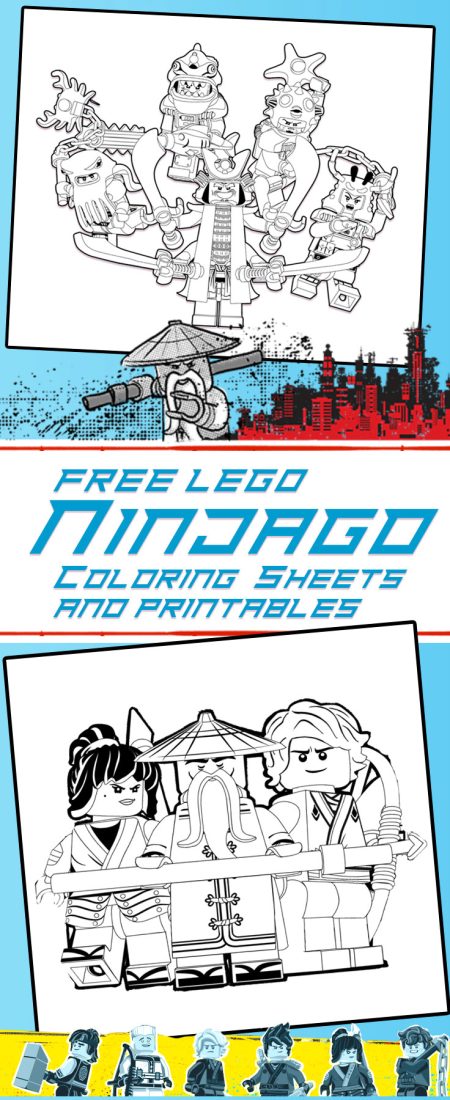 Our family fell in love with The LEGO MOVIE when we were lucky enough to attend an early screening. We sat behind Chris Pratt and Anna Faris in a North County San Diego Movie Theater and didn't know what to expect. We thought it would be fun, but we were blown away by how much it appealed to our whole family. We were thrilled to hear another LEGO Movie was about to hit theaters, and today I am sharing licensed The LEGO NINJAGO Printables that you are free to print from home.
We can't wait for The LEGO NINJAGO Movie to open in ten days from today! I am sure our kids are going to love it. In the meantime, to tame our excitement we are enjoying printing out these fun coloring pages and activity sheets from The LEGO NINJAGO Movie. We are excited that they have lots of fun characters for everyone!
Below you will find two The LEGO NINJAGO printables / coloring pages, one The LEGO NINJAGO Movie maze, and also a The LEGO NINJAGO Movie 'find the warrior' activity sheet. Print out one or all! Make sure to pin on Pinterest to use later.
MORE FREE PRINTABLES HERE!
FREE Nature Themed Printables from WWF – click and print for FREE!
FREE Melissa & Doug Printables – print from home to learn and enjoy!
FREE Taco Bell Printables – so fun and may inspire a trip through the drive thru!
We love sharing LEGO NINJAGO printables and FREE Printables on our site. All printables in our library are either made by us, or shared with permission by the movie company promoting a new film. All are free to print and share. All of our printables are high resolution and easy to print at different sizes. Make sure to check out Our Free Printables library for coloring pages, activity sheets, and even party decorations! Printables are the perfect rainy day activity, inexpensive classroom craft, or birthday party entertainment. Check out our original The LEGO MOVIE printable activity book that you can still print out today!
If you haven't yet heard of this new family film, you can watch The LEGO NINJAGO Movie Trailer below…..
The synopsis from The LEGO NINJAGO Movie official….
"A new animated adventure in Warner Bros. Pictures' LEGO® franchise, "The LEGO NINJAGO® Movie" stars Dave Franco, Justin Theroux, Fred Armisen, Abbi Jacobson, Olivia Munn, Kumail Nanjiani, Michael Peña, Zach Woods, and the legendary Jackie Chan. In this big-screen NINJAGO adventure, the battle for NINJAGO City calls to action young Master Builder Lloyd, aka the Green Ninja, along with his friends, who are all secret ninja warriors. Led by Master Wu, as wise-cracking as he is wise, they must defeat evil warlord Garmadon, The Worst Guy Ever, who also happens to be Lloyd's dad. Pitting mech against mech and father against son, the epic showdown will test this fierce but undisciplined team of modern-day ninjas who must learn to check their egos and pull together to unleash their inner power of Spinjitzu. Jackie Chan ("Kung Fu Panda," The Karate Kid") stars as Master Wu; Justin Theroux ("Megamind," "The Leftovers") is Garmadon; Dave Franco ("Neighbors 2: Sorority Rising") plays Lloyd; and Olivia Munn ("X-Men: Apocalypse") is Lloyd's mom, Koko. Making up the secret ninja crew, Michael Peña ("Ant-Man," "The Martian") is Kai; Fred Armisen ("Portlandia," "SNL") voices Cole; Kumail Nanjiani ("Silicon Valley," "The Big Sick") is Jay; Abbi Jacobson ("Broad City") plays Nya; and Zach Woods ("Silicon Valley," "The Office") voices Zane. "The LEGO NINJAGO Movie" will be directed by Charlie Bean, Paul Fisher and Bob Logan. The screenplay is by Bob Logan & Paul Fisher & William Wheeler & Tom Wheeler and Jared Stern & John Whittington, story by Hilary Winston & Bob Logan & Paul Fisher & William Wheeler & Tom Wheeler and Dan Hageman & Kevin Hageman, based on LEGO Construction Toys. "The LEGO NINJAGO Movie" is produced by Dan Lin, Phil Lord, Christopher Miller, Maryann Garger, Roy Lee, and Chris McKay. The executive producers are Jill Wilfert, Keith Malone, and Seth Grahame-Smith. The creative filmmaking team includes production designers Kim Taylor (visual effects, "The Great Gatsby") and Simon Whiteley (visual effects, "Moulin Rouge!") The film is slated to open on September 22, 2017, in both 3D and 2D. From Warner Bros. Pictures and Warner Animation Group, in association with LEGO System A/S, a Lin Pictures/Lord Miller/Vertigo Entertainment Production, "The LEGO NINJAGO Movie" will be distributed worldwide by Warner Bros. Pictures, a Warner Bros. Entertainment Company."
The LEGO NINJAGO MOVIE hits theaters on September 22nd and we can't wait to share a full review!
We love sharing free printables and we hope you love them too. If you know someone else who is excited about The LEGO NINJAGO Movie, would you be so kind as to share this with them? Share on your Facebook page, Pin on your favorite Pinterest board, maybe send an email to a friend who is a LEGO fan. If you blog about LEGO and want to share a link to our printables that just really makes our heart sing! We truly appreciate you sharing our content! It helps keep the lights on over here on Highlights Along the Way and it really makes our day to see our content shared, thank you in advance!