LEGOLAND Hotel Review
Disclosure: We were hosted at The LEGOLAND Hotel as part of a movie press junket. While our stay was complimentary, we were not at all required to share. I thought it was fantastic and wanted to share without any obligation. This site uses affiliate links.
The LEGOLAND Hotel in Carlsbad California is perfect for any LEGO Maniac!  Located steps from LEGOLAND, California, it is the best addition to a family trip.  There are many family friendly hotels in Carlsbad, but there is no hotel that is so uniquely themed for LEGO fans. The LEGOLAND Hotel is lots of fun, but a stay includes breakfast, free parking, early park admission, and even a scavenger hunt with a small LEGO set as the prize!  We have found that booking with Get Away Today is an awesome way to get a deal at the LEGOLAND Hotel, The LEGOLAND Castle Hotel, and tickets to the theme park at a discount! I always suggest checking out rates with Get Away Today first and compare – we personally have not been able to beat their rates. Because Get Away Today loves our readers, you can get a bonus $10 off by using the code HIGHLIGHTS on your SoCal family vacation bookings!  Check out their Discount LEGOLAND Hotel rates and then look through the pictures and videos of the hotel below!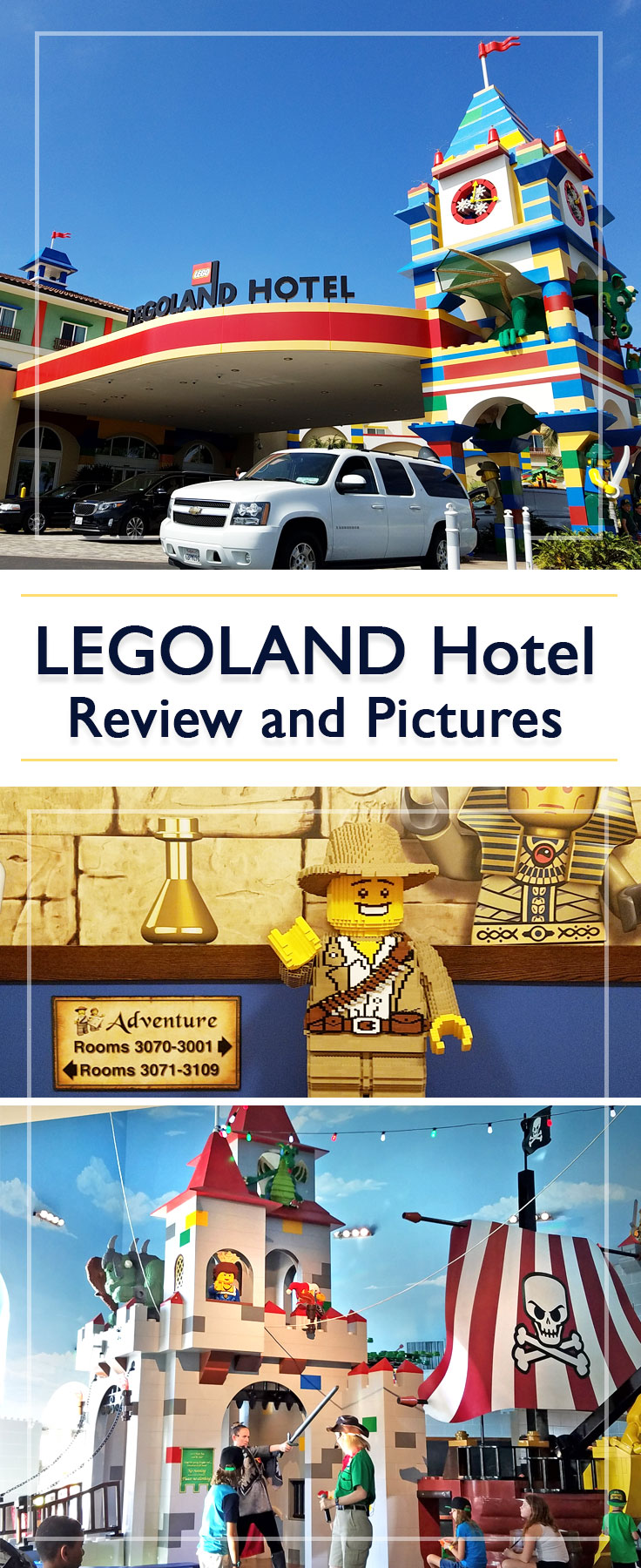 The LEGOLAND Hotel is located steps from the LEGOLAND, California entrance. LEGOLAND California is located in beautiful the beautiful sea side city of Carlsbad in North County San Diego. It is a lovely place to spend a family vacation.  If you are a LEGO maniac, a stay at the LEGOLAND Hotel is really something you should do at least once.
From the moment you step in the lobby you will see this hotel is unlike anything you have ever seen.  It is downright magical and themed from top to bottom. Our kids played on this pirate ship for two hours and lamented when I said we had to leave for a bit.
Our stay at The LEGOLAND Hotel was downright magical.  We stayed in an Adventure Room and the kids were thrilled.  The room is inspired by mini LEGO hero, Johnny Thunder.
One thing we love about the LEGOLAND Hotel is that there is a separate space for adults and kids. When you first walk in the door you will see a kid's space with a trundle bunk bed.  Three kids can comfortably sleep in the front area.  The bunk bed area comes with it's own TV and adorable decor.  As you walk further into the space you will see the fully themed bathroom. On the other side of the bathroom is a king sized bed with another flat screen television. I love my family, but a traditional hotel room can feel a little cramped.
Photo by Be Brave, Keep Going
The details are perfect for families and unlike any other hotel. LEGO maniacs will love finding the creative LEGO figures throughout the room and bathroom. Kids are given a scavenger hunt at check in that will lead them to the secret code for the safe in the room.  Each safe contains a prize for each child that is staying.  Spoiler alert, the prize is a small LEGO set to take home!  Rooms are also stocked with a bin of LEGO bricks to play with during your stay. Our LEGO fans were thrilled with every detail.
Take a tour with us here…
Our family was able to check visit The LEGOLAND Hotel during opening weekend several years back.  We were able to stay in a Kingdom room.
LEGOLAND California is less than 30 minutes from our house. We have grown up visiting and have written about our adventures several times.  Make sure to check out our post about our favorite new ride – LEGO NINJAGO. Also, if you are going to the LEGOLAND Resort, make sure to spend at least one day at the LEGOLAND Waterpark!
The LEGOLAND Hotel is a splurge during peek season, but it has so many perks!  Guests can choose from five different themed rooms that most fits their favorite LEGO play.  Guests of the hotel enjoy early access to the park so they get the most out of their visit.  Guests also enjoy a FREE breakfast buffet at Bricks Family Restaurant to fuel up before a day of play.  There are also several play areas that are exclusively for guests of the hotel and nightly children's entertainment.
Check out LEGOLAND Hotel rates with Get Away Today first!  They have always had the best prices when I have checked!
We were able to visit the LEGOLAND HOTEL as part of The LEGO NINJAGO Movie press junket. I will share all about that the second I am allowed!  Thank you again to LEGOLAND for being fantastic hosts and making us feel like family.