Lin-Manuel Miranda shares what being a part of Mary Poppins means to him!
Disclosure: #MaryPoppinsReturnsEvent was hosted by Disney. This site uses affiliate links.
Any fan of musicals knows the name Lin-Manuel Miranda.  Not only is he an unparalleled Broadway sensation, he is the uncontested most likeable human being on the planet.  Lin-Manuel fans all but lost their minds when they heard that he would be playing the character "Jack" in Disney's newest film, Mary Poppins Returns.  Mary Poppins Returns is a sequel, not a remake.  Jack is a whimsical character that will remind admirers of the original film of the beloved Bert. Mary Poppins has been one of the most beloved movies for over 50 years, and the cast of the sequel took their job of carrying the torch seriously.  Today I am thrilled to share some of the highlights of our interview with Lin-Manuel Miranda.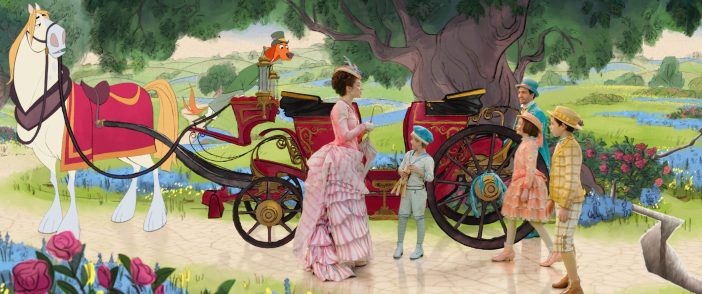 Before we dive into the interview,  please see the clear evidence of our family's borderline obsession with Miranda. First, our 6 year old's Hamilton themed birthday party,  also my 11 year old wore this dress and was Pippa Soo for Career Day at School, and if that isn't enough insanity for you – my husband WROTE A RAP and recorded it (it was terrible, but perfect) to surprise me with Hamilton tickets for our anniversary. Just regular run of the mill Hamilton fans, nothing to see here.  All joking aside, our family is most thankful that Hamilton seemed to unlock some major language delays with our littlest. She went from 2 word sentences to rapping with praiseworthy cadence, diction, and pitch within a month of first being introduced to Hamilton.  So yeah, Lin-Manuel Miranda is our favorite for many reasons, but mostly because streaming Hamilton the Musical was more effective than 2 years of speech therapy; for real.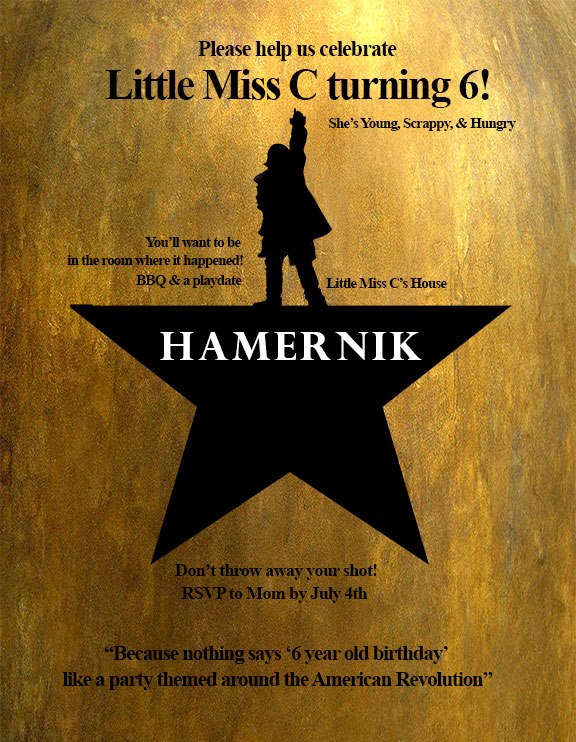 And now with the knowledge of how excited our family is about Miranda being a part of this film, I am thrilled to share what he had to say about the film and what it means to him. Hours before the World Premiere Red Carpet, Lin-Manuel Miranda walked into our interview room to share in a quick Q & A. I feel like he was just being nice, but he did say "You're the highlight of my day." as he sat down at the head of the table.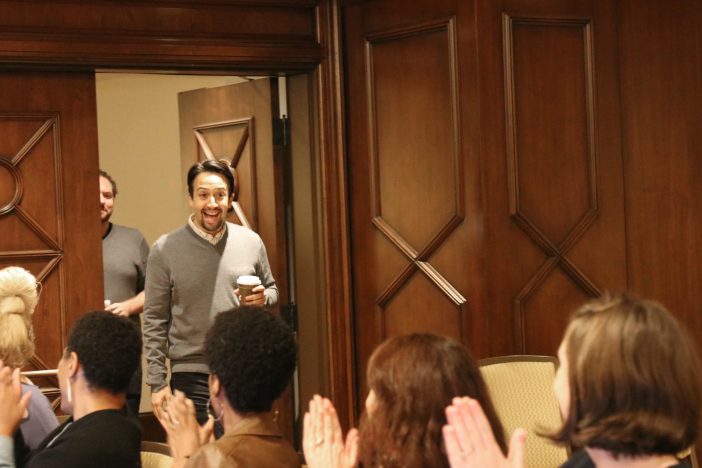 Lin-Manuel somewhat jokingly referred to Mary Poppins Returns as the "fruit of the harvest", it is an incredible first professional performance outside of his own productions. He added "No, honestly, I started writing, I started writing In The Heights because I very quickly realized at age eighteen that no one was gonna write my dream musical. Also I did not have the ballet training to play Bernardo in West Side Story, or Paul in A Chorus Line. And if you're a Puerto Rican dude that's all you get. So In The Heights really was the beginning of creating my own opportunities. Hamilton is an extension of that. And then to have Rob Marshall call you and tell you, you know, it's Emily Blunt as Mary Poppins and you're the only other person we have in mind and we're gonna build from there, it felt like the fruit of the harvest. The harvest I began when I was eighteen years old."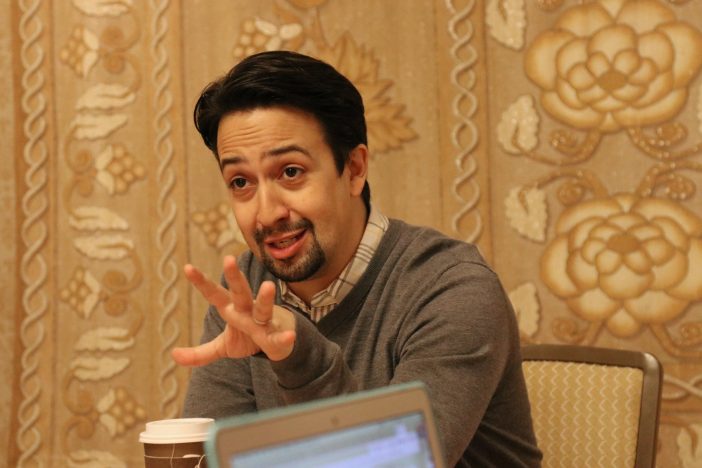 When asked what the difference was between being on a stage and being on a movie set, he had this to say…
"You finish the eight minute dance number and you wait a year and a half for applause."
"But honestly, you're trying to tell the truth on stage and you're trying to tell the truth in film. The difference is the energy source. Doing eight shows a week is a yoga. You're gonna hit the same positions every night but you're gonna hit 'em differently depending on your energy, the audience, you're fellow performers. And you have two the next day. The energy source in making a film is, especially a film like this, today you're dancing with penguins. Tomorrow you're singing with Meryl Streep. Friday you're shutting down Buckingham Palace with 800 bikers. And you're not coming back. We're not going back to the penguins next week. You don't get two shows a day with Meryl Streep tomorrow. So the adrenaline source becomes this is a once-in-a-lifetime moment and you have to be completely present. And so it just shifts from the audience to the sheer one-of-a-kindness of it."
While many know Lin-Manuel Miranda from work on Broadway, many might not know he does not consider himself a dancer.  He said one of the things he is most proud of in this film is his dancing work. He said he has never danced like this in his life.  He is incredibly proud of his work in Trip a Little Light Fantastic.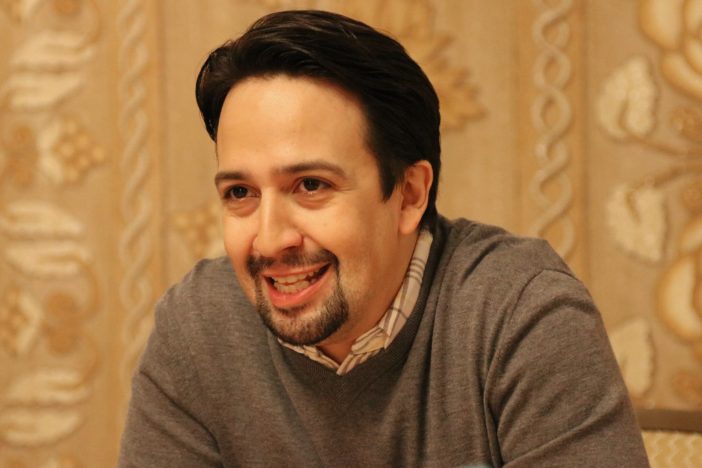 When asked "Do you remember the first time you saw Mary Poppins and what that meant to you?" he shared that as a kid he could only handle a portion of Mary Poppins because one song in particular was too hard for his soul.
He shared "I remember seeing the first two-thirds of Mary Poppins. We had the VHS cassette and it was, some of you will remember this. You know, they had their own section in the home library because they were fluffy and white, a little bigger than your shelf. And then I remember turning it off during Feed The Birds. Feed The Birds is the most emotionally devastating melody in the history of cinema.  I was not ready for it as a kid. So I remember crying and turning it off. I didn't see the end of Mary Poppins 'til I was like in high school because that song was just too sad. It was just too sad for my tender little heart. So I remember the first two-thirds of it on repeat. And then Feed The Birds was like, "Oh, okay, I'm gonna go play." That was my experience growing up with it."
Lin-Manuel shared that his son Sebastian was about two during the making of Mary Poppins Returns.  He says watching his son was one of the biggest inspirations for his role in the film.
"I was inspired by him. You know, we started making it right when my son was turning two. He was just gaining language. My character really the biggest note Rob Marshall gave me is that all the other grownups forget what it's like to be a child except for Jack. And so my biggest research was watching my son play in Princess Di park in Kensington Park in London, watching his boundless imagination. We are all born with that. I think we're all, that's inherent in us until life does what it does. And so you know, that was my secret weapon in finding Jack was I had a two-year-old research assistant who kept me childlike and kept me in that mode."
Lin said his son had not yet seen the film, but was on set every time their was a musical number.  He also shared that while his family was in London, his son would point to Big Ben and say "Daddy climbs that for work."  I mean, that is darling.
The opportunity to be able to interview Lin-Manuel Miranda again was an honor I will always be thankful for. Thank you to Disney for having me and thank to Lin-Manuel for taking the time to share with us! Don't miss our interview with Mary Poppins herself, the incredibly talented Emily Blunt as well!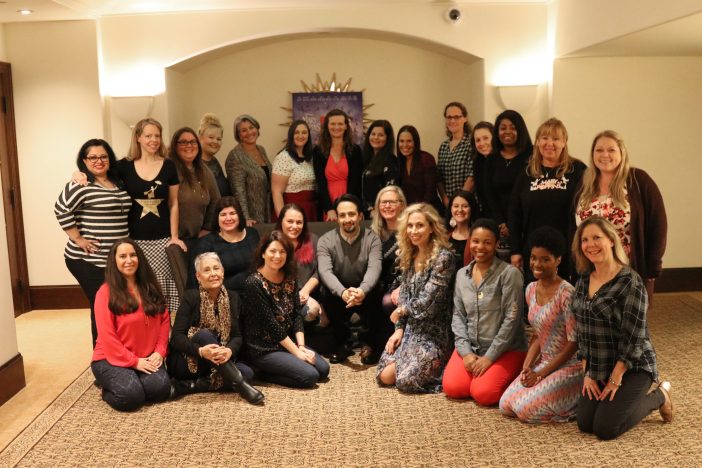 Mary Poppins Returns opens in theaters everywhere on December 19th.  Audiences are already excited so it is a good idea to grab your tickets early!  Purchase your tickets through Fandango and skip the lines! As always, thank you to Disney for having me along for #MaryPoppinsReturnsEvent – it was practically perfect in every way! Lin-Manuel Miranda fans – grab this Jack the Lamplighter shirt to wear to the movies – you know all our kids will be wearing one!
Follow along on social :
Twitter:           https://twitter.com/disneystudios
Instagram:       https://instagram.com/marypoppinsreturns
The official Hashtag: #MaryPoppinsReturns
Movie Stills are by Disney. Interview Photos are by Whiskey & Sunshine.  All photos are used with permission.