The Lion King – pictures from The Red Carpet!
Disclosure: Hosted by Disney. This site uses affiliate links. Opinions are our own.
I remember sitting in the theater with two of my best friends the week the animated film The Lion King hit theaters for the first time more than 2 decades ago. Never in my wildest dreams at that moment did I think my daughter and I would be invited to walk the red carpet for a Disney film. To be clear, Disney invited my 13 year old and I was basically just there to chaperone and be her Instagram assistant. J recently played Young Nala in her school's rendition of The Lion King and she has dreams of being an actress someday. While I am sure my budding actress will have more red carpets in her lifetime; how magical is it that Disney's The Lion King gets to be her first!? I have been fortunate enough to attend several red carpet premieres as a blogger and they are always over the top celebrations. The Lion King red carpet was no exception. Here are the highlights of J's experience being at The Lion King World Premiere in Los Angeles!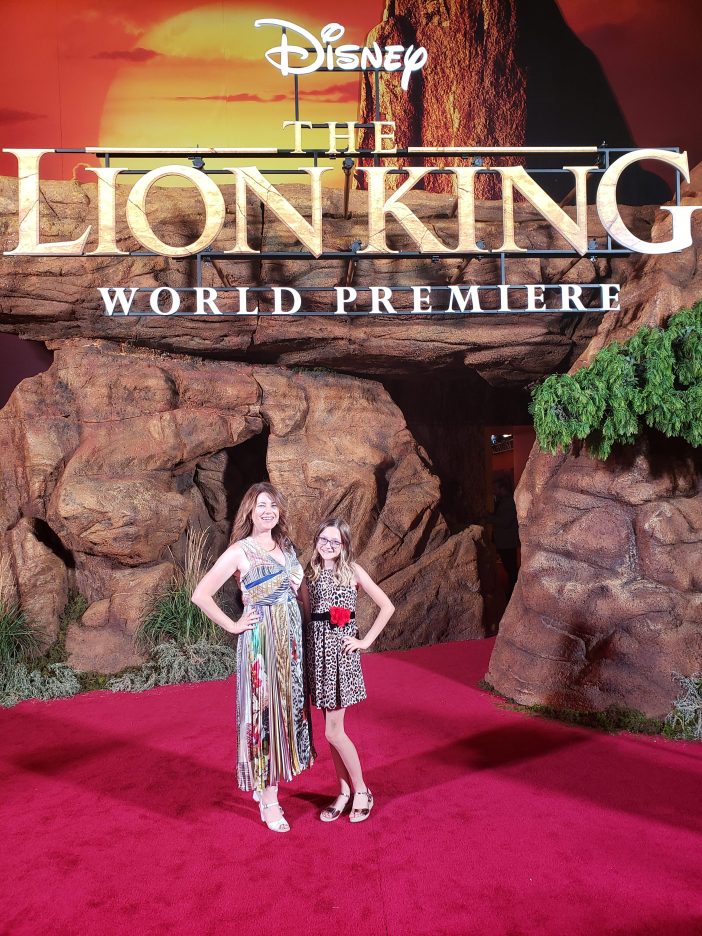 World premieres always have star studded audiences, and The Lion King did not disappoint! The stars of the movie of course attended. There were also dozens of other stars in attendance. My 13 year old was especially excited to see several of the stars she knows from The Disney Channel in attendance. Here are just a few photos from the red carpet premiere! We are sharing some photos from Disney as well as photos we were able to take (you will probably be able to tell the difference but captions with credit are shared under Disney's for good measure…)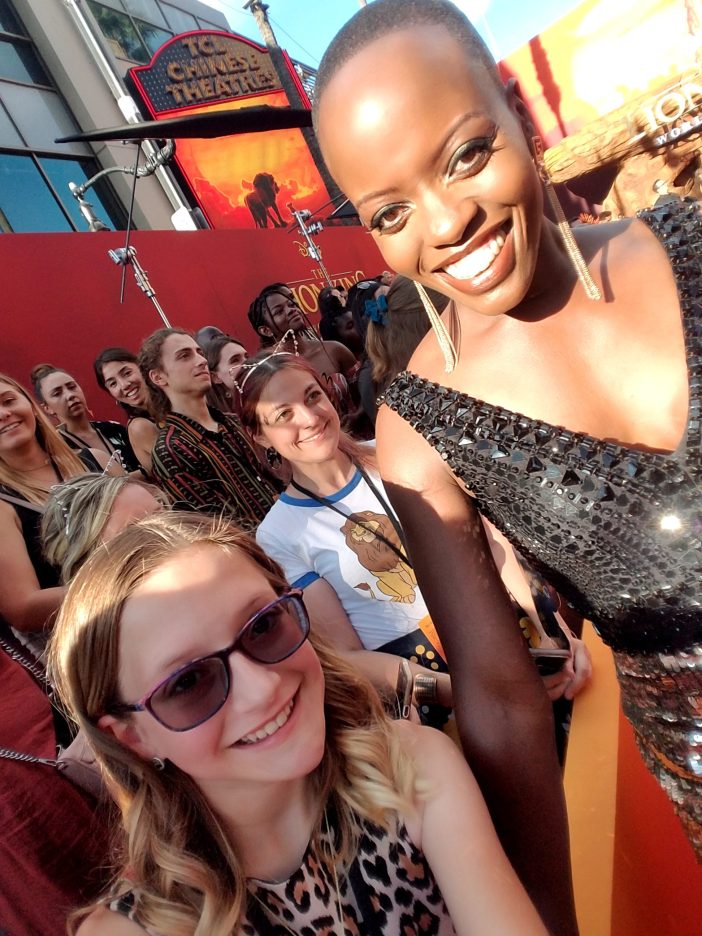 Florence Kasumba made her day posing with her. Florence is a Broadway actress as well as Shenzi in the movie. J kept saying "She is so beautiful." over and over again.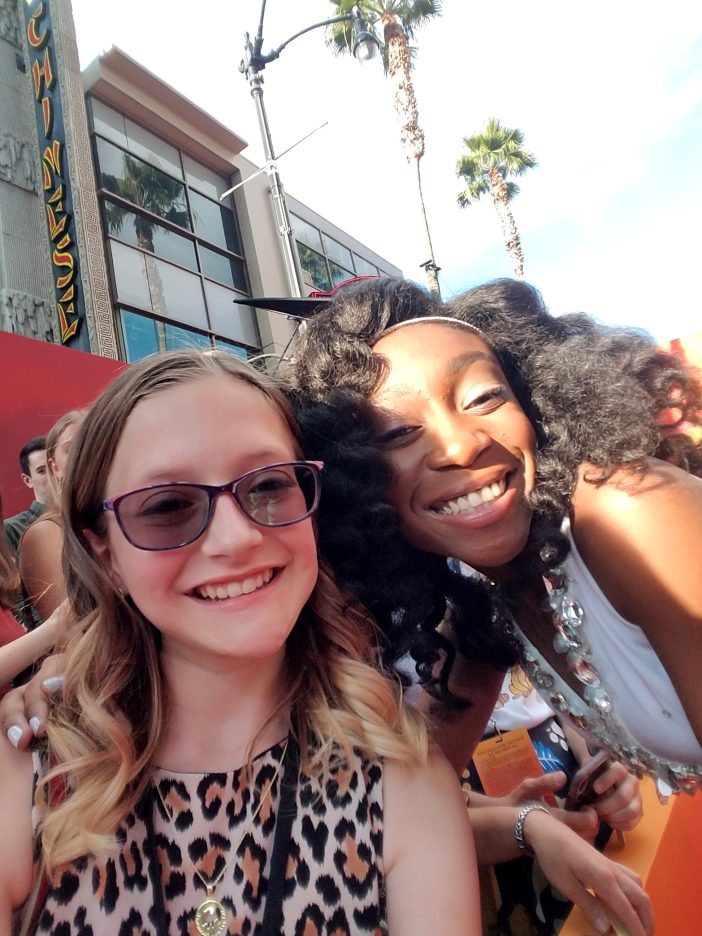 J Belen Hamernik – Young Nala in her School Musical and Shahadi Wright Joseph – Young Nala in The Lion King by Disney pose for a photo on the Red Carpet!

We caught a glimpse of Beyonce Knowles walking the red carpet. J was able to capture this very quick video. We were sad we did not get a photo with the voice of Nala, but it was so exciting even to just see her! Beyonce was there with the whole cast as well as her beautiful daughter Blue Ivy. Their matching dresses could not have been more sweet!
Get excited about my daughter's amazing cinematography skills….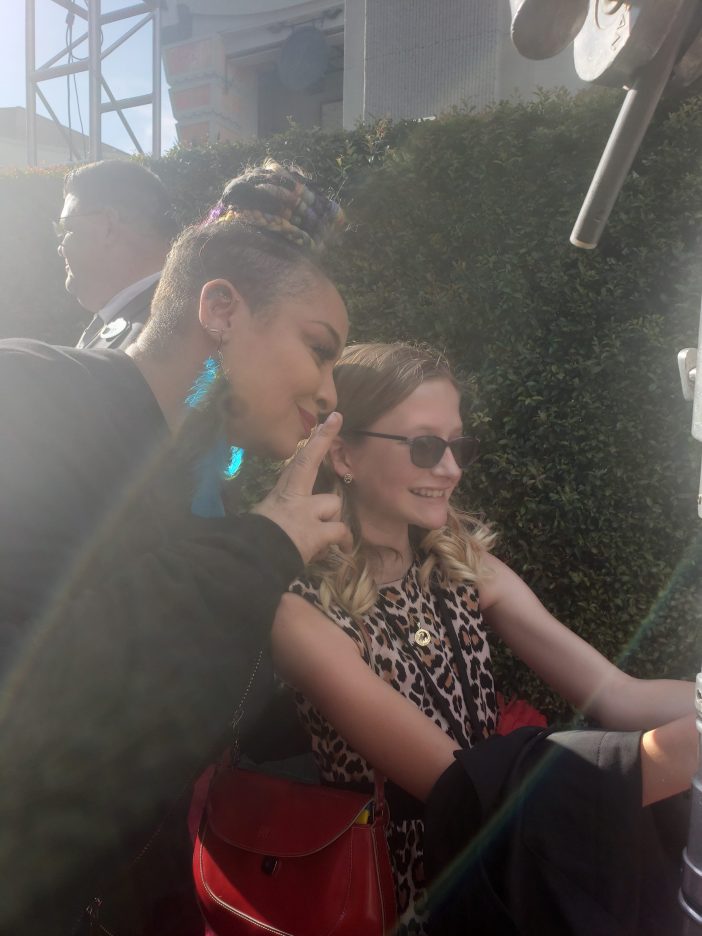 Star Struck J and Raven Simone….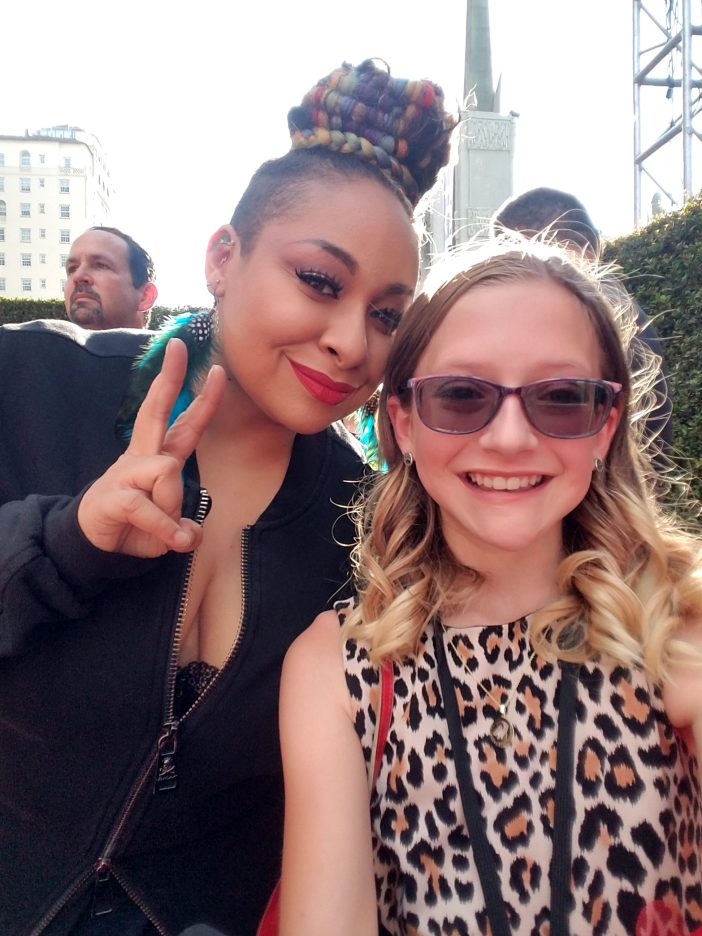 After we walked the red carpet, we entered the historic Dolby Theatre. This is the theater where the Oscars are held each year, it holds over 3,000 people and it was full that night. While there were special moments throughout, I believe the most surreal was just moments before the film began. The cast and film makers took the stage for this amazing shot!
And after the movie, we were off to experience more magic. I know I always say after parties are incredible, and The Lion King was just as magical. There was amazing food, sweet treats, and drinks. I love that the premieres for family movies are so kid friendly! There were fun craft stations with fun make and takes and lots of kid friendly entertainment. There we met a few other friends too!
They had Dole Whip….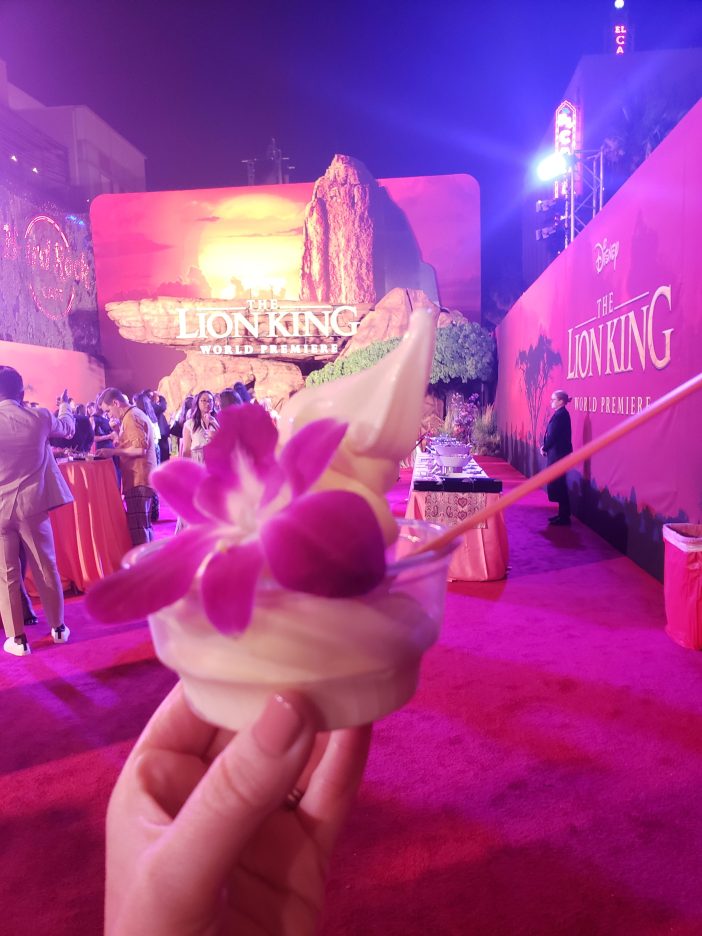 They also had "Mud and Grubs" – which was so perfect for The Lion King!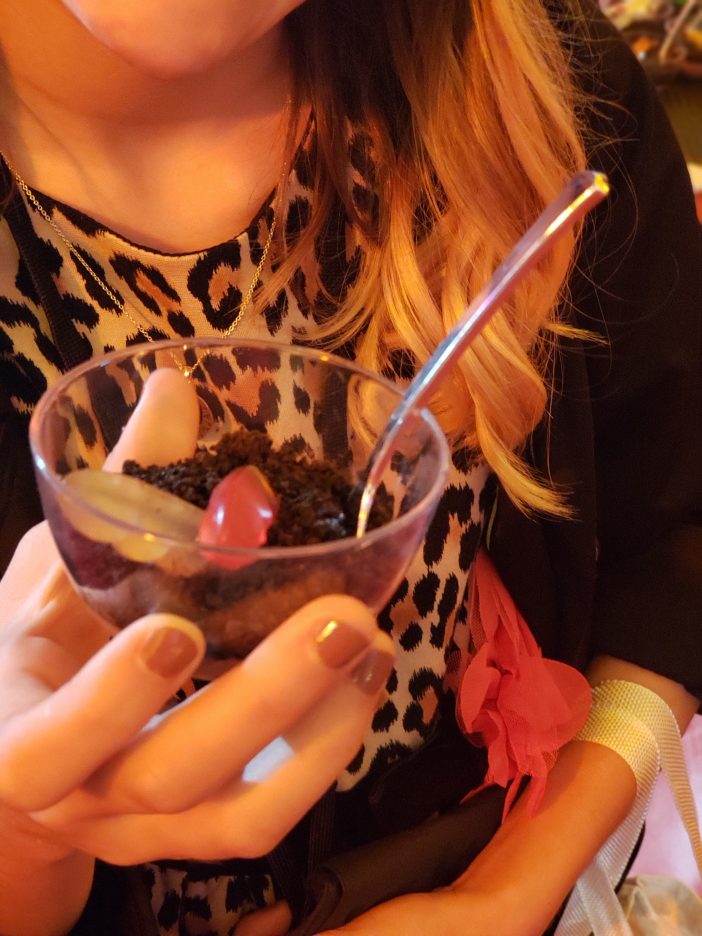 Crafting with our friend from That's It LA!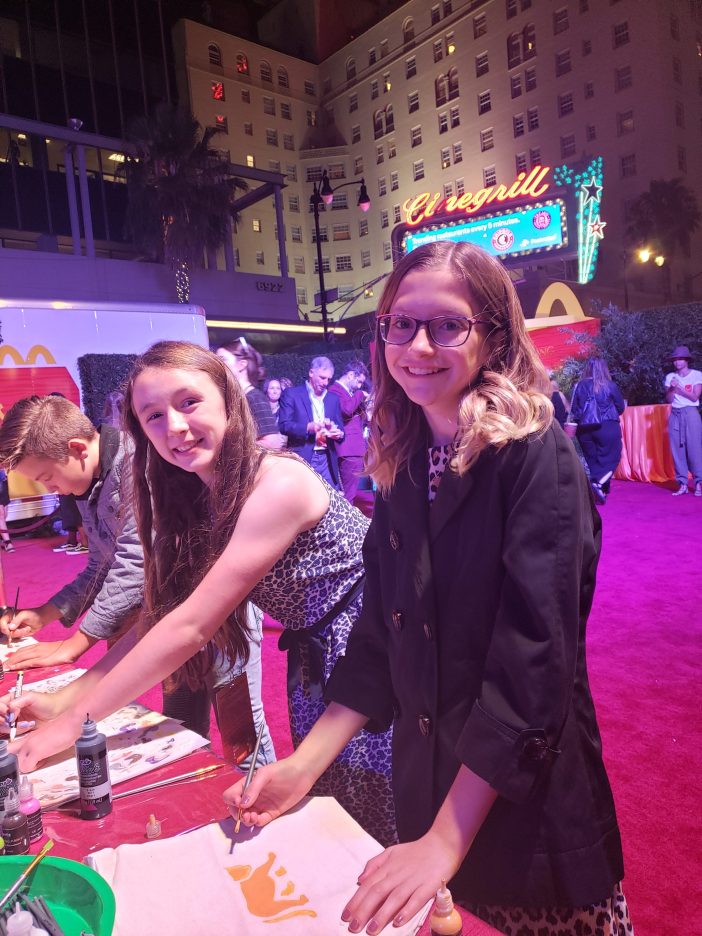 We met Cedric Yarbrough who we LOVED in "Speechless". I'm still mad at ABC for not bringing it back for another season. We are forever fans! If you are not already watching Speechless, we wrote about it here. Find it streaming, you are in for a treat.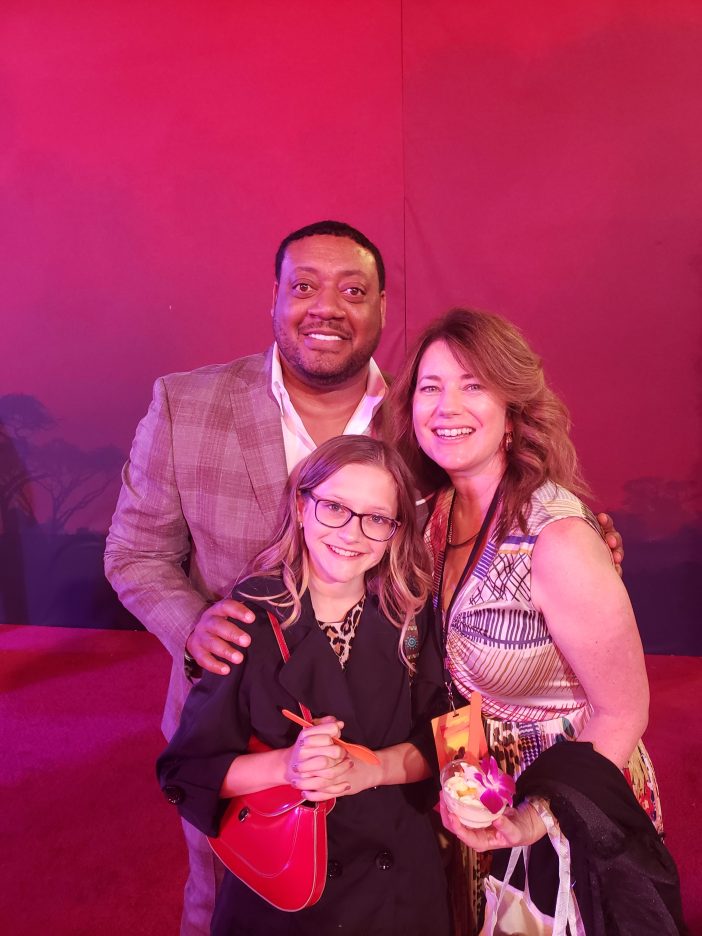 I have said it before, I will say it again, nothing beats a Disney red carpet premiere! The re-imagining of The Lion King was absolute perfection. I will be sharing my thoughts in a no-spoiler review shortly. I have included the trailer below…
Disney's The Lion King opens in theaters everywhere on July 19, 2019. Audiences are already excited so it is a good idea to grab your tickets early! Purchase your tickets through Fandango and skip the lines! As always, thank you to Disney for inviting us. These magical memories will stay with us forever!
"Director Jon Favreau's all-new "The Lion King" journeys to the African savanna where a future king is born. Simba idolizes his father, King Mufasa, and takes to heart his own royal destiny. But not everyone in the kingdom celebrates the new cub's arrival. Scar, Mufasa's brother—and former heir to the throne—has plans of his own. The battle for Pride Rock is ravaged with betrayal, tragedy and drama, ultimately resulting in Simba's exile. With help from a curious pair of newfound friends, Simba will have to figure out how to grow up and take back what is rightfully his. The all-star cast includes Donald Glover as Simba, Beyoncé Knowles-Carter as Nala, James Earl Jones as Mufasa, Chiwetel Ejiofor as Scar, Seth Rogen as Pumbaa and Billy Eichner as Timon." Disney
*Photos are mine or by Disney and used with permission*