The Little Mermaid Coloring sheets – Halle Bailey and original Ariel!
Disclosure: Highlights Along the Way is a participant in the Amazon Services LLC Associates Program, an affiliate advertising program designed to provide a means for sites to earn advertising fees by advertising and linking to amazon.com.
The much anticipated re-imagined "The Little Mermaid" from Walt Disney Studios is making waves all over the internet! At D23 Expo Disney fans were treated to the first look at Halle Bailey as Ariel. To celebrate, you know I updated our Little Mermaid coloring pages to feature a beautiful black Little Mermaid. We also have all new coloring pages and activity sheets featuring our friends from under the sea!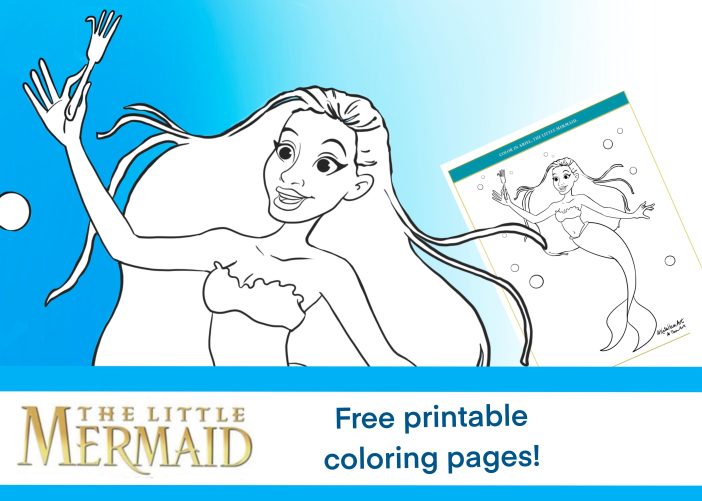 The Little Mermaid FREE Coloring Pages
Good people everywhere shared in the collective joy of little black girls seeing the first peek at Halle Bailey as the beloved character Ariel. Fan art of Halle Bailey as Ariel has been all over the internet, but I wanted to provide some high resolution coloring pages featuring an updated version of The Little Mermaid for little ones to color in on on their own.
Below we have the original Disney coloring pages of The Little Mermaid. I have also included two coloring pages inspired by Halle Bailey as Ariel for kids to print and color as well. Scroll to the bottom of this updated post to find several coloring pages of the original little Mermaid as well as the new Little Mermaid.
I am thankful that Disney is creating more and more characters that make sure every kiddo can see themselves represented in the movies they love.
When does the New LITTLE MERMAID film open in theaters?
The film will star Halle Bailey, Jonah Hauer-King, Art Malik, Noma Dumezweni, Javier Bardem and Melissa McCarthy, with Daveed Diggs, Jacob Tremblay, and Awkwafina in voice roles. The Little Mermaid is scheduled to be released in the United States on May 26, 2023.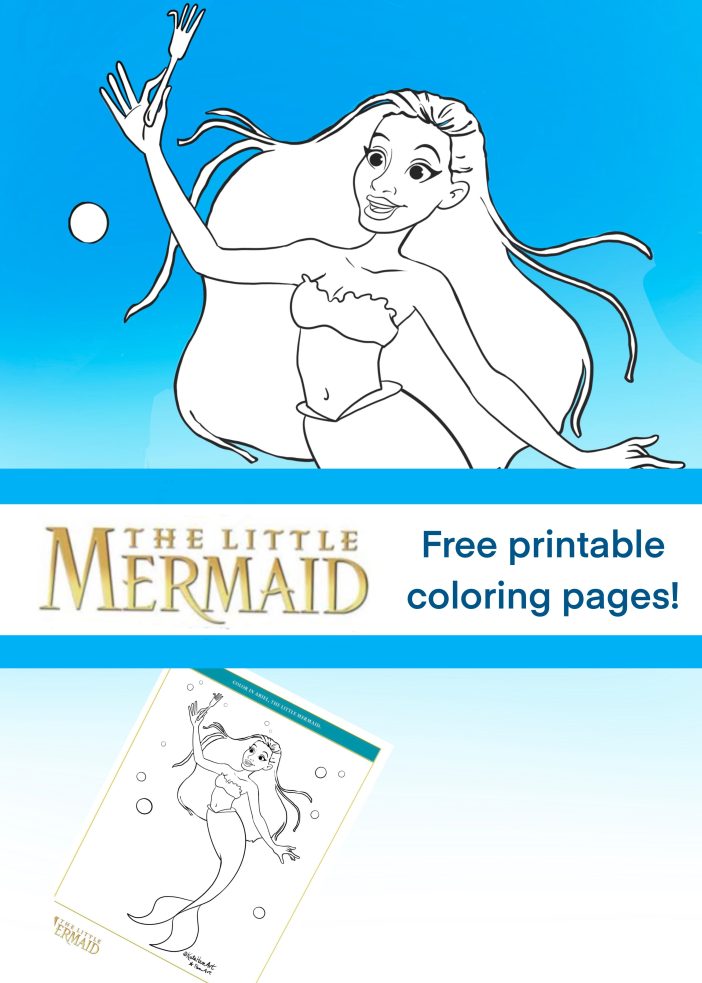 The Little Mermaid Coloring Pages
The Little Mermaid is an animated classic. Fans of Ariel, Flounder, and Sebastian can enjoy high resolution printable coloring sheets below. Thank you to Walt Disney Animation for sharing these licensed printables for home use. Budding artists can also click our 'How to Draw The Little Mermaid' tutorial below as well. Click and print free activity sheets from your home or school computer for your Little Mermaid.
We are all looking forward to the live action Little Mermaid film from Disney and we will be sure to celebrate with new Live Action Little Mermaid Printable coloring pages. Make sure to come back for that!
A NEW collection of coloring pages featuring Halle Bailey, Sebastian, Flounder, Scuttle, Lin-Manuel Miranda (as Chef Louis!), and more on our brand new post! A super fun collection to print from home! Please enjoy all the pages on this page but click the bold title above for the newest live action Little Mermaid printables. All are high resolution that you can print from home.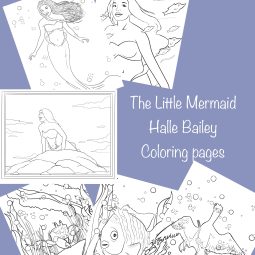 Check out these other very popular Disney Printable Coloring Pages before you leave our blog!
Disney Winter and Christmas Printables
While in Los Angeles for the Ralph Breaks the Internet Event last year, our group had the opportunity to interview legendary Disney animator, Mark Henn. I shared earlier that we learned we learned to draw Vanellope, but we also learned to draw Ariel! We also heard the exciting news that The Little Mermaid was coming out of the Disney Vault! Today is the day that you can own Disney's The Little Mermaid through Movies Anywhere! Read about some of the awesome features you will get to enjoy for the first time ever with this version of The Little Mermaid. I am also excited to share some brand new Disney's The Little Mermaid printable coloring sheets. Print these downloadable coloring sheets from your home computer for your little mermaid today. Enjoy ten unique coloring sheets and activity sheets with all your favorite characters. Make sure to come back, because to celebrate further we will be teaching you how to draw Ariel in a couple weeks!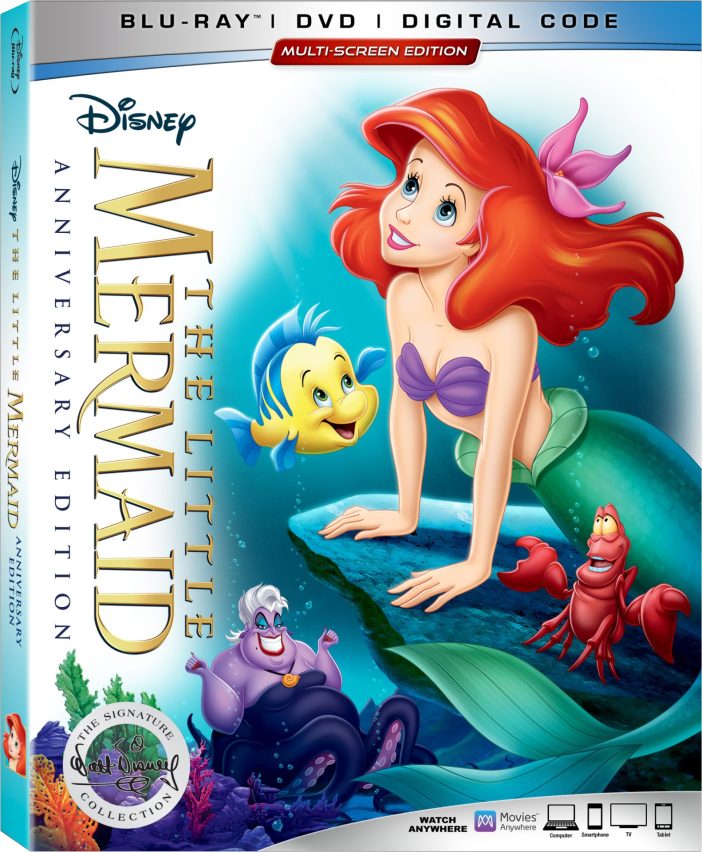 "The Little Mermaid" Dives Into the Walt Disney Signature Collection
Order your copy today!

I love that we have free printables to share with our fans!
HOW TO DRAW THE LITTLE MERMAID TUTORIAL HERE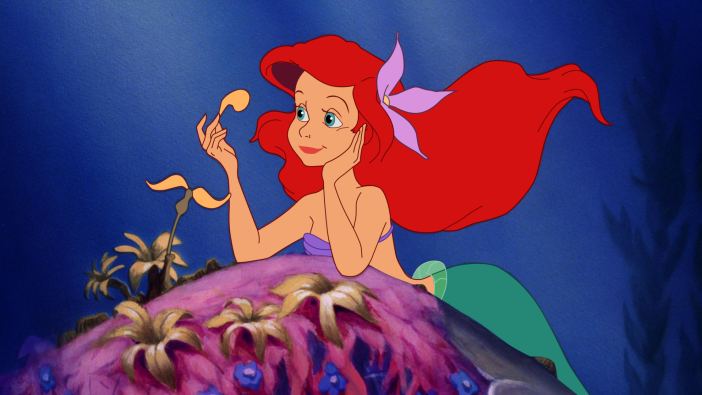 I fell in love with animation as a very little girl. If you had asked me at literally any time in my childhood I would have told you I wanted to be an artist when I grew up. From the time I knew what it was, I would tell you I wanted to draw cartoon movies. The Little Mermaid hit theaters when I was in 6th grade, and there was something about it that just solidified that love for me (and I am sure many others). The animation renaissance that began with The Little Mermaid is what brought so many audiences back to animated musical films again. This was the movie that I remember watching "The Making Of…" on Disney channel over and over again, it is the film that made me read books on animation, and really start thinking of it as a possible career path. It was such a powerful movie for so many, and it holds a special place in our family's hearts.
Click and Save – Instant Print Coloring page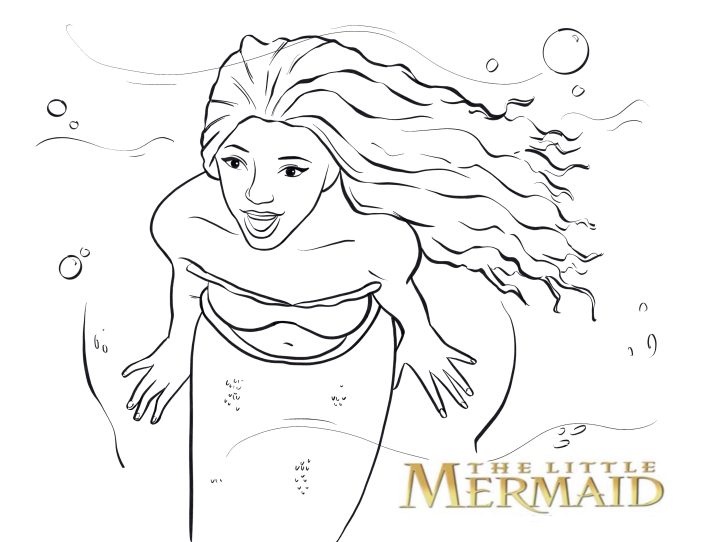 Typically we are only able to share printables with the release of a new movie. I am thrilled that these printables are available for the first time for the home release of The Little Mermaid. Enjoy coloring pages featuring Flounder, Ariel, Sebastian, and many others! You do not need to subscribe or sign up for anything, simple click on and print whatever you like!These printables are a fun addition to a rainy day, a road trip, or even a budget friendly birthday party activity!
New Live Action Little Mermaid Coloring Page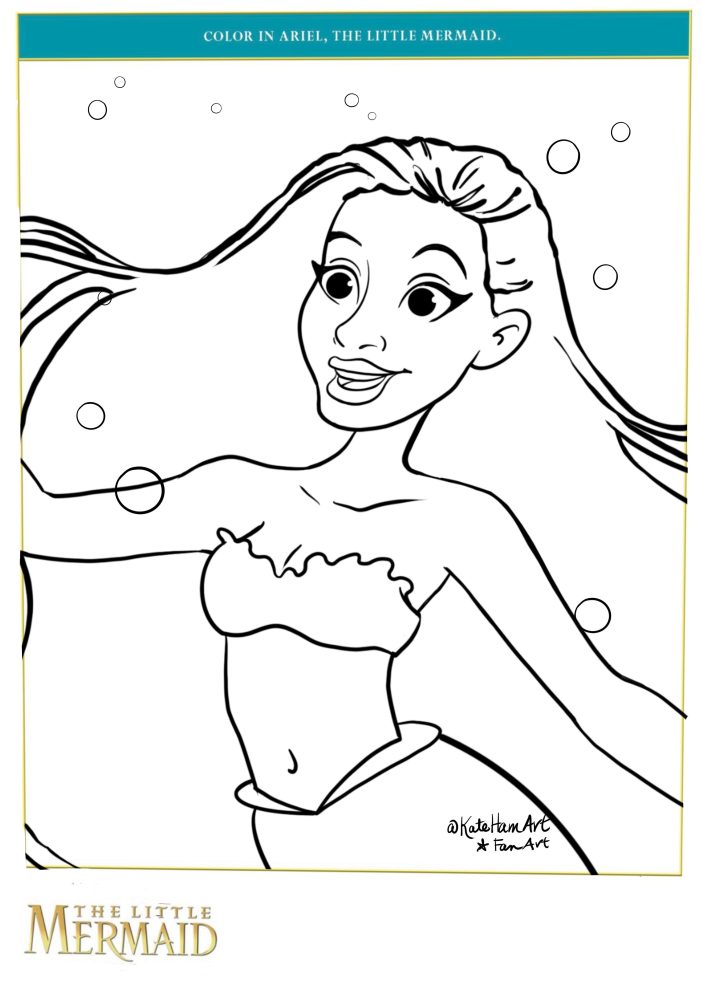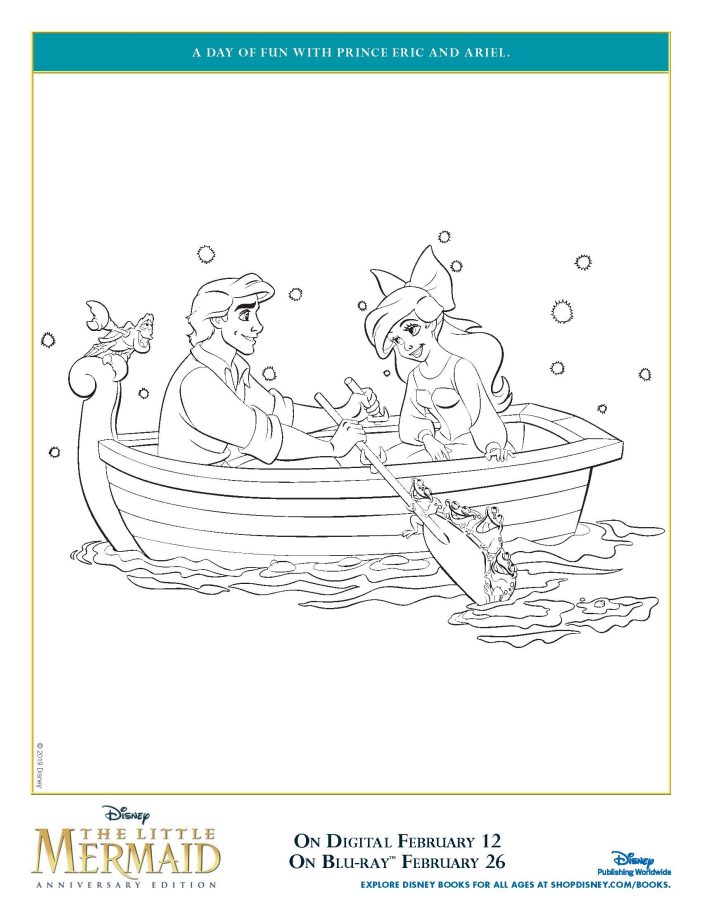 "Based on Hans Christian Andersen's classic fairy tale about a beautiful mermaid princess who dreams of becoming human, "The Little Mermaid" was directed by John Musker and Ron Clements ("Aladdin"). It features the voice talents of Jodi Benson ("Toy Story 2," "Toy Story 3") as Ariel, Pat Carroll ("Laverne & Shirley") as Ursula, Samuel E. Wright (Broadway's "The Lion King") as Sebastian, Christopher Daniel Barnes ("The Brady Bunch Movie") as Eric, Kenneth Mars ("Young Frankenstein") as Triton, Buddy Hackett ("The Music Man") as Scuttle, Jason Marin ("Back to the Future") as Flounder and René Auberjonois ("The Patriot") as Chef Louis. The film was originally released in theaters on Nov. 15, 1989 and is the 28th film from Walt Disney Animation Studios, and the first in what many described as a new Disney animation renaissance."
"The Little Mermaid" is the seventh title to join the Walt Disney Signature Collection, which includes groundbreaking films created or inspired by the imagination and legacy of Walt Disney, featuring timeless stories and characters that have touched generations. The film takes its place alongside "Snow White and the Seven Dwarfs," "Beauty and the Beast," "Pinocchio," "Bambi," "The Lion King" and "Lady and the Tramp."
BONUS FEATURES
BLU-RAY & DIGITAL
Sing-Along Mode – Sing along to the movie in this sing-along version of the film.
Alan Menken & the Leading Ladies Song – From the voice of a mermaid to the tunes of a muse, the music of Alan Menken has scored the soundtrack for some of Disney's most iconic leading ladies. Join Alan, Jodi Benson (Ariel), Paige O'Hara (Belle), Judy Kuhn (Pocahontas Singing Voice), Lillias White (Calliope) and Donna Murphy (Mother Gothel)as we celebrate the music of their films in honor of the one that started it all … "The Little Mermaid." In this discussion, the ladies will share their memories of musically creating their characters with Alan, discuss what it means to be part of the Disney Princess/leading lady legacy and create new memories as they sing with Alan around a baby grand piano.
"What I Want From You…Is YOUR VOICE" – Enter the recording studio and get an inside look at the cast of "The Little Mermaid" in their original recording sessions.
Stories From Walt's Office – Gadgets & Gizmos – Like Ariel, Walt Disney was a collector of many different things from miniatures to early mechanical characters that inspired the invention of audio-animatronics. We take a look at some the collections that Walt kept in his office in the third episode of this series.
#TreasuresUntold – Join Ruby Rose Turner and Olivia Sanabia from the Disney Channel Original Series "Coop and Cami Ask the World" as they take a deep dive to explore some hidden treasures and fun facts about Disney's "The Little Mermaid."
DCapella "Part of Your World" Music Video
Classic Bonus Features – revisit four exciting bonus features from previous releases including:
Deleted Character: Harold The Merman
Under The Scene: The Art Of Live Action Reference
Howard's Lecture
Audio Commentary With Ron Clements, John Musker and Alan Menken
DIGITAL EXCLUSIVES
"Part of Your World" – A 30-Year Retrospective – Songwriter Alan Menken and Jodi Benson, the acting and singing voice of Ariel, sing the epitome of Disney "I Want" songs "Part of Your World" and discuss its impact since it was first heard 30 years ago.
Classic Bonus Features – Over 3 additional hours of previously released classic bonus features including Deleted Scenes, Easter Eggs, Music Videos and more!
Follow along on Social Media…
Facebook: Facebook.com/DisneyTheLittleMermaid
Website: Movies.Disney.com/The-Little-Mermaid
Instagram: Instagram.com/DisneyAnimation
YouTube: YouTube.com/user/DisneyMovies
I mentioned how Mark Henn taught us all how to draw Vanellope, but he also taught us how to draw Ariel! I will be sharing a "How to Draw Ariel" and a "How to Draw Vanellope" post in a few days! For now, please enjoy the fun printables! I hope that you will share with a friend and also follow us on Pinterest so you never miss a free printable again!