Lord of the Rings themed Teen Bedroom
Disclosure: Highlights Along the Way is a participant in the Amazon Services LLC Associates Program, an affiliate advertising program designed to provide a means for sites to earn advertising fees by advertising and linking to amazon.com. This site uses affiliate links.
Geeks everywhere were thrilled to hear that there is a Tolkien themed show coming to Amazon Prime. Our son has been a LOTR fan for years. This Lord of the Rings themed bedroom was easy to put together. If you are ready to take your love of all things Hobbits and Elves to the next level, room decor is the way to go! With printable Tolkien quote artwork and Lord of the Rings inspired bedding, it is a room fit for a King, or an elf, or whatever, I don't really know.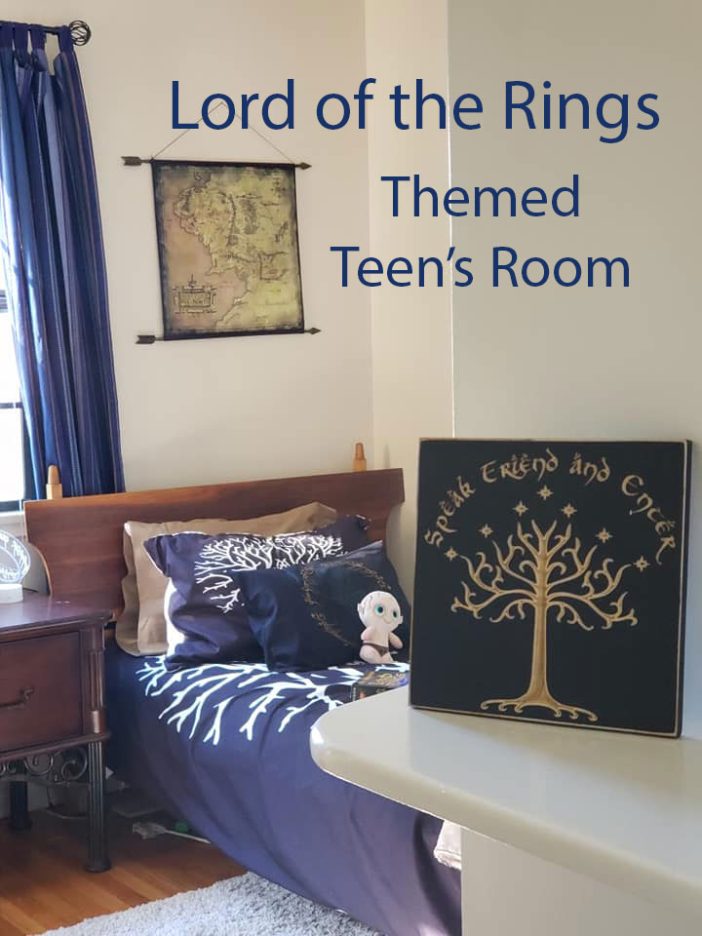 A television series is being produced based on the novel The Lord of the Rings by J. R. R. Tolkien will premiere on Amazon Prime in late 2021. No date has been officially set, but Lord of the Rings fans are already pumped! Developed by J.D. Payne and Patrick McKay exclusively for the streaming service Prime Video. The series is set in the Second Age of Middle-earth before the events of the Lord of the Rings novel and films.
Lord of the Rings Quote Artwork
This framed Lord of the Rings quote is one of our family's favorite Tolkien quotes. I am a freelance artist and I made this artwork for my son for his birthday. We have made an Instant Download Tolkien Quote Inspired Artwork that you can print from your own home computer.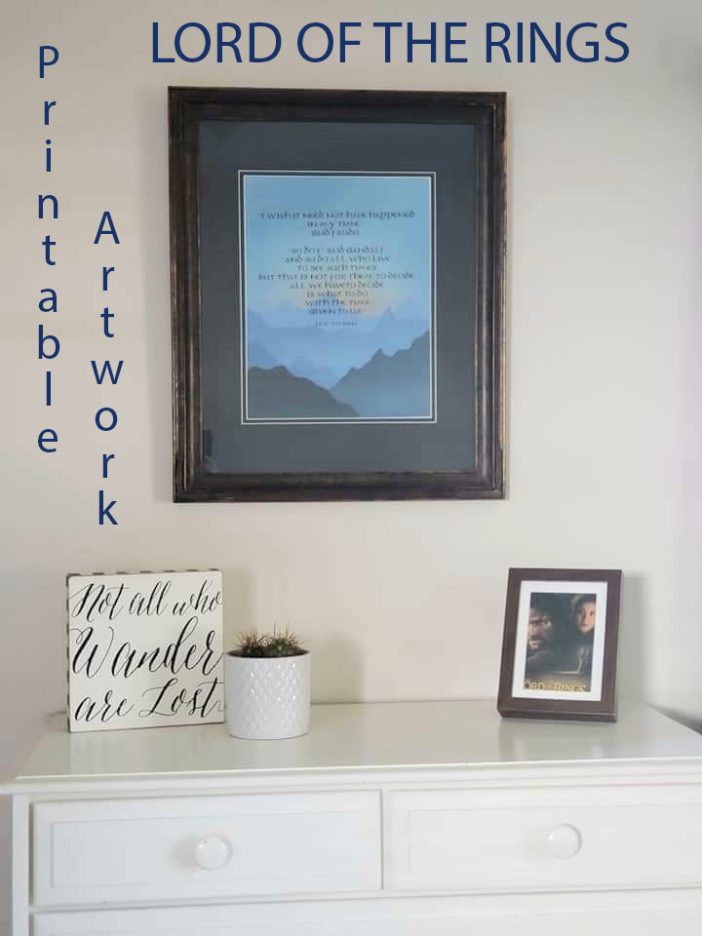 The "Not All Who Wander are Lost" artwork was a lucky thrift store find, but I have linked a few other options if you love the quote. If you are looking for other LOTR inspired quote artwork, here are some of our favorites from Etsy
Even the Smallest Person Can Change the Course of the Future Quote Artwork
If More of Us Valued Food and Cheer…. Wood Cut artwork
It Simply Isn't An Adventure Worth Having if there aren't any dragons – Vinyl Wall art
Lord of The Rings Bedroom Decor
Every Lord of the Rings themed room should have a woodsy feel. Ideally, furniture should be dark wood. Curtains and bedding should be neutral and natural colors. Brown, blue, black, grey, tan, and green are great colors to stick with for an Elvish room. As most of our friends know, we love to work with second hand furniture. The room we are sharing here is in the process of changing into a full LOTR themed room. We are on the look out for the perfect bookshelf and chest of drawers with an old world feel and will update photos when we have that look complete.
Before anything, you must encourage your friends to "Speak Friend, and Enter". The little house we are renting has this cute little ledge in our son's room right at the door. It was the perfect ledge for this cool sign found on Etsy.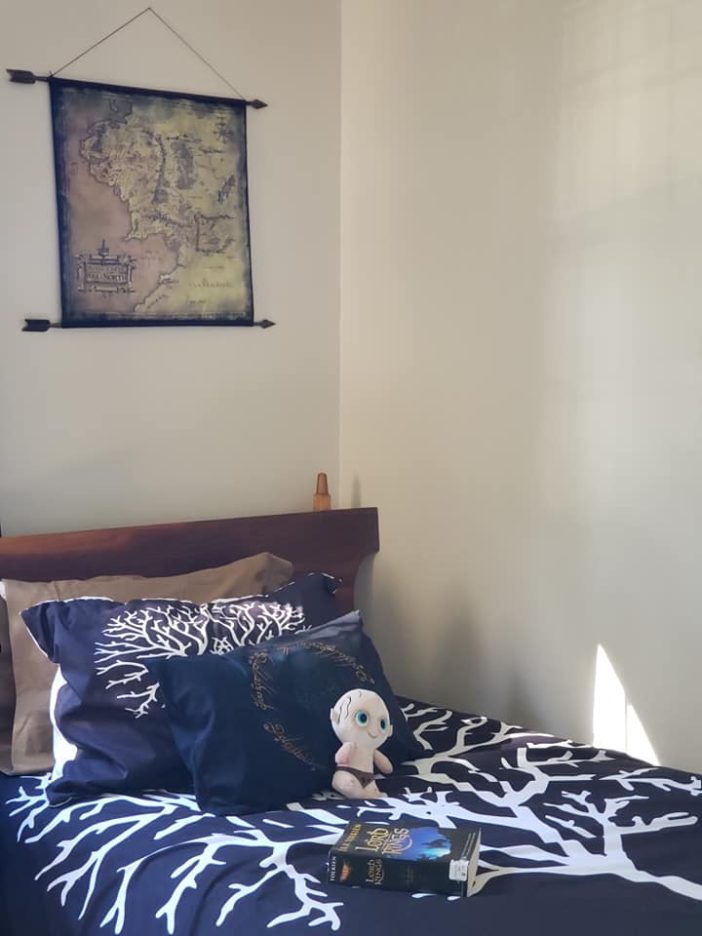 The BEST Lord of the Rings Bedding inspired bedding set is on Amazon. There are several sets that look just like this available. He liked the subtle nod of LOTR with the tree design, but no words or ring design. At the end of the bed he has a super soft throw blanket that looks like a map of middle earth. It is a necessity! A custom LOTR Throw Pillow and a baby plush Gollum really rounds out the look. Obviously every Lord of the Rings room needs a Middle Earth Tapestry.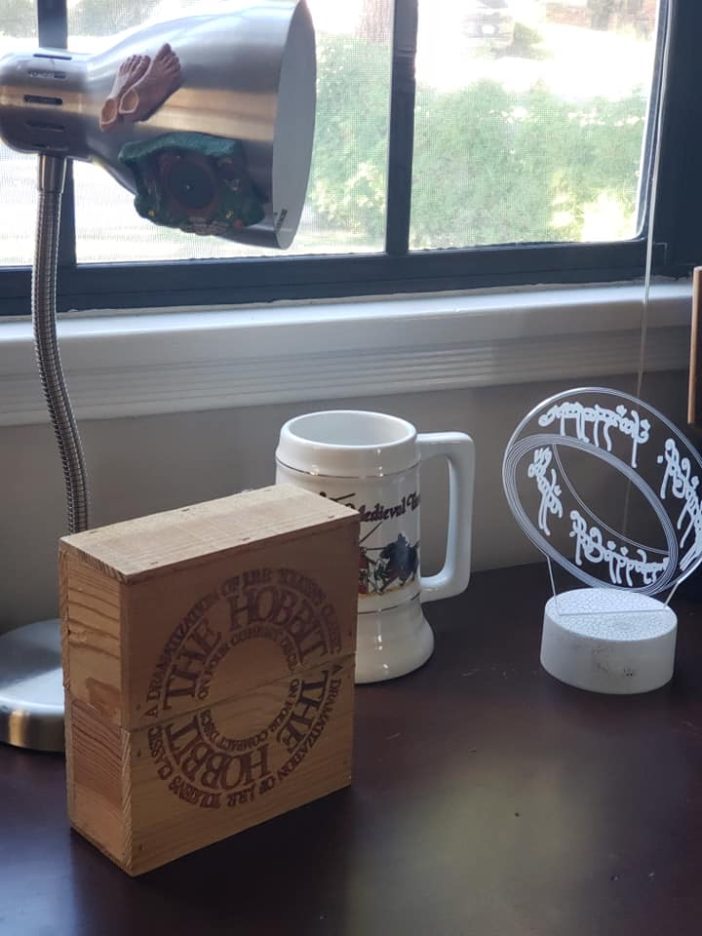 A close up of the side table in his LOTR Themed room. We have a 'no devices in bedrooms' rule. He cannot listen to his audio books on Audible in his room, so we got a CD player and a box set of the whole 3 book set. He also used birthday money to buy a cool LOTR light for his side table and some funny magnets.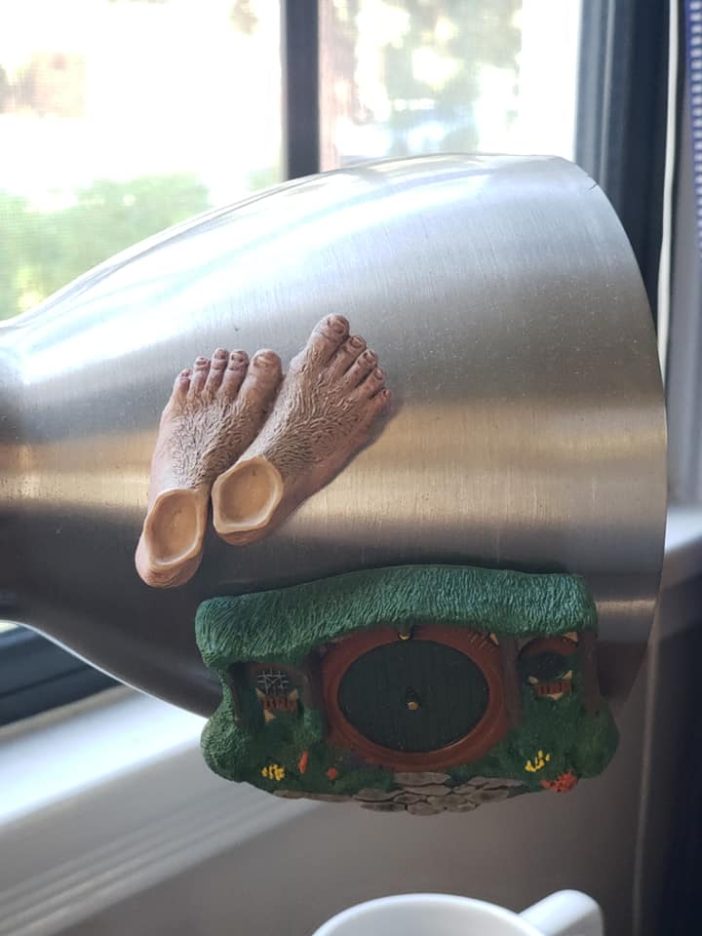 These Lord of the Rings Magnets are from a nerdy little comic book shop close to our old house, but there are lots of Lord of the Rings Magnets available on Amazon.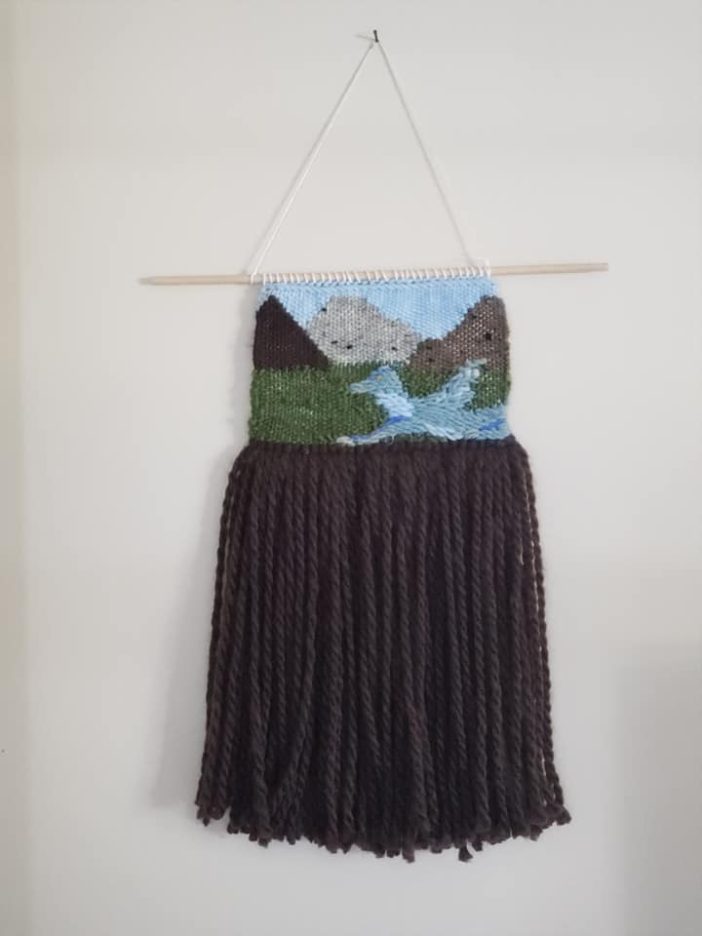 A woven dragon wall hanging is a necessity for every Lord of the Rings themed Room.This custom Lord of the Rings Dragon themed Wall Hanging was made by the very talented J Belen Design who is on Etsy. This was a custom order.
Here is a quick first look and thoughts on the Lord of the Rings series from Amazon…