Luca Pumpkin Carving Stencil
Disclosure: this site uses affiliate links
Luca is a magical summer movie that is sure to be a classic for decades to come. Luca first splashed into homes in June of 2021. I predict we will see dozens of Luca, Alberto, and Guila costumes trick or treating this year. Today we are sharing a Luca inspired free printable Pumpkin stencil. Simply click and print this free jack o lantern pattern for your own sea monster inspired Halloween pumpkin.
We also have Luca Printable Coloring Sheets and Luca Cupcake Toppers available to download and print! Make sure to visit those pages after you have printed out your pumpkin carving stencil below.
Decorating pumpkins with Disney and Pixar inspired characters is a tradition in our house. We hope that you will enjoy this fun craft too!
Free Pumpkin Stencils from Better Homes and Gardens (click to see other free stencils!). Lowes also has a huge library of FREE Pumpkin Stencils to choose from.
We also have an adorable Gabby's Dollhouse Pumpkin Stencil, Marie Kitten Pumpkin Stencil, Easy Dragon Pumpkin Stencil, and a super simple Dinosaur Pumpkin stencil right on our site. We love it when you hang out and check out all the cute freebies we have on our site. We hope these free pumpkin stencils help you get into the spooky Halloween holiday spirit!
Luca or Alberto make a splash on your Halloween Jack-o-lantern this year. A sea monster tail just above the waves is a must for any Luca fan. This is a very simple stencil that we would consider a beginner stencil. Click and print and follow the very simple instructions for your very own multi dimensional Luca themed pumpkin!
LUCA Pumpkin Stencil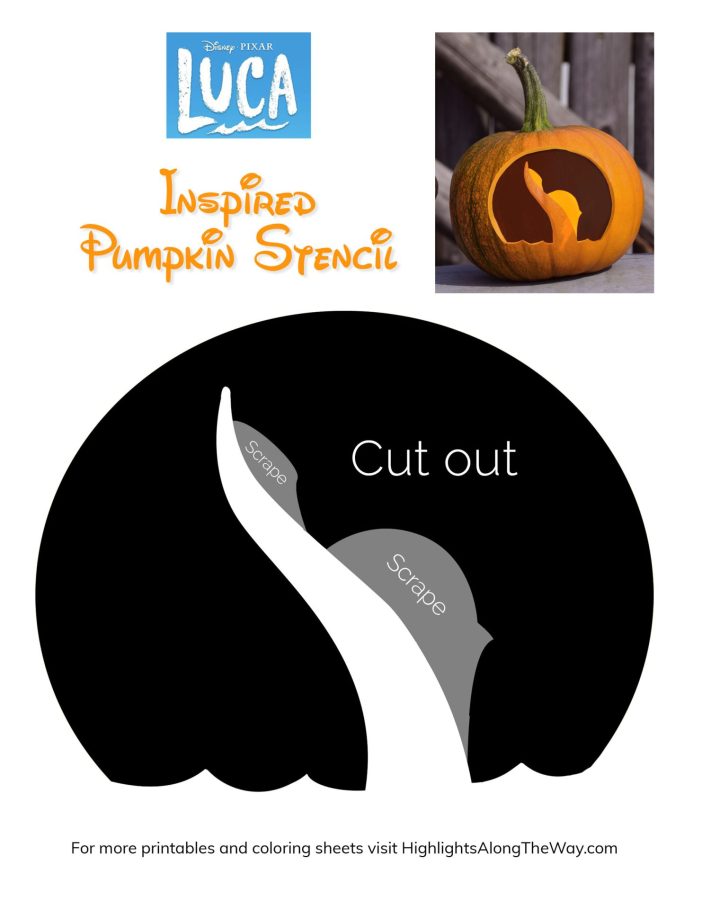 If you use this pumpkin carving stencil, we hope that you will tag us on Instagram! We are at @HighlightsAlongtheWay and we would LOVE to reshare with your permission!
Luca Film Synopsis
Set in a beautiful seaside town on the Italian Riviera, the original animated feature is a coming-of-age story about one young boy experiencing an unforgettable summer filled with gelato, pasta and endless scooter rides. Luca shares these adventures with his newfound best friend, but all the fun is threatened by a deeply-held secret: he is a sea monster from another world just below the water's surface.