Luciana Vega – American Girl Doll of the Year : Giveaway!
Disclosure: Highlights Along the Way is a participant in the Amazon Services LLC Associates Program, an affiliate advertising program designed to provide a means for sites to earn advertising fees by advertising and linking to amazon.com. Mattel sent us a Luciana Vega doll for this review and is also providing one doll for a giveaway!
As most American Girl Doll fans know already, the 2018 Girl of the Year is a bit of a game changer.  American Girl fans wait with anticipation every year, wondering who will join the fold next.  2018 is our favorite Girl of the Year story ever.  Luciana Vega is breaking through barriers by encouraging and inspiring girls in STEM. American Girl worked with NASA, Scholastic, and Space Camp to bring Luciana's story to life.  I am so excited to share our review of Luciana Vega today!  We are also giving away an American Girl Doll to one lucky Highlights Along the Way subscriber, so make sure to enter!
Update : Thank you to all who entered our American Girl Doll giveaway! This giveaway has ended, but we hope to have another giveaway for you shortly! You can see the winner listed in the giveaway form.
Luciana is an 11 year old girl who dreams of being an astronaut.  Not only does she want to be an astronaut, but Luciana dreams of being the first person to visit Mars.  Luciana is brave, smart, and inspiring. Her clothing, accessories, and even her pet are all inspired by the galaxy and STEM. Luciana is going to inspire so many girls to consider science and technology; we love it!
My 11 year old girl has always loved American Girl dolls. While every doll and story line has captured her heart in some way, Luciana is different.  My 11 year old is a huge science buff too.  "She went to Space Camp, just like I am going to space camp!"  My daughter is not exactly going to Space Camp, but she did just pay for her own admission to a 2 day science and astro camp.  I am fairly certain Luciana will be coming along for all the fun.
We have other fun connections that make Luciana extra special in our family.  Luciana Vega is a first generation American, just like my daughter.  My husband was born in Argentina and immigrated here as a child.  Luciana's parents immigrated from Chile.  Luciana and my daughter are both first generation Americans with South American roots.  Luciana's parents are also in the process of an adoption of a little girl.  My daughter also has siblings through adoption.  Basically; they would be best friends if they lived in the same universe.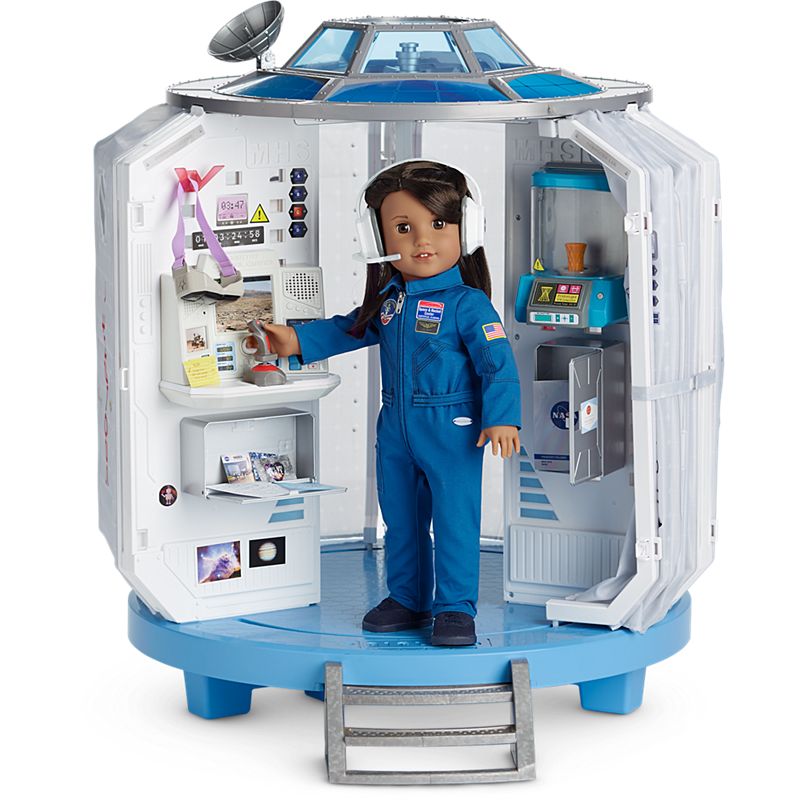 From the American Girl Doll website : "Looking beyond her cool line of space-inspired products (like a Mars habitat and flight suit!), American Girl's purpose behind this character is what's most important. Luciana shows what it can mean to be a girl of strong character today, where creative thinking, collaboration, and STEM literacy provide opportunities for meaningful growth and development. Technology continues to revolutionize what we do and what we know, and Luciana is a character that can bring visibility and valuable lessons to girls at a time in their lives when they're learning about their infinite potential to change the world."
We love that American Girl really did their homework.  Luciana Vega's story was brought to life with an out of this world advisory board.   Dr. Ellen Stofan (Former NASA Chief Scientist) , Dr. Deborah Barnhart (CEO and Executive Director of the US Space and Rocket Center) , Maureen O'Brien (Manager of Strategic alliances at NASA), and Dr. Megan McArthur Behnken (NASA Astronaut) are just a few of the smart and inspirational women that have inspired Luciana's world.
A big thank you to my daughter "Scooter" for moonlighting on our YouTube channel to share this enthusiastic unboxing video.
Who wouldn't love to win a Luciana Vega American Girl Doll of the Year for their American Girl fan?  I am so excited that Mattel has been kind enough to offer a doll for us to give away. One lucky Highlights Along the Way subscriber will have Luciana mailed straight to their home! As with most of our giveaways, you must be a verified subscriber to Highlights Along the Way. Simply subscribe and leave us a comment letting us know who you would gift Luciana to (it is OK to say yourself!).  That's it! We also have several ways that you can earn more entries by engaging with us on social, but being a subscriber is the only requirement. Void where prohibited. This giveaway is valid only within the United States.  The winner's American Girl Doll will be mailed directly from American Girl Doll and cannot be mailed to PO Boxes, only a physical address.
Enter for your chance to win in the Rafflecopter entry form below.  Giveaway starts NOW and will end on 1/26/2018. Winner will be chosen and notified by or before 1/29/2018. Winner will be contacted via email. Winner's name will also be visible in the entry form (First name and last initial). Only the winner will be contacted. Winner MUST respond within 48 hours of winner announcement and provide a mailing address. If the winner does not respond within that time frame, the prize is forfeited and a new winner must be chosen. While we have never had a problem with a giveaway before, Highlights Along The Way cannot be held responsible for lost or damaged prizes.
Want to know more about Luciana? Meet Luciana on her own webpage. A big thank you to American Girl for sending us Luciana to facilitate this review! My daughter has obviously fallen in love and has big plans to buy ALL THE THINGS that go into her world. We also say thank you for allowing us to host a giveaway!