Marie – Aristocats – Pumpkin Carving Template
It is pumpkin carving time! As huge Disney fans, we almost always have at least one Disney themed Jack o Lantern each year. My daughter is especially obsessed with kittens. Marie from The AristoCats is currently her favorite Disney cartoon character. We could not find a Marie pumpkin carving stencil, so we made one ourselves! This is an easy stencil to carve. Happy Halloween!
We personally like to carve part of the pumpkin all the way through and part of it just scraping the top layer. We like the added dimension of bright light and some soft glowy light. Anyone going through a kitten obsession will love having Marie on their Jack o Lantern.
Marie AristoCats Printable Pumpkin Stencil Template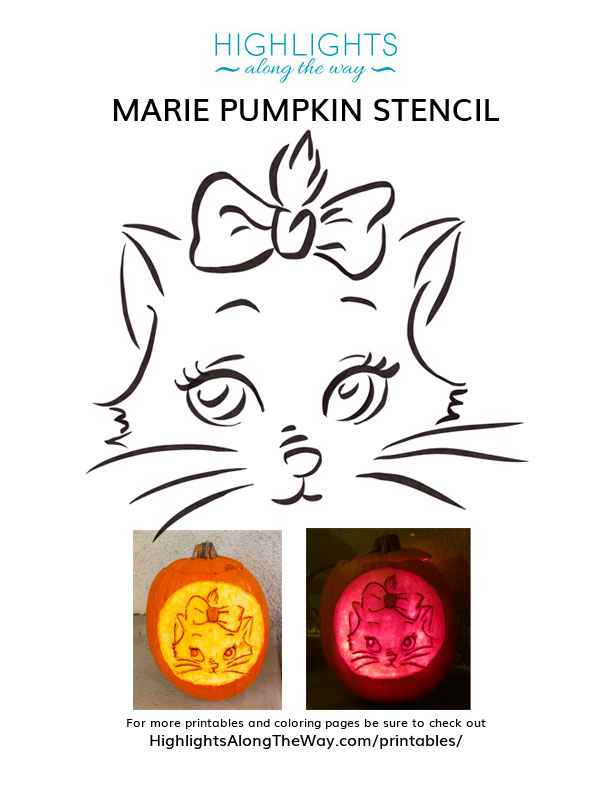 Marie with her cute little bow is instantly recognizable to any true Disney fan! Can't you just hear her saying "Because I'm a lady, that's why!"? Just me? Maybe…..

We hope you have a safe and happy Halloween!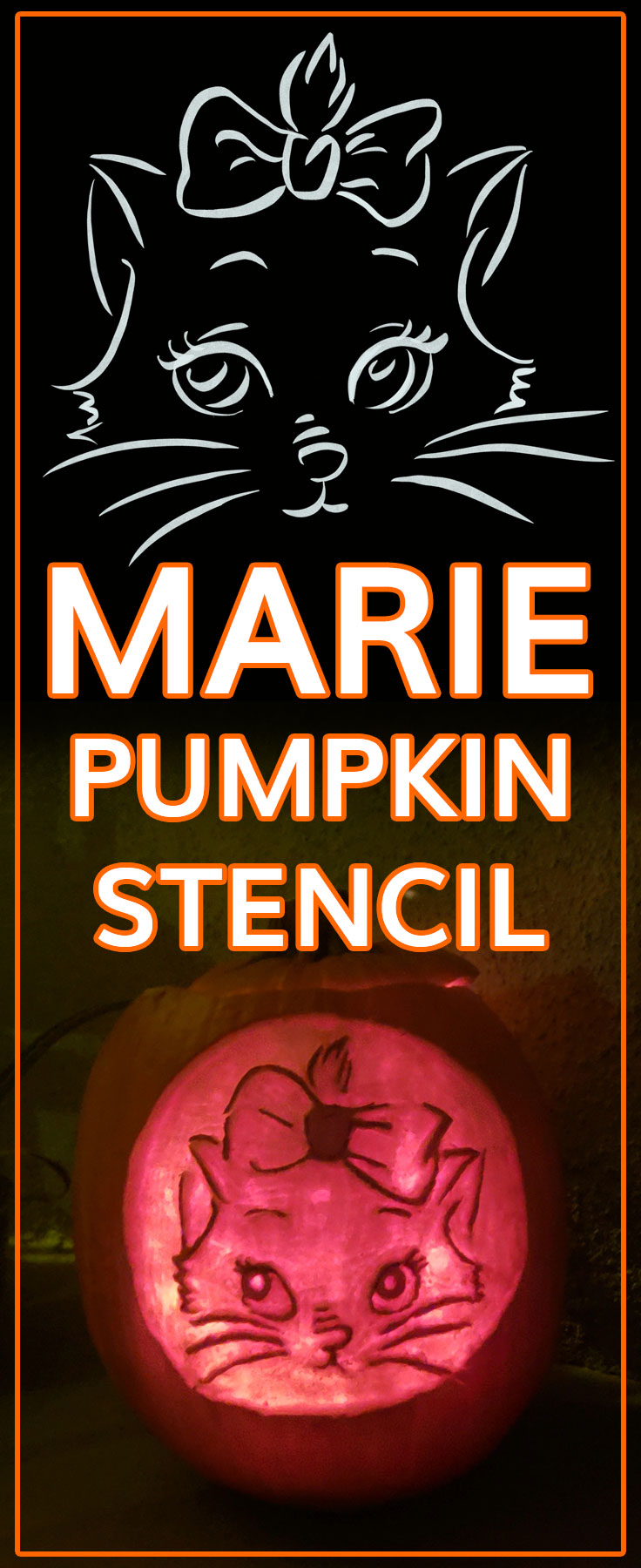 What is the Aristocats?
"Aristocat" is a play on the word "Aristocrat". The Aristocats are the fanciest cats to ever be featured in a full length classically animated film by Walt Disney Studios.
The Aristocats is a 1970 American animated romantic musical comedy film produced by Walt Disney Productions and directed by Wolfgang Reitherman. The 20th Disney animated feature film, the film is based on a story by Tom McGowan and Tom Rowe, and revolves around a family of aristocratic cats, and how an alley cat acquaintance helps them after a butler has kidnapped them to gain his mistress's fortune which was intended to go to them. The film features the voices of Phil Harris, Eva Gabor, Hermione Baddeley, Dean Clark, Sterling Holloway, Scatman Crothers, and Roddy Maude-Roxby.
In 1962, The Aristocats project began as an original script for a two-part live-action episode for Walt Disney's Wonderful World of Color, developed by writers Tom McGowan and Tom Rowe and producer Harry Tytle. Following two years of re-writes, Walt Disney suggested the project would be more suitable for an animated film, and placed the project in turnaround as The Jungle Book advanced into production. When The Jungle Book was nearly complete, Disney appointed Ken Anderson to develop preliminary work on The Aristocats, making it the last film project to be approved by Disney personally before his death in December 1966. Longtime Disney collaborators Robert and Richard Sherman composed multiple songs for the film, though only two made it in the finished product.
The Aristocats was released on December 24, 1970, to positive reception and was a box office success.