Mary Poppins Returns Red Carpet
Disclosure: Highlights Along the Way is a participant in the Amazon Services LLC Associates Program, an affiliate advertising program designed to provide a means for sites to earn advertising fees by advertising and linking to amazon.com. This site uses affiliate links. #MaryPoppinsReturnEvent was hosted by Disney.
Every red carpet premiere is unique and special, but Mary Poppins Returns was practically perfect in every way. I was thrilled to be a part of the #MaryPoppinsReturnsEvent press junket. I cannot wait to share about interviews as well as my personal review about Mary Poppins returns, but first I want to share what it was like at the World Premiere in Hollywood! Mary Poppins Returns opens in theaters everywhere on December 19th, but the World Premiere was held at the historic Dolby Theatre in Hollywood this past week.  The love and reverence for the original movie and actors was clear from start to finish.  From the first steps on the red carpet to the after party, and I am so happy to share the highlights today.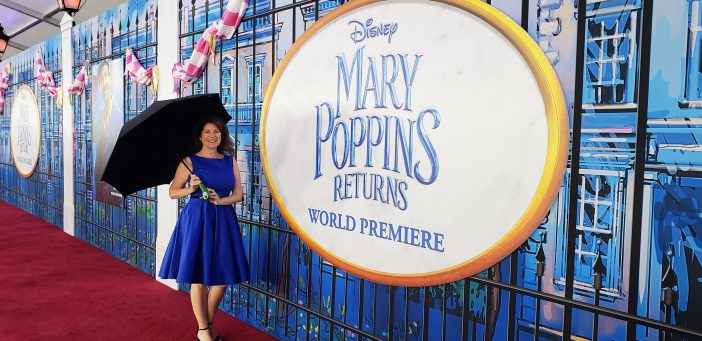 The night of the red carpet was cold, windy, and rainy.  While rain in Los Angeles is uncommon and inconvenient for dressy events, it also felt fitting for Mary Poppins.  I wasn't sad about needing an umbrella, especially since I have an authentic Mary Poppins Umbrella from years ago that was obviously the world's more appropriate accessory for the night.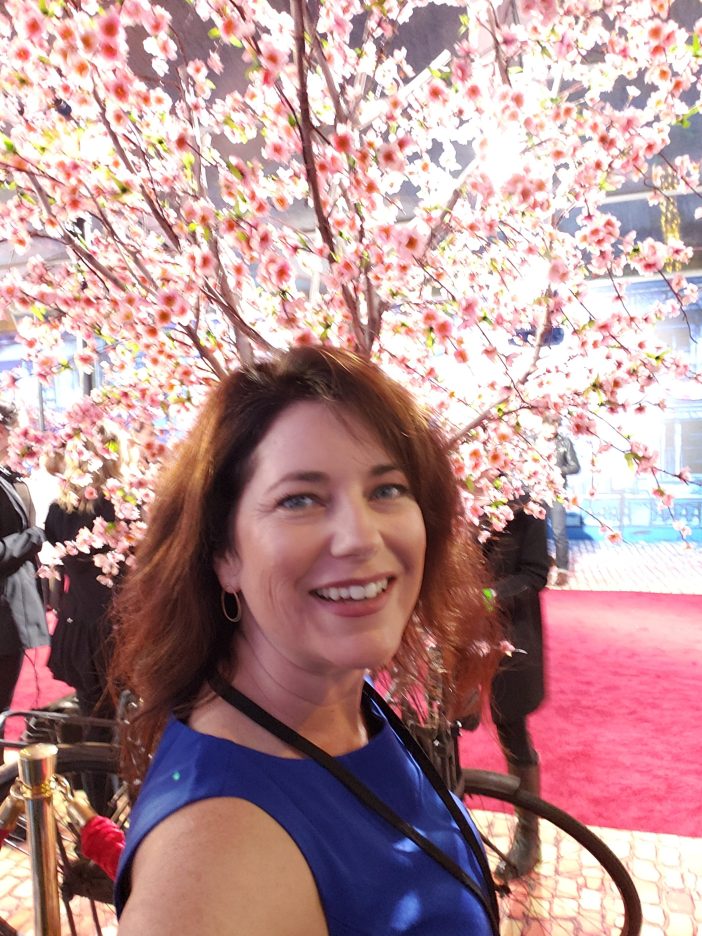 The carpet was a classic red and the decor was whimsical and sweet.  My favorite feature was the cherry trees, just like on Cherry Tree Lane.
World premieres always have star studded audiences, but Mary Poppins Returns seemed to have more than I have ever seen! The stars of Disney's "Mary Poppins Returns" including Emily Blunt, Lin-Manuel Miranda, Ben Whishaw, Emily Mortimer, Dick Van Dyke and director Ron Marshall of course attended. There were also dozens of other stars in attendance. Here are just a few official photos from the red carpet.
Nerds; may I have your attention please.  The photo below is Lin-Manuel Miranda taking a selfie with Karen Dotrice.  Why is this awesome?  This is awesome because Karen Dotrice played the original Jane Banks.  If your heart skipped a beat while reading this, we should probably meet in real life.
OK, so I know you mainly want to know about the movie and real movie stars, but several people asked me about my dress.  Friends, just like my Ralph Breaks the Internet Jumpsuit, it was from Amazon! I wanted a pretty dress with a vintage vibe. Attending the red carpet of Mary Poppins Returns was a kind of a surprise for me, so I had a quick turn around and a small budget. I got so many compliments on this blue 50s style cocktail dress. It comes in several different colors, but the blue reminded me of Mary Poppins. Was I as fancy as the stars? Obviously not, but it was cute and I had a ton of questions about it so I thought it was only right to share.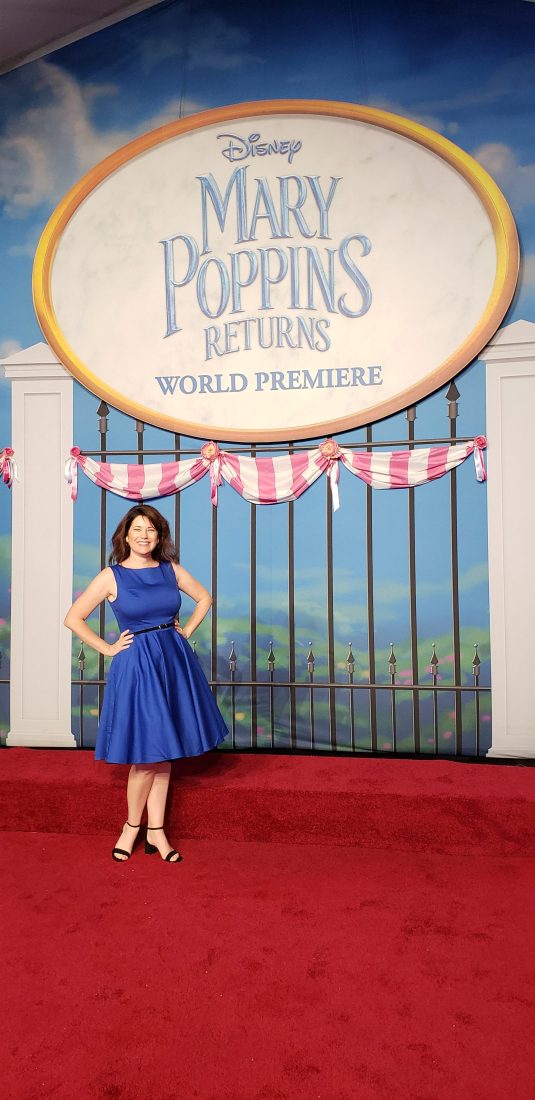 After we walked the red carpet, we entered the historic Dolby Theatre. This is the theater where the Oscars are held each year, it holds over 3,000 people and it was full that night. While there were special moments throughout, I believe the most surreal was just moments before the film began.  The theater was packed with literally thousands of people excited to see this sequel that was decades in the making.  Phones had to be relinquished at the door, as they regularly do at events like this; so this moment went uncaptured except in my memory.  A few minutes before the film began, in walks none other than Dick Van Dyke. He walked in through the front of the theater, rather than the back door as most do. He was immediately recognized and the entire theatre erupted into applause and a standing ovation.  Dick Van Dyke; who is over 90 years old graciously and humbly uttered "Oh my gosh…" while looking around and thankfully nodding to audience members.  He quickly took his seat a few rows back with his family, and moments later, after we went through the same steps with Lin-Manuel Miranda and his wife, the audience settled down and the beginning credits began to roll.  You will have to come back in a few days to hear my thoughts about the movie. That moment though, with no cameras; Dick Van Dyke taking in applause will sit with me forever.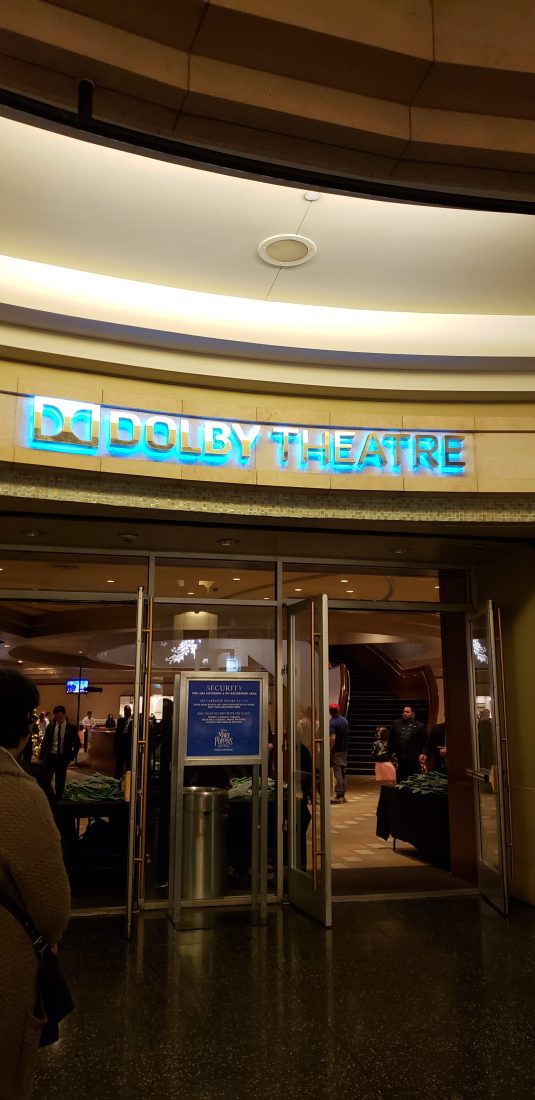 If that moment was not enough, at the end of the film the cast, director, and song writers came up for a quick bow. Once again, the audience was on our feet to cheer.
And after the movie, we were off to experience more magic.  I know I always say after parties are incredible, but this one was for Mary Poppins Returns. There was amazing food, sweet treats, and drinks.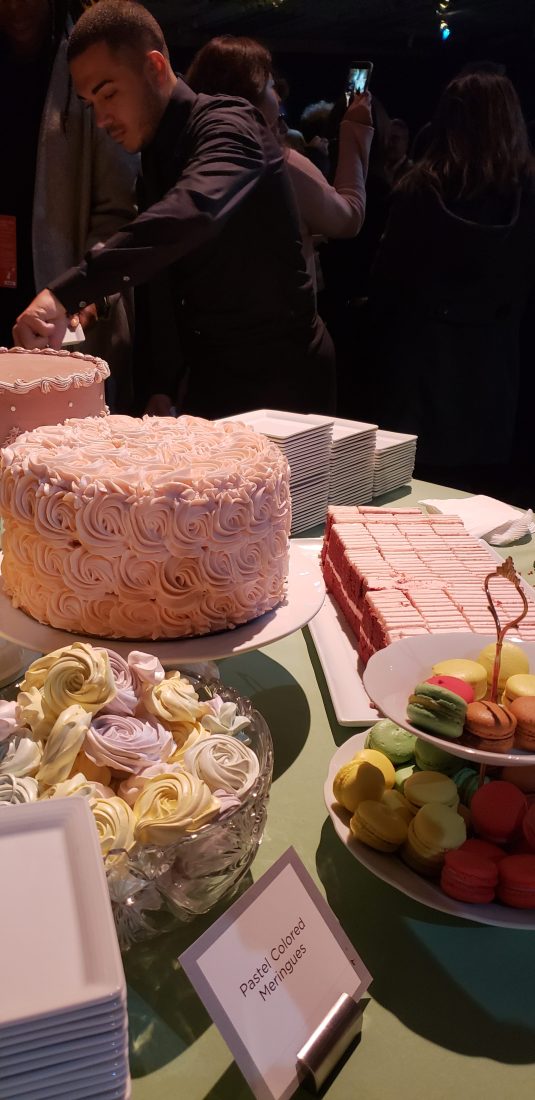 Costumes from the film were displayed all throughout the room.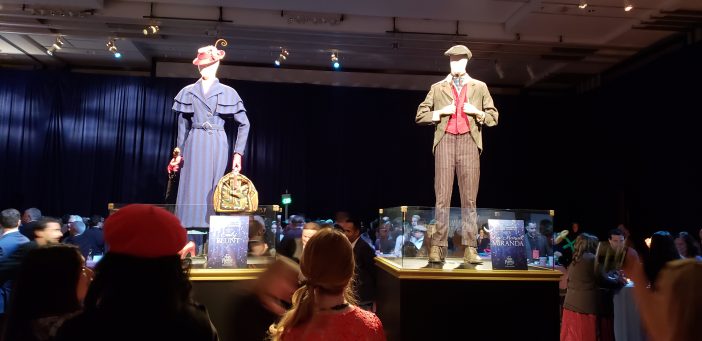 We met a few stars. If I am being honest, I am not one for 'selfies with celebrities'. I feel awkward asking, but I did have a couple moments that were fun!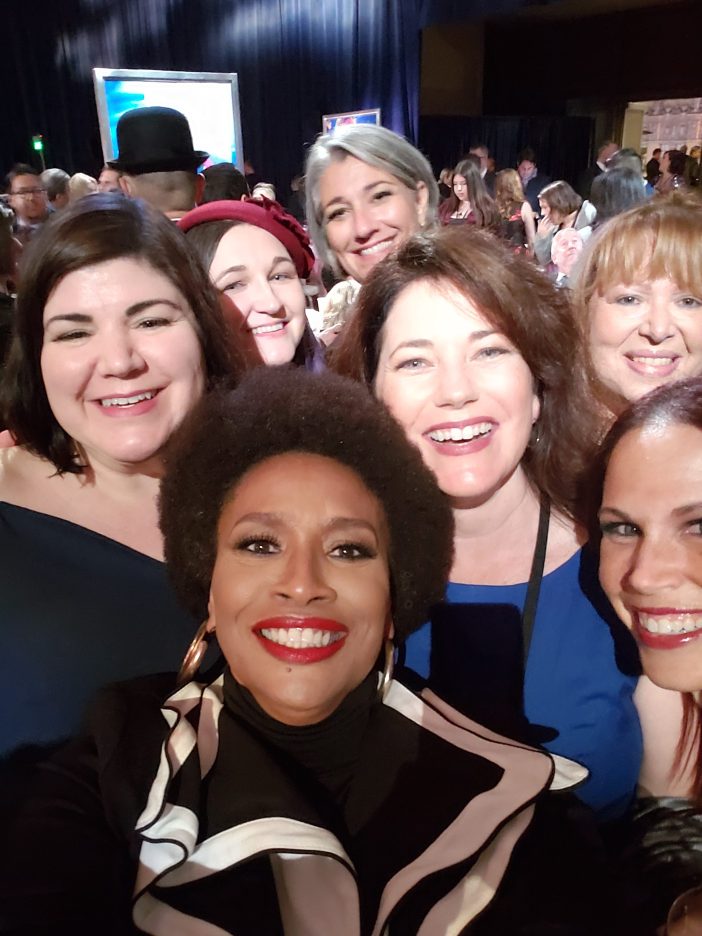 Jennifer Lewis was kind enough to take a photo with our group. We love her in Blackish on ABC.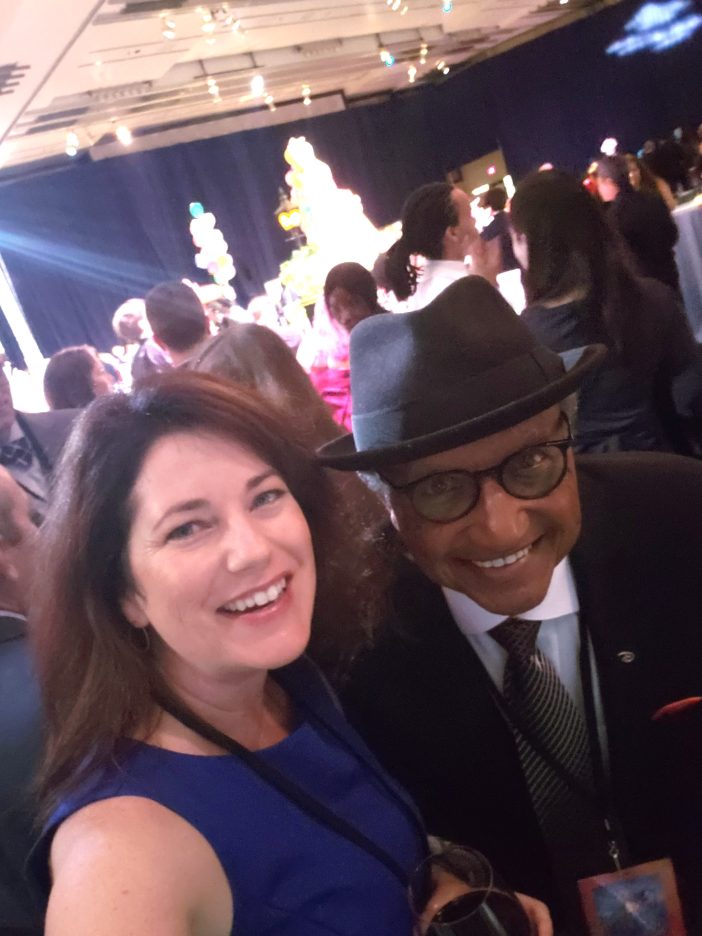 Floyd Norman is in his 80s and I am pretty sure I was one of the only people who knew who he was.  Anybody?  Floyd Norman is an animator.  He worked on the animation of the original Mary Poppins among many other films.  He was kind enough to let me gush about what animation had meant to me.  He told me he did not work on this film, but that he loved it.
And because I have a 12 year old boy in the house, I of course needed to snap a quick pic with Weird Al. Not surprisingly, he was very nice to chat with in the buffet line.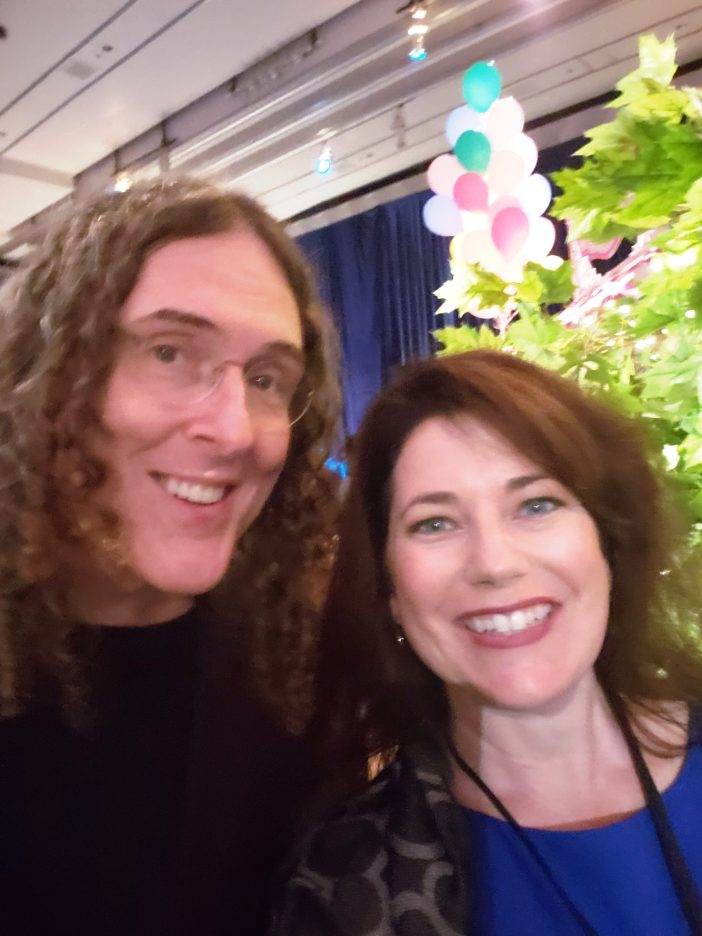 Friends, I cannot share my full review just yet; but this movie was perfection in my Mary Poppins loving mind.  As a life-long fan, I was honestly a teensie bit hesitant.  As I will share more about later, all that worry melted away within moments of the beginning credits.  Our family will be celebrating with a movie night featuring the original before hitting the theaters on December 19th.
Mary Poppins Returns is not a remake, but an absolutely perfect sequel. This featurette just makes my heart so happy!
Mary Poppins Returns opens in theaters everywhere on December 19th.  Audiences are already excited so it is a good idea to grab your tickets early!  Purchase your tickets through Fandango and skip the lines! As always, thank you to Disney for having me along for #MaryPoppinsReturnsEvent – it was practically perfect in every way!
*Photos are mine or by Disney and used with permission*