Mary Poppins Returns – is it as good as the original?
Disclosure: #MaryPoppinsReturnsEvent was hosted by Disney. This site uses affiliate links.
Mary Poppins Returns is Disney's much anticipated sequel to Mary Poppins.  Mary Poppins Returns is another story, not a remake.  Many fans are as apprehensive as they are excited about this film. The one question I have had asked over and over again when someone hears I attended the world premiere of Mary Poppins Returns is "Is it as good as the original?".  Today I am excited to finally be able to share a no spoiler review of the sequel we have all waited more than half a decade for. I will go on record as saying right from the beginning that Mary Poppins Returns was all I could have dreamed of and far more.
Let's start with Mary Poppins herself. Emily Blunt certainly had her work cut out for her.  Mary Poppins is the most iconic nanny, and the original movie is one that many point to as the first movie they ever remember seeing.  Mary Poppins, with her quirky magic and heart-warming life lessons is universally loved.  Generations of movie goers have fallen in love with Julie Andrews and I honestly wondered if anyone, even the incredibly talented Emily Blunt could step into such big shoes.  Emily Blunt does not do an amazing Julie Andrews impression, she becomes Mary Poppins in her own right. She stays true to the original and also makes her own version of Mary.  It is nothing short of magical.
Mary Poppins Returns Free Printable Coloring and Activity Sheets!
Because this is not a remake, Bert has gone on, the kids have grown up, and there are new children added to the story.  Jane and Michael Banks are both grown.  Micheal has children of his own, Jane is helping out since his wife passed away.  Mary Poppins comes to help the Banks children. She promises to stay until the door opens.  There are new characters, but the pattern is the same. Each new character is uniquely their own, but fans will quickly know who they are taking the place of in the story. There is a quirky distant relative, a loveable grown up who doesn't forget the magic, cartoon characters, and more.  There are parallels throughout the film that I found charming and clever.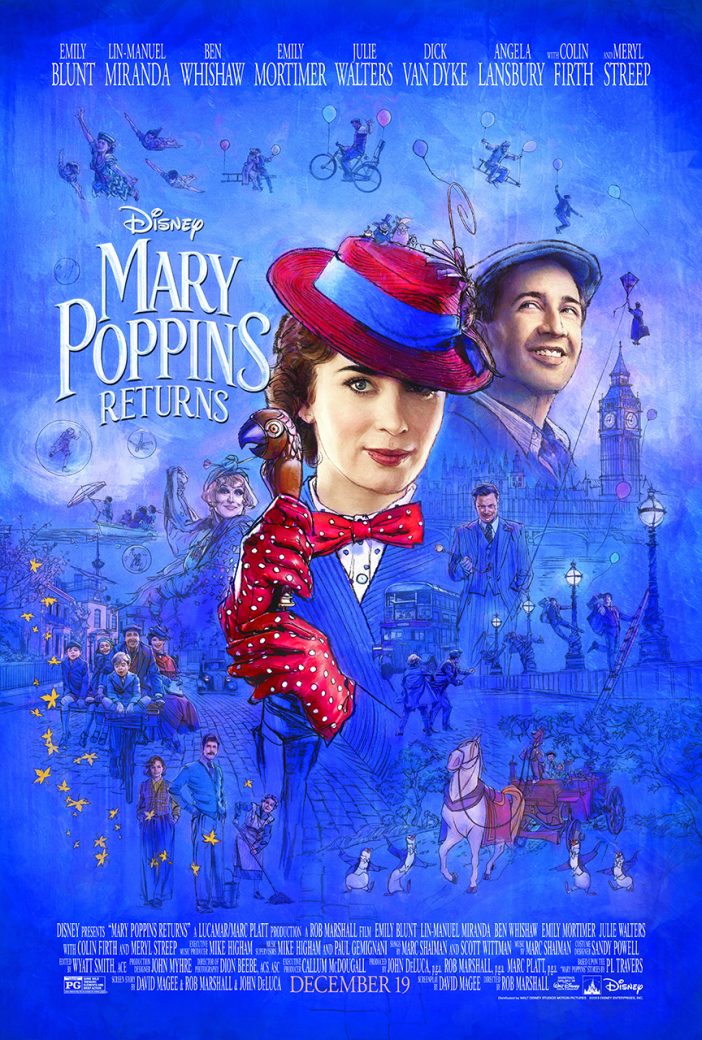 My favorite scene is when Mary, Jack, and the children jump into a bowl (like Mary, Bert, and the original Banks children jumped into a street painting).  Spoiler alert, penguins show up.  Nerds that appreciate classical hand-drawn animation are going to lose their minds and feel so happy.  This scene was made for the truest of Disney fans.  I could watch it 100 times.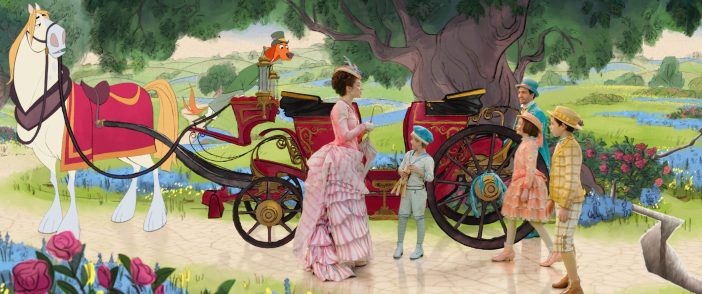 There are nods to the original film throughout, but it is not overdone.  While in the attic, you might see blocks from the original nursery. The foyer of the home has an original table from the first movie.  While all the songs are original, you will also hear interludes with music from the first.  Cameos are made by the original Jane Banks (Karen Dotrice), Dick Van Dyke, penguins, and more.  Jane Banks follows in her Suffragette mother's footsteps by working to help laborers earn a decent living. Mary Poppins Returns marches forward in time, but it is the perfect extension of the story.
Why Does Mary Poppins Returns have a PG Rating?  Is it scary?
Mary Poppins Returns is rated PG and I believe that is a fair rating.  We are often asked about whether or not we think a film is appropriate for kids.  While my stance is that parents always need to make decisions based on their unique family, I have two small (no-spoiler) plot points that I will need to talk with my kids about.  At the beginning of the film, Mary Poppins takes the kids into a wonderland in the bath.  There are songs and fun and nobody drowns; but I will need to explain to my littlest that holding her head under water in the bath is actually dangerous.  In addition to Mary Poppins underwater adventure, there is one other scene that I think might make even more parents unsettled.  Jack, at one point needs to climb Big Ben to save ALL THE THINGS. Not only that, he catapults himself at one point hundreds of feet above ground without a net.  I remember heart palpitations thinking about my daredevil watching this scene.  So much is riding on Jack's heroic, yet really recklessly dangerous climb. Ultimately, (maybe this is a spoiler) Jack saves the day; cementing what a good idea it was for him to CLIMB BIG BEN and pull off acrobatic stunts without a net.  I know there are two sides of this coin. Some will say "It's just a movie, lighten up! Kids know what fantasy is!" and then there are other parents that are like "Yeah, my kid is totally gonna try that and maybe a chat beforehand will help."  I'm not here to debate it with anyone, I know my kids will need some guidance before that stuff and nonsense is put into their heads on the screen. If your kids are very little and have a hard time with fantasy, or are daredevils and like to act out movie scenes, it is just a good plot point to be aware of.  All that to say, even with those moments; I will take my kids to see Mary Poppins Returns. In every other way it is clean and wholesome; no bad words, no inappropriate jokes or suggestions. Nobody dies or even gets injured. As I have said before many, many times…. Mary Poppins Returns is practically perfect in every way!
Mary Poppins Returns, simply put is the perfect film to take your entire family to this holiday season!  With multiple Golden Globe nominations, and Oscar buzz already, it is going to be popular for sure! Mary Poppins Returns opens in theaters on December 19th. Tickets are already on sale and are sure to sell out!  Purchase your tickets through Fandango and skip the lines!
Can't get enough about Mary Poppins Returns?  Make sure to read our interviews with Lin-Manuel Miranda and Emily Blunt. Don't miss the photos from the World Premiere of Mary Poppins Returns either (Emily Blunt's dress is to die for!)
As always, thank you to Disney for having me along for #MaryPoppinsReturnsEvent – it was practically perfect in every way! Make sure to grab this Jack the Lamplighter shirt to wear to the movies – you know all our kids will be wearing one!
Follow along on social :
Twitter:           https://twitter.com/disneystudios
Instagram:       https://instagram.com/marypoppinsreturns
The official Hashtag: #MaryPoppinsReturns
Photos by Disney and used with permission.