Max and Sleigh Lawn Display Instant Download!
Welcome to Whoville! We have several instant downloadable plans to make your own Winter Wonderland featuring the Grinch and Whos! Below is a printable Max and Sleigh Template is available for purchase. Max is the dog companion to the Grinch who is forced to help him steal presents from Whos. No Grinchmas Lawn display is complete without Max and a sleigh of stolen gifts!
Max is an adorable character, but we had to get creative on how to feature him. This is one of the few displays that is not an exact still from the film. We lovingly learned Max's character design and changed up the way he pushes the sleigh so we can see his face and makeshift antler.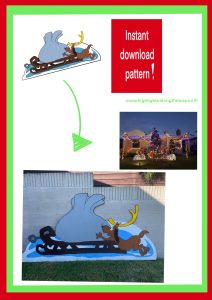 Our number one question for our Grinchmas Lawn Display is where we got all of our lawn displays. We made all of our Grinch inspired lawn displays. Many have asked for us to create a PDF pattern so they can make a Grinchmas for their own lawn display, school play, or your version of Seussical the Musical! Simply purchase the PDF and download on your computer.
We will be adding every item from our Christmas Grinchmas Holiday Lawn Display as a pattern so make sure to bookmark our blog. Our next item to release will be a printable download of Whos singing! We currently have an extra large "Welcome to Whoville" sign, Cindy Lou Who, Max and Sleigh, and a Grinch Storybook printable available.
Once we have all of our items available, we will also create an option to purchase all at a discount together. This will be available in plenty of time for 2023. We currently only have individual purchase options.
The ULTIMATE Grinch Holiday Lawn Display! <—- See all our pictures and video here!
Available Whoville Patterns – List will grow!
Downloadable CINDY LOU WHO – 3D pattern here!
DOWNLOADABLE WELCOME TO WHO-VILLE SIGN PATTERN HERE!
Welcome to Grinchmas In Los Angeles – Video Tour!
Please note, our Grinch Lawn Displays are larger than any others we have seen available for purchase. Our Whoville Sign Pattern is over 7 feet tall! This Max and Sleigh is over 7 feet long! If you have a large front yard, you will want these oversized lawn displays to show off to your neighbors! No tiny, disappointing displays here! This is a LARGE panel and pattern. The PDF is about 50 pages and includes a grid made with standard printer paper for the sleigh and Max as well as a basic color key and the materials we used. We also share the structure we used to stabilize behind. Please note this detailed PDF is going to need a lot of paper to print.
We will not tell you what kind of power tools to use or not. We cannot troubleshoot your project so please only download if you look at our Grinch display and think to yourself "I have the skill set to make this if only I had the pattern."
Please know how to download before hitting that button. We cannot troubleshoot your computer.
Commonly asked question. "Can I make this smaller?" Answer : "if you would like to scale your PDF, you are welcome to." We do not have any other sizes available to print. We have created an extra large Who-Ville sign for our personal use and when we shared we had many people reach out wanting to be able to create or buy one also. We do not want to create them to sell so we have created a large Who-Ville Sign Pattern download. This is the only size available on this site.
These patterns are for personal and public school use only.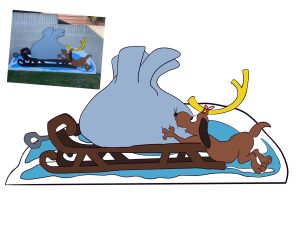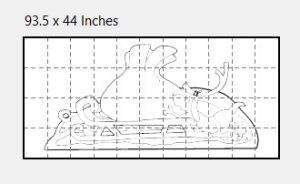 The ULTIMATE Grinch Holiday Lawn Display! <—- See all our pictures and video here!
Wishing you a happy holiday season!