An interview with the cast of MECH-X4
Disclosure: Our interviews and screenings were part of the #DoctorStrangeEvent press junket. Expenses were paid, but opinions are always my own.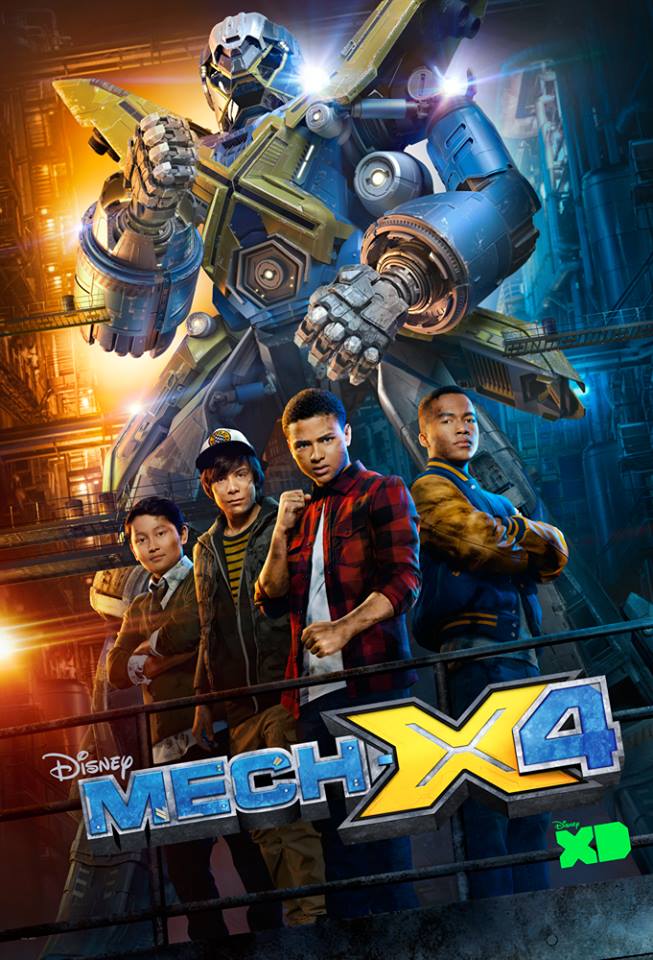 MECH-X4 is the series my son has been waiting his whole life for.  This new series on DisneyXD is exciting and has a great message.  While I was in LA for the Doctor Strange Event I was able to also sit down and speak with the cast and creators of MECH-X4.  Here are the highlights of that interview.
First, I should admit I had never heard of MECH-X4 until the day of our interview. The premise of the show is that high school student Ryan Walker discovers he can control technology with his mind.  Yep, you read that correctly. It gets better….. MECH-X4 is a 150 foot robot that Ryan and his friends discover that he finds he is able to control.  His new found super power and his new robot come in handy to fight giant monsters that threaten their school.
The show uses lots of special effects to create robots, monsters, stunts, and more.  While the effects will be exciting for kids, they are not quite life like enough to be truly scary.  Kids of all ages will really enjoy the action and imagination in MECH-X4
Speaking with the creators of the show gave us a great perspective on their influences and why the show came to be. Here are some of the highlights….
Blogger : What were your influences?
 Steve Marmel "There's a little ET, there is a little Goonies." (we all agreed!)   We love giant robots – we both love giant robots. So obviously, were 'yay, we get to play with a giant robot." like that's, that's both of us as kids.
Anupam Nigam Nigam added " And I love on Transformers. I grew up on Omega Supreme. And for me it was also Godzilla. It was a big influence.  In fact there are several Godzilla movies where he fights a giant robot. I made him watch them."
Steve added,  "We're both comic guys, and I'm a huge comic book guy.  So that serialized storytelling of epic stories, that's the stuff I love the most.  But it's the kids in the robot that I love."
One thing I noticed right away is the whole cast is diverse ethnically (good), but there are no girls (what gives?!) .  Another blogger beat me to ask why the MECH-X4 team was all male.
They said they could not give away too much but shared "I would say we are, we're a serialized show. That's the sort of the engine of the show, the two brothers and the friendships, but keep watching. "
The ensemble cast is made of four the the most charming boys on the planet. Nathaniel Potvin, Kamran Lucas, Pearce Joza and Raymond Cham When interviewing child and adolescent actors I honestly never really know what I am walking into.  These four kids were all funny, smart, well spoken, and clearly excited to be on a Disney series. Here are some of the fun things they shared with us…..
When asked how they are like their characters, each actor had a great response….

PEARCE JOZA  "I like to say I'm like my character and not like my character.  Spyder's very crazy and he likes to do a lot of daredevil stuff type things.  And I lived in Colorado for a long time so I like to go out back and, play in the pond and climb trees or whatever.  I also love school.  I'm taking college level courses and Sypder's not very good at school."
NATHANIEL POTVIN  "I'm kinda like my character because, Ryan is always rising to the occasion.  So whenever he has to fight a monster or even stand up to his brother, I'm kinda like that in some ways.  Also, I have two older brothers so I know exactly what Ryan goes through on a daily basis.  And, Ryan loves to skateboard.  I love to skateboard.  So there's some similarities between us there."
KAMRAN LUCAS   "Harris and I are pretty similar in like book smart terms.  But not so much.  More of like we both dress really nice and we're both ladies men."
RAYMOND CHAM   "Oh, how do you follow that? I'm kinda like my character in a way.  When it comes to family I'm very protective.  And you'll see that later 'cause right now you've just pretty much seen me crank my brother.  But yeah, I care for my family and I'll do anything to protect them and make sure that they're okay.  I've also dabbled in sports a bit.  When I was around eight or nine, I used to play basketball.  But, other than that, yeah, I'm not too similar."
I loved the answers to the question "If you had any super power in life what would it be?"
RAYMOND CHAM   :    "Shape shifting!  It's the craziest.  Boom, I wanna fly, I'm a bird.  I end up in the water I'm a whale.   I could be anything.  Yeah, 'cause it's my favorite.  I think about it all the time.  Maybe too much, but…  Everyone's like, I wanna fly.  What?  That's it?  That's all you wanna do?  I could do that.  I could do anything."
KAMRAN LUCAS   :   "I kinda wanna have the ability to stop and turn back time. (note by Kate  – he should probably see Doctor Strange)…..     because in case I wanna change something like when I was younger, I was at Legoland and this girl pushed me.  I was really mad 'cause she did it for no reason and I just want to go back and say, 'hey, I'm on Disney Channel now.'"
NATHANIEL POTVIN    :    "If I had a super power it would probably be teleportation because who wants to pay for airline tickets?  No one.  No one does.  Also, it would just be really convenient.  If I got locked out of my house I could just teleport inside my house."
PEARCE JOZA    :    "Telekinetic powers."
The cast and producers are one of a kind and work so well together.  I cannot wait for my son to see MECH-X4 next week!
Disney's new serialized live-action series "MECH-X4" will be presented in an expanded premiere weekend with four back-to-back episodes on Disney Channel, the Disney Channel App, and Disney Channel VOD starting FRIDAY, NOVEMBER 11 (8:30 p.m. ET) through SUNDAY, NOVEMBER 13!  Mark your calendars friends!