Medieval Times in Orange County! Family four pack giveaway!
Disclosure: Hosted. This site uses affiliate links.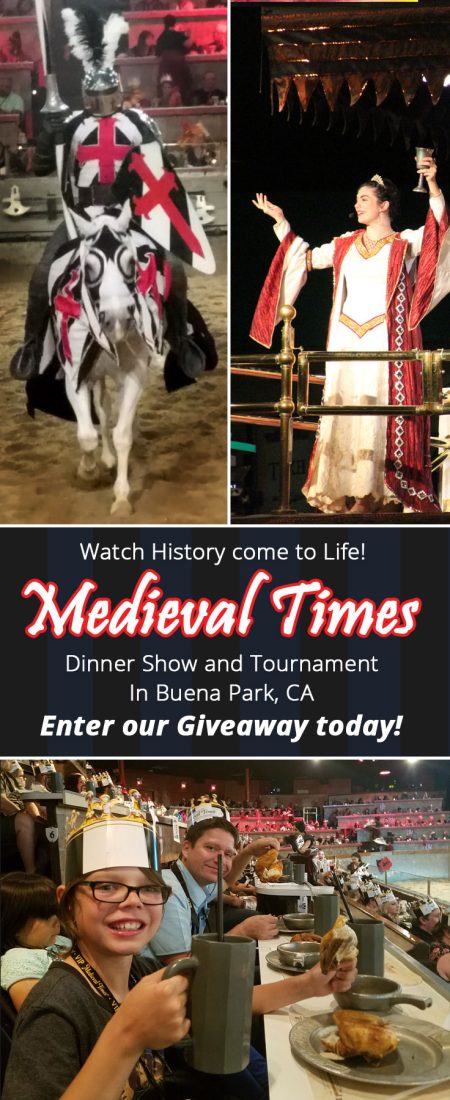 Medieval Times is for the whole family! As summer approaches we can't wait to share as many fun ways to enjoy Southern California as possible. Today we are sharing about our first trip to Medieval Times in Buena Park.  Many people ask us about fun things to do in Orange County other than theme parks, Medieval Times is a must for families. Today we have a giveaway sponsored by Medieval Times, so make sure to enter at the bottom! Also, don't miss the Medieval Times Groupon that is currently available!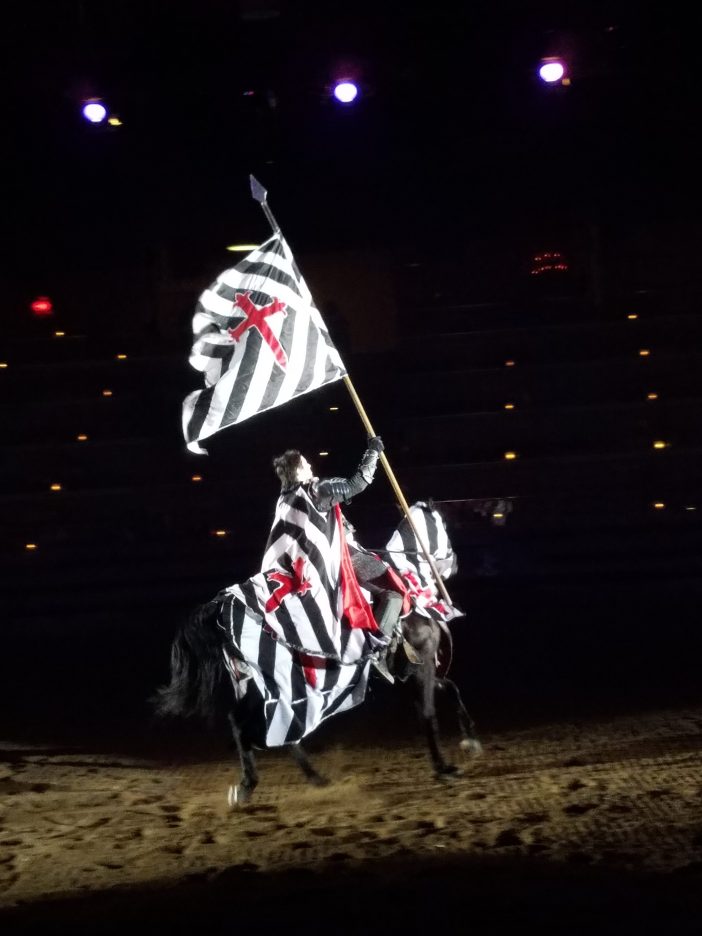 For those who have never heard of Medieval times, it is an awesome dinner show that brings guests back in time.  A huge feast is served and guests are treated like royalty! Hundreds of guests cheer for their knight, enjoy jousting, beautiful dressage performances, and more.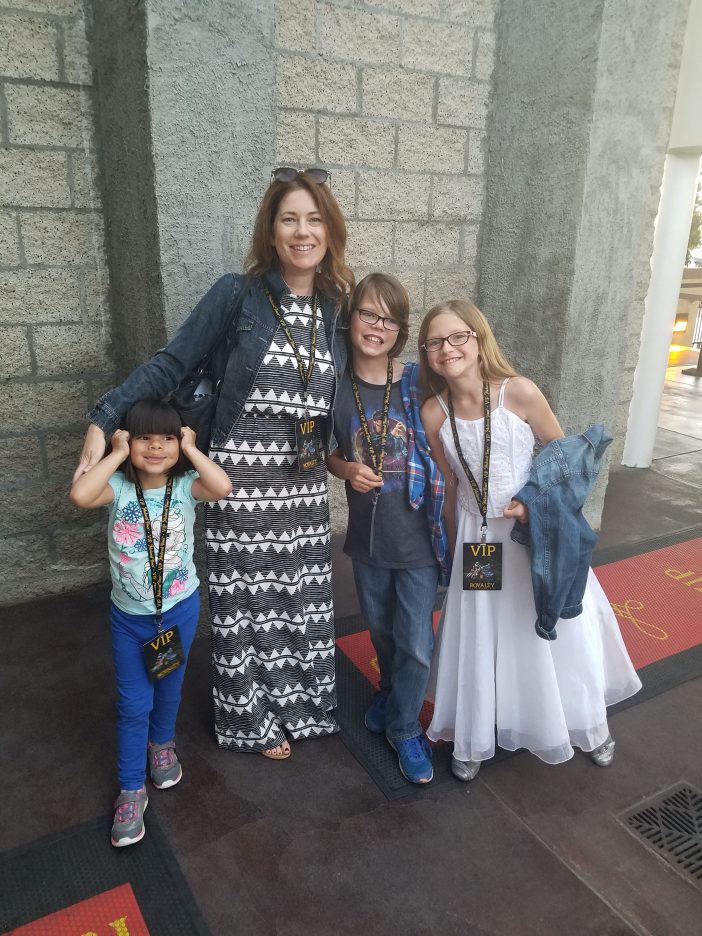 It is appropriate to dress casual at Medieval Times, which is excellent for families or school groups.  Should you want to dress up, that is fun too.  Our oldest daughter was not going to pass up the chance to dress like a princess! The characters noticed for sure.  Several times during the show the knights came by and threw flowers to ladies in the audience.  Her princess dress certainly drew the attention of our knight and she felt very special.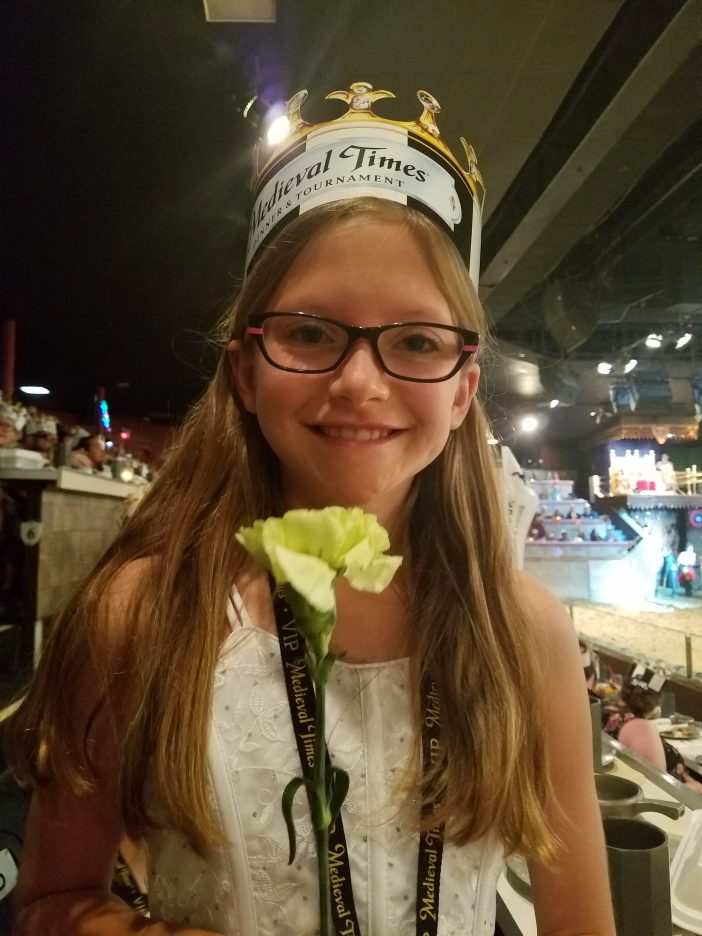 Knights will throw flowers out to a few lucky ladies in the audience.  J was so excited!
The highlight of our evening was when Little Miss C was chosen as the knight's queen.  She was somewhat disappointed that she didn't get to keep the entire lance, but a beautiful sash was pretty thrilling too.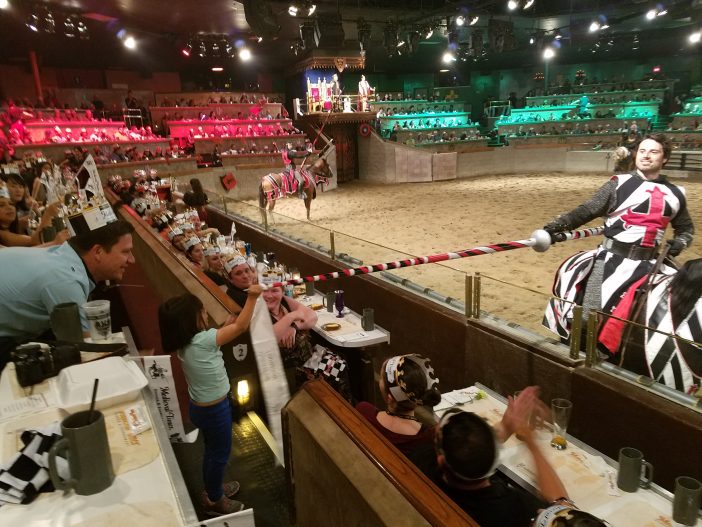 Queen of the Tournament!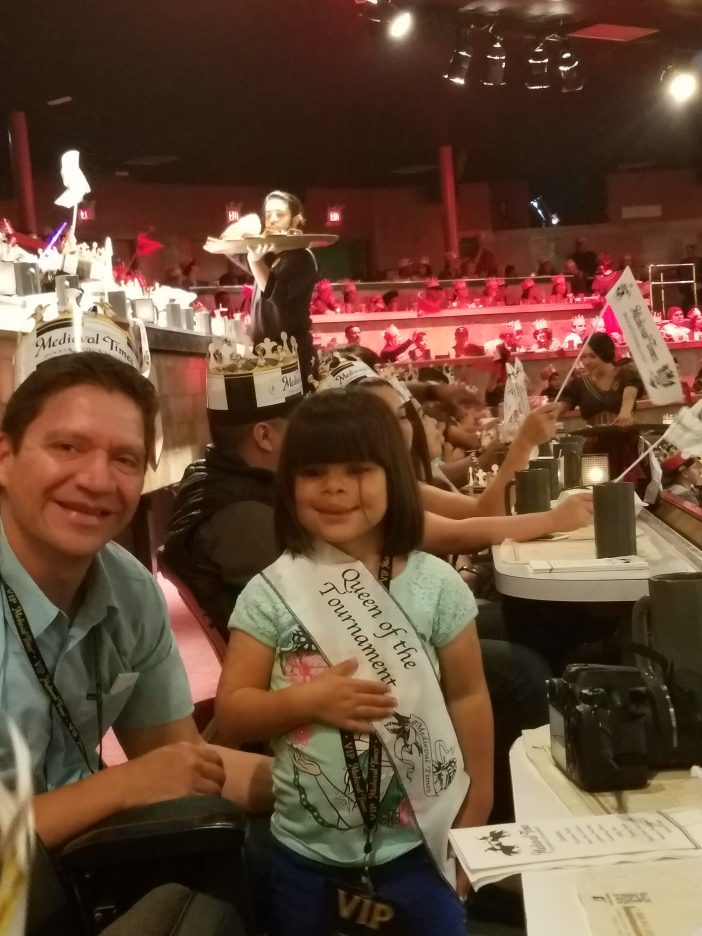 Meals at Medieval Times are huge and of course are themed.  There is no silverware at Medieval Times because there was no silverware in Medieval Times.  They have soda and fruity cocktails though, so there is some break down in the theme department.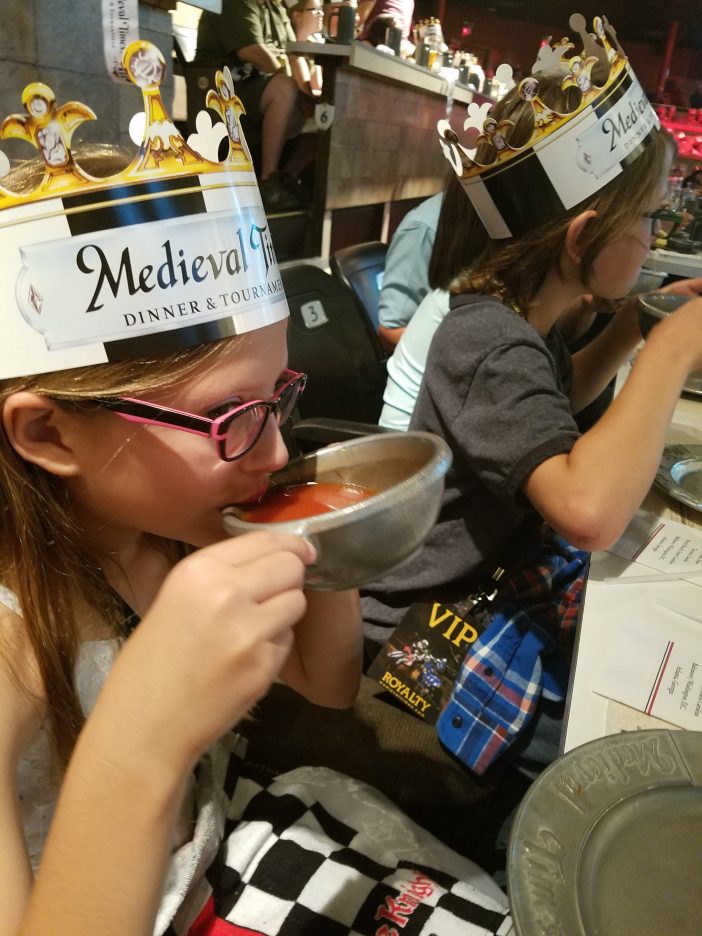 The pre-set meal includes soup, chicken, potatoes, corn, and cake for dessert. My oldest and I enjoyed the vegetarian meal option which included veggies, pita, and hummus, as well as a hearty vegetarian chili. "Eat, drink, and be merry!" my son said.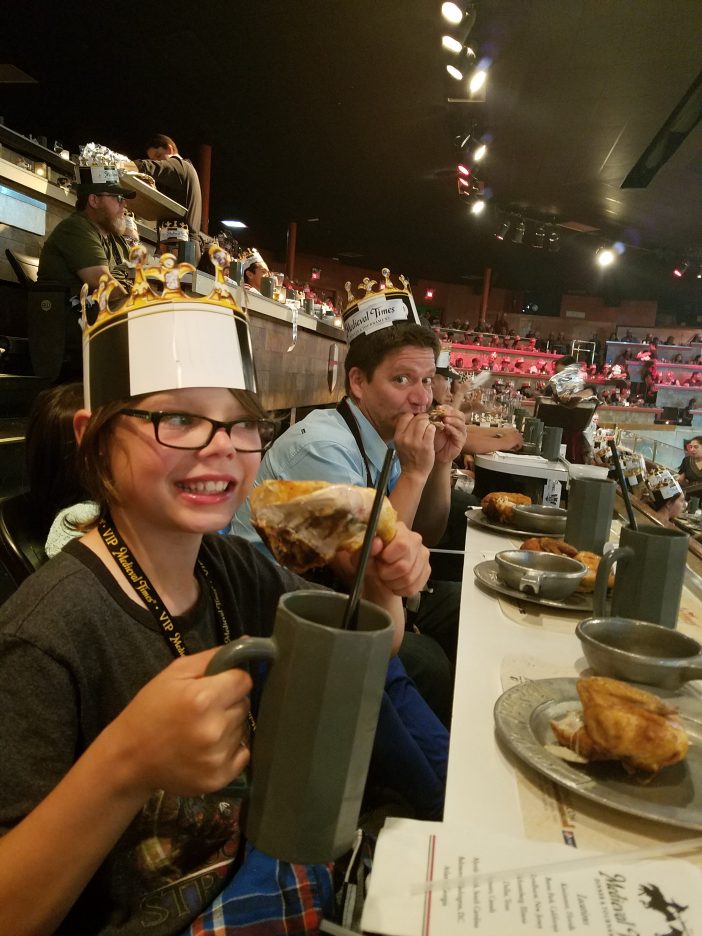 Son's status : Giant half chicken in one hand and mug of apple juice in the other. Life is amazing except that Mom wants to take my picture and I want to watch the Tournament.
Husband's status : I made my crown too small for laughs.  Also, this photo bomb was too easy.
This is what I have to work with people.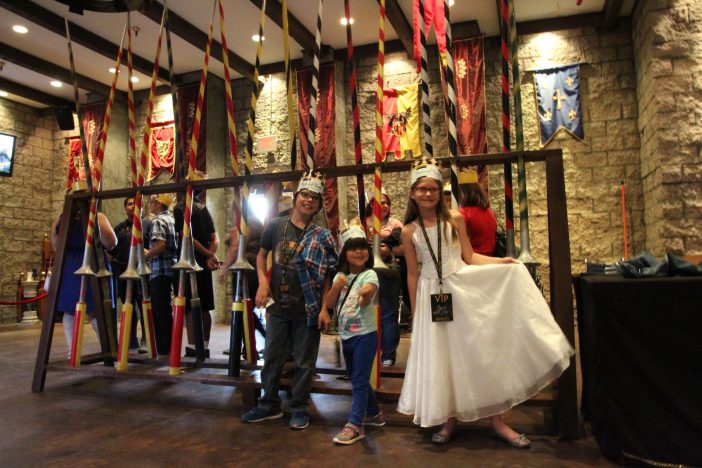 Medieval Times really is the perfect trip for any family, but it is also great for school groups!  We love to participate in as many fun experiences that we can also learn is as possible. As a home schooling family that loves history, we felt this really brought Medieval times to life! The kids loved the royal court, the jousting, cheering on the knights, and the authentic eating with their hands part! The conversations we had during and after the show were awesome.  We know they had an incredible time, but they also learned.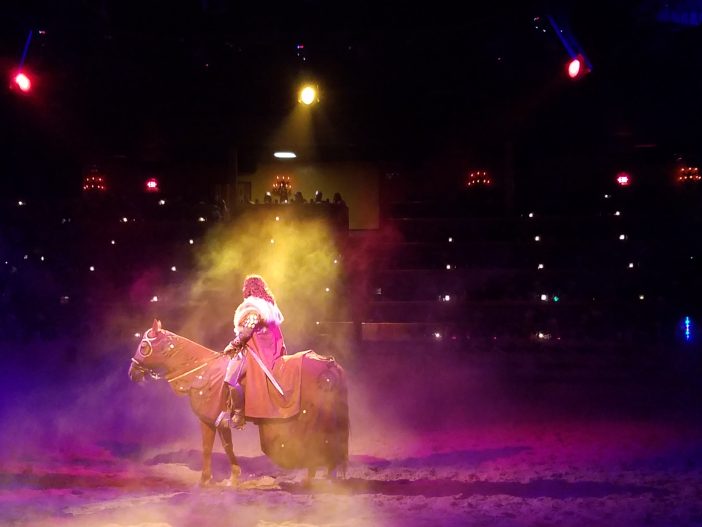 Who here would love to win a family four pack of tickets to Medieval times in Buena Park?  One lucky verified Highlights Along the Way subscriber will win!  It is so easy to enter.  First, this is only open to Highlights Along the Way Subscribers.  We do check, and emails that are not subscriber emails will sadly be disqualified. Make sure to subscribe today! Do not forget to verify your subscription (this is to ensure that only those that truly want our newsletter are signing up). Ok! Subscribed? Great! Now you can enter!
Enter below in the Rafflecopter entry form.  You only need to follow the prompt for how to comment and you are entered.  We also reward those who would like to engage on social media with us and the sponsor with bonus entries.  Some bonus entry options can even be done every day, so make sure to come back.
Please only enter if you are local or are traveling to Orange County before the end of Summer 2017. Entry form will close on June 5th, winner will be contacted on June 6th. Winner will have 48 hours to respond or prize is forfeited and a new winner is chosen.
Thank you to Medieval Times for hosting us and sponsoring this awesome giveaway! This was such a fun evening! Would you like your business featured on Highlights Along the Way? Contact us here today!