Mickey's Not So Scary Halloween Party is the best! Just Five of the Many reasons…..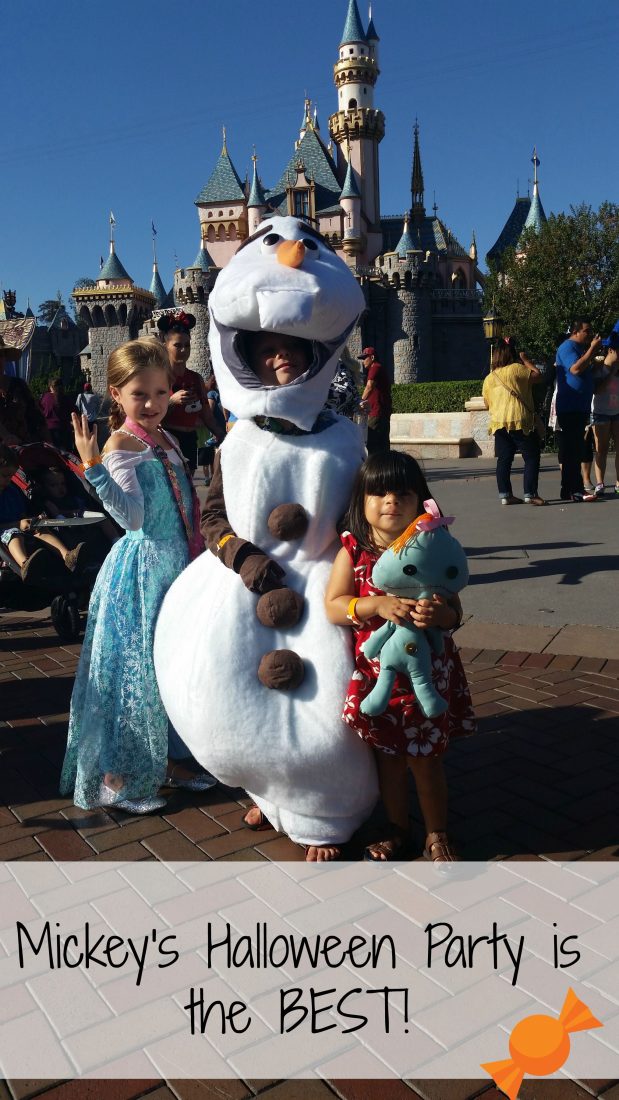 It's that time of year again!  That lovely time where Summer is on the way out and I get to start talking about how Mickey's not so scary Halloween Party is the BEST! Seriously, what is not to love?  Mickey and the gang, candy, not at all scary festive fun, pumpkins, staying up late, fireworks, seriously I could go on. Here are just five of the many reasons why Mickey's not so scary Halloween Party is the best! Those reading this that are like "Kate, it is only August, why are you talking about Halloween already?!"  Because my friends, Mickey's not so scary Halloween Party is extremely popular and often sells out more nights than not.  There is also a discount for buying your tickets early some nights – AND – tickets are already on sale!  Don't debate too long whether or not to go, if you are still thinking about it!
Here are some of my favorite highlights of the party to help you make your decision ………….
1) Costumes!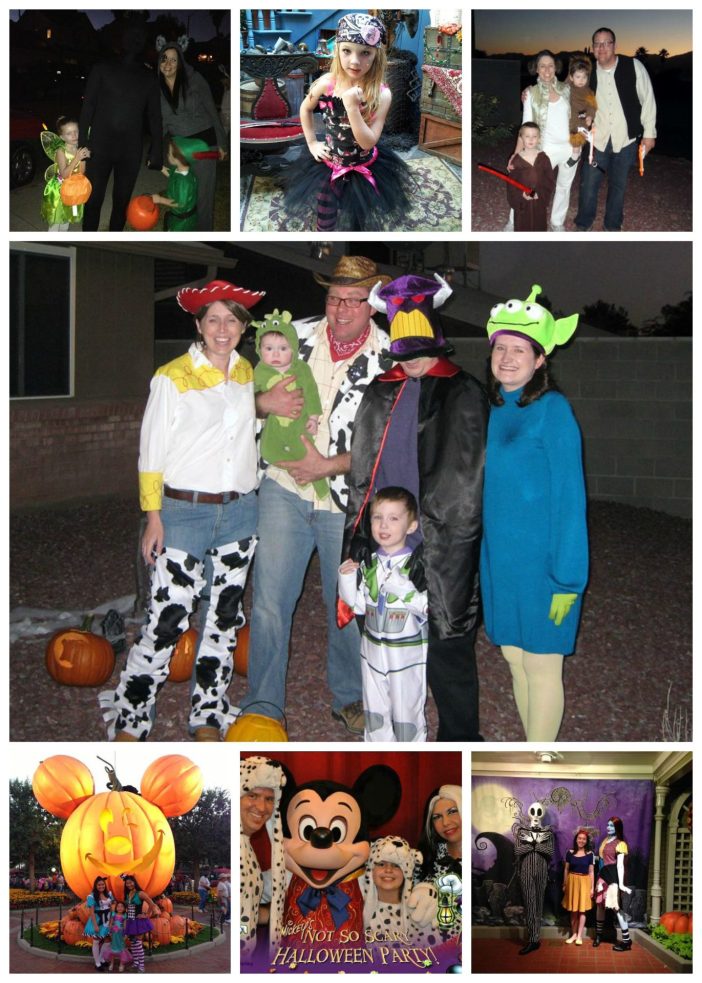 I could go to Mickey's Halloween Party and do nothing but people watch and still have an amazing time!  While Disney does allow Disney Bounding any day of the year, adults are not allowed to wear costumes.  The only time it is acceptable for adults to dress up at Disney if at Mickey's Halloween Party.  And people do it up right! Nearly every kiddo is dressed up to trick or treat but adults really get into it too.  Marvel superheros, Star Wars guys (both bad and good), Pirates, Mouseketeers, and classic movie characters are all over.   If you go – make sure to dress up!  If you dress up make sure to check out the Mickey's Halloween Party guidelines.
Photo credits – Desert Chica Dis Trip Queen and friends and readers that don't have blogs but totally should!
2) Treats!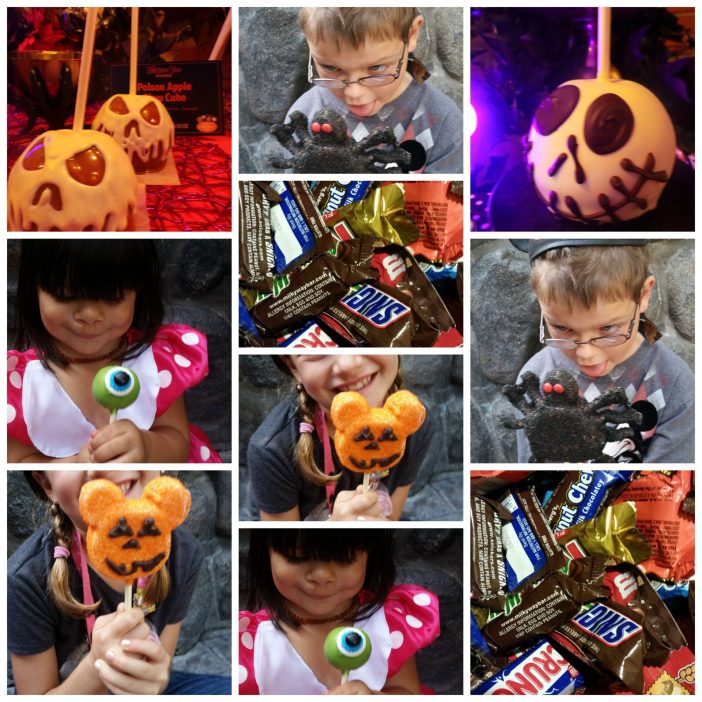 We all LOVE the special treats that come out just for Halloween Time.  Guests during the trick or treat season can enjoy limited time menu items all day long.  Even if you do not attend Mickey's Halloween Party you can enjoy a spooky cake pop or candy apple.  I still think they are best when consumed at the party though! In addition to limited time treats the guests of Mickey's Halloween Party can enjoy the most generous trick or treat stations of anywhere we have ever been!  Treat stations are all over the park and easy to identify with adorable ghost Mickeys glowing long after the sun has gone to sleep.  We run all over the park enjoying rides and shows during Mickey's Halloween Party but we always stop at every treat station along the way.  Treat lines can get long but go very quickly (we have never waited more than 5 minutes) and cast members give each person who queues up a hand full of treats!  We love the premium candies but also the healthier and snackier options as well.  We always come home with snack foods (crackers, chips, raisins, baby carrots, etc) in addition to tons of chocolates and chewy deliciousness.  Kids are always asking for snacks and treats at Disneyland; having a big bag of treats the entire night is kind of amazing!
3) Special Shows & Attractions!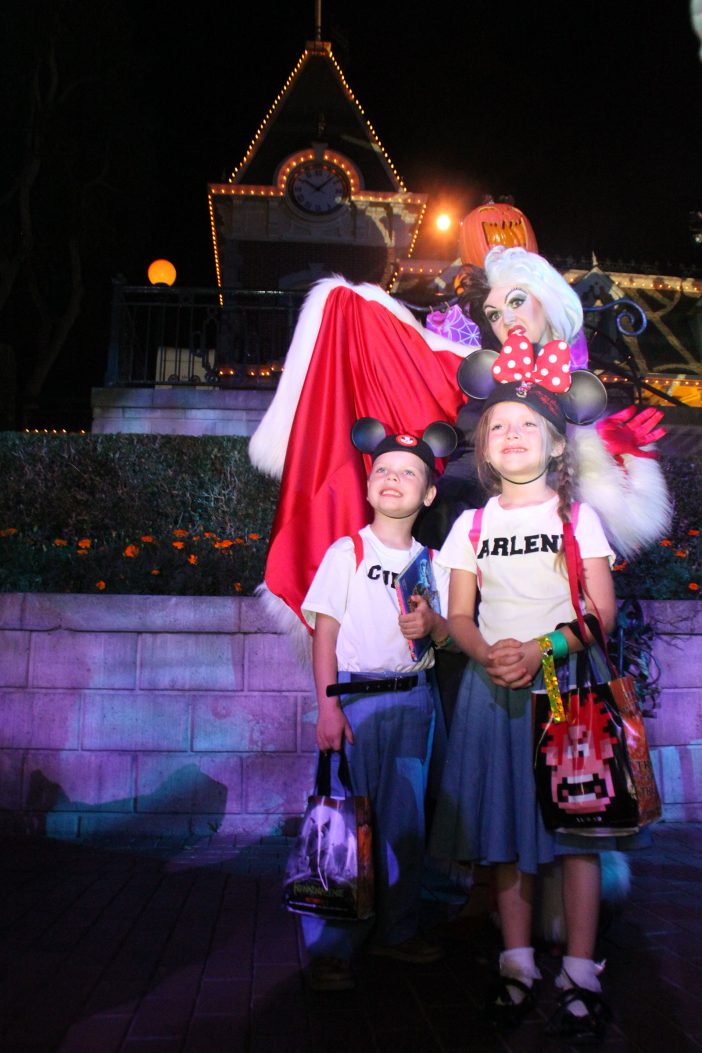 Halloween time and Mickey's Halloween Party in particular have bonus fun you just don't get any other time of the year…..
*Don't miss the Paint the Night Parade (we have a video here!) – over one million glowing lights!
*After the parade you have to stick around for the "Halloween Screams" fireworks – this is only for guests of Mickey's Halloween Party!
* The Haunted Mansion Holiday and Space Mountain Ghost Galaxy are a fun tradition – you can only enjoy these spooky twists on these classic rides during Halloween time.
* Make sure to get photos with some of your favorite Disney Villains. Villains are rarely seen in the park except during Halloween time, we have had photos with many of our 'bad guy' friends during Mickey's Halloween Party!  In addition to the Villains, many of our favorite classic Disney pals don their favorite Halloween costumes just for the season.  Seriously, make sure your camera and phone are charged!
* It's hard to avoid a bit of a sugar rush at Mickey's Halloween Party – make sure to dance off some of that energy at one of the dance parties in the park – we loved dancing at Tomorrowland Terrace last year.
4) Value!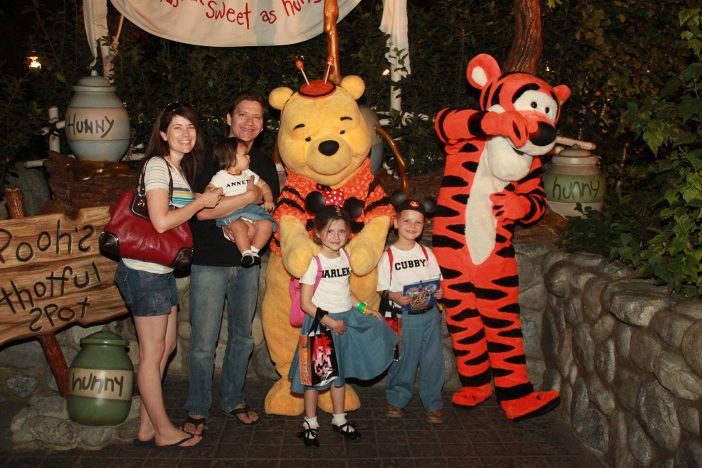 I wrote about how Mickey's Halloween Party is an excellent value over on San Diego Deals and Steals <—- read the full version here!  Basically, Mickey's Halloween Party tickets are less expensive than a day ticket, crowds are kept small, and there are so many fun extras (like special shows, extra characters, and of course candy!) – it's a great way to visit Disneyland!
5) Smoke FREE environment!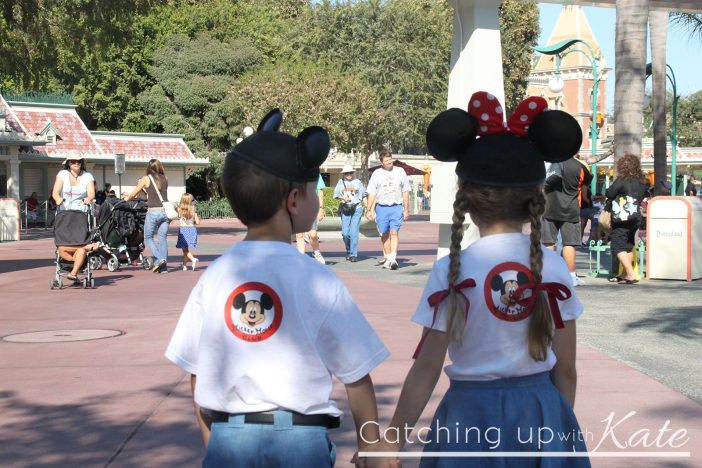 The "no smoking at the entire event" rule is an awesome bonus for our family.  The Disneyland Resort has done quite a lot to keep smoking contained to smoking areas only, but I do really like that when we attend Mickey's Halloween Party we can enjoy the entire event without being exposed to cigarettes – just one more way this is perfect family fun!
*********
There are tons of reasons why Mickey's Halloween Party is the best, these are just a few of my favorites.  Make sure to get all the details and buy your tickets quick – nearly every night sells out quickly!  We are saving our pennies in anticipation to go – I hope to see you there!