Minnie Mouse Room Paint Tutorial
Disclosure: Zinsser Primer and Behr Paint was provided for this project and post. These are the brands we would have used anyway, opinions are 100% our own.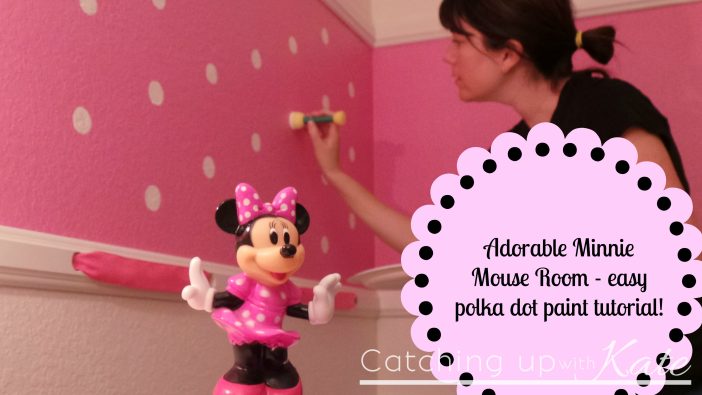 As just about everyone knows, our little girl loves Minnie Mouse.  I can't wait to reveal her adorable Minnie Mouse Room make over, but for now I wanted to share a quick sneak peek and tutorial of her super cute Minnie Mouse Room paint treatment we used and a quick tutorial.  If you have a little one that loves Minnie Mouse this is a really fun Minnie Mouse Bowtique themed paint idea. You can't have Minnie Mouse Room paint without polka dots and bows right? We painted in a Minnie inspired bright pink and used a bow treatment as well as adorable little polka dots.  This technique looks really special but is not at all hard to do or expensive.  Check it out…..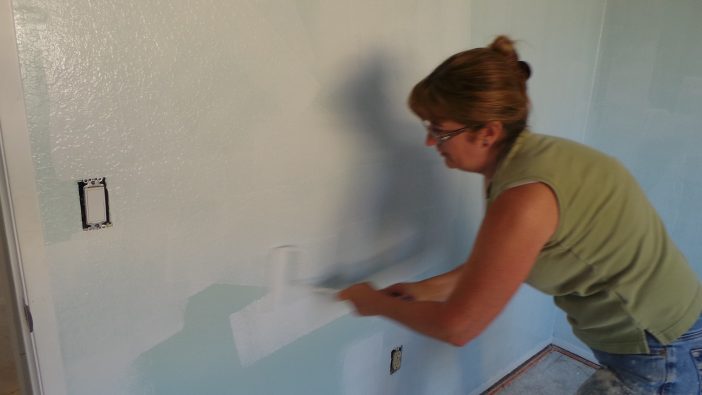 Little Miss C's room was a pale baby blue when we first got the keys.  Well that wasn't going to work in our Minnie Mouse bedroom.  The first step of our Minnie Mouse Room Paint was to prime then entire room with my mom's favorite primer.  Primer is a really important step if you want an even coat.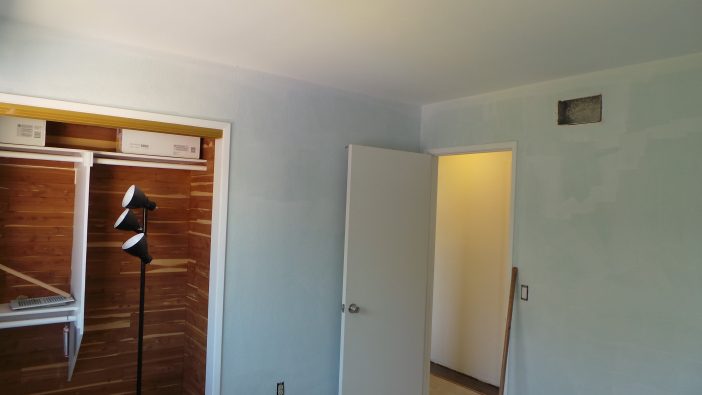 Once the room was primed the plan was to paint the room White with a big Pink band all around the room.  The pink band would be trimmed with white chair rail detailing.  The top chair rail would be plain, but the bottom chair rail would include a woven ribbon detail….. it is so cute I just can't stand it!
First we used Grandpa's fancy laser level to make straight lines all around the room.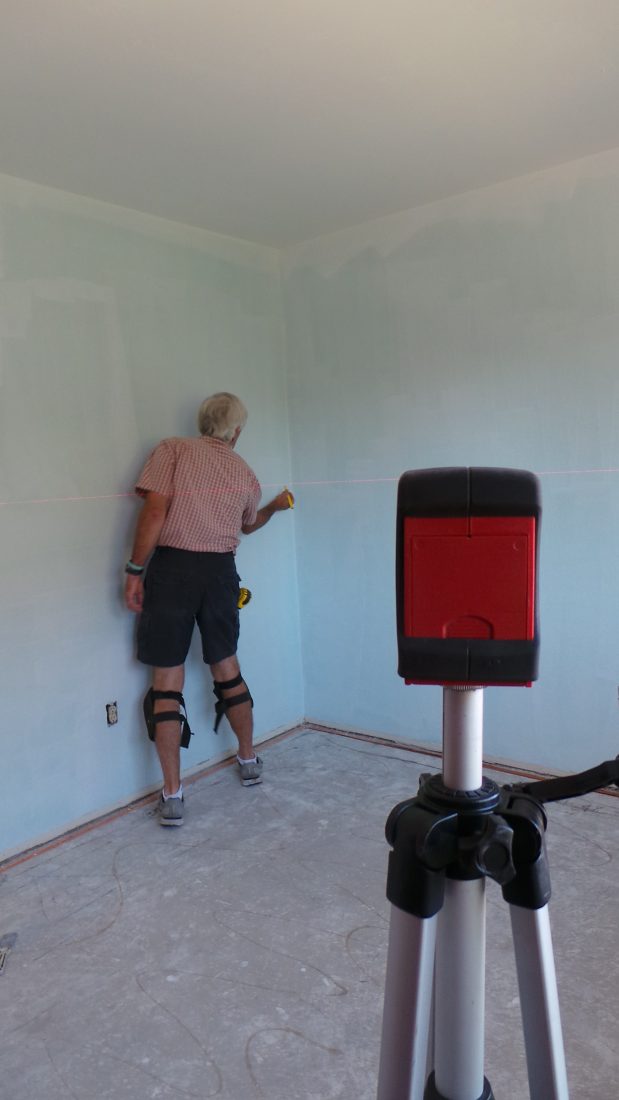 With a little help from Little Miss C we started painting the bands of color.  We personally paint from top to bottom, that way if any paint drips, it is dripping into an area that still is yet to be painted.  We painted white on the top, pink in the middle band, and white on the bottom.  Because we would be putting chair rail inbetween the lines didn't have to be quite as perfect as they were in our Star Wars room.  *Note to self* Always use the chair rail in future banding paint projects!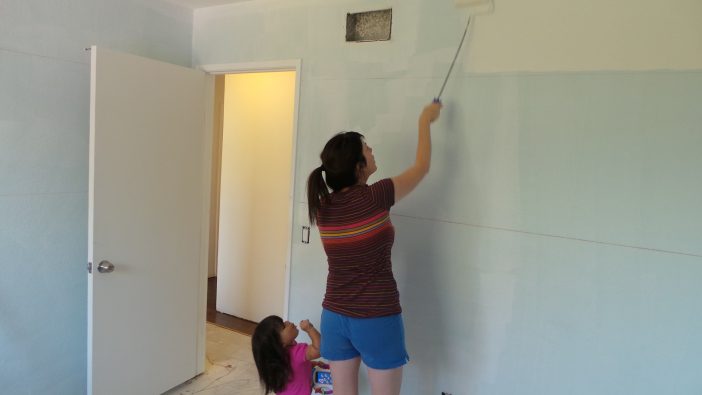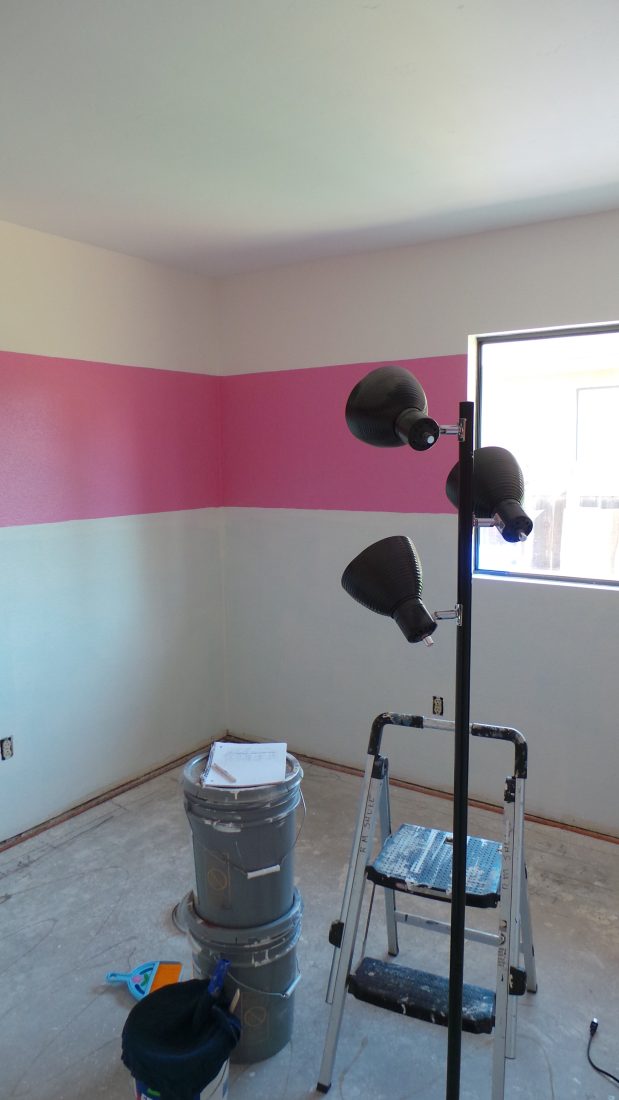 And this is where it gets super adorable!
Once the Chair Rail was installed (Chair Rail tutorial to follow) we just had to add the polka dots – because really, what Minnie Mouse Room is a Minnie Mouse Room without Polka Dots right?!  Well,  you can't just go willy nilly with polka dots – we went through and measured and marked prior to Polka – Dotting.  It sounds tedious, but it is easy enough, and it is well worth the step for the uniform look.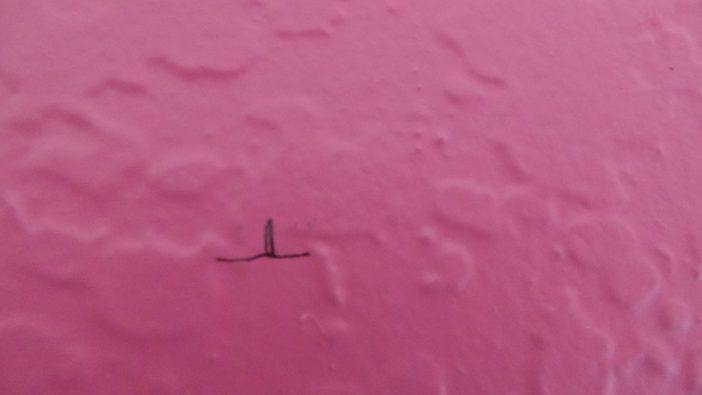 I purchased this round sponge brush at Michael's Arts & Crafts in a kit with about 12 other brushes and sponges.  The others found their way into the kid's craft drawer – but this brush worked perfectly!  Make sure to try it out on a piece of paper a couple times first – you want to make sure to have enough to fill the circle, but not so much that it drips.  We did have a few with drip lines, so I went back in with a Q-tip to clean it up perfectly.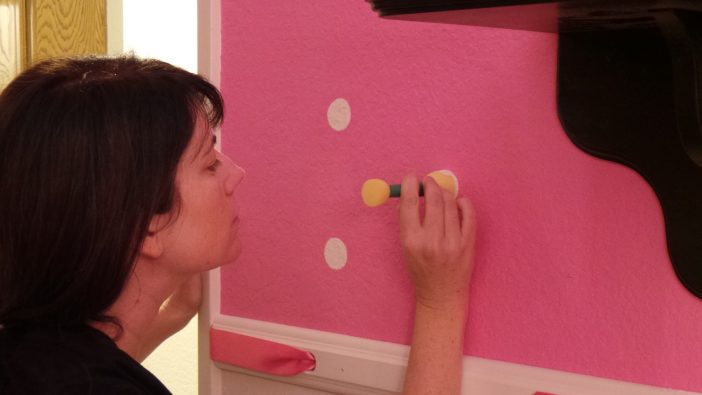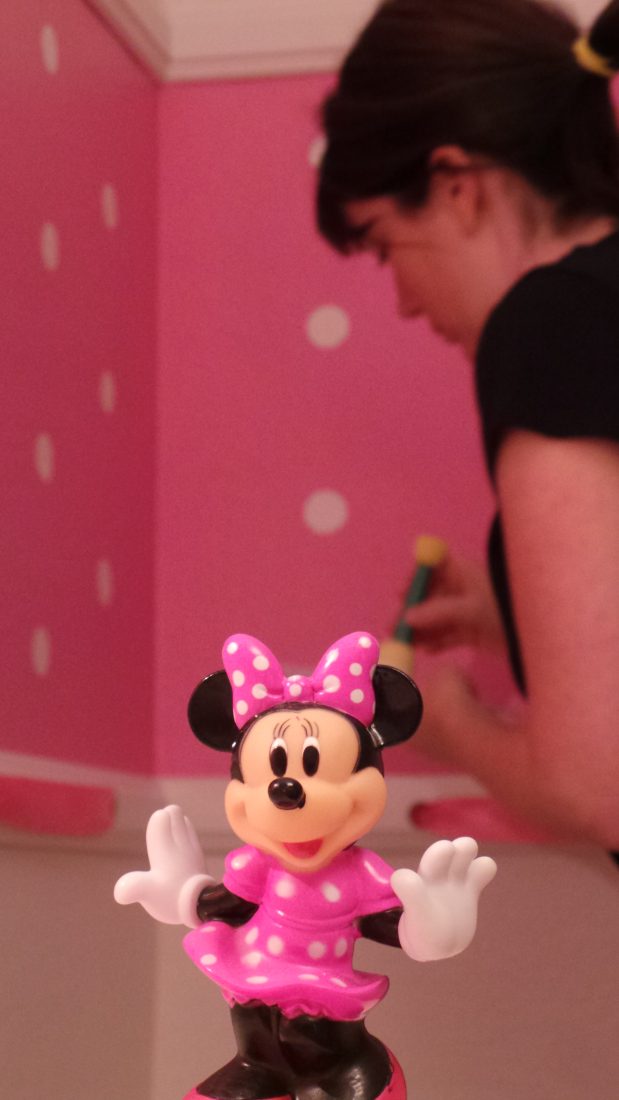 There is much more to come about her sweet little budget friendly Minnie Mouse Room – but for now – I want to share this sweetness………
Update!! Our room is complete – click on over to see our completed  Minnie Mouse Room  isn't it the sweetest?  I will die a thousand deaths when she wants a big girl room – but for now, I am just loving all the Minnie Mouse polka dot cuteness!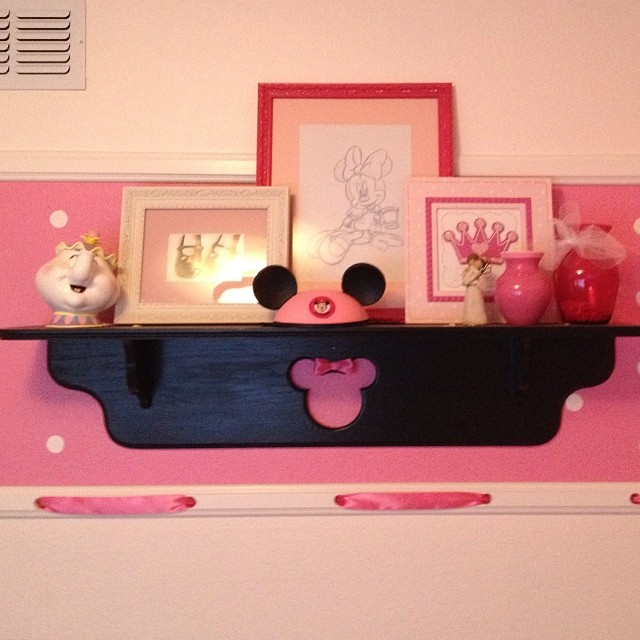 Paint colors used for those interested
Swiss Coffee {White}
"It's A Girl" {Pink}
(All are Behr Paint – interior Low VOC paint in an eggshell finish)