A tour of Mission Santa Barbara and a FREE activity sheet
Disclosure: Press passes were provided by the Santa Barbara Visitors Bureau. This site also uses affiliate links. When you make a purchase through an affiliate link, we make a small commission at no additional cost to you.Opinions are 100% my own.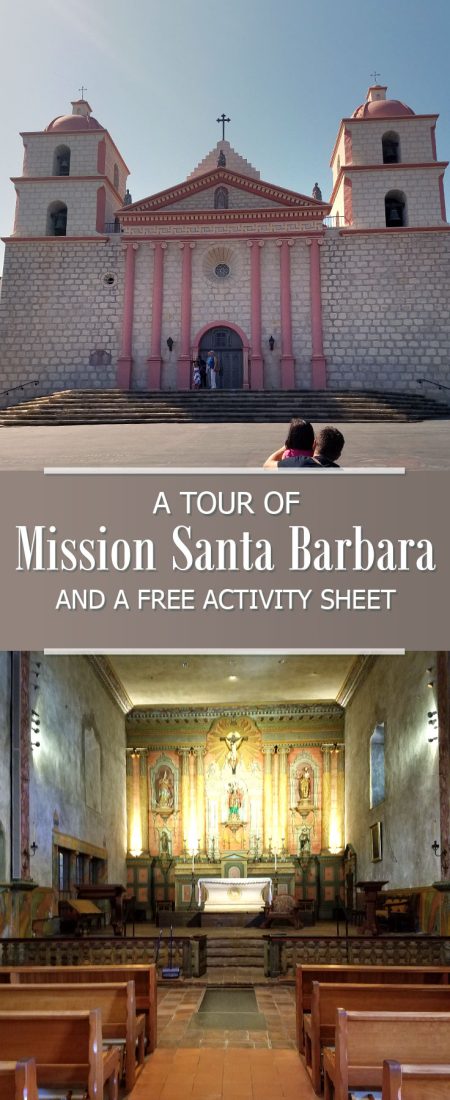 Mission Santa Barbara is a beautiful piece of history! Check out our pictures and free printable below!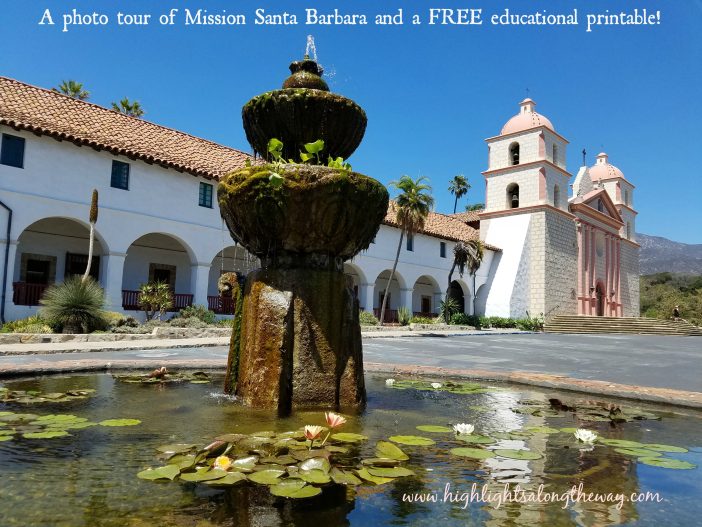 As a home schooling family we try to make learning part of every trip. On our last trip up the California Coast it of course made sense to visit a mission or two.  History has captivated our fourth and fifth graders and we want to foster that love.  A tour of Mission Santa Barbara was on the top of our list. While Mission Santa Barbara is well known for it's beauty, it also has a tie to one of our favorite books.  We chose to read about the mission and then take a tour. At the bottom of this post you will find a free printable Mission Santa Barbara activity sheet!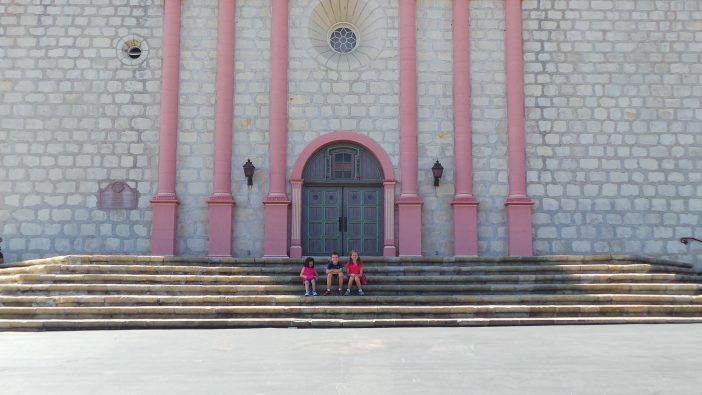 Named "Queen of the Missions" for its extraordinary beauty and twin bell towers, Mission Santa Barbara is a crowd favorite.  The mission offers docent and self led tours.  Gorgeous statues, paintings, and historical architecture abound inside the sanctuary.  The cemetery is especially peaceful and holds a very special piece of history.  The lone woman of the San Nicolas Islands rests in the Santa Barbara Cemetery.  Many may remember reading The Island of the Blue Dolphins in elementary school; the Mission cemetery is where "Karana" rests eternally.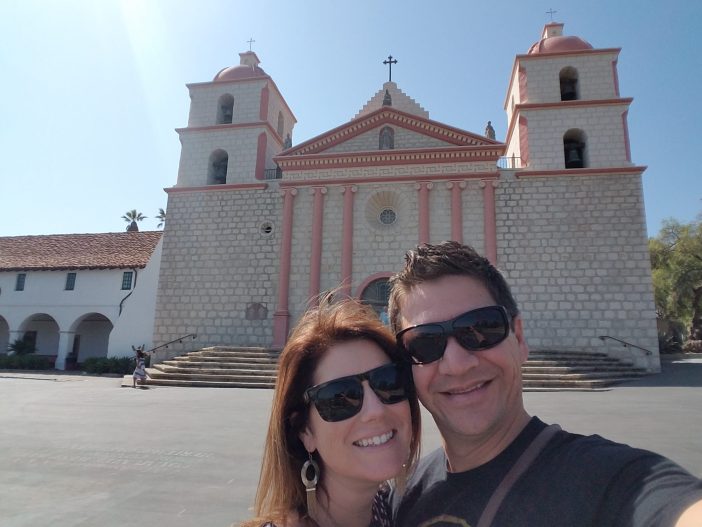 Mission Selfie – check!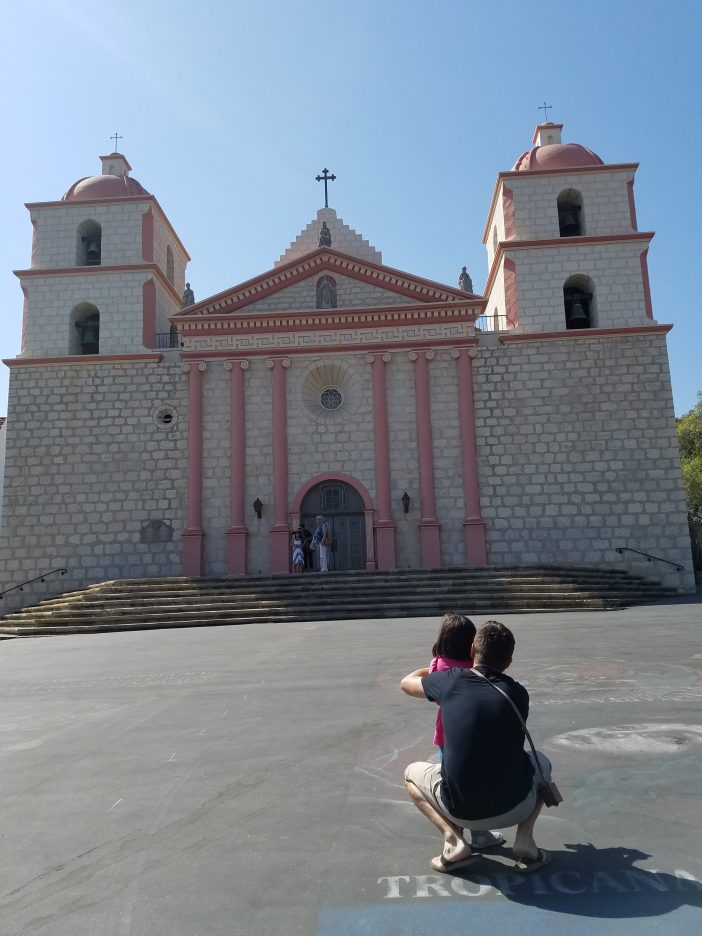 It is hard to capture how massive and pristine the Mission Santa Barbara is.  It is just magnificent.  If you have the chance to visit her you will not be disappointed!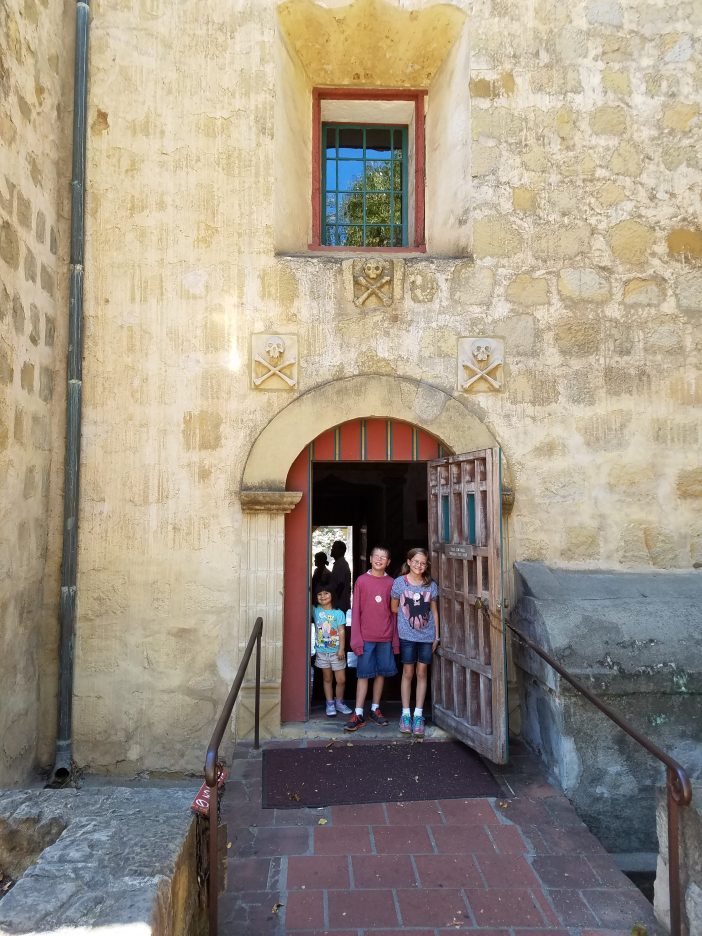 This was a first for the kids. Cemeteries are a thing of mystery.  Also a thing of beauty and remembrance.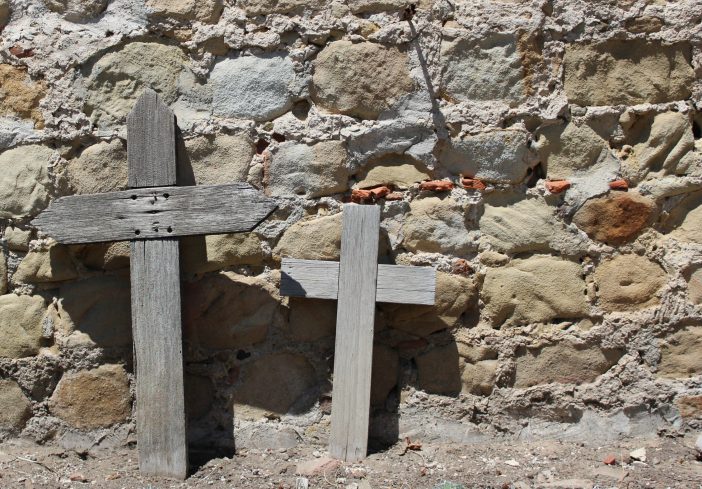 Mementos of faith and peacefulness are everywhere here.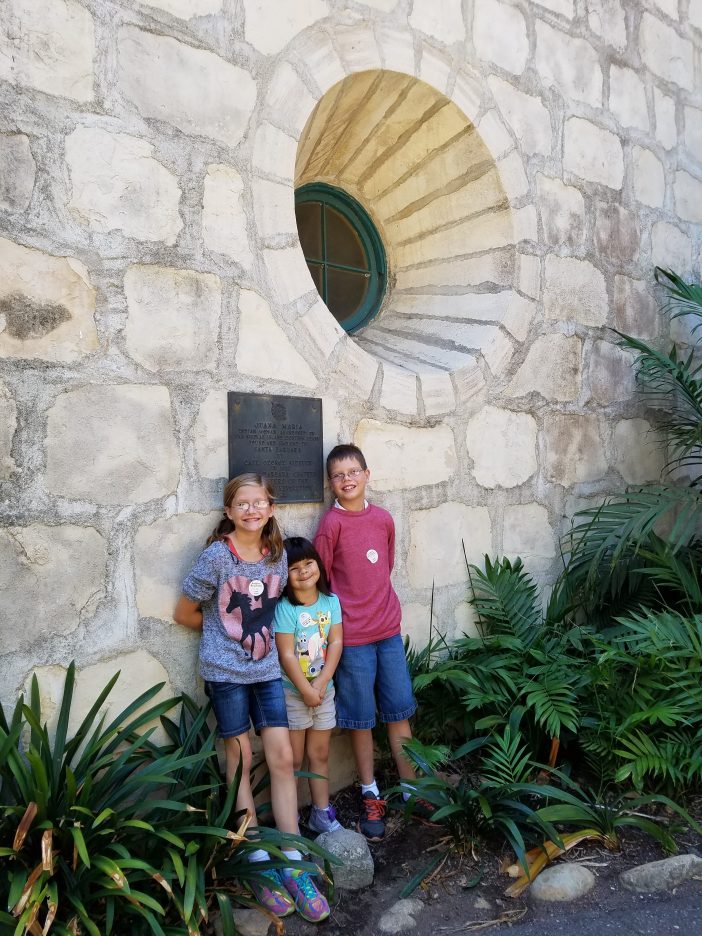 With the enthusiasm of teenagers at a Justin Bieber concert my kids jumped with excitement when they found this plaque.  "Look Mom! There she is!" This bronze plaque says "Karana" was here. A beloved book came to life for them right here in an old cemetery. They talked about her in this place.  They knew she was a real person, not a character.  In this sacred place though, she was made real. "It is so sad she died so early." "Books say she was always smiling." "I wish someone spoke her language. I bet she was lonely, even with people all around."…. and other simply profound things.  The Island of the Blue Dolphins has opened up so many conversations for our family. This trip; and this moment in the cemetery specifically is a highlight of my life.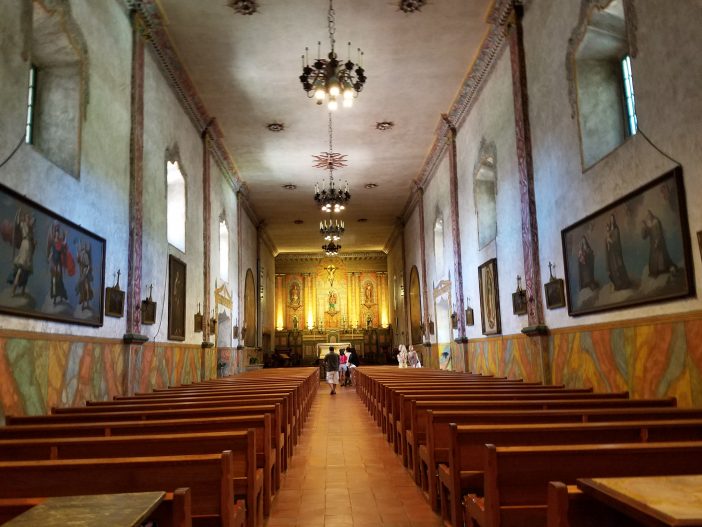 Beautiful frescoes, paintings, and statues decorate the centuries old church.  Mass services still take place every weekend.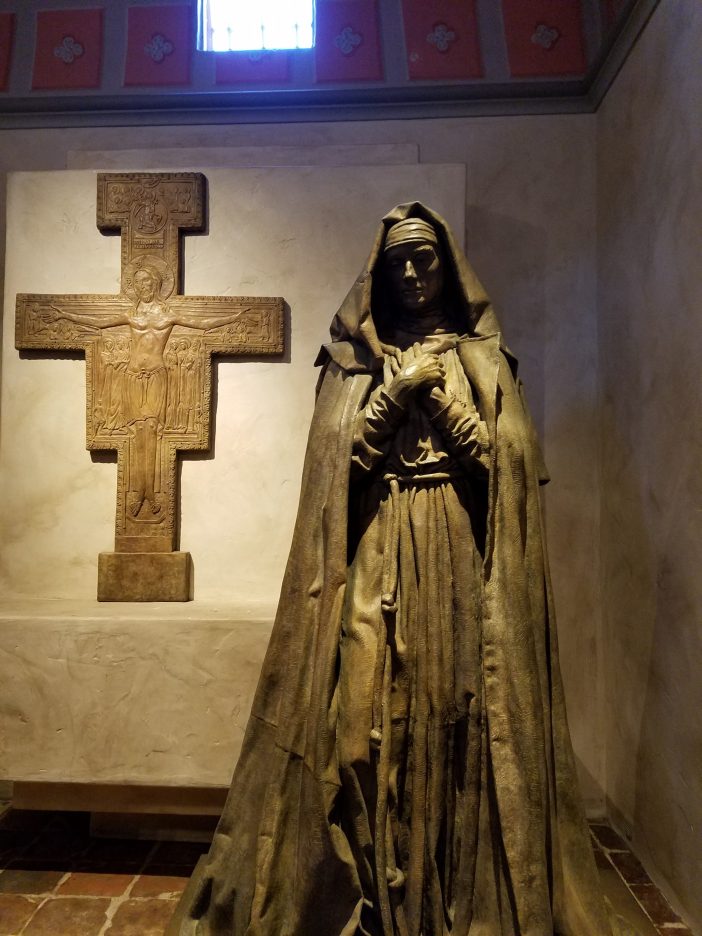 This is a statue of Saint Claire, who I admittedly know nothing about.  My guess is she was an amazing woman of faith, virtue, and substance.  As we stood in this holy place my daughter leaned over and said "I'm pretty sure she wasn't one, but she looks like a Jedi." Totally serious.  Much shame.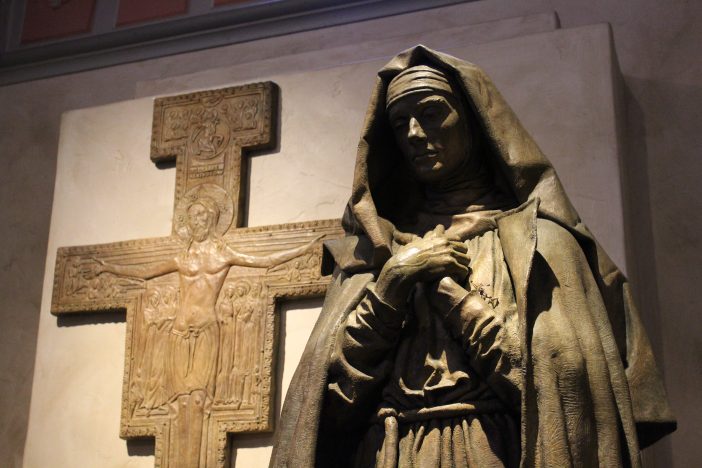 She has a point….
And if I have not convinced you yet to put Mission Santa Barbara on your must visit list; here are a few more photos of the grounds……….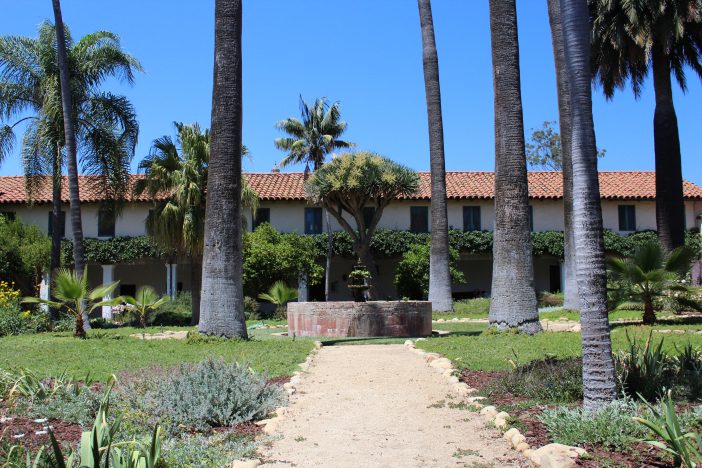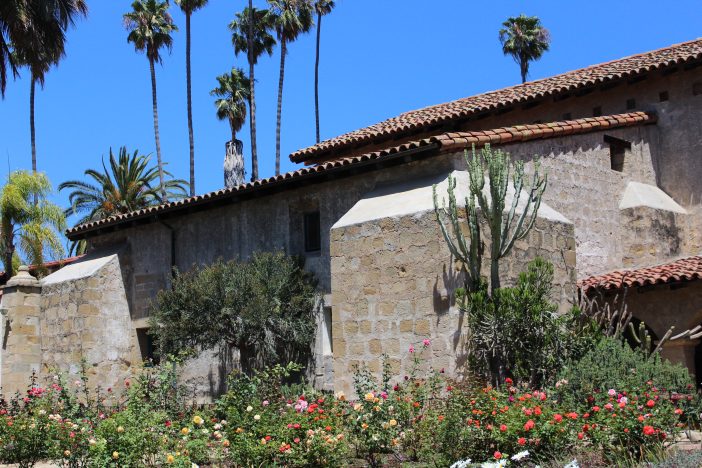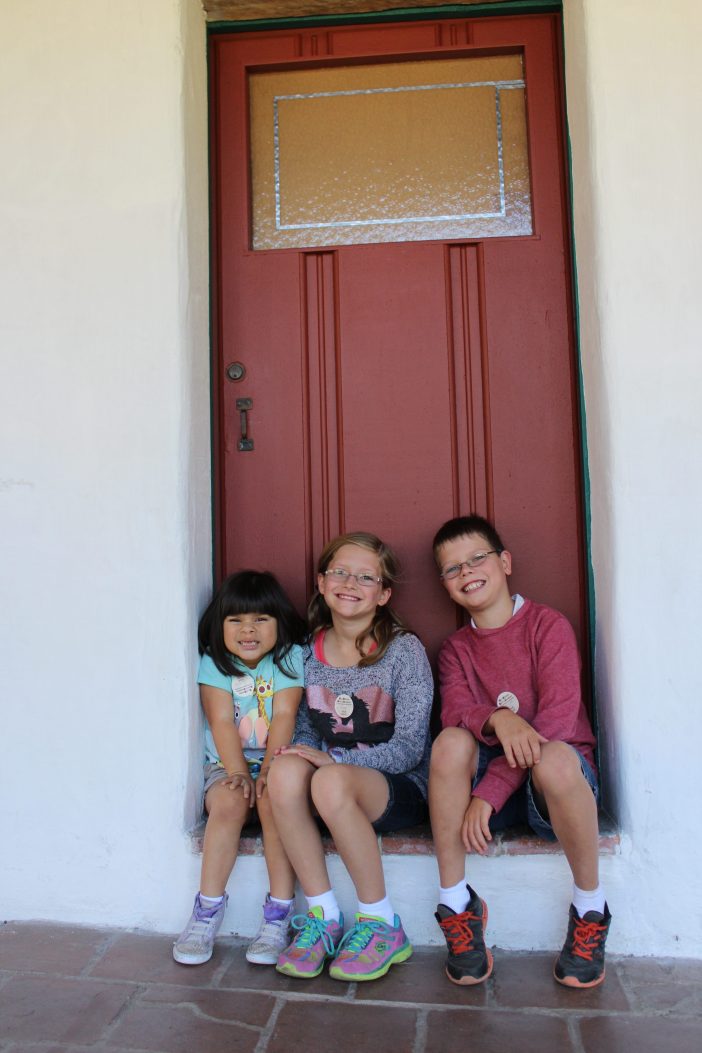 Fake smile, real but tired smile, fake smile; yep that seems about right.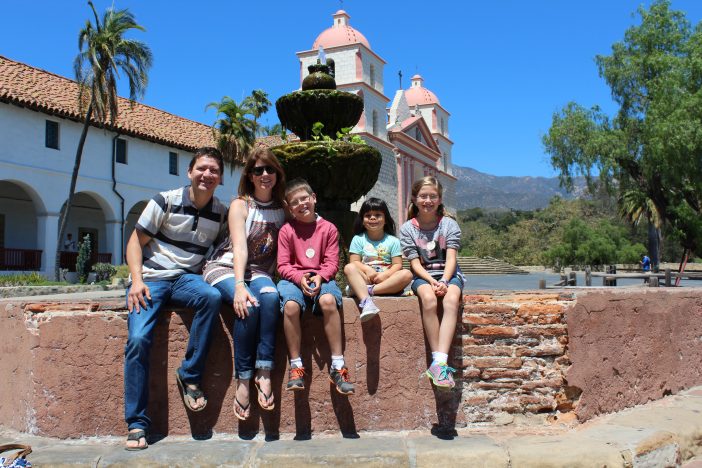 I highly recommend the following books if you have an older elementary aged student.  These are quick reads full of mystery and history.  Our kids loved learning about the Missions, but especially Santa Barbara because of Karana.  My oldest would read Island of the Blue Dolphins to her brother and sister during car rides.  The Island of the Blue Dolphins may be mostly speculation, but it still fascinated them.  Learning that the lone woman of San Nicolas Island was a real person and to see her grave site really brought history alive to them.
Island of the Blue Dolphins  (FREE with Kindle Unlimited!)
Zia – the follow up to The Island of the Blue Dolphins
We have also made this free printable Mission Santa Barbara activity sheet for children to color with quick facts about the beautiful Mission.  This is completely free, you do not need to subscribe to our site.  We do suggest you check out our free printables section on our site – we have connect the dots, coloring sheets, art, and more!  We hope other homeschoolers and teachers find this site to be a valuable free resource. More printable activity sheets are added weekly! We appreciate you sharing our printables with a link to our site.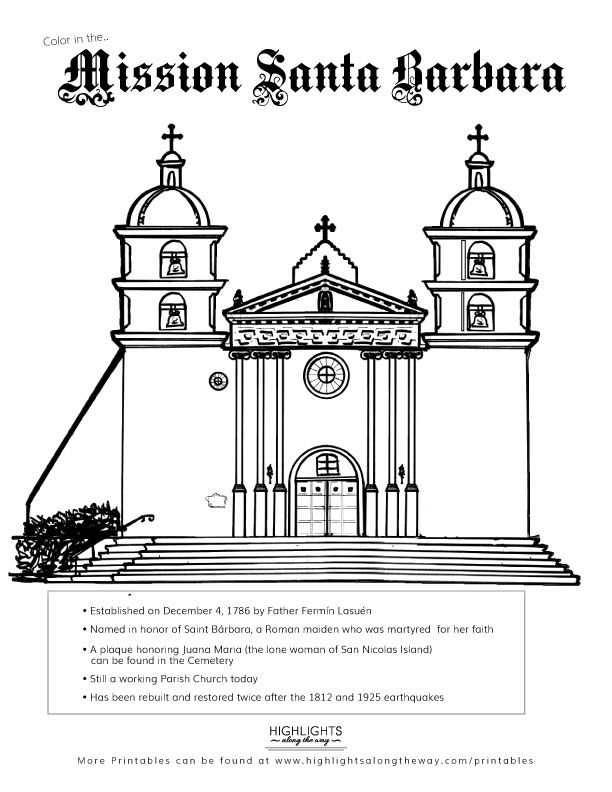 Santa Barbara California is well known for far more than their beautiful mission. We could only visit for the day so we focused on our history lesson.  We will be sure to return to explore and share more in the future!