Moana Easter Eggs and more with directors John Musker and Ron Clements
Disclosure: Our interviews were part of the hosted #MoanaEvent press junket.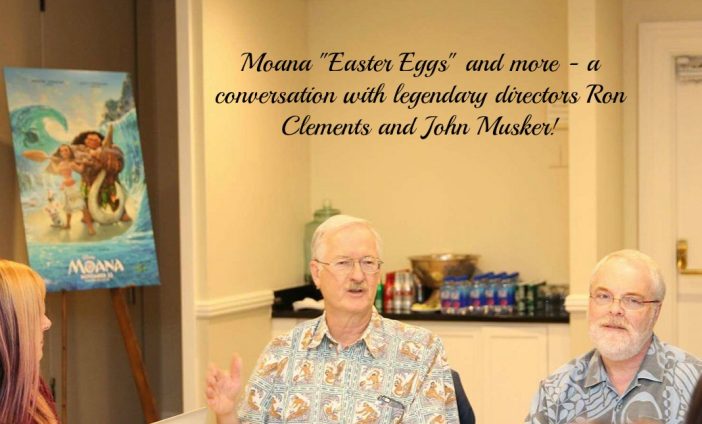 I have heard many say that Moana feels like the Disney movies of the 1990s.  I agree that while the animation is cutting edge, there is a throwback feel to it that feels nostalgic. This may be in part because veteran directors Ron Clements and John Musker were back for Moana. The Little Mermaid, Aladdin, and Hercules were just some of the movies that spoke to my heart as a kid.  I was so thankful for the opportunity to participate in an interview session with the legends that brought them to life.  I am delighted to share some of the highlights of that interview and also some awesome Moana Easter Eggs that they revealed!
In the time that has passed between Ron and John's previous films and Moana animation has changed quite a bit. Hand drawn animation with a little computer was the name of the game in the 1990's.  Today, almost all movies are completely computer generated.  This posed some unique benefits and challenges.
RON  :    Some things are the same in terms of the script and the storyboarding and the voice actors. But the actual production process is quite a bit different.  We had to actually have tutorials before even the movie started.
JOHN :    Yeah, Steve Goldberg worked on Pros and gave us a tutorial and said these jobs don't exist in CG.  These do exist and it's a whole different thing and one of the big things is in hand-drawn you can get going a lot quicker.  You know, you have a piece of paper, you got a pencil, you can start exploring the characters. In CG they've got to build the characters, literally sort of create them in three-dimensional space.  They've got to rig them which means they'll put all the armature in there so they can move around.  They got to create the world they work in.  So, it's a longer set of time.
While CG presents some slow down in the beginning of the process, they shared some of the benefits too.  Camera movements, textures, hair, and of course the ocean were all possible because of computers.
Ron said,  "There's a lot of, a lot of cool things you can do.  But a lot of things even that had to be figured out in the movie.  Even the idea of a living ocean that has a personality of a monster, a lava monster, some of those things particularly where character animation and effects animation merge, that isn't done usually."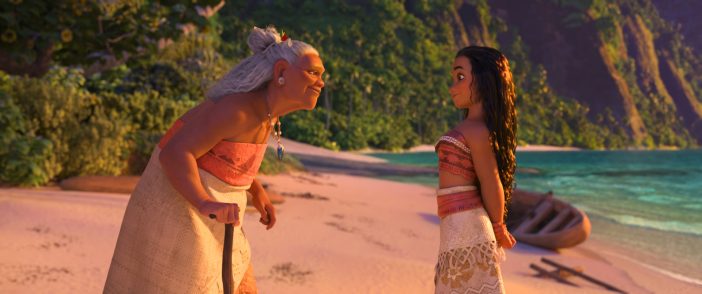 Someone pointed out that Ron and John participated in three of the five Disney princess movies that included a princess of color.  She asked what steps they took to share and respect the culture of the story they were telling.
They both shared that it was really important for them to connect with people. shared that their team went an extensive research trip to Samoa, Fiji, and Tahiti.  They met with cultural ambassadors,linguists, anthropologists, sailors, and chiefs.
John said  "We really try to connect with the culture and learn how proud they were of their background as the greatest navigators the world has ever seen."
They revealed that originally the movie was just going to feature Maui the demi god.  Moana was not the original focus! They said Maui was such a cool character with his shape shifting and the ability to pull islands out of the water that they originally pitched the idea as "Mighty Maui" to John Lasseter.  They shared that it was during their research trips that they came up with "Moana" which means "Ocean". It was fascinating to hear how much goes into these movies and how much they change over the course of making them!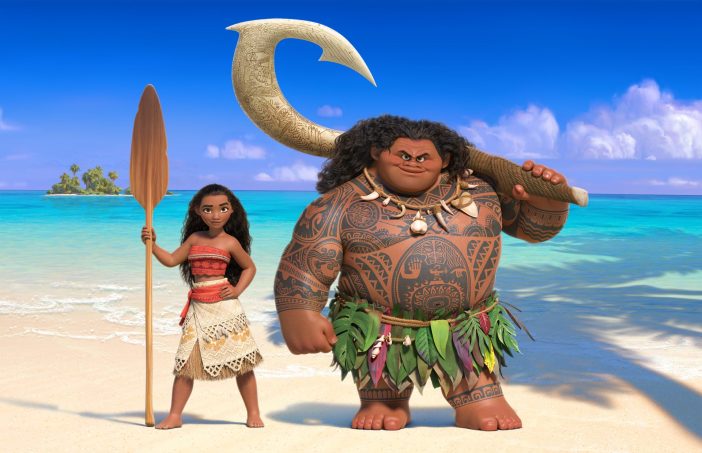 John and Ron shared some awesome "Easter Eggs" from Moana also!  I love that every Disney movie has Easter Eggs in them.  Animators and directors frequently put in special things for fans to find.  Many Easter Eggs reference previous movies.
When you want Moana, look closely for the following characters
Olaf (Frozen)
Sven (Frozen) – this is the easy one! 😉
Flounder (The Little Mermaid)
Flash (Zootopia)
Baymax (Big Hero Six)
Ralph (Wreck it Ralph)
Fun Fact : At the end of each animated film there is a nod to the next movie in line.  Wreck it Ralph 2 is the next movie coming our way.  You can see Maui's hook in Zootopia showing that it was the next movie after Zootopia!  Who knew?
Below is one of my favorite clips of Moana!
If you have not seen Moana in theaters yet, what are you waiting for?  It's the perfect way to spend the holiday break. Moana has been the number one movie in the box office and it is easy to see why.  Congratulations to Ron Clements and John Musker for their Golden Globes nominations for Moana in the best animated feature category as well as best song!
Thank you to Ron Clements and John Musker for taking the time to sit down and speak with our group.  It was a thrill for this animation nerd who has been a fan of your work for decades!