Modest Girl Costume Ideas
Disclosure: Highlights Along the Way is a participant in the Amazon Services LLC Associates Program, an affiliate advertising program designed to provide a means for sites to earn advertising fees by advertising and linking to amazon.com.
The best modest girl costumes ideas for Halloween and costume parties. I am a firm believer that girls can dress however they want, but I know that as a girl I did not want 'sexy' costumes. My daughters want to have cute costumes that are cute and fun but are not meant to be flirty. If you are looking for modest girl costumes for yourself or your daughters that are modest and still adorable, we have lots of fun ideas!
Opting for modest costumes opens up a broader range of character choices that emphasize intelligence, bravery, and other admirable qualities, encouraging girls to identify with strong and empowered role models. By celebrating Halloween in modest costumes, young girls can have a memorable and empowering experience while promoting a culture of self-respect and inclusivity.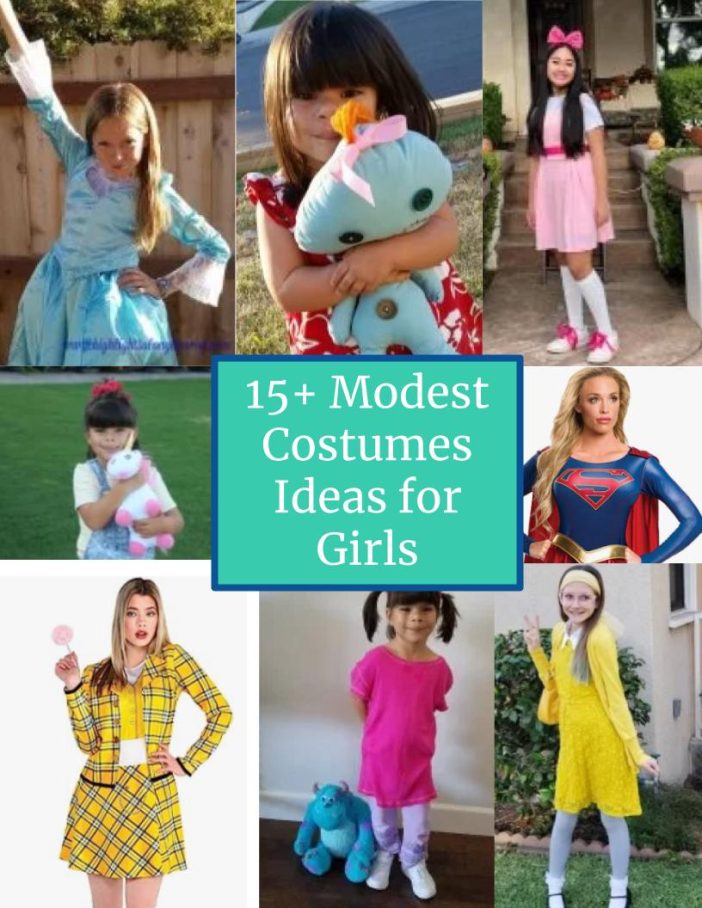 Over the years our kids have had some amazing costumes for trick or treat, school dress up, Halloween parties, and more! Our kids love to dress up when going to Disneyland, to Oogie Boogie Bash and Dapper Day.For our girls, they want cute costumes that they do not feel too exposed in; that is simply more fun for them. Below are some ideas for modest costumes for your child.
Where to buy Modest Girl's Costumes
Many of these costumes can be purchased online or can be made with thrifted pieces. Our costumes usually consist of a couple clothing items that can be worn again. We personally love to hunt for costume pieces early and curate an outfit entirely from thrifted pieces. We know that you cannot always take this time so we also have posted direct affiliate links to premade costumes that are well made and a reasonable price. Before you shop for a new modest costume online we suggest thrifting, Facebook market place, Poshmark, or even asking to organize a costume swap at a local school or church. The best part about modest girl costumes, or modest costumes in general, is that most of the time, they can be put together. You can still have an adorable halloween costume, and save some money.
Our favorite Modest Costume Ideas!\
1. Eliza Hamilton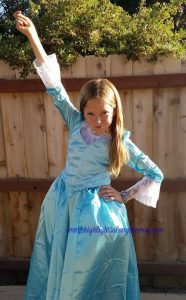 Eliza Hamilton is a prominent character in Lin-Manuel Miranda's musical "Hamilton," based on the life of Alexander Hamilton. As Alexander's devoted wife, she plays an essential role in the story, showcasing her resilience, love, and commitment to their family and their shared legacy.
2. Alice
Alice in Wonderland
Alice, the main protagonist of "Alice's Adventures in Wonderland," is a curious and imaginative young girl who falls down a rabbit hole into a whimsical and fantastical world. Throughout her journey, she encounters peculiar characters and navigates a surreal landscape, showcasing her resilience and wit as she seeks to understand the nonsensical nature of Wonderland.
3. Isabella (Phineas and Ferb)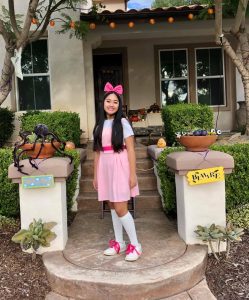 Phineas and Ferb fans will be all about saying "Watcha dooo-in?"
Isabella Garcia-Shapiro is one of Phineas and Ferb's close friends and a frequent visitor to their backyard inventions. She is known for her sweet and bubbly personality, always ready to help the boys with their ambitious projects and harboring a secret crush on Phineas, making her an endearing and cherished character in the animated series.
4. Peaches (A League of their Own)
A League of their Own – PEACHES costume!
The new series from Amazon is even better than the original movie based on a true story! Adult and kids costumes are available from Amazon!
5. Cher (Clueless)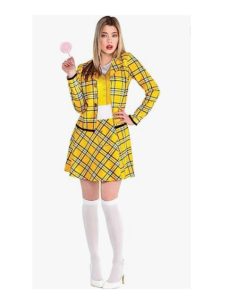 Amazon.com: amscan Clueless Cher Costume Kit – Women Standard Size, Yellow – 1 Set : Toys & Games
Cher, the protagonist of the movie "Clueless," is a fashionable and popular high school student with a penchant for matchmaking and a heart of gold. Her iconic line "As if!" has become synonymous with the 90s era of teen culture.
6. Joy (Inside Out)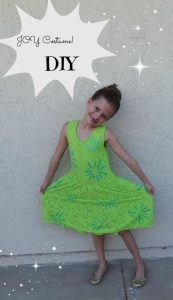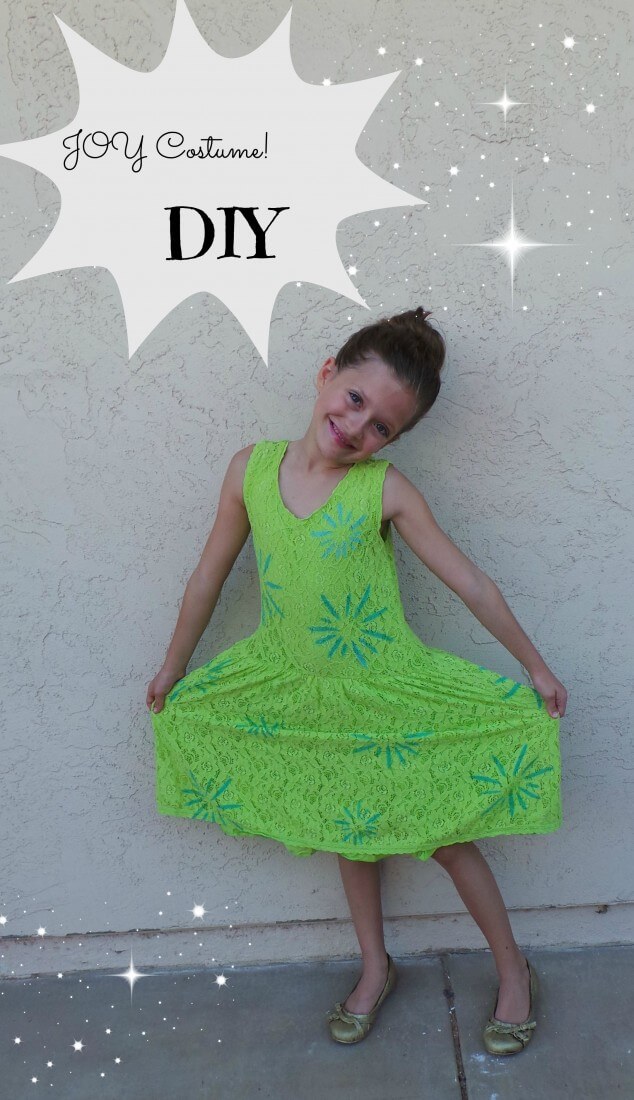 Joy is one of the five core emotions in the animated film "Inside Out." As the exuberant and optimistic leader of Riley's emotions, Joy's unwavering positivity drives her mission to keep Riley happy, even during challenging times. Throughout the movie, she learns the importance of embracing a full range of emotions, highlighting the complexity of human experience and the significance of every emotional aspect in shaping one's life.
7. Disgust (Inside Out)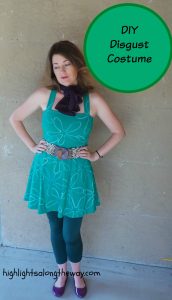 Disgust is one of the five core emotions in the animated film "Inside Out." With her sassy and no-nonsense attitude, Disgust plays a crucial role in helping Riley navigate the world and avoid things that might be harmful or unpleasant. Her presence adds a touch of humor and a valuable perspective on the importance of setting boundaries and maintaining personal well-being.
8. Sadness (Inside Out)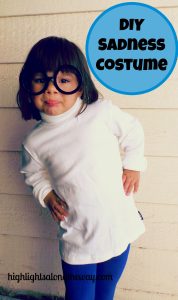 Sadness is one of the five core emotions in the animated film "Inside Out." With her tender and empathetic nature, Sadness shows that it's okay to feel and express emotions, even the ones that may be perceived as negative, and teaches the importance of embracing vulnerability as a part of human growth and healing.
9. Lilo (Lilo and Stitch)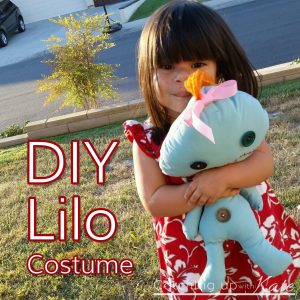 Lilo is the endearing and spirited protagonist of the animated film "Lilo & Stitch." Her unique and creative outlook on life, as well as her unwavering love for her family and the "ohana" make her a lovable and relatable character who touches the hearts of audiences young and old.
10. Supergirl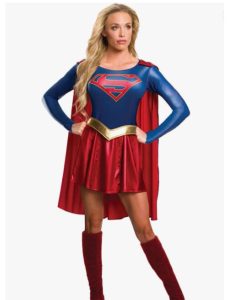 Amazon.com: Rubie's Costume Women's Supergirl Tv Show Costume Dress : Clothing, Shoes & Jewelry
Supergirl, also known as Kara Zor-El, is a powerful Kryptonian superhero and the cousin of Superman. As the protector of National City, she uses her incredible abilities, courage, and determination to fight against evil and inspire hope in others.
11. Honey Lemon (Big Hero 6)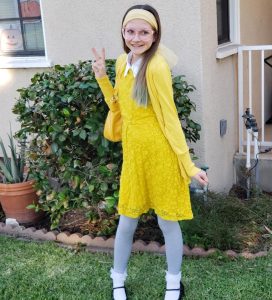 Honey Lemon is a brilliant and cheerful character from the animated film "Big Hero 6." With her scientific genius and a bubbly personality, she adds a dose of optimism and inventiveness to the team, utilizing her chemical knowledge to create various innovative gadgets and solutions.
11. Molly (American Girl)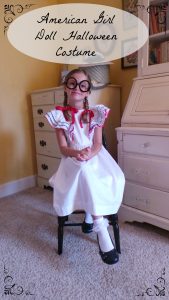 American Girl Doll MOLLY Costume
Molly McIntire is an American Girl historical character representing the World War II era. As a spunky and resourceful 9-year-old, she offers a glimpse into the life of a young girl growing up during the challenges and changes of the 1940s, providing readers and doll enthusiasts with valuable lessons about friendship, family, and resilience during tumultuous times.
12. Boo (Monsters Inc.)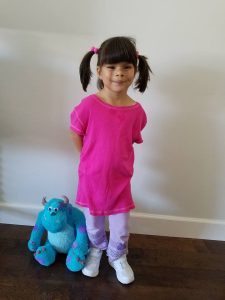 Boo, whose real name is Mary, is a lovable and innocent toddler who accidentally enters the monster world in the animated film "Monsters, Inc." Her endearing interactions with the monsters, especially Sulley and Mike, bring out their protective and caring sides, making her a crucial catalyst for change in Monstropolis.
13. Linda Belcher (Bob's Burgers)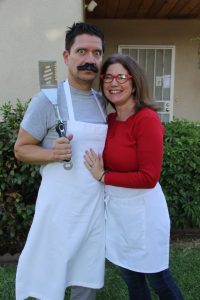 Linda Belcher – Bob's Burgers Costume
Linda Belcher is a vibrant and quirky character in the animated TV show "Bob's Burgers." As the loving and supportive wife of Bob, she brings an eccentric charm to the family dynamic with her passionate personality, unique sense of humor, and unwavering loyalty to her loved ones.
14. Tina Belcher (Bob's Burgers)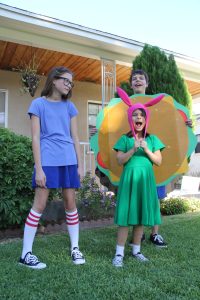 Tina Belcher – Bob's Burgers Costume
Tina Belcher is a quirky and awkward teenager from the animated TV show "Bob's Burgers." Her hilarious and sometimes bizarre obsessions with zombies, butts, and writing erotic fanfiction create a unique and endearing character beloved by fans for her relatable struggles and comedic charm.
15. Louise Belcher (Bob's Burgers)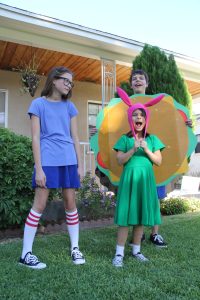 Louise Belcher – Bob's Burgers Costume
Louise Belcher is the mischievous and cunning youngest child of the Belcher family in the animated TV show "Bob's Burgers." With her iconic pink bunny ears hat and sarcastic wit, she brings a mix of chaos and adventure to the family's restaurant and constantly finds herself entangled in hilarious schemes with her siblings.
16. Ruth Bader Ginsburg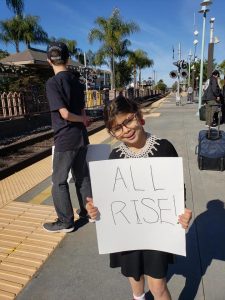 Ruth Bader Ginsburg, often referred to as RBG, was a trailblazing American jurist who served as an Associate Justice of the Supreme Court of the United States. Known for her unwavering commitment to gender equality and civil rights, she left a lasting legacy as a champion of justice and a role model for generations to come.
17. Maid Marian (Robin Hood)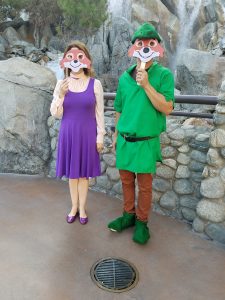 Maid Marian is a classic character from the legend of Robin Hood, known for her beauty, intelligence, and strong-willed nature. As Robin Hood's love interest and a key member of his band of Merry Men, she embodies courage and compassion, standing by Robin's side and supporting his noble cause to fight against injustice.
18. Moira Rose (Shitt's Creek)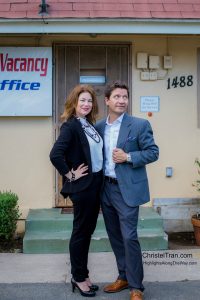 Moira Rose, portrayed by Catherine O'Hara in "Schitt's Creek," is a dramatic and eccentric character known for her unique vocabulary and flamboyant fashion sense. As the matriarch of the Rose family, she adds humor and charm to the show with her over-the-top personality and memorable one-liners.
19. Alexis Rose (Shitt's Creek)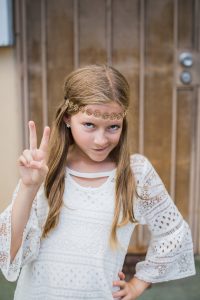 Alexis Rose, portrayed by Annie Murphy in "Schitt's Creek," is a vibrant and extravagant character with a penchant for drama and an ever-evolving sense of self. Despite her initial materialistic and self-centered tendencies, her growth throughout the series showcases her journey towards self-discovery, independence, and genuine connections with those around her.
20. Agnes (Despicable Me)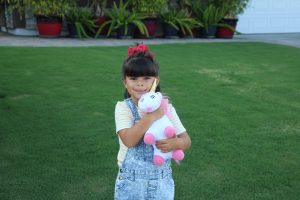 Agnes Costume – Agnes, the youngest and most adorable of Gru's adopted daughters in "Despicable Me," is known for her innocent and endearing nature. Her unwavering optimism, love for unicorns, and sweet desire for a forever family make her a heartwarming and beloved character in the animated film.
21. Mary Poppins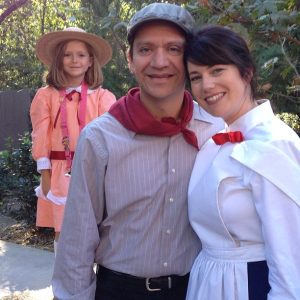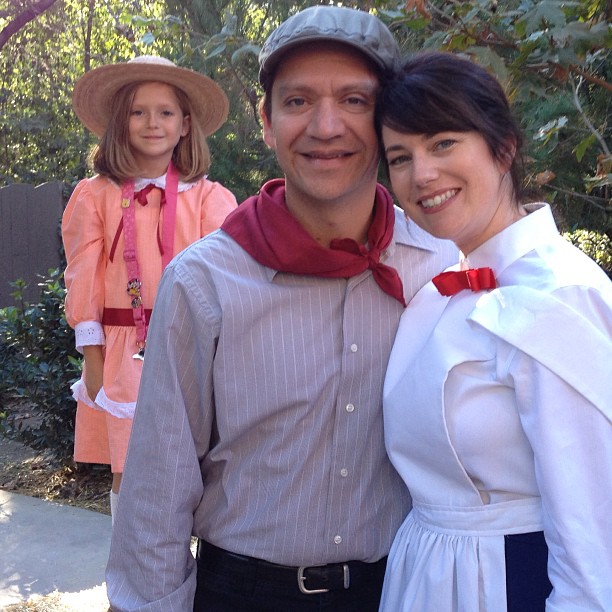 Mary Poppins is a magical and practically perfect nanny who captivates audiences with her whimsical adventures and enchanting personality. With her iconic umbrella, bottomless carpet bag, and ability to bring joy and wonder to the Banks family, she remains a timeless and beloved character in literature, film, and musical adaptations.
22. Jane Banks (Mary Poppins)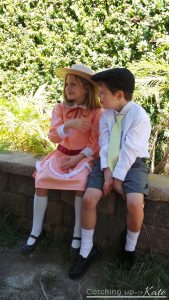 Jane Banks, the daughter of Mr. and Mrs. Banks in "Mary Poppins," is a bright and imaginative young girl who longs for her parents' attention and affection. Through her adventures with Mary Poppins, she learns valuable life lessons, strengthens her bond with her family, and discovers the importance of cherishing the magic of childhood.
23. Bride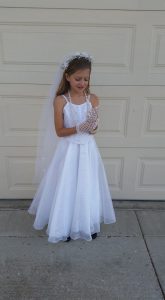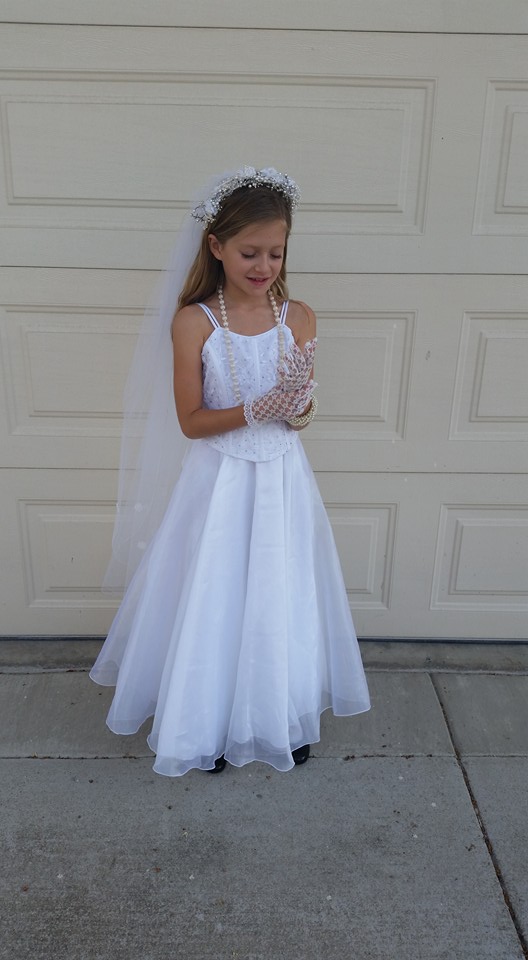 Does your costume need to be modest? Absolutely not. If you want to be modest that is great, but I am not here to shame a girl, woman, or female-presenting person into being modest. It is 2022 (or whatever time you are reading this!) and you can dress however YOU want! But if you are most comfortable covered up, we hope these are some fun ideas for you. What are your favorite ideas for modest girl costumes? Are there some modest girl costumes that we have not thought of here?