Monterey California with kids – FREE Ocean Life Printable
Disclosure: Our hotel stays and museum admission was complimentary,hosted by See Monterey. This site uses affiliate links. Copious amounts of clam chowder were on us. Opinions are always our own.
Monterey, California is a beautiful destination for anyone taking a California Coast road trip! If you cannot make it to Monterey just yet, make sure to enjoy the Live Cam of from the Monterey Bay Aquarium. While seeing Monterey in person should be on everyone's bucket list, this live cam is beautiful and can be enjoyed all over the world at any time. Make sure to read below about all the fun things you can do with your family in Monterey when you are able to travel.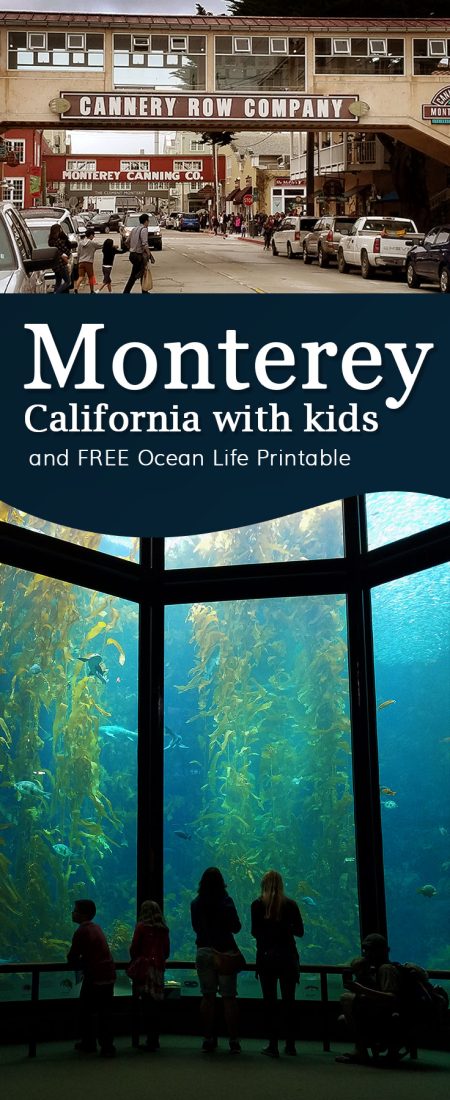 If you follow our family on Instagram you know we recently went on a road trip up the California Coast. When our oldest was a baby we traveled to Monterey, but haven't been since. We were thrilled to plan a trip to Monterey California with kids this summer. We had two days in Monterey to explore and site see. We visited two museums, a world famous aquarium, stayed at a great hotel, and ate our weight in clam chowder. If you are planning a trip to Monterey California with kids, make sure to check out these locations. Included is a jellyfish printable in honor of our favorite aquarium friend.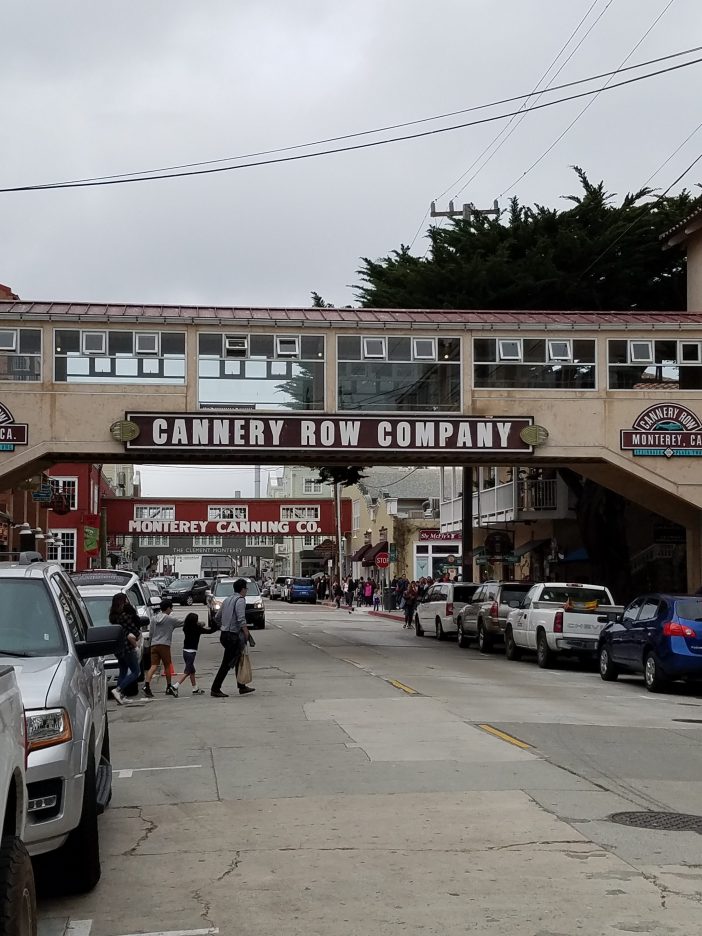 Mmmmm! Clam Chowder. It was a gloomy day on Cannery Row so we of course needed to fill our bellies with this treat!
Let's start with a cornerstone of Monterey. Historic Cannery Row is famous for so many reasons, but best known for The Monterey Bay Aquarium. Sea Otters, penguins, giant octopus, and more have beautiful habitats and displays. A family favorite was the kelp forest and watching scheduled animal feedings. Educational movies play several times throughout the day and docents are everywhere to encourage and educate kids. Don't miss the gorgeous view at the oceans edge, we spotted otters and seals with the help of a docent. With two stories of exhibits you can easily spend the better part of the day at The Monterey Bay Aquarium.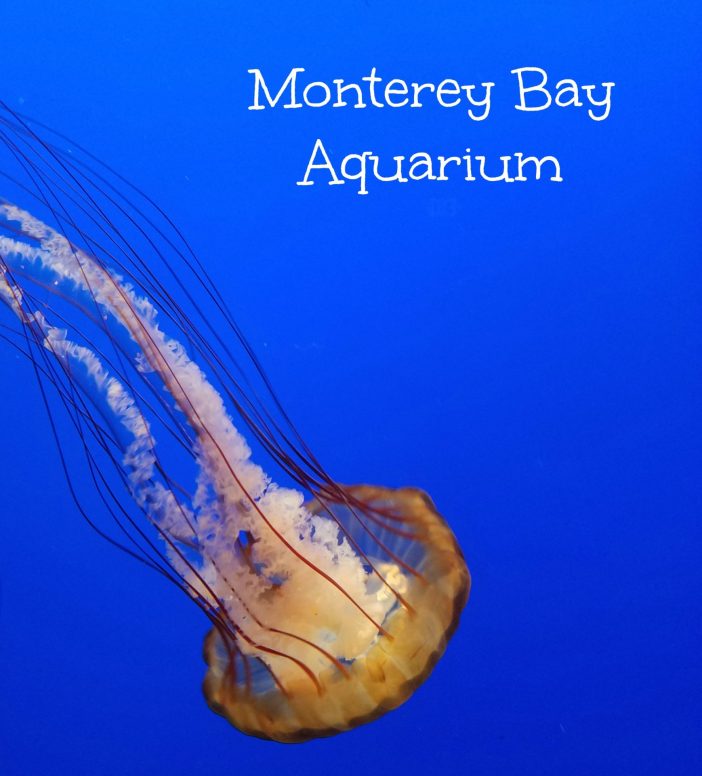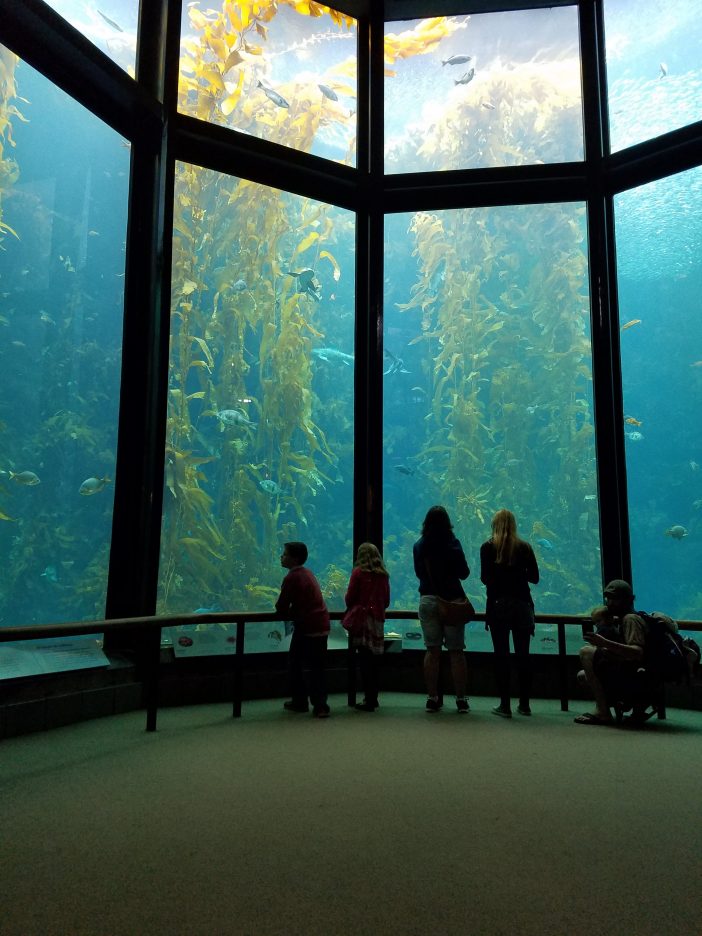 The kelp forest is two stories tall and is nothing short of magical.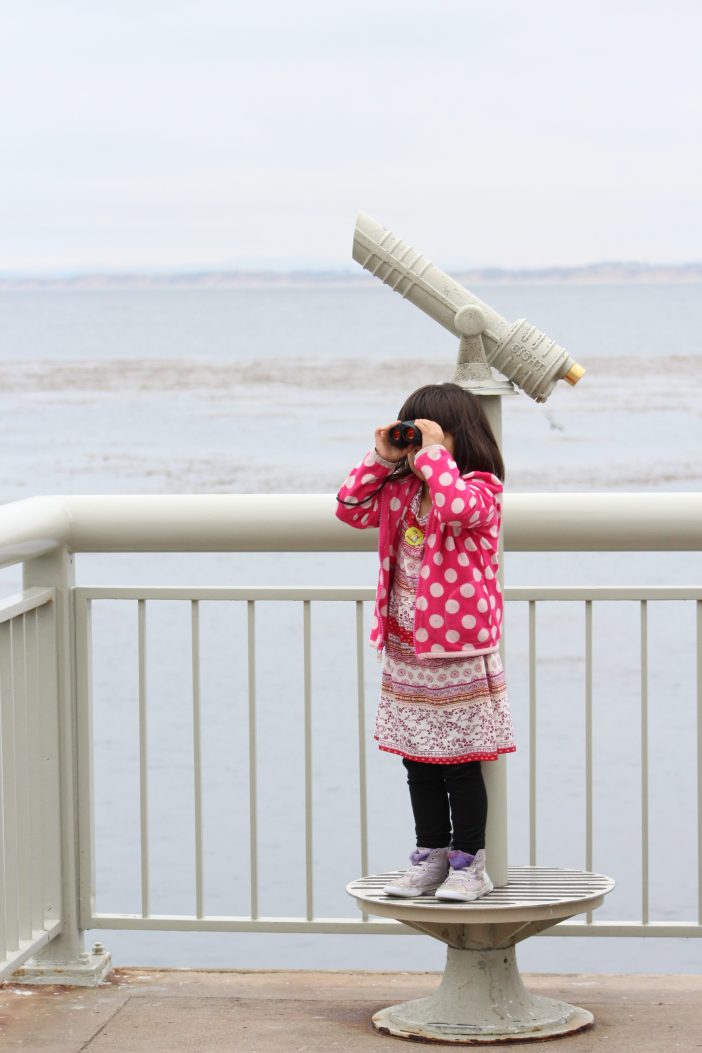 Looking the wrong way Little Miss C……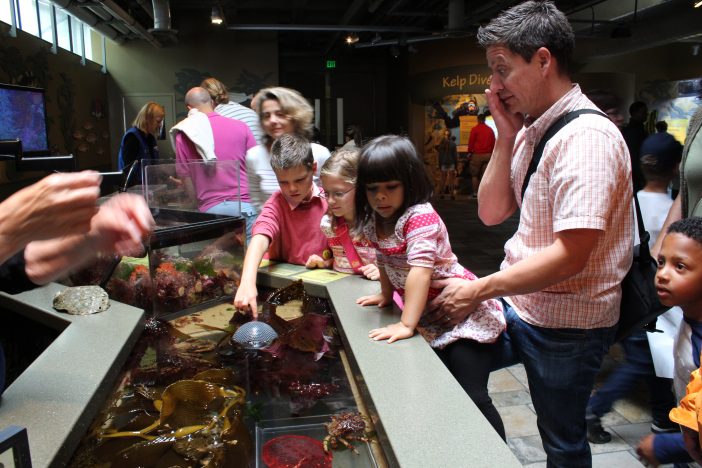 They are open daily including some holidays! Tickets range from $30 – $50. Make sure to check out their hotel partners for two day discounts and also discounts for residents. While this was by far the priciest attraction we visited, we really felt we could have spent all day. We enjoyed an afternoon treat in the cafe and wished we had dined there for lunch. Dozens of live web cams are available for fans that can't visit today.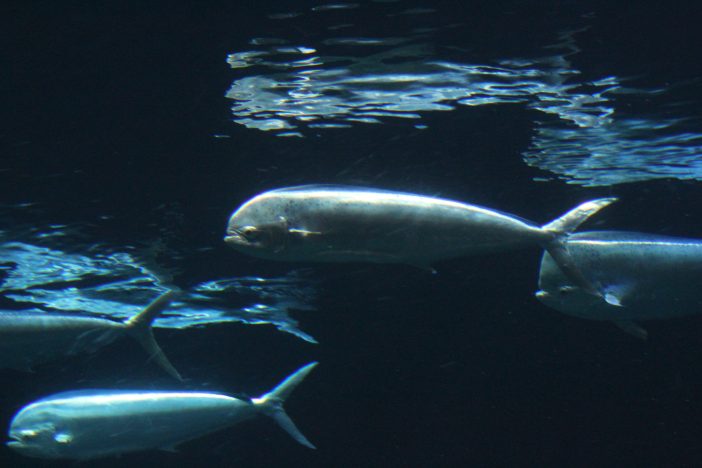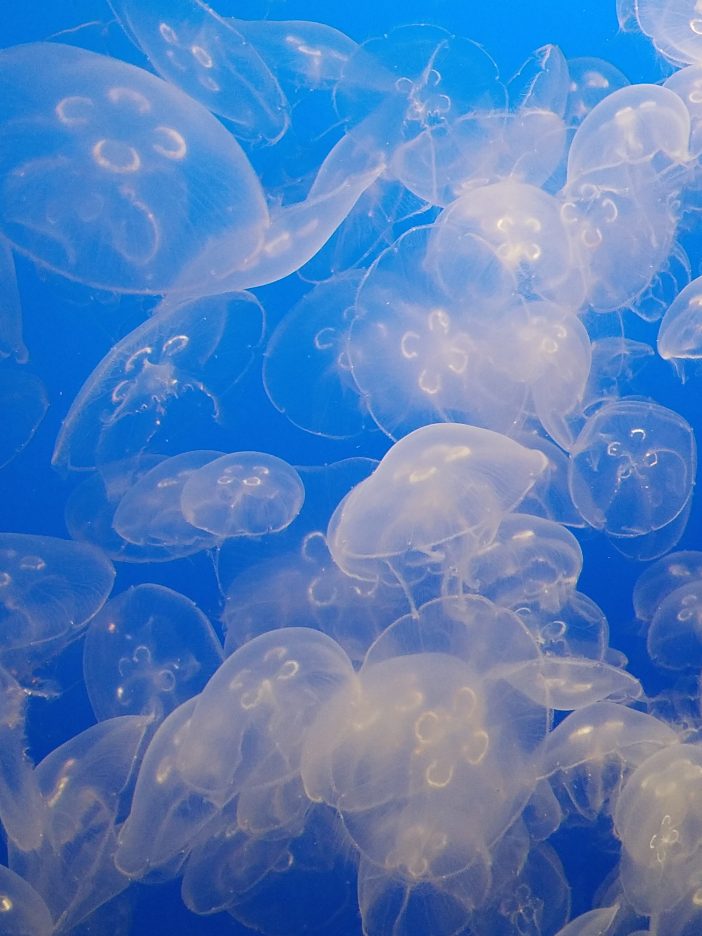 For our friends that love free printables – here is a fun Jellyfish printable coloring sheet inspired by our favorite exhibit!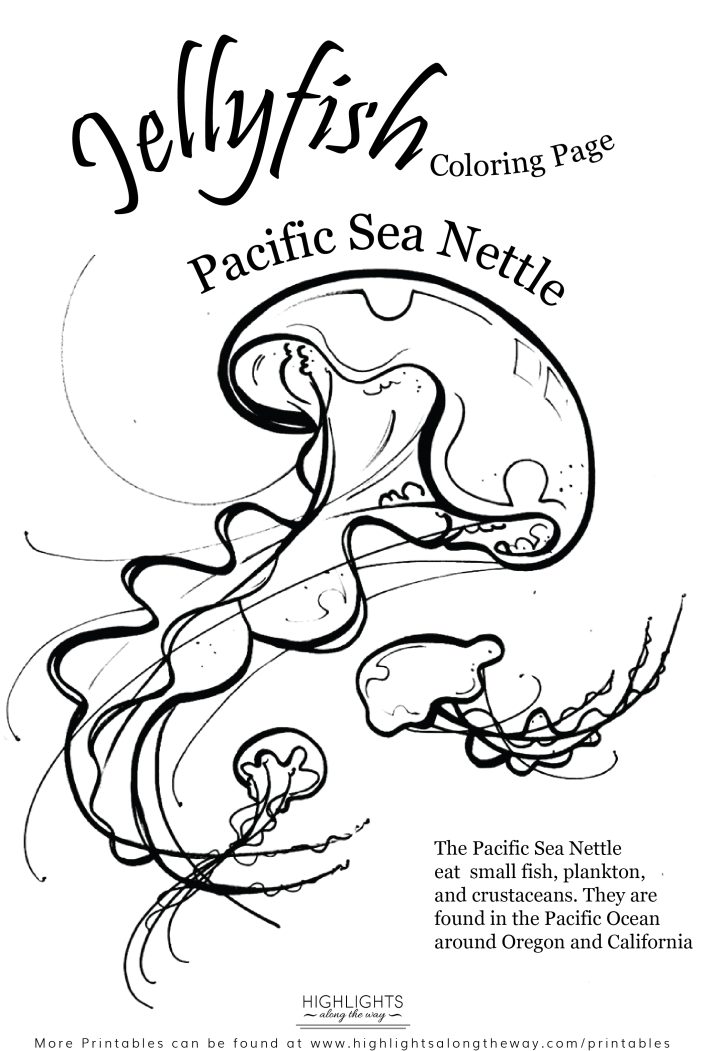 While Monterey is well known for the Monterey Bay Aquarium, we were also so excited and honored to share a few other fun places to check out with your family! The follow museums are as fun as they are educational. Both museums have small fees to enter. Our children were delighted and inspired. When traveling to Monterey with kids I would highly suggest checking out both of the following museums as well.
My Museum!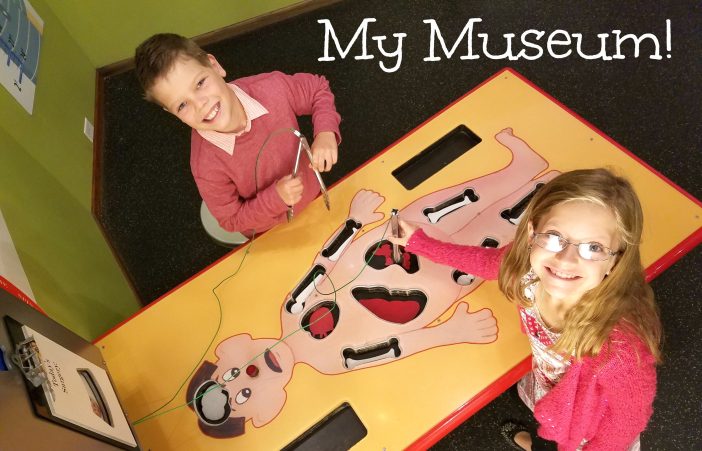 Our first stop was an awesome children's museum. Kids love interactive, hands on museums and My Museum is perfect for kids of all ages. Crafting, science, music, and more will keep kids entertained for hours. My Museum is open Tuesday through Sunday, please check their site as hours do vary. Children two and under are free. Kids 3 and up and adults are $8. They do occasionally have specials although they are not listed on the site.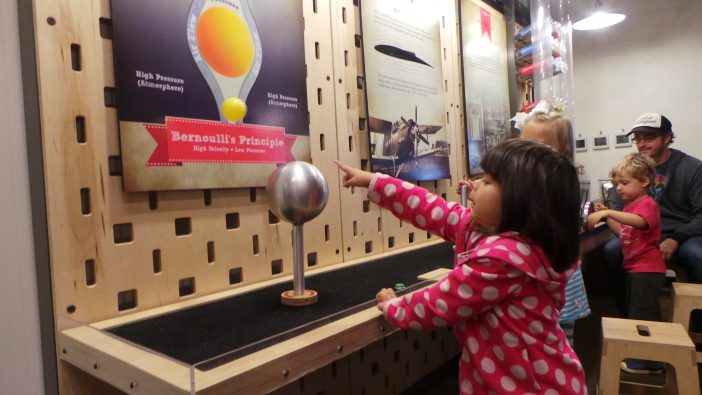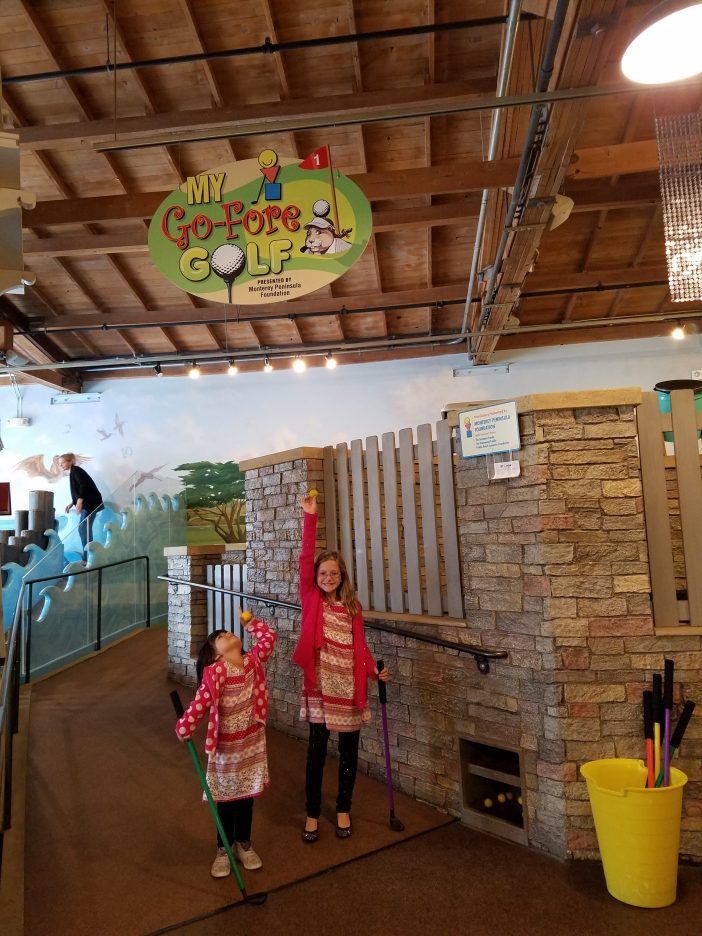 Pacific Grove Museum of Natural History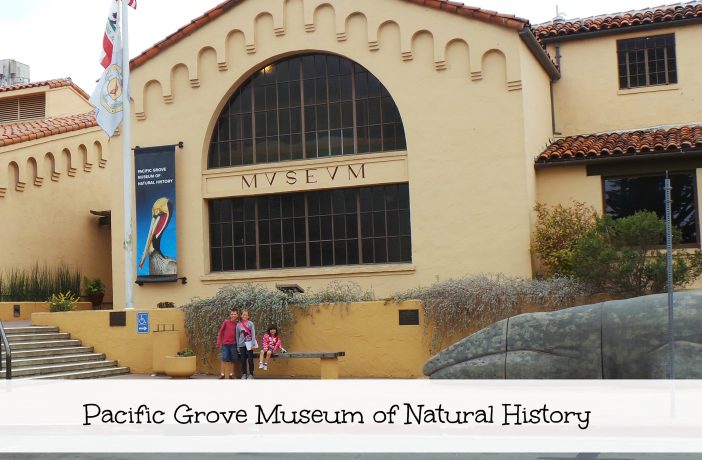 Natural History Museums are some of our favorites to visit. We love exploring history and science throughout the exhibits. The Pacific Grove Museum of Natural History first opened it's doors in 1883 and is one of the oldest natural history museums in the country! This two story museum celebrates local animals and history with displays and even hands on activities for children. History museums always make us a bit wary with our rowdy bunch, but this museum had plenty of hands on options. Pacific Grove Museum of Natural History is open seven days a week, but check their site for hours. Children three and under enjoy free admission, as do Monterey residents! Tickets range from $5 – $9 with discounts for children, military, and students with proper ID. Hot tip! The Pacific Grove Museum of Natural History now has Pokemon! Of course the Pokemon you can catch will be themed to go along with animals on exhibit. Natural History Museum keeping it current! I like it!
While we were in Monterey we were hosted by a lovely hotel. The Portola Hotel & Spa was welcoming and spacious.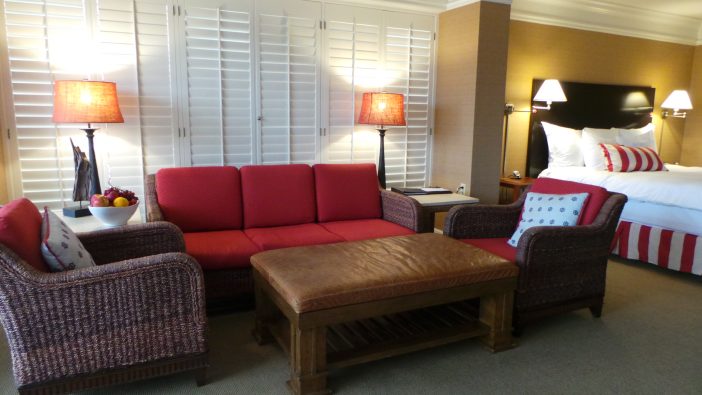 The Portola Hotel greets guests with a warm cookie. Need I say more? I will! We truly wish we could have stayed a few days in this hotel!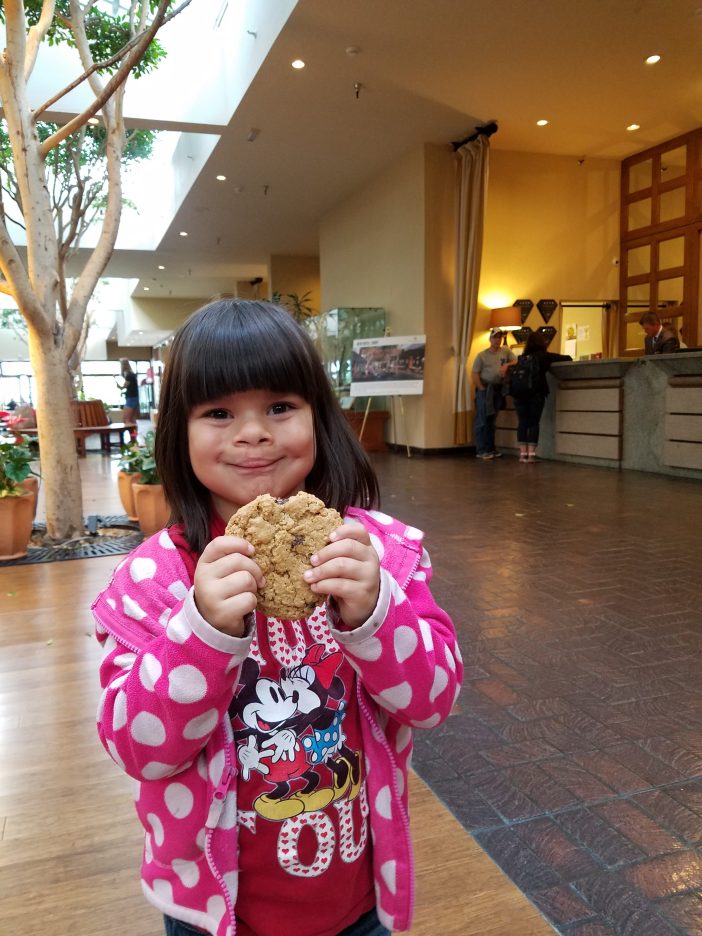 From the moment we walked in the lobby we were thrilled to spend a day of our travels at the Portola. Live trees decorated the fully enclosed lobby which had been recently updated. Check in at the front desk was very quick even though we arrived at typical rush hour. We were asked how many were in our party and I was promptly handed five cookies to hand to hungry family members while I finished up details. Why every hotel doesn't do this I have no idea. It is absolutely the best thing ever; especially for families.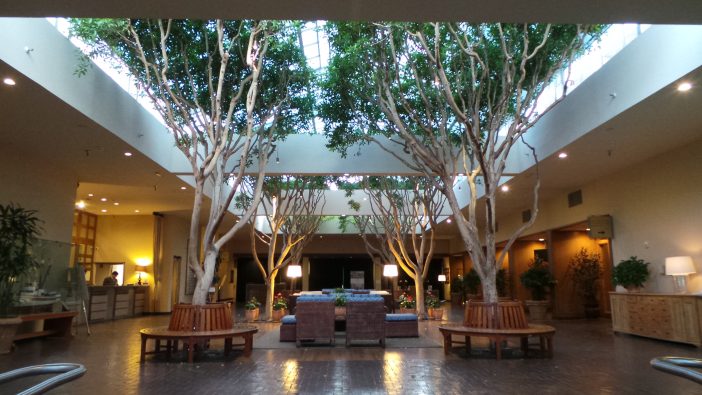 While the Portola feels luxurious it is also extremely family friendly. The folks at the front desk was excited to see we had kids with us and offered to explain their Portola Pirate Program! The Portola Pirate Program helps families explore kid friendly locations and attractions in Monterey with a unique scavenger hunt. Our kids cannot wait to go back because the Portola Pirate Program has fun prizes that level up with each stay. I included an excerpt from their site which shows how kids will enjoy goody bags, free admission to My Museum, and even a pizza party as part of the Portola Pirate Program…..
"Portola Pirate Kids Program
The Portola Pirates program is focused on kids between the ages of 3-12 who want to come to Monterey and have fun! Our kid-friendly hotel in Monterey has created a fun self-guided treasure hunt around the nautically inspired decor on the property, incorporating fun and the educational history of Monterey. Antique model ships are located throughout the hotel in addition to anchors and photographs from days gone by, ensuring educational and exciting Monterey travel with kids.
Upon each return visit to our family-friendly Monterey hotel, your little crewmembers will earn additional benefits and surprises when they continue take part in our Portola Pirates Program. The full program outline as follows:
Voyage 1: Your first stay at the property includes a souvenir Portola Pirate Bag and self-guided treasure hunt map to buried treasure.
Voyage 2: Your second stay at the property includes a voucher for a complimentary root beer float in a souvenir Portola Pirate Mug at Jacks Restaurant or Peter B's Brewpub.
Voyage 3: Your third stay at the property includes a voucher for complimentary admission to MY Museum, the Monterey County Youth Museum in downtown Monterey.
Voyage 4: Your fourth stay at the property includes a Portola Pirate t-shirt.
Voyage 5: Your fifth stay at the property includes a Pirate Party in your guestroom* for up to ten friends under the age of 12 years old. Enjoy pizza, sweets and pirate goodie bags with complimentary rental of a Wii gaming system. Parent supervision is required."
Our kids really enjoyed Voyage 1 and really looking forward to future voyages!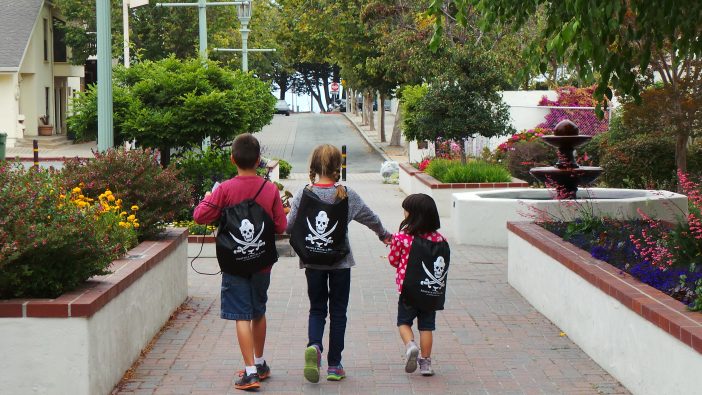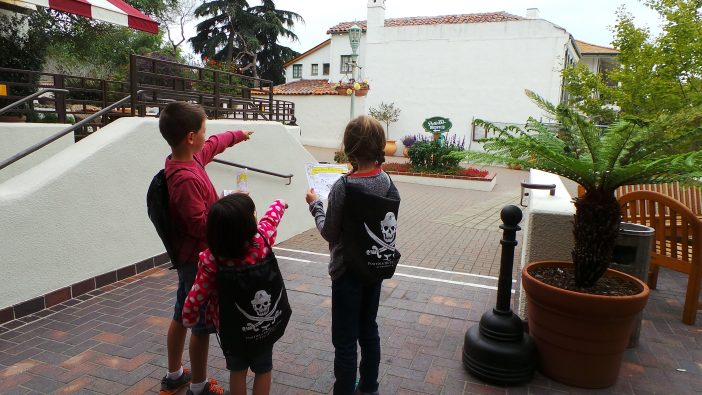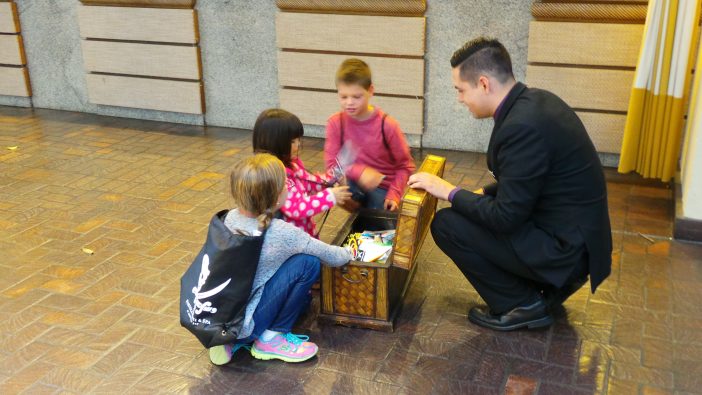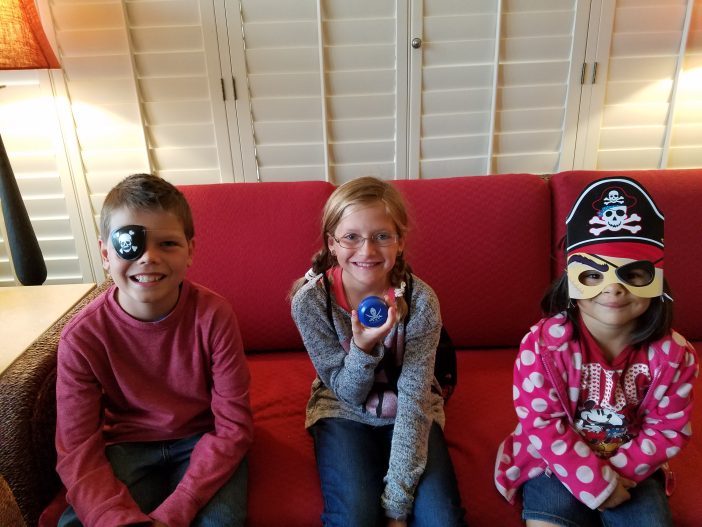 Our family of five has noticed that the travel world is more often prepacked for families of four or less. We still consider our kids too small to be in a room by themselves, so finding accommodations where we can all be together is important. We were thankful for the option of a large suite. A beautiful bed for us, a hideaway bed in a lounge area for the girls, and housekeeping was kind enough to bring our son his own roll away bed. Mini suites include a large room with sitting area and in our case a beautiful wrap around porch. A small kitchenette area was a life saver, a mini fridge, microwave, sink, and counter space allowed us to make, store, and serve snacks and even breakfast for our bunch.
A necessity for all parents….. the in room coffee station! A Keurig is a special away from home luxury for us. Coffee in the crisp foggy morning on the balcony was heavenly!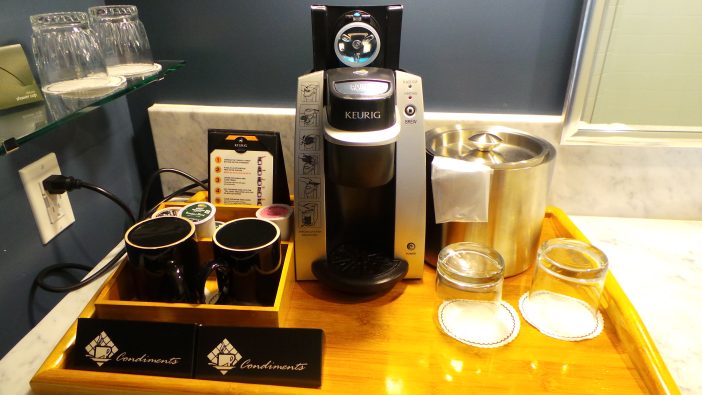 Here is a quick video of our suite at the Portola Hotel & Spa….
And just like that, our short stay in Monterey California was over. We were on our way to San Luis Obispo (stay tuned!). Thank you to our lovely hosts in Monterey. We cannot wait to spend some more time with you in the future! Check out the official See Monterey website for more information about visiting Monterey with your family! We always book through Hotels.com – check out rates today!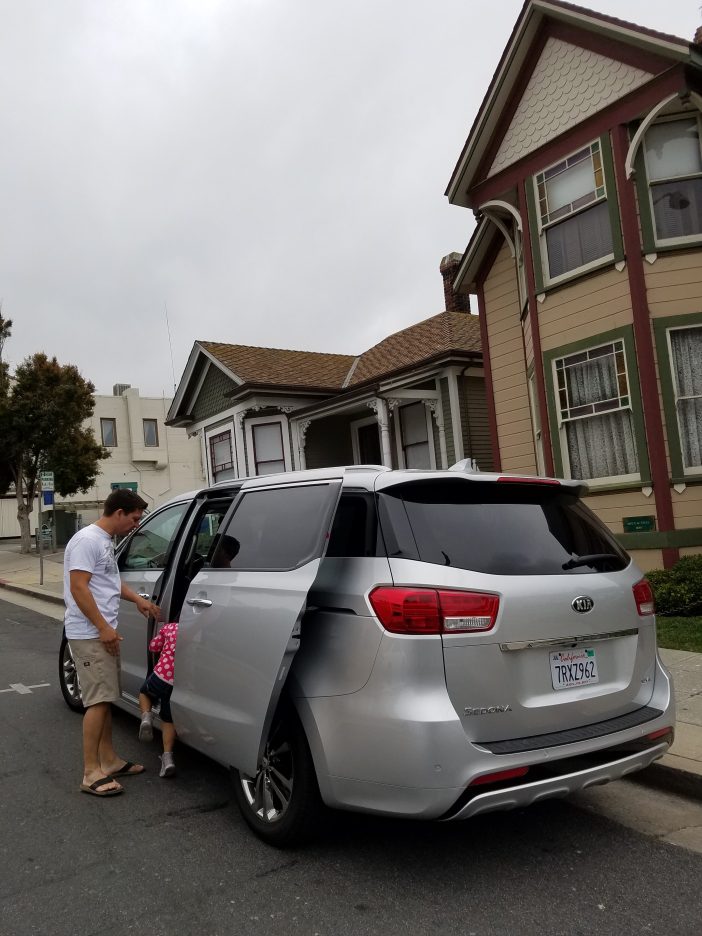 Want to read about the places we stayed on our way up to Monterey?
Santa Barbara is home to Mission Santa Barbara and some of the most beautiful beaches ever.
Buellton is a tiny town with the world's best camping options according to me!
Solvang is California's little Denmark and it is as charming as it comes!