Family fun in Monterey California for Spring Break!
Disclosure: This site uses affiliate links. Highlights Along the Way is a participant in the Amazon Services LLC Associates Program, an affiliate advertising program designed to provide a means for sites to earn advertising fees by advertising and linking to amazon.com. Our trip was hosted by the Monterey Visitor's Bureau. Opinions are always our own.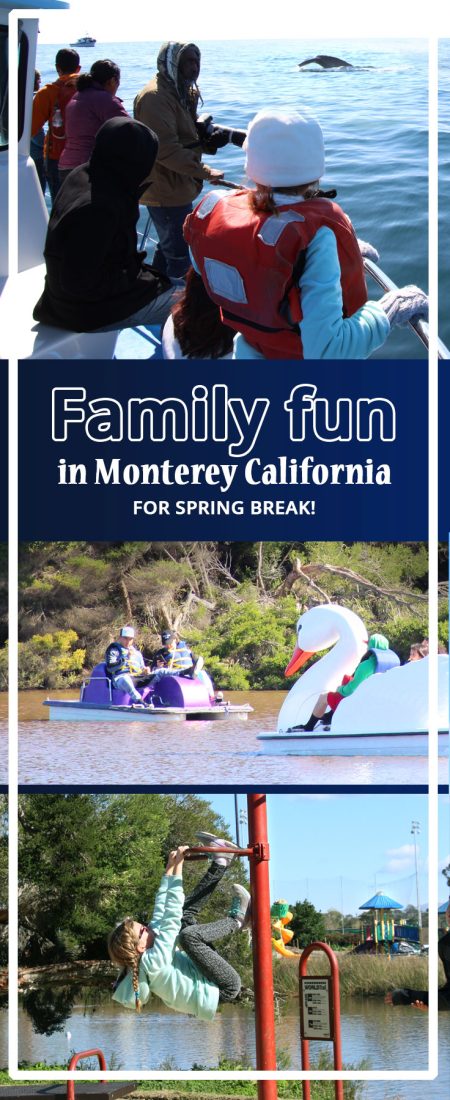 Spring Break is just around the corner!  Monterey California is the perfect place to consider traveling as a family.  We have enjoyed Monterey for years and we always find something new.  Family travel is important to us; we love the memories we create. Monterey California is a perfect destination to discover as a family for your spring break.  Make sure to check out our previous trip (linked below) for even more Monterey fun!
What to do? Here are a few experiences that are not to be missed!
Visit Dennis the Menace Park!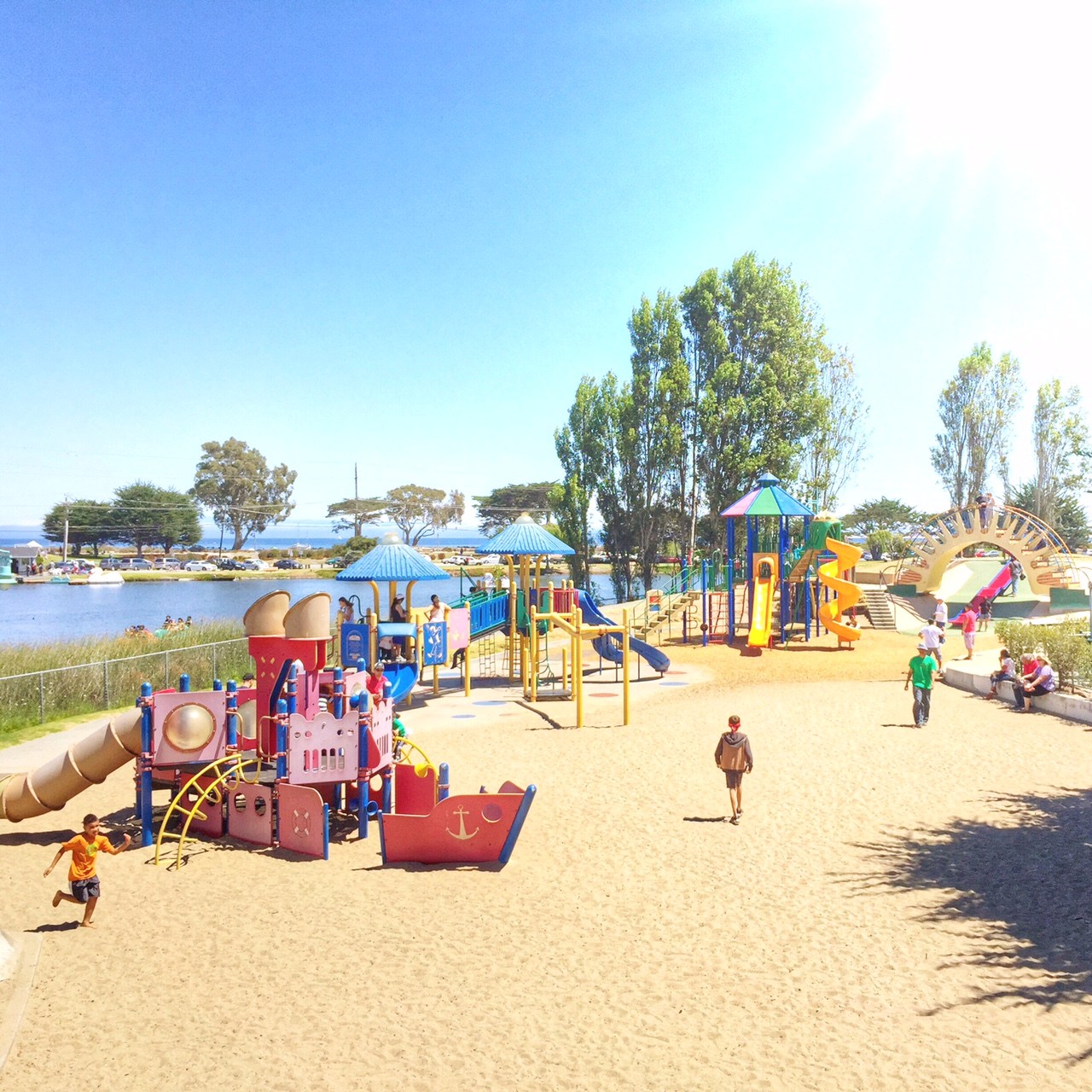 (Image Source OC Mom Blog – used with permission)
We couldn't visit this year, but for a good reason.  Dennis the Menace Park is closed for now, but they are in the process of making it wheelchair accessible.  I love this!  Our disappointment with the closure was whisked away with happy thoughts of the inclusive future.  We couldn't visit the park, but we did enjoy the paddle boats on the little lake just below the park.  Our family of five put on life jackets and cruised around on a paddle boat shaped like a swan. The kids agreed unanimously that this was a highlight of their trip.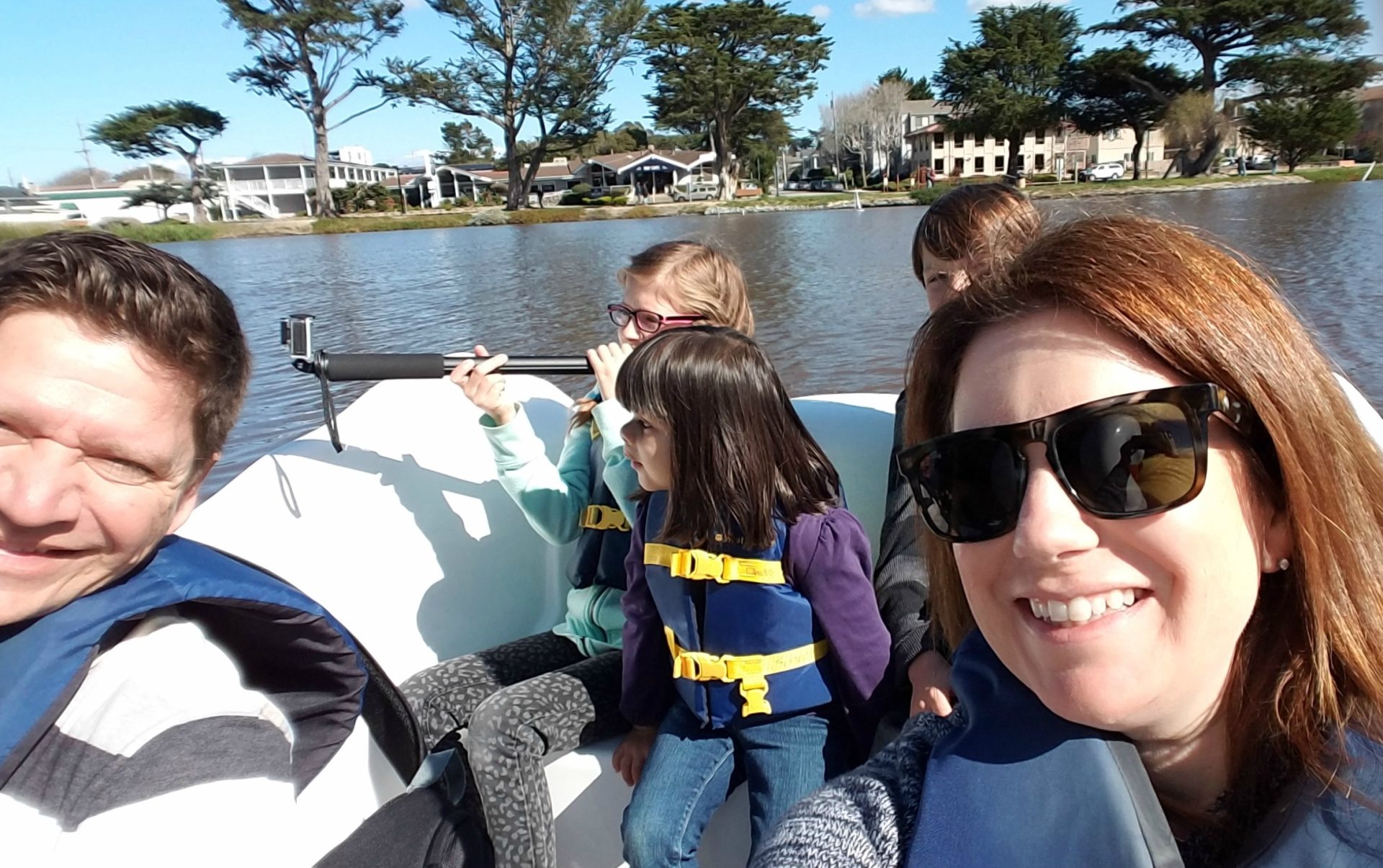 Groupie on a Swan Boat! Check!
We surprised the kids with this fun camera before our trip.  They dropped it approximately sixty thousand times.  It continues to work.  It was kind of magical to watch them and remember how much I loved Polariod cameras when I was little. If you are looking for an inexpensive and fun camera for kids this is it!
Take a Whale Watching Cruise!
Sanctuary Cruises hosted our family and they were wonderful.  Sanctuary Cruises is recommended by The Monterey Bay National Marine Sanctuary and preferred by locals.  Guests are guaranteed to see animals or their next trip is free.  Trips are longer than other options so you will have more time to see Whales and other marine life in their natural habitat.  Our trips are always learning trips, we loved that we were able to learn about marine science and seamanship on our excursion.
We spotted seals, otters, hundreds of dolphins, and several grey whales.  Our budding marine biologists were in heaven.
My son got a little seasick.  We found that sitting in the back of the boat did wonders for settling his tummy. He was back out on the bough of the ship in no time.
Watching our Polaroid develop on the ride back to the dock.
With kids ranging from five to ten, whale watching was a perfect excursion. It was as educational as it was fun. Keep in mind, you will be on the boat for hours and little tummies will get hungry.  While they did have snacks available for purchase, I was happy that we partnered with Tree Top Inc on our trip (more on that later) and we had some nutritious snacks packed and ready to go!
Thanks for the memories Sanctuary Cruises!
Hungry? We have two places that were family friendly and delicious!
Our family loved Googie Grill.  They are all about comfort and style! Googie Grill only opened in 2014 but it has quickly become a local favorite and hot spot for tourists like us.  Googies offers fresh and delicious comfort food.  Classic plates with a modern twist will delight diners for breakfast, lunch, and dinner.
My  son said the cheeseburger was 'Epic'. Direct quote.
The dessert was the highlight for me! Do not skip the Tiramisu, trust me friends.
If you are looking for sustainable seafood, Flaherty's Seafood is not to be missed! Flaherty's Seafood is very close to Monterey in Carmel. From their website "Flaherty's is the original "Sustainability Restaurant". While many restaurants have recently adopted sustainability practices, Flaherty's has been practicing sustainability for 40 years. As the saying goes, actions speak louder than words."
If you love Ahi, you must try it at Flaherty's!  My husband and I shared this delicious dish!
Our family is mostly gluten free and we were so excited to find a flourless clam chowder at Flaherty's Seafood.  We all gave it two thumbs up!
Both of the restaurants above were very family friendly and we cannot wait to visit them again.
Where is a family of five to stay? We have found that five is the number where a standard hotel room just doesn't work. We aren't quite ready to put our kids in a room by themselves so a mini suite is typically what works best for us.
Hotel Pacific was our gracious host and we highly recommend this hotel.  Monterey can be a pricey stay but Hotel Pacific has very reasonable rates.  We stayed in family suite with plenty of room for our family of five.  The suite was cozy, clean, and had a mini kitchen, separate bedroom for us, fireplace, and a spacious bathroom.  Guests will enjoy a complimentary continental breakfast which included pastries, hard boiled eggs, fresh fruit, and much more.  Don't take our word for it, they also have 4 out of 5 stars from other visitors through Hotels.com!  Hotel Pacific is steps from the Martime Museum and about one mile from the famous Monterey Bay Aquarium.
In the family suite there is an unique feature in the bathroom that is so worth pointing out for big families.  One side has tub and two sink vanity.  To the right there is a bathroom with a toilet and shower.  While one big kid took their shower we could bathe the little one in the tub.  It made getting ready for bed so comfortable and carefree!
Want to see more fun things to do as a family in Monterey? This was actually our second trip in less than six months.  On our first trip we visited the world famous Monterey Bay Aquarium and other amazing family friendly museums. Thank you once again to the Monterey Visitor's Bureau for hosting us and sharing some more Spring Break fun with our readers!