The music from Mary Poppins Returns
Disclosure: #MaryPoppinsReturnsEvent was hosted by Disney Opinions are my own.
Mary Poppins Returns opens today! People have been looking forward to the release of Mary Poppins Returns for what seems like forever, but it is finally here!  I was thrilled to have the opportunity to interview many of the cast as well as the director and musicians who made this soon to be instant classic. Not only were we able to interview the cast, but also director Rob Marshall and songwriters Marc Shaiman and Scott Wittman. I was thrilled to hear about how the music was made for the sequel to Mary Poppins. I can't imagine what it must be like to write the music to follow up such an iconic film, it was great to have the opportunity to hear from them directly. Here are some of the highlights from our interview.
 What was that like to work with Richard Sherman? (Richard Sherman wrote the music for the original Mary Poppins movie and was a consultant on the film.
Scott Wittman   "Oh, that was heaven. I mean, that was really heaven. And then last week, we got to spend a whole day with him. And it was just like gloriour. We got to ask him all those questions that, you know, I became four years old. I mean, there he was in front of me and I got to ask him, 'Why'd you write this song and why was it in this key? And what was that chord? And the choices of words. And what was Walt Disney like…' – I don't remember his answers."
Marc Shaiman "The glorious part of it was that, he loved our movies so much. And that he really felt like it was in good hands. And that in some way, he said to us that, the baton had been passed. But you know, it was the greatest compliment we could have ever ever gotten. The way he looked at us. And talked to us and treated us as; I wouldn't say equals. But worthy at least to be in the room with him."
In staying true to the original score by the Sherman Brothers, they had this to say….
Scott Wittman "Well, I think that we went back to the books. And there were so many more adventures in all the stories. And so some of them just cried out to be sung. And so we wanted – I think – and Lin said it great. He said, "You know what's great about it, is our movie rhymes with the first movie." And that's a huge compliment, too. All the material was in the books. And then we had Emily and Lin and we had them right from the beginning."
He added "But we knew we had it right so it sounded like it was in the same neighborhood of the first movie. And also the first movie was like our teacher. So you grow up with that, it's got to be – there's gonna be something about what we wrote, that would be – that would come from that. And would sound similar and we never tried to – you know, actually was right, you can't try to copy. Or even write something that's so close, that it will only make us pale in comparison. And yet we couldn't help but find ourselves in the Mary Poppins vernacular.  Emily's take on it is so singular to her. So that also freed us up too.  She just came in with such confidence. And wit. And so it was easy to kind of fit these pieces on."
They shared about a song that was cut from the original movie.  The song almost made it into the sequel, and was cut yet again!
"It was about, when Mary Poppins' birthday falls on a full moon, the animals in the zoo become the spectators and the humans are in the cages. So we wrote a song called, The Anthropomorphic Zoo, the Sherman brothers wrote a song called The Chimpanzoo."
I am so sad that this is not in either. I feel like we as fans are missing out….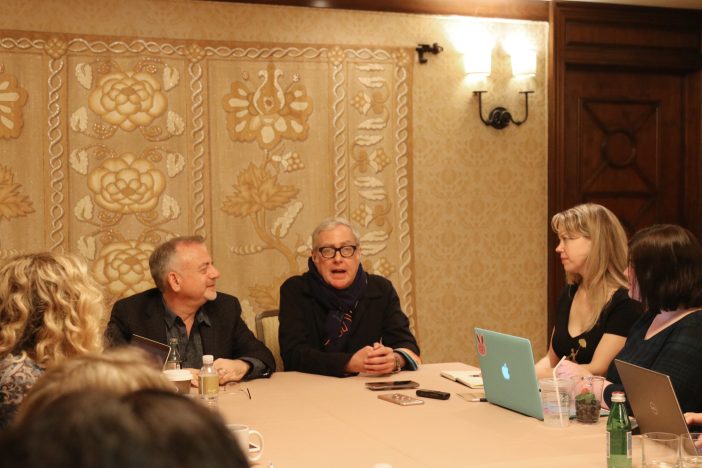 You've done such a wide variety of work. How was making Mary Poppins Returns – different from what you've done before? 
Scott   :    Well, it's funny. A Disney way, it really was a dream, it's a wish your heart makes. So it was a love that time, I said to someone recently, that that four months, we were in a hotel room in New York.  And so, that was sort of a magical experience, because Rob is such a person of the theater. And we come from the theater. So it really was like working on a Broadway musical. 'Cause it was really that, that whole experience.
Marc   :  I've worked with hundreds of directors.Rob is singular in his vision and he's straightforward – and the blinders are up. And so you do feel like it gives you a confidence.
As they said, it really does 'rhyme' with the original.  Thank you to Scott and Marc, the music is practically perfect in every way!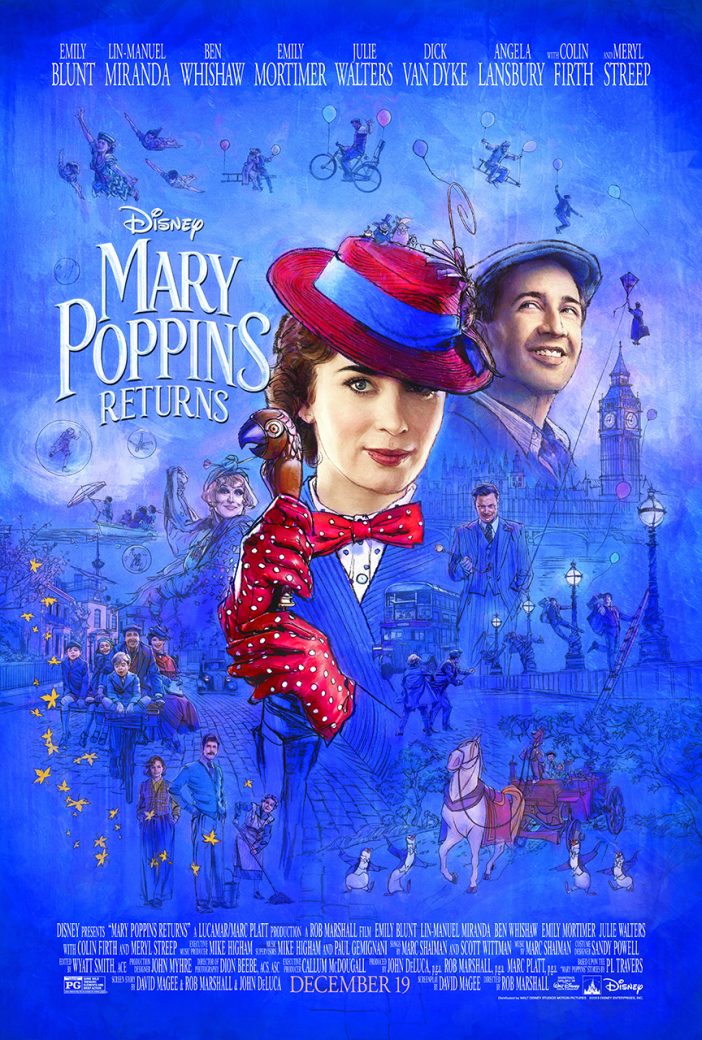 Mary Poppins Returns opens in theaters everywhere on December 19th.  Audiences are already excited so it is a good idea to grab your tickets early!  Purchase your tickets through Fandango and skip the lines! Giant thank you to March Shaiman and Scott Wittman for taking the time to speak with us. I cannot wait to share your music with my family today! You can also listen to the entire soundtrack Mary Poppins Returns through Amazon now!
Want to read what the actors and director had to say? Here are our other articles with exclusive interviews from Mary Poppins Returns….
Exclusive Interview with Emily Blunt
Exclusive Interview with Lin-Manuel Miranda
Exclusive Interview with Director Rob Marshall
Exclusive Interview with Pixie Davies and Joel Dawson
Exclusive Interview with Emily Mortimer and Ben Whishaw 
Also, don't miss these fun Mary Poppins Returns printables!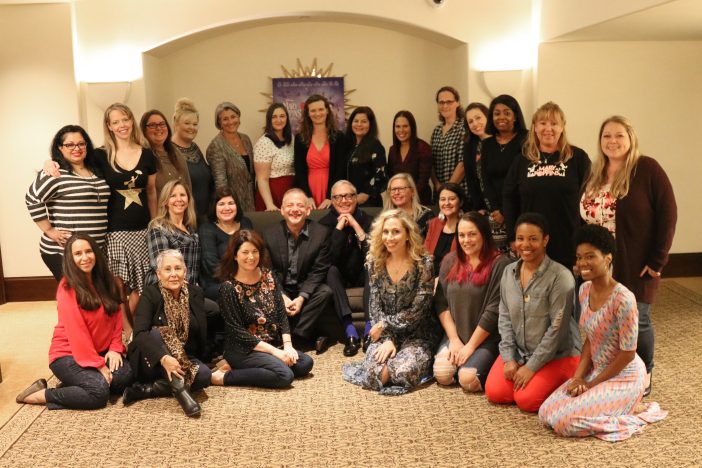 As always, thank you to Disney for having me along for #MaryPoppinsReturnsEvent – it was practically perfect in every way!
*Photos are by  Whisky and Sunshine or  Disney and used with permission*