Hannukah and Christmas Printables from Nick Jr!
Disclosure: This post has been sponsored by Nickelodeon
The holidays are here! Today we are sharing some adorable Hanukkah gift tags and Christmas ornaments all free and printable for Nick Jr fans. Using artwork of some of our favorite Nick Jr cartoon characters, we have created some fun Hanukkah tags and Christmas ornaments for fans to make their holiday celebrations more festive.
I jumped at the opportunity to create these tags and ornaments for our friends at Nickelodeon. This is a sponsored post and Nickelodeon was kind enough to provide us with character images to use on the ornaments and tags I created. I hope this brings joy to Nickelodeon's youngest viewers this holiday season.
Our kids grew up on Nick Jr and our youngest still enjoys several shows. Dora, Baby Shark, Paw Patrol, and so many more are here to make your holidays even more bright!
Simply click and print from your home or school computer.
If you like these free printable Nick Hanukkah gift tags and Christmas ornaments, check our free Baby Yoda Hanukkah coloring sheets!
From our friends at Nick Jr and our family at Highlights Along the Way, we wish you a joy filled and safe holiday season!
About Hanukkah
Hanukkah, an important festival in the Jewish faith, deserves equal recognition alongside Christmas due to its historical significance and meaningful traditions. Similar to the significance of Christmas for Christians, Hanukkah holds deep cultural and historical importance for the Jewish community. The festival commemorates the victorious efforts of the Maccabees and the miraculous event of oil lasting eight days in the Temple. This narrative symbolizes resilience, faith, and the triumph of light over darkness. By giving Hanukkah the same attention as Christmas, we promote inclusivity and cultural understanding, fostering a society that appreciates and learns from diverse traditions. This recognition also emphasizes the shared values of kindness, unity, and gratitude that both Hanukkah and Christmas embody.
These free printable tags are designed to work for either Hanukkah or Christmas. Whichever holiday the family celebrates, kids will love this gift tags featuring their favorite characters from TV!
FREE printable Hanukkah Gift Tags from Nick Jr.
Download these festive Nick Jr printable tags here!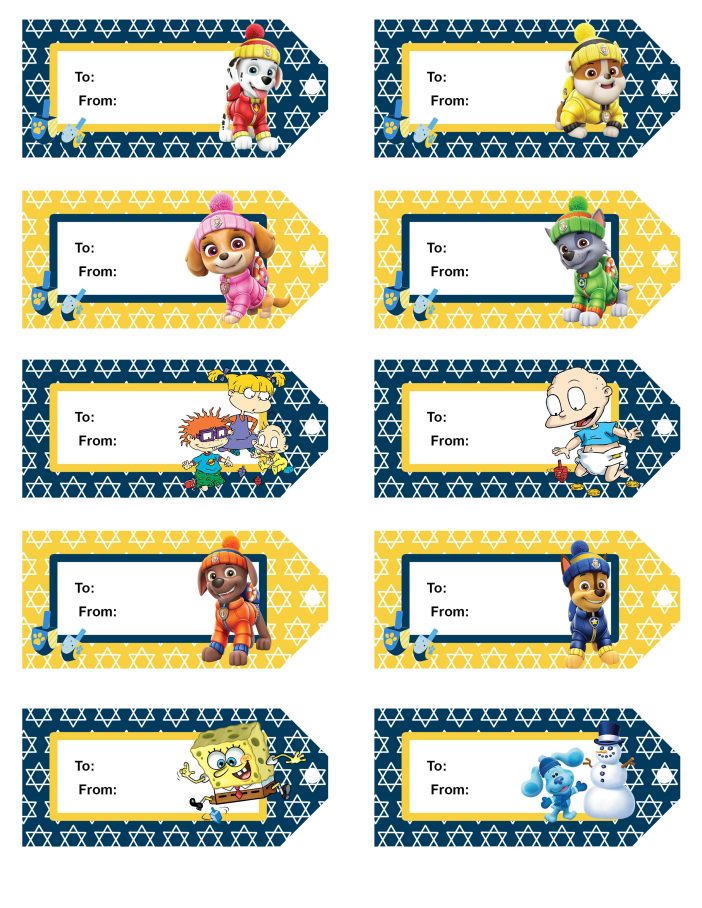 Sponge Bob, Blue's Clues, Paw Patrol, and the Rug Rats all are here to celebrate the Festival of Lights with their friends. Click and print these Hanukkah gift tags to use for all the Nick Jr fans on your Hanukkah gift list!
Ornaments – FREE printable ornaments from Nick Jr.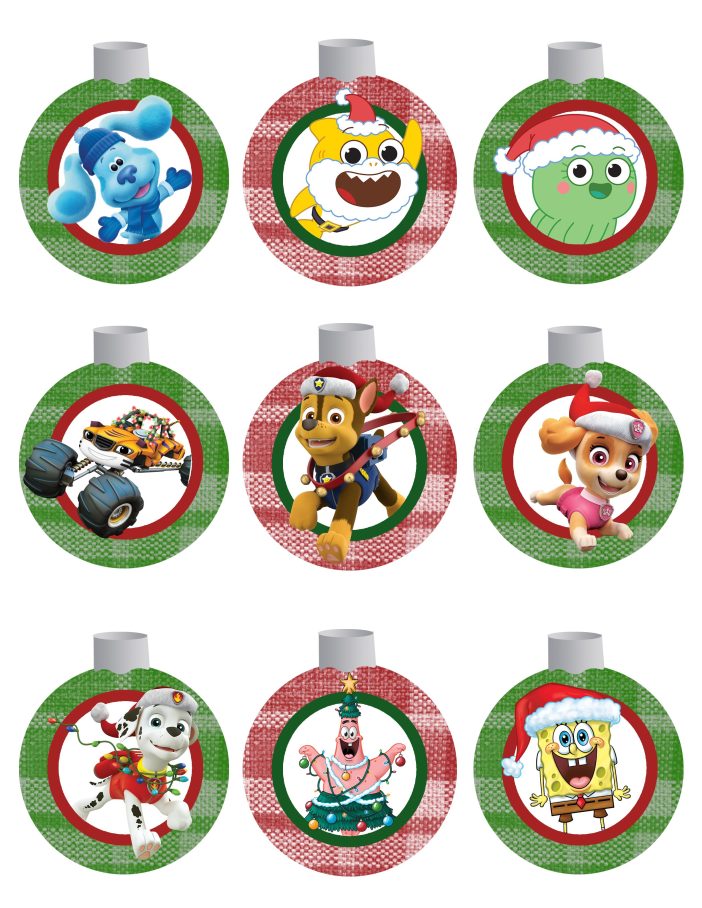 Our friends who celebrate Christmas will love this simple paper craft. Kids can cut out the ornaments and add a simple string to hang their favorite Nick Jr characters to their tree. Paw Patrol, Sponge Bob, Monster Trucks, Blue's Clues, and Baby Shark are all here to say "Merry Christmas" to you!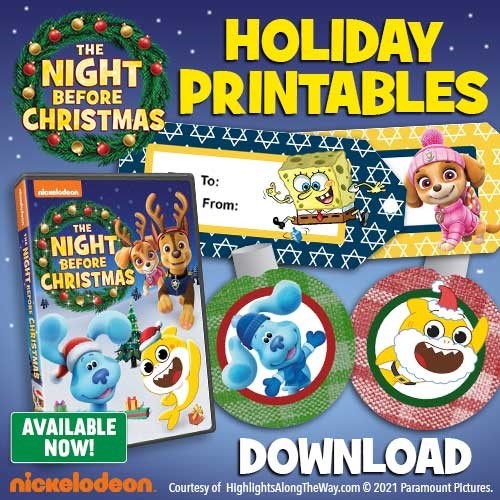 Please share these free printables with your friends, and I would love for you to pin them too!
We thank our friends at Nickelodeon for sponsoring this post and giving each family a fun holiday craft to share with one another.
With Christmas season right around the corner, fan-favorite Nick Jr. characters are ready to help celebrate and spread holiday cheer in the brand-new DVD release Nick Jr.: The Night Before Christmas! The DVD includes Christmas-themed episodes from PAW Patrol, Baby Shark's Big Show!, Blue's Clues & You!, Bubble Guppies, and Blaze and the Monster Machines. Preschoolers and their families will get to meet Santa, learn new holiday traditions, and celebrate the joyous holiday with their favorite characters. Nick Jr.: The Night Before Christmas is the perfect stocking stuffer for any Nick Jr. fan!

Nick Jr.: The Night Before Christmas will be available on DVD from Paramount Home Entertainment and Nickelodeon Home Entertainment on November 2, 2021, for the suggested retail price of $10.99, just in time for holiday gifting!
Nick Jr.: The Night Before Christmas episodes:
PAW Patrol: Pups Save a Bah Humdinger
Baby Shark's Big Show!: All I Want for Fishmas
Blue's Clues & You!: Blue's Night Before Christmas
Bubble Guppies: The Guppies Save Christmas!
Blaze and the Monster Machines: Snow Day Showdown

Nick Jr.: The Night Before Christmas synopsis:
Ho, Ho, Ho, it's the night before Christmas for the PAW Patrol, Blue, The Bubble Guppies and more! The PAW Patrol work together to stop Mayor Humdinger and help Santa save Christmas. Molly, Gil, and Bubble Puppy discover Santa's list is lost in the snow and need to get it back to the North Pole! Then, viewers will decorate the tree with Steve, help Joe wrap presents in Santa's workshop and everyone will celebrate a night full of Christmas traditions!

Nick Jr.: The Night Before Christmas fast facts:
Street Date: November 2, 2021
Catalog: 191329205914 (US)
Running Time: 1 hr 52 min
Audio: Dolby Digital English 5.1, French Stereo (not available for "Baby Shark's Big Show!: All I Want for Fishmas"), Spanish Stereo
US Rating: Not Rated
US M.S.R.P.: $10.99

About Nickelodeon
Nickelodeon, now in its 42nd year, is the number-one entertainment brand for kids. It has built a diverse, global business by putting kids first in everything it does. The brand includes television programming and production in the United States and around the world, plus consumer products, digital, location based experiences, publishing and feature films. For more information or artwork, visit https://www.nickpress.com. Nickelodeon and all related titles, characters and logos are trademarks of ViacomCBS Inc. (Nasdaq: VIACA, VIAC).