Pantai Inn – La Jolla California – Review
Disclosure: Hosted for editorial consideration. This site uses affiliate links.
Pantai Inn in La Jolla California is a boutique hotel that makes you feel at home in paradise.  Check out our two story suite that was steps from the Pacific Ocean.  Our family seaside vacation was unforgettable.  We walked to restaurants and were able to see seals in their natural environment.  If you are planning a vacation with your family to San Diego, this luxurious resort is perfect! Check out our pictures and review of the Pantai Inn in La Jolla below!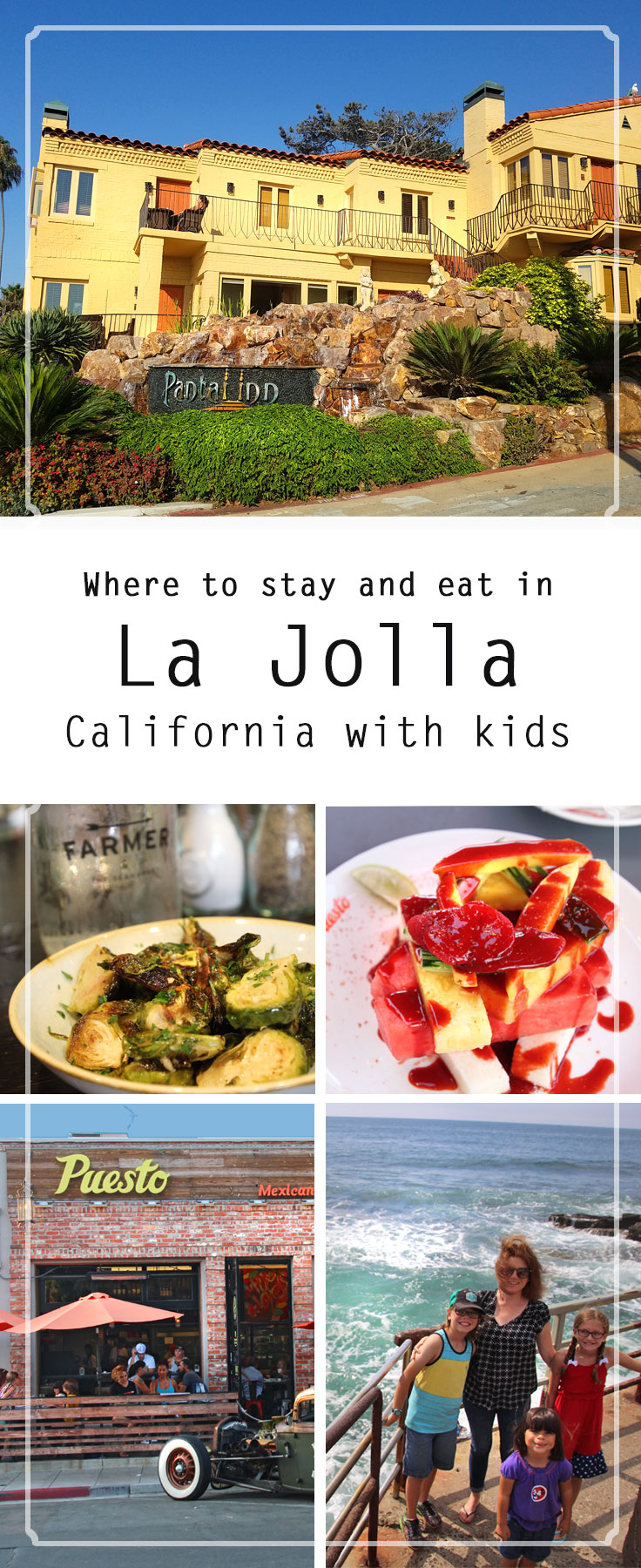 Steps from the beach in scenic La Jolla, California is the lovely Pantai Inn.  This all suites, luxury boutique hotel is perfect for couples, a getaway with friends, and especially for families.  With ocean breezes and Bali inspired decor, Pantai Inn is as relaxing as it comes. Last month we kissed summer goodbye with a stay at Pantai Inn for a little San Diego staycation getaway. Today I am sharing a review and pictures of Pantai Inn in La Jolla.
Our three bedroom cottage was the most spacious home away from home we have ever had the pleasure of visiting. Our kids enjoyed sharing two bedrooms downstairs and we loved having a room to ourselves upstairs.
Our cottage was equipped with a full kitchen that was even stocked with complimentary snacks. We loved that there was a bathroom on the ground floor for the kids as well as a large private bathroom for us upstairs. The cottage was beautifully furnished and extremely neat and tidy.  We really appreciated the twice daily housekeeping and turn down service.
Pantai Inn offers it's littlest guests a little souvenir at check in.  A little stuffed seal was such a sweet gesture and the perfect memento to bring home with you when you stay.
Pantai Inn is only a very short walk from the world famous Children's Pool Beach. The Children's Pool is a great place to see seals and occasionally sea lions.  A stroll along the shore in La Jolla is a great time to remind your children that you should give wildlife their space.
Complimentary breakfast add to the value for families that are visiting. The hot breakfast menu changes daily.  Fresh fruit, pastries, yogurt, and many other choices are available.  As many know, we try to avoid gluten and dairy when at all possible and we found plenty of options.
Pantai Inn does not have a pool, but it could not be closer to the Pacific Ocean.  The front desk is happy to provide you with beach chairs, towels, and even some kid's toys to borrow while you are visiting.
La Jolla, California is home to many elegant restaurants that are perfect for adults.  We were visiting with our family and needed to dine somewhere family friendly.  Below are two restaurants that were kind enough to host us while we visited.
Puesto is a new family favorite! This award winning restaurant was casual and fun. Classic Mexican dishes, fun twists, a great drink menu, and a tasty kid's menu will bring us back for sure. Puesto originated here in San Diego, but has grown to several locations all over Southern California. The La Jolla Puesto is located in the heart of La Jolla, we were able to walk from Pantai Inn!
Is your mouth watering yet?
Farmer and the Seahorse "We are not a restaurant, we're a lifestyle." says executive chef Brian Malarkey. At Farmer and the Seahorse you can enjoy the inventive dishes that Malarkey is world famous for. This restaurant sources produce from local farmers and the freshest seafood from local Pacific coastal waters. Located in the beautiful Alexandria at Torrey Pines, this restaurant is perfect for business meetings or dining out with friends. While they do not have a kid's menu, our server was very accommodating and helped us craft something that was a perfect fit for our kids.
Thank you to our gracious hosts at Pantai Inn, Puestos, and Farmer and the Seahorse.  We can't wait to visit you on our own again very soon!  We hope that we have inspired a few friends to visit you on their next family vacation to La Jolla, California.
Don't just take our word for it!  Pantai Inn has awesome reviews from those who stayed and reviewed on Hotels.com. Highlights Along the Way is an affiliate partner to Hotels.com because we take pride in our money saving skills and we find that Hotels.com typically has the best deals we can find.