Peter Pan and Wendy Costumes : Boy & Girl Twin Costume Ideas
Disclosure: Highlights Along the Way is a participant in the Amazon Services LLC Associates Program, an affiliate advertising program designed to provide a means for sites to earn advertising fees by advertising and linking to amazon.com
Peter Pan and Wendy is one the sweetest group costume ideas ever. Peter Pan and Tinker Bell are a very popular choice, but we chose Peter and Wendy Darling for our two when they were little. If you are looking for twin boy and girl costume ideas, we think this simple costume is the sweetest there is. Check out our Peter Pan and Wendy photo shoot from years ago. Every cliche is true, it goes so fast. If you are looking for the perfect costume set for a little girl and boy, this idea is so sweet. Peter Pan is the little boy who never grew up and Wendy is the girl he tries to convince to do the same. I wish with everything I could have kept my little Peter and Wendy little for longer. I love this preschool Peter Pan and Wendy photo shoot with all my heart.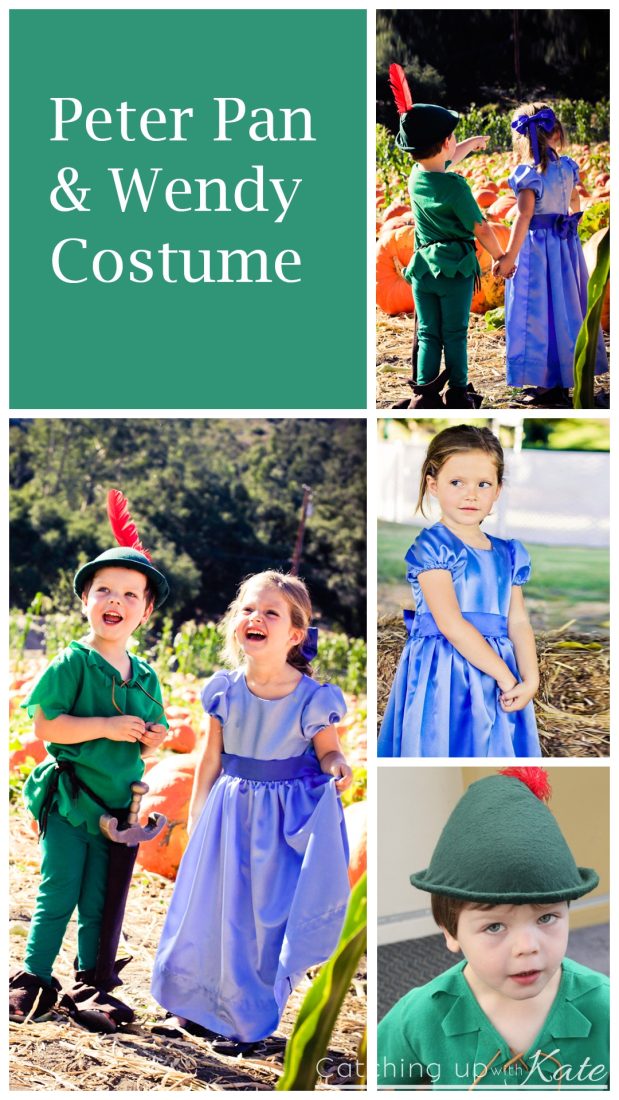 One of the best things about having boy and girl "Twins" is the costumes. I mean, I love that they have a life long built in playmate, but the costumes at Halloween are seriously the cutest thing about having a boy girl pair. Our kids are 6 months apart (if you are visiting for the first time & you don't know our family because google or pinterest brought you here and you want to catch up – check out our family here!) So the kids were Peter Pan and Wendy the Halloween that they were four years old. Peter Pan and Wendy Darling was pretty much the cutest thing of all the things in all the world. Peter Pan and Wendy Costumes need to be on your list if you want a themed boy and girl costume!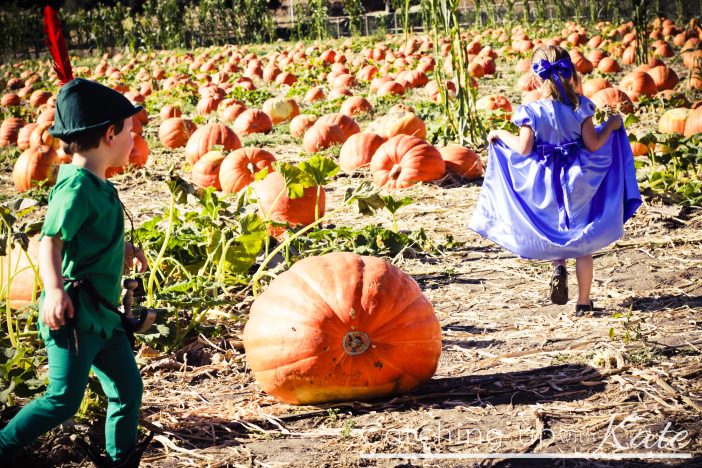 Pumpkin Patch Photos are by the amazing photographer Irene Philips – if you are ever in North County San Diego – look her up!
We are HUGE Disney fans in this house so we typically look for a fun Disney Costume that fits their personality and what is going on with them that year. Our kids were four this particular year. Four is such a bittersweet age. We were in the last year of preschool, totally done with diapers, done with naps, basically they were on the verge of being 'big kids'. They were at that age where we were so excited to watch them grow into big people with all their big sophisticated ideas, but also kinda sad to see them just not be my bitty babies anymore.
Peter Pan and Wendy Costumes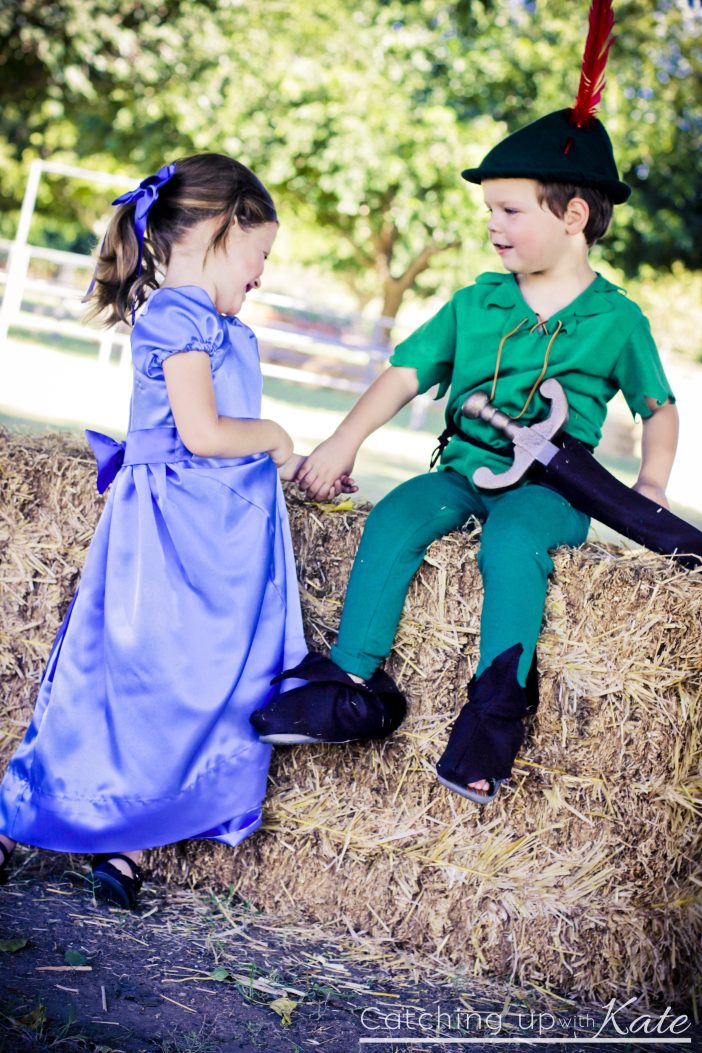 Peter Pan costume was a a hand me down tunic and boot cover, a hat we bought at Disneyland that was well past it's prime but we covered with felt, green leggings from his sister's closet, and a dagger and pouch grandpa made (he got really into it). Super budget friendly!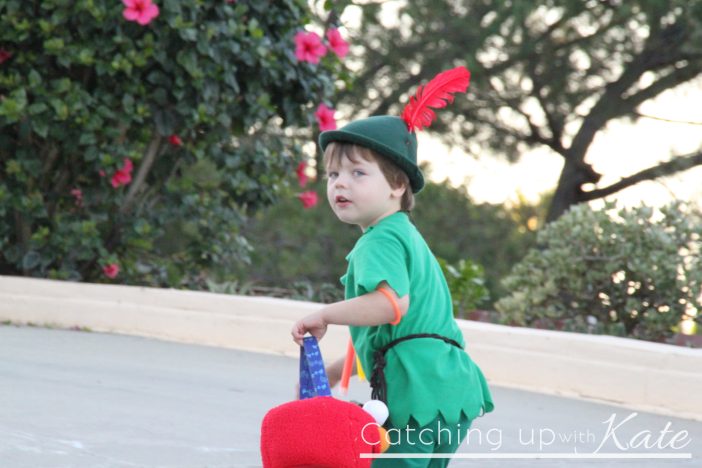 Wendy's costume was made by Grandma and it was so sweet. Grandma used an empire waist dress pattern she had saved from the days she was making dresses for me as a little girl. I bought fabric with a coupon at Joann's in the perfect "Wendy" blues. We bought a satin fabric and I think if we had it to do again we might go with something less slippery. I'm sorry there is no tutorial, and sadly I don't think this was super easy unless you are a skilled seamstress, but it was very budget friendly – I think less than $15 worth of materials.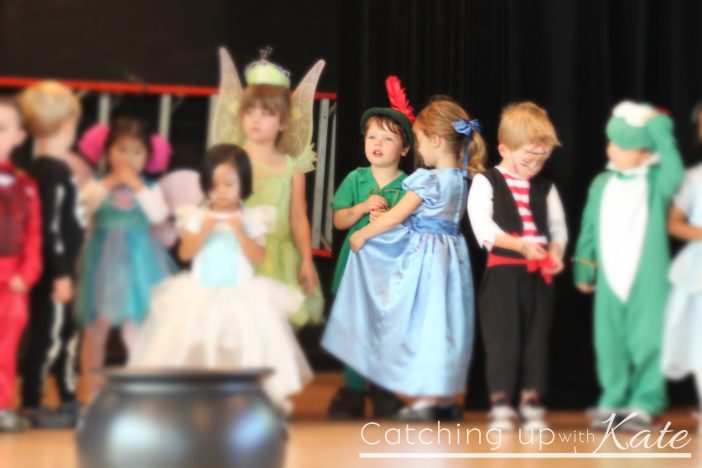 We thought about Peter Pan and Tinkerbell but decided that it was maybe not the best fit. Our son is exactly like Peter Pan, full of mischief and a great heart. Our daughter wasn't really Tinkerbell as far as the jealousy and sassiness, but she was dreamy and wistful and motherly like Wendy. We also liked that you often see Peter Pan, Tinkerbell, and Captain Hook – but you never really see the Darling children – so we thought it was fun and original to have Peter and Wendy.
Wendy Darling Costume
If you are looking for a Wendy Darling Dress there are several choices on Amazon. I think this is the best one because of the pretty sash and a matching hair bow. Most costumes available do not include the hair bow. You of course can purchase a bow separately or just tie a big blue ribbon in her hair, but this makes things so easy.

Peter Pan Costume
Peter Pan costumes are even more plentiful! Here are two choices. One is from Amazon and it is a perfect match! If you are looking for an adult Peter Pan costume, there are many there as well; I simply shared the one that is best for little kids based on our preschool twins photo shoot.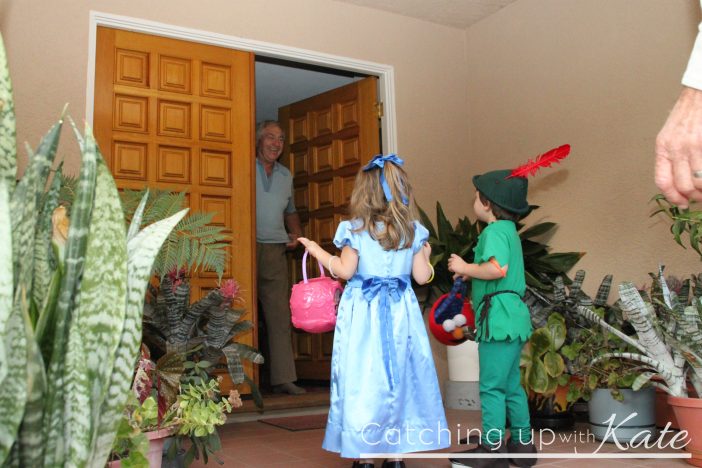 We loved this combo for our "Twins" – what are your favorite family costume ideas?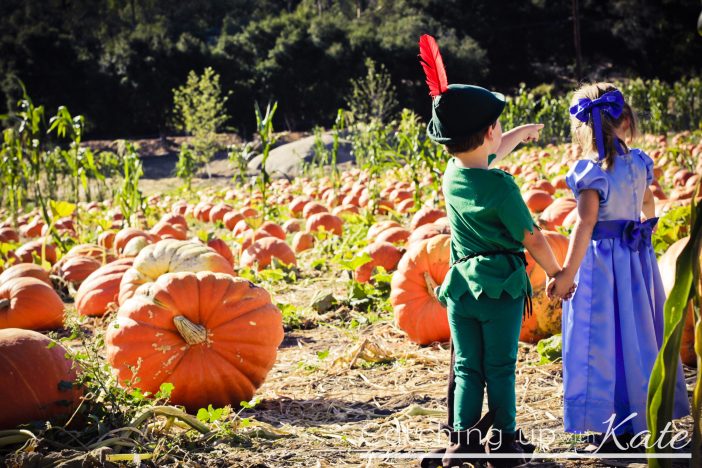 This Peter Pan and Wendy Costume was one of our favorites and it also got compliments everywhere we went! If you are looking for a fun twin boy and girl costume idea Peter Pan and Wendy is a great one!
Peter Pan is a classic animated Disney film from the 1950s. Peter Pan was based on the play "Peter Pan, or The Boy Who Wouldn't Grow Up" by J. M. Barrie. The animated feature film can be seen on Disney plus and the play is still performed in theaters everywhere!