15 pictures that will make you want to go to Aulani right now!
Disclosure: Thank you to Disney Aulani for hosting us for a character breakfast as well as a tour of the resort to share with our readers. Opinions are always our own.
While in Oahu, our family visited the only Disney resort in all of Hawaii, Aulani, A Disney Resort and Spa.  It was absolutely magical and we hope to spend more time there someday in the future.  We are big fans of Disneyland and Walt Disney World, so we were thrilled to enjoy some Disney magic on the Island of Oahu! Aulani is magical and beautiful; unlike any resort we have ever been to. Aulani is the creation of talented Disney Imagineers who worked with local artisans and cultural experts. This unique Disney resort celebrates the Island of Oahu with Disney touches sprinkled throughout.  Check out the photos from our quick visit, you will be dreaming of your own Disney style Hawaiian vacation in no time!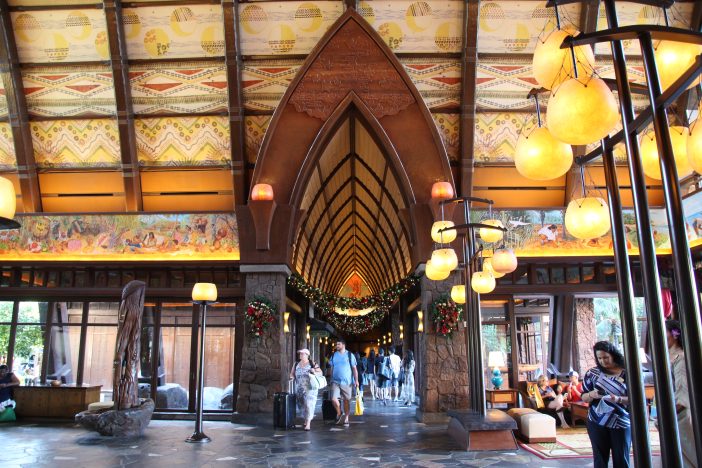 From the moment you walk into the grand lobby you know you are in an award winning resort. Aulani, A Disney Resort & Spa in Ko Olina, Hawai'i has distinguished itself as one of the islands' most acclaimed resorts, including the Readers' Choice Award, #1 Best Hotel or Resort for Families, 2018, from HAWAI'I Magazine.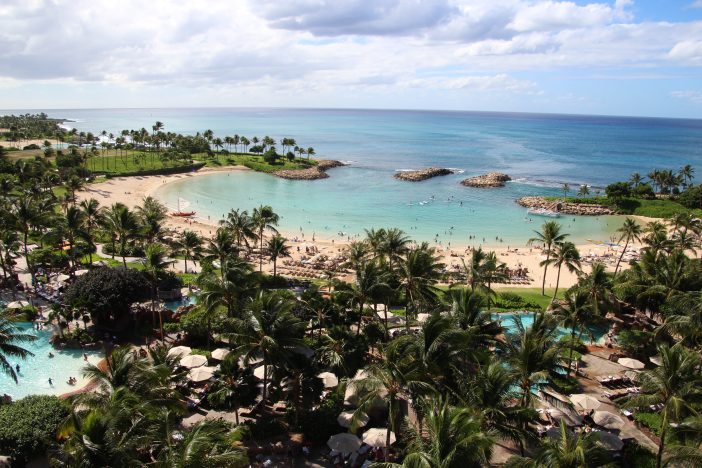 Aulani is located on the beautiful Island of Oahu. Oahu is part of the State of Hawaii, and has been one of the most popular tourist destinations in the world for decades. Oahu hosts the most visitors of all the Hawaiian Islands. In fact, Oahu hosts more visitors that all of Hawaii combined!  "Oahu" means "The Gathering Place" and the inviting atmosphere lives up to its name.  It seems that Oahu was the perfect setting for a Hawaiian themed Disney Resort!
We've probably met our old pal Mickey more than 100 times, but we've never seen him on a Hawaiian vacation!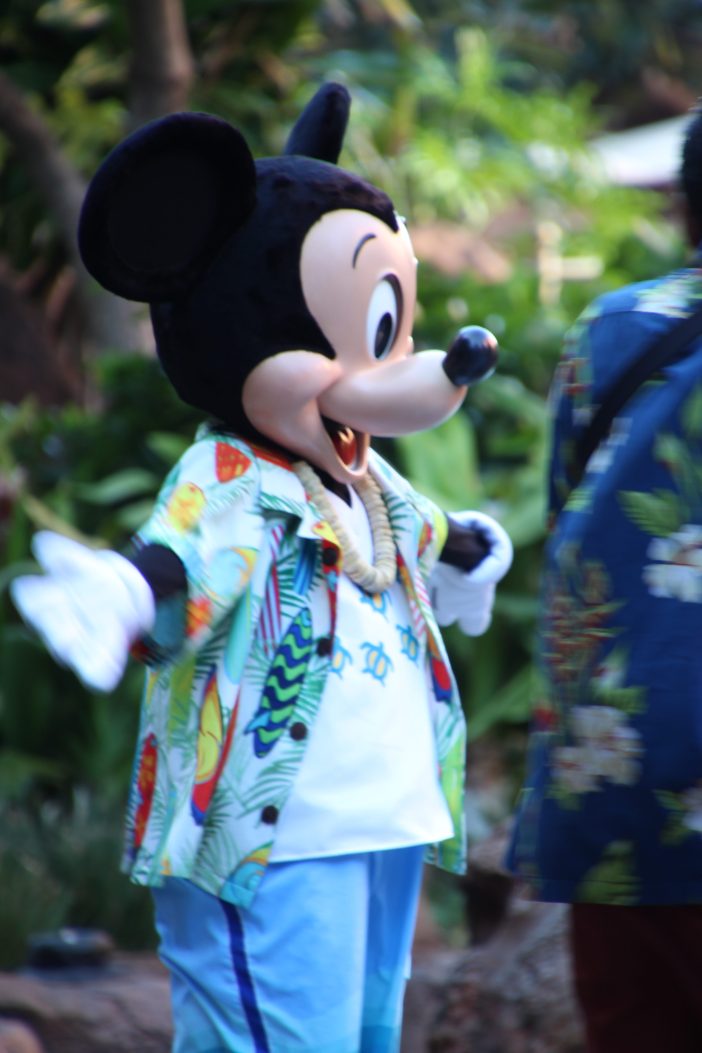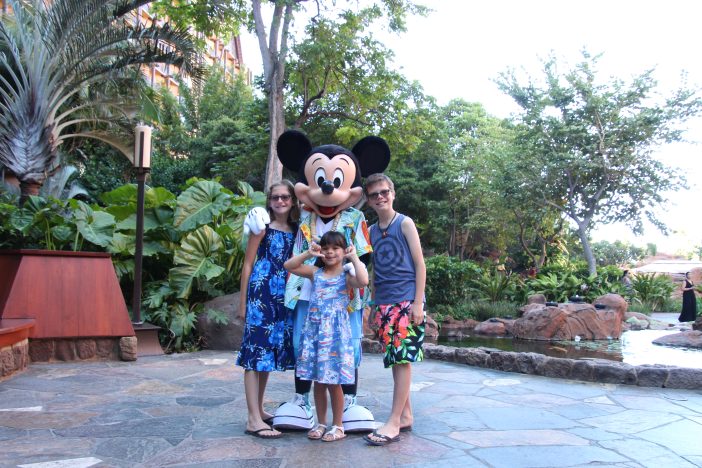 Our first stop was a Character Breakfast at Aulani. Makahiki – The Bounty of the Islands was such a treat with Island touches and Disney favorites all throughout the buffet. We were not able to stay at Aulani on this past trip to Oahu, but we were so excited to hear that bookings can be made for a Character Breakfast even if you are not a guest at the hotel. There are several Disney characters as well as Aunty who come and interact with the guests during breakfast.  While we were visiting we saw Mickey, Minnie, Pluto, and Goofy.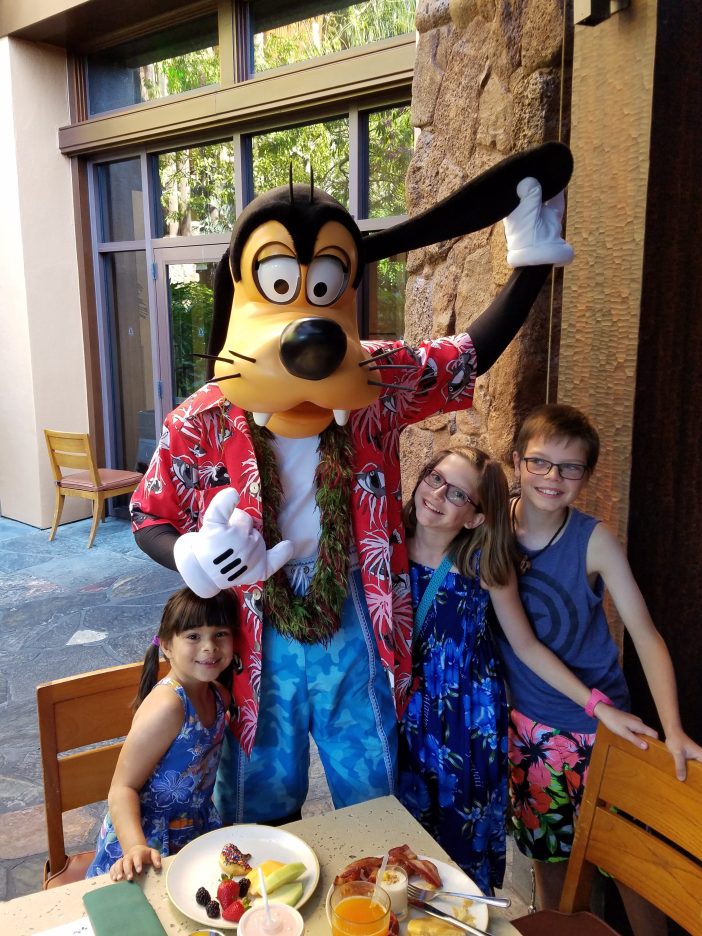 Each character came over to our table.  Characters spent lots of time interacting with our kids and posed for several pictures. Guests are welcome to take photos with their own cameras or cast members are available to take photos for purchase that are ready before your meal is done.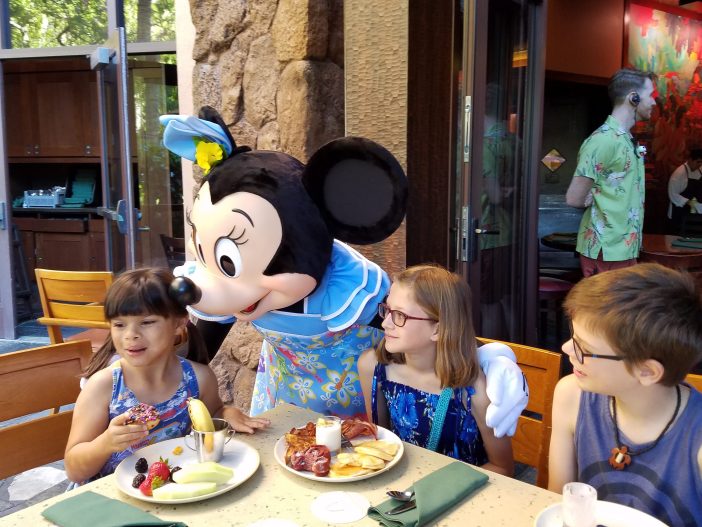 This candid of Minnie kissing our littlest on the top of the head before taking the 'real' picture is kind of my favorite!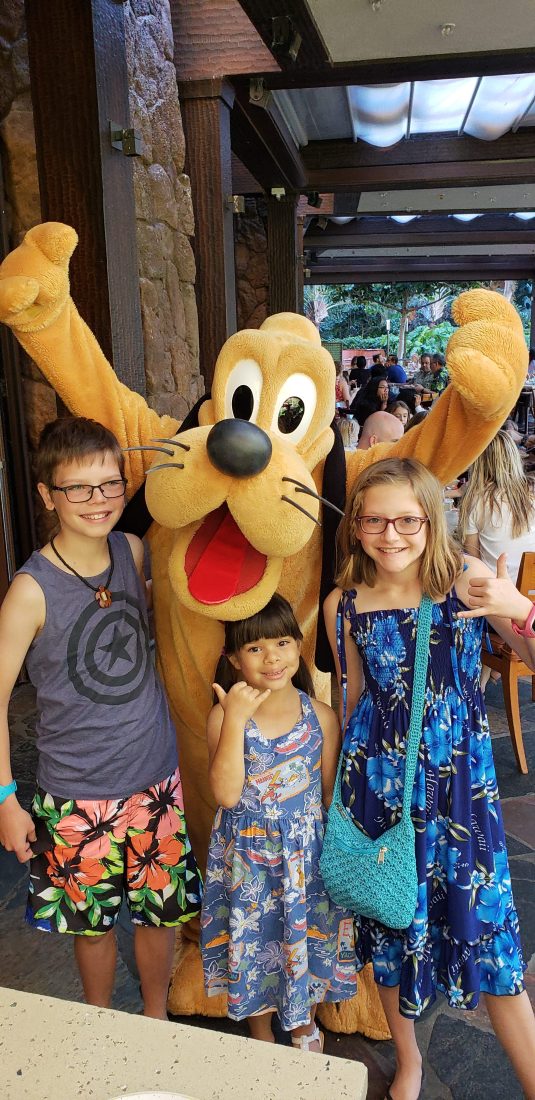 Good to know when dining at Makahiki :
PARKING IS INCLUDED! Make sure to keep your parking ticket with you because guests who spend $35+ enjoying Makahiki will also enjoy complimentary self-parking or valet parking!
ALLERGY FRIENDLY MENU! Our daughter has a dairy allergy and we found that just like at every Disney resort we have ever visited, there were plenty of options for her.  The Chef came out to personally speak with us and took me on a quick tour of the buffet items. While we can often see dairy, we sometimes miss it and she has a reaction. The chef was able to point out items that had butter or other hidden dairy, and he offered alternatives.  He went above and beyond by even offering to make her dairy free Mickey Waffles just for her! Chefs at this restaurant can often substitute different ingredients and offer alternative food options for Guests with special dietary requests. Please tell us about your food allergies and dietary requirements when making dining reservations.
PRICES – Adults: $41.00 Keiki (Ages 3 to 9): $21.00 (at the time of this post)
After our breakfast we took a quick tour of the property, rooms, and enjoyed a famous Mickey Snow Cone.  It was all so lovely, it was really hard to leave. Please enjoy this picture walk through the beautiful Aulani Resort…..
The pools are beautiful….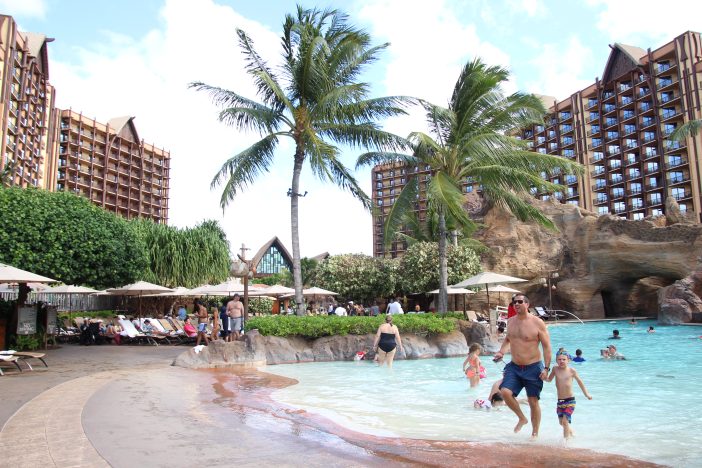 The Snorkeling Pool at Aulani is what we REALLY wanted to try!  We of course loved snorkeling while in Oahu, but our littlest was especially timid in open waters, she loved the idea of snorkeling in a pool!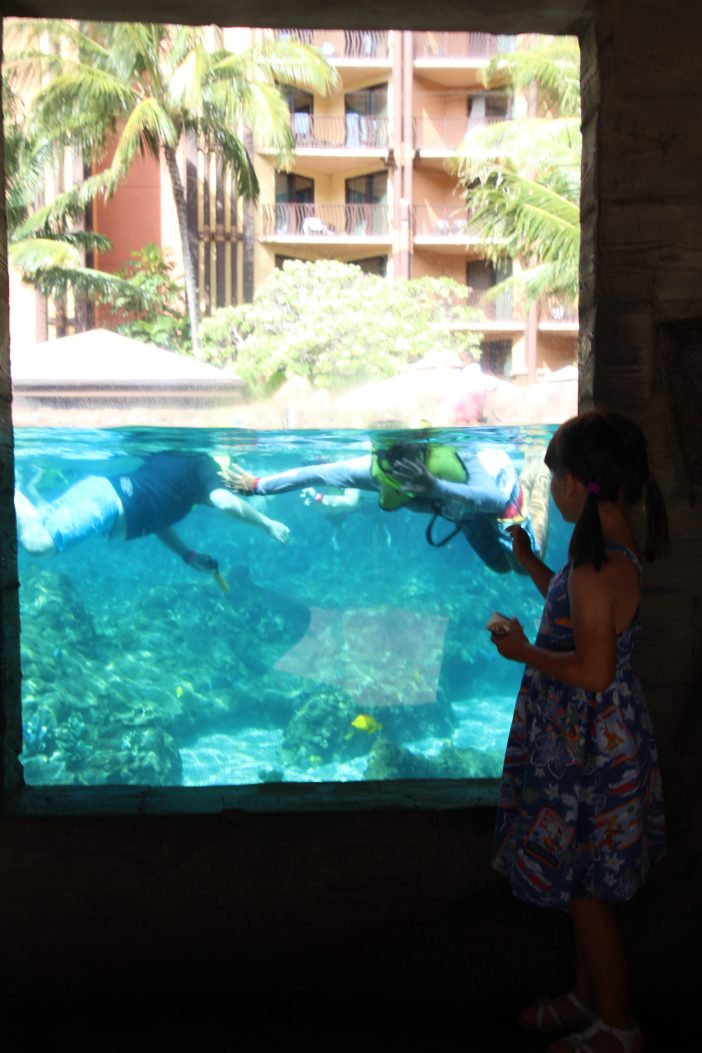 We dreamed of being Disney Vacation Club Members and Aulani being our little home away from home in paradise…..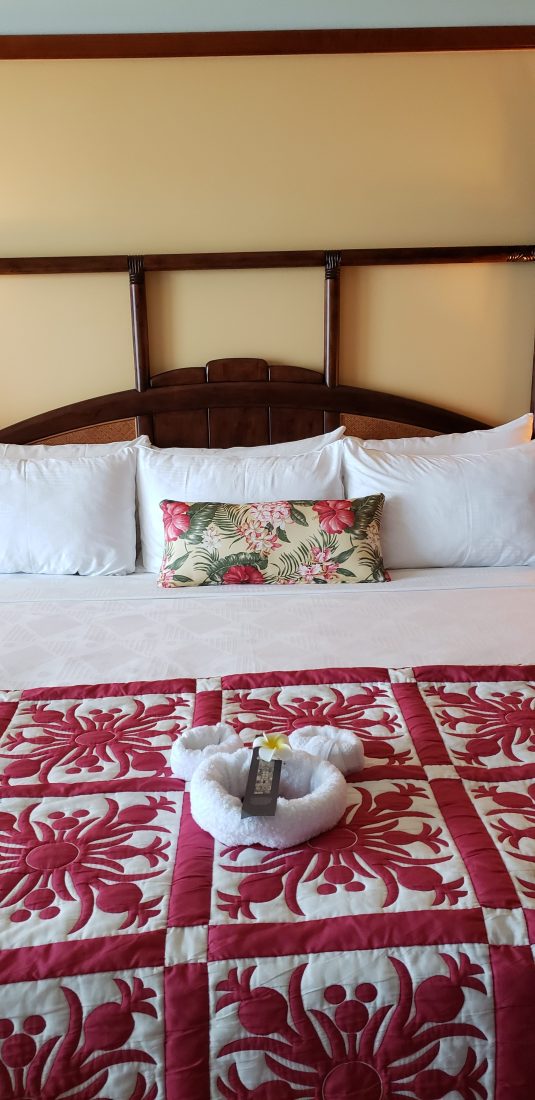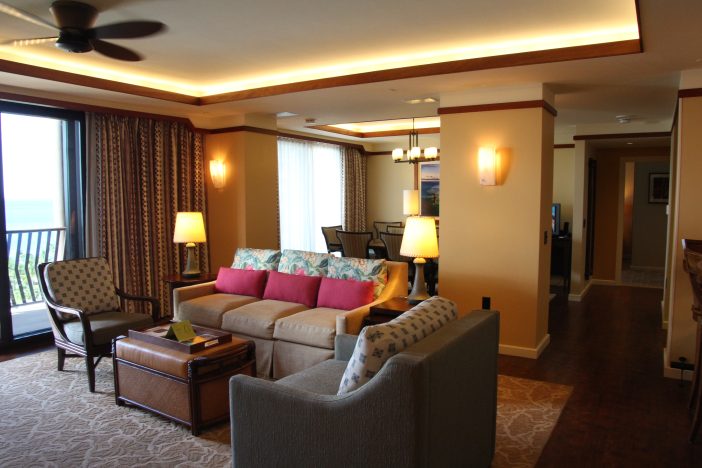 We found a couple Hidden Mickeys while at Aulani ….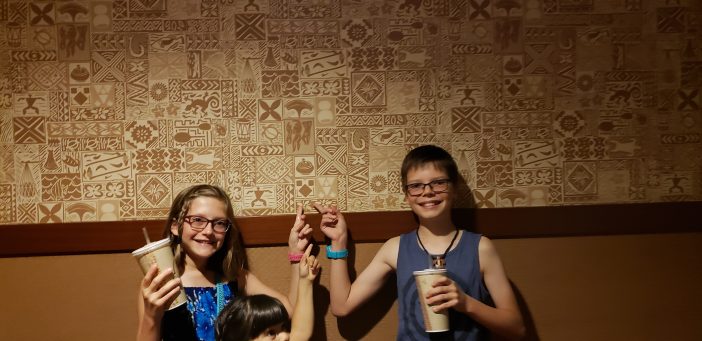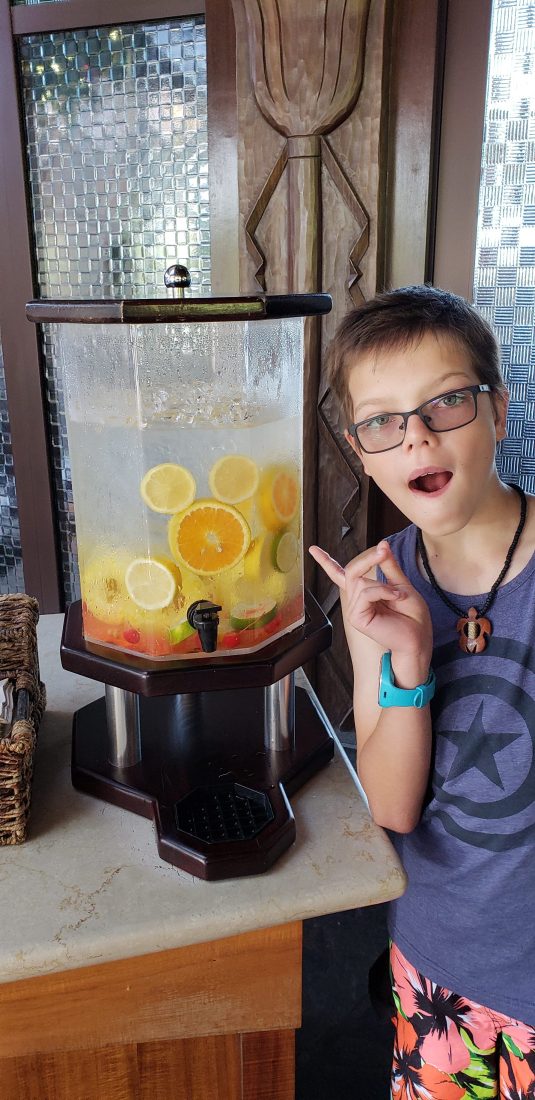 Before we had to hug our new friends goodbye, we enjoyed a famous Shaved Ice with Mickey Ears.  Pro tip, eat the ears first!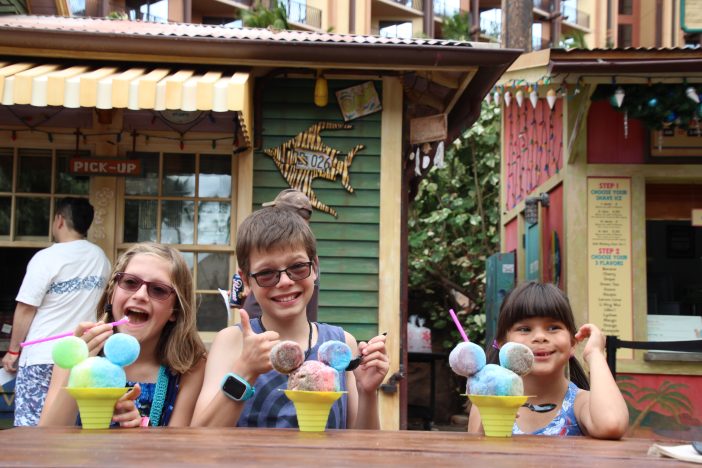 And a quick picture on one of the world's most beautiful beaches!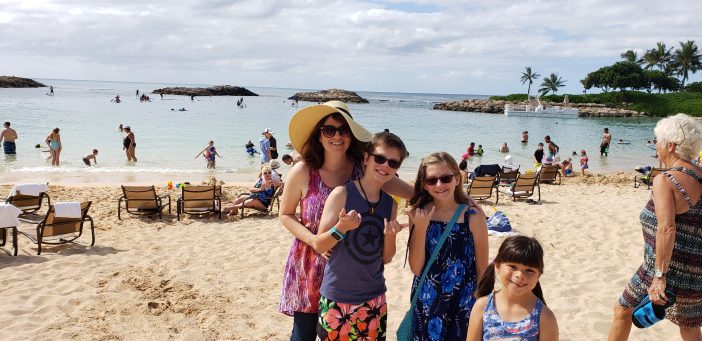 We wish we could have stayed for our entire trip! Maybe someday, we are saving up and looking at our calendar!
While a stay at the Aulani Resort is a splurge, there are often deals you can take advantage of to stretch your budget.  We always suggest traveling during the off season.  Avoid major holiday weeks and the Summer and you could save quite a lot on a dream vacation. Take a tour with DVC and you can save up to 40% on a five night stay!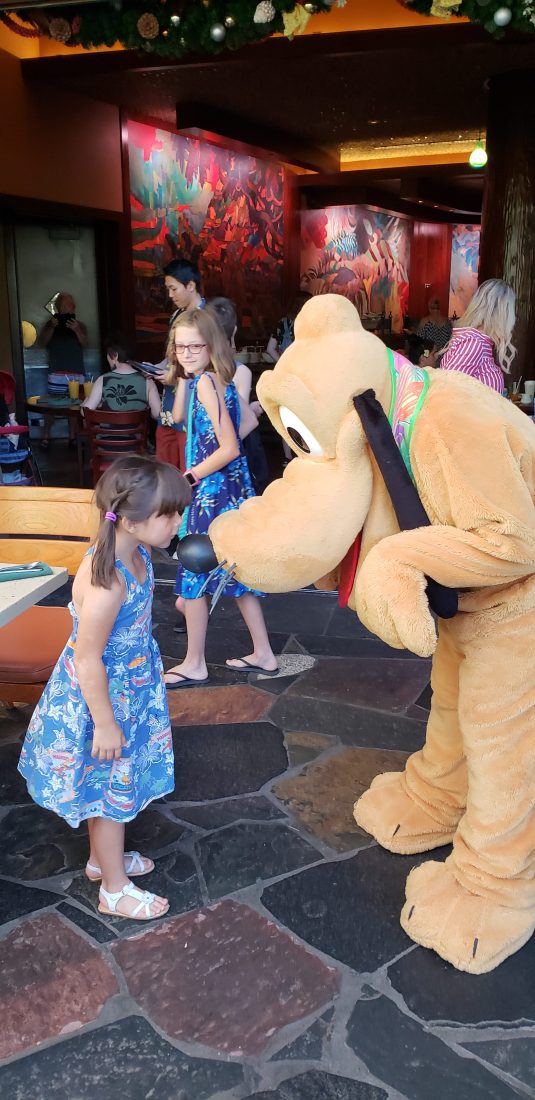 Thank you to our new friends at Aulani for treating us to a tour and breakfast.We hope to see you real soon, or "apau, ua hui hou", til we meet again!