10 pictures that are gonna make you want to go to Volcano Bay right now!
Disclosure: Our trip to Volcano Bay was part of the blogging conference "Family Forward". While I did technically pay for the conference, it was a deeply discounted trip and I felt I should disclose. Opinions are always my own.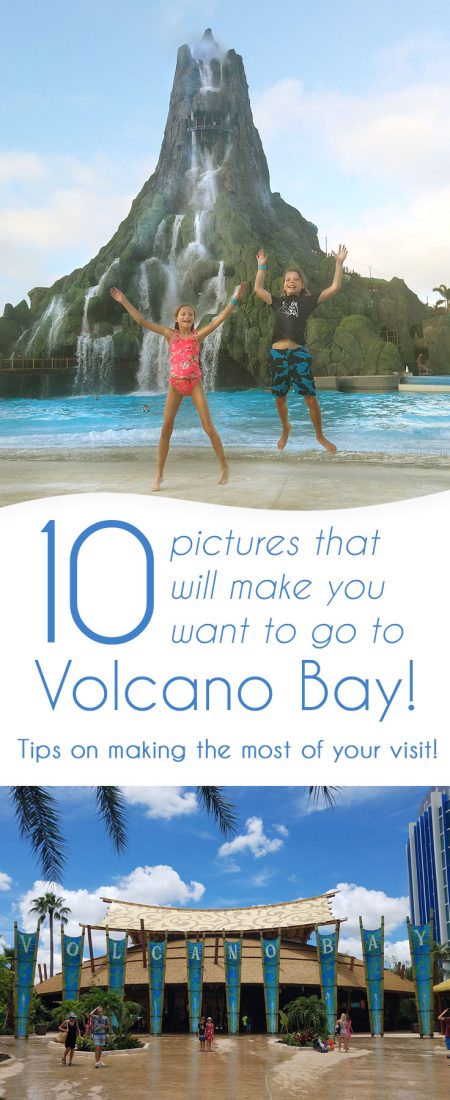 The much anticipated Volcano Bay opened in Orlando Florida this Summer.  This gigantic Orlando Water Park is joining the Universal Studios family.  Volcano Bay is a perfect addition to Universal Studios Florida and Islands of Adventure. Volcano Bay boasts 18 attractions to fill your day with fun.  Check out our Volcano Bay pictures, insights, and tips below before you plan your trip to Orlando!
We visited Volcano Bay as part of our trip with Family Forward.  Because we were staying at a Universal Studios Florida Resort, we were able to enjoy early admission to Volcano Bay.  This water park does get very busy and I highly suggest considering a package that will include early admission.  Our kids rode nearly every single ride in the park before Volcano Bay was officially open for the day.  We used out Tapu Tapu bracelets the rest of the day to hold our place in line for some of our favorites while we enjoyed the wave pool and river. With a little planning, even a busy day at Volcano Bay can be carefree and relaxing.
Look at that empty beach and wave pool! Waturi Beach is a beautiful oasis with hundreds of beach chairs and lots of shade.  The wave pool is massive and was the perfect temperature for the hot day we visited. The beach is the heart of the theme park with the best view of the giant volcano.
The Kopiko Wai Winding River did get busy a few hours, but it was empty in the morning.  Everyone raced around to big slides before the crowds came, but I was happy to hang out here. My favorite part of a water park is always the lazy river.  I am not one for running around from attraction to attraction. I love taking a moment to slow down and relax.  The water is the perfect temperature, the scenery is beautiful, and the music makes you feel like you just might really be on a tropical island.
As you can see, wait times do climb within a few hours for the biggest water slides.  This can be frustrating for many, but there is really so much to do.  Make sure to take advantage of Tapu Tapu bracelets.  This bracelet will essentially hold your place in line and alert you when it is your turn. Those who have visited another very popular Orlando theme park might see a resemblance in how this tool works.  Instead of waiting in that line you can do virtually anything else in the park!  Enjoy another ride, the River, the Wave Pool, grab lunch, shop, relax on the beach, or anything else. If used properly, it can be a huge time saver!
While Volcano Bay does get packed and lines do get long, the Tapu Tapu really helps you make the most of your day. Make sure to sign up for a Universal Account when you purchase your Volcano Bay tickets and you will be able to take advantage of a Tapu Tapu while you visit. I have never seen anything like this at any Water Park I have ever been to.  Not only does the Tapu Tapu hold your place in line, it also acts as your credit card. We stowed our wallets in a locker and just tapped to pay when we wanted a treat mid day!
Keep in mind, Volcano Bay only just opened in the last Spring of 2017.  It was instantly popular, but is also just getting rolling.  While we did notice some kinks in the system, I attribute this mostly to it being a very busy day, only a couple months after opening.
Want to see a video of our trip to Volcano Bay?  The kids share about their favorite ride too!
Traveling with a little one to the water park?  No need to bring a life vest.  Volcano Bay requires life vests for little ones, but they also provide them for guests+. Life vests of many different sizes are available for you to use while visiting the park at no additional cost!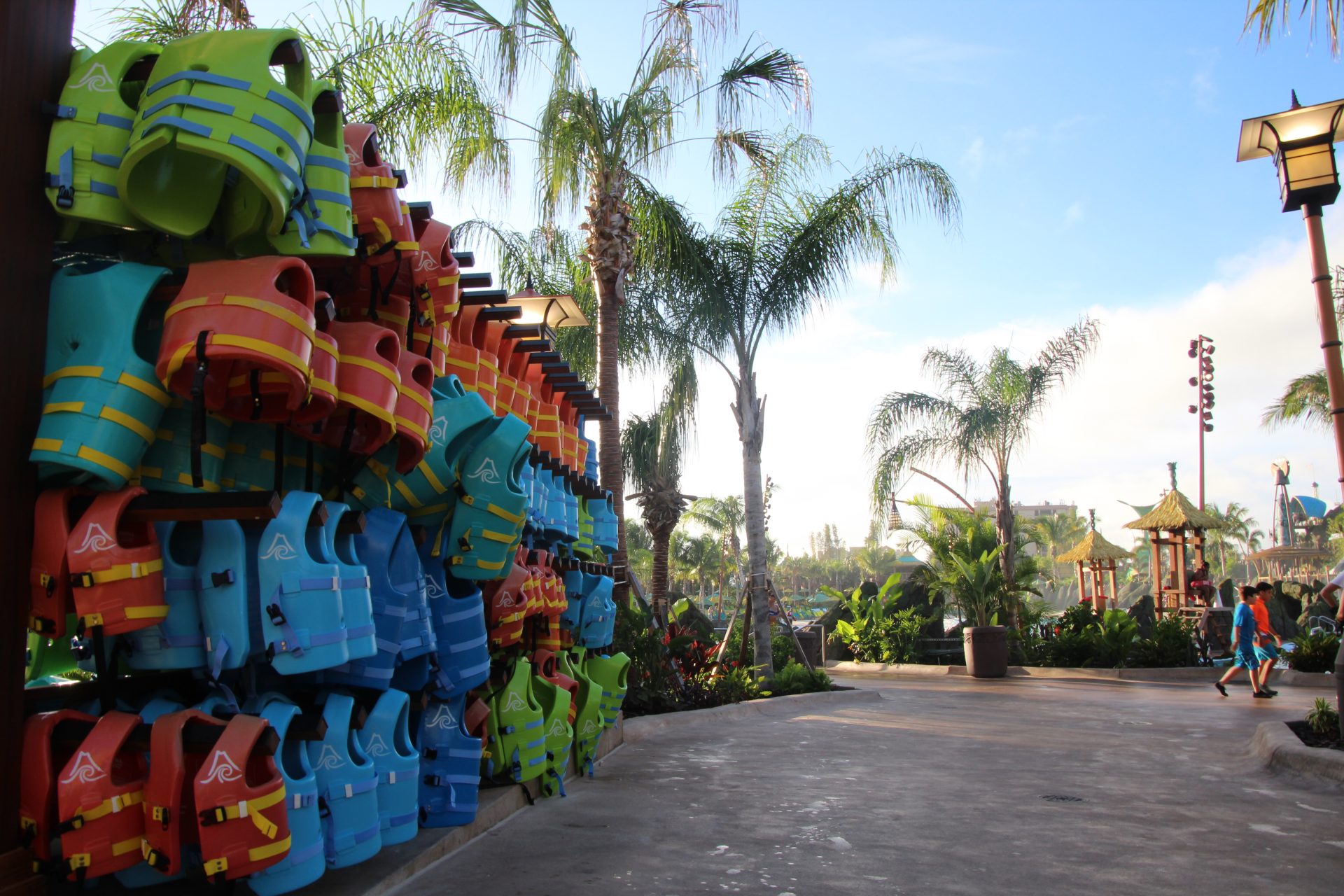 There is an awesome spray ground area for smaller kids.  With multiple slides and fun places to explore, it kept our little one busy for hours.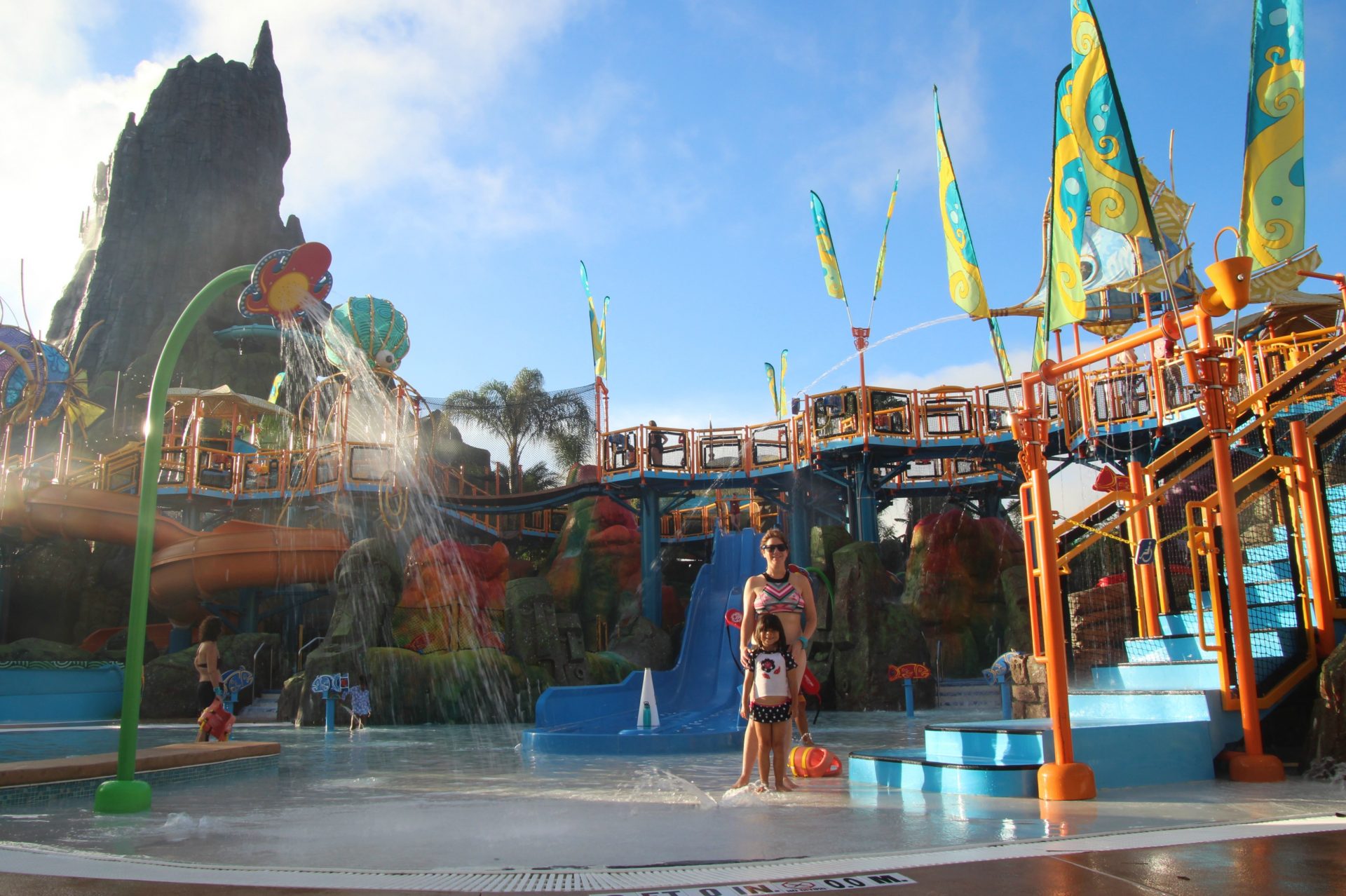 We observed on the day we attended that the children's areas were not at all busy.  While many rides did have huge lines, we had the kiddie area mostly to ourselves.  Older kids and thrill seekers will need to learn how to use the Tapu Tapu and pack some patience. Not so for the preschool set!
Towels are not included in your admission.  You can bring your own towel, you can purchase a towel, or you can rent one for five dollars. We found that renting a towel was the most convenient option for our family. If you are local I would say to save some money and bring your own, but because we were flying in we found it to be a reasonable option.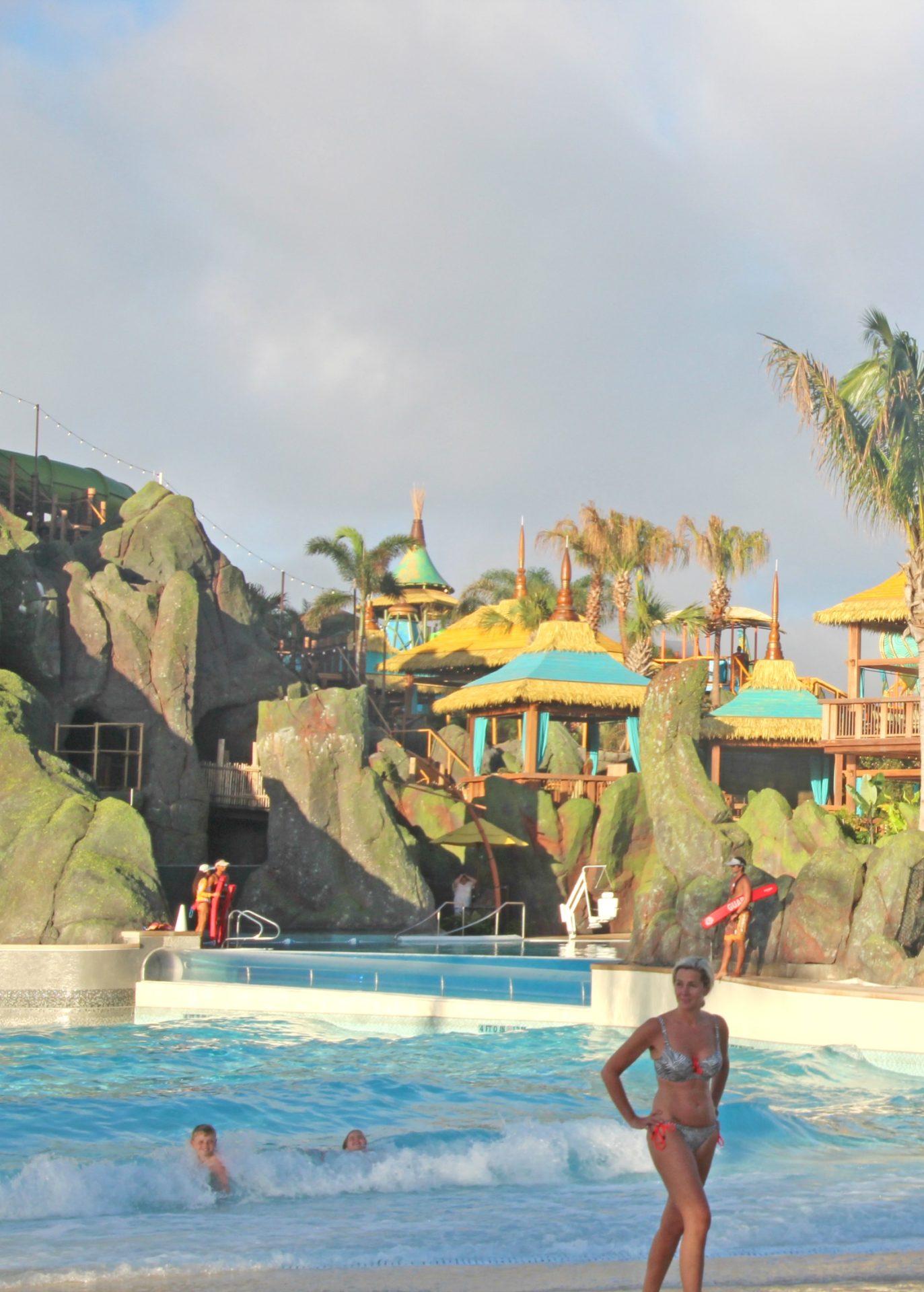 Our tour guide in Universal Studios gave us a really great tip for visiting Volcano Bay.  He said that rain is very common in Florida, but many times the rain does not last very long.  He shared that when it rains at Volcano Bay there is typically a mass exodus.  People cannot get out of the park fast enough!  While the rain may come and go in less than an hour, most of those who leave do not come back.  Make sure to stay!  Stop and have a snack, maybe shop a little bit.  Linger and see if you can wait out the rain.  More often than not, rain does not shut down the park and you will have the park to yourself!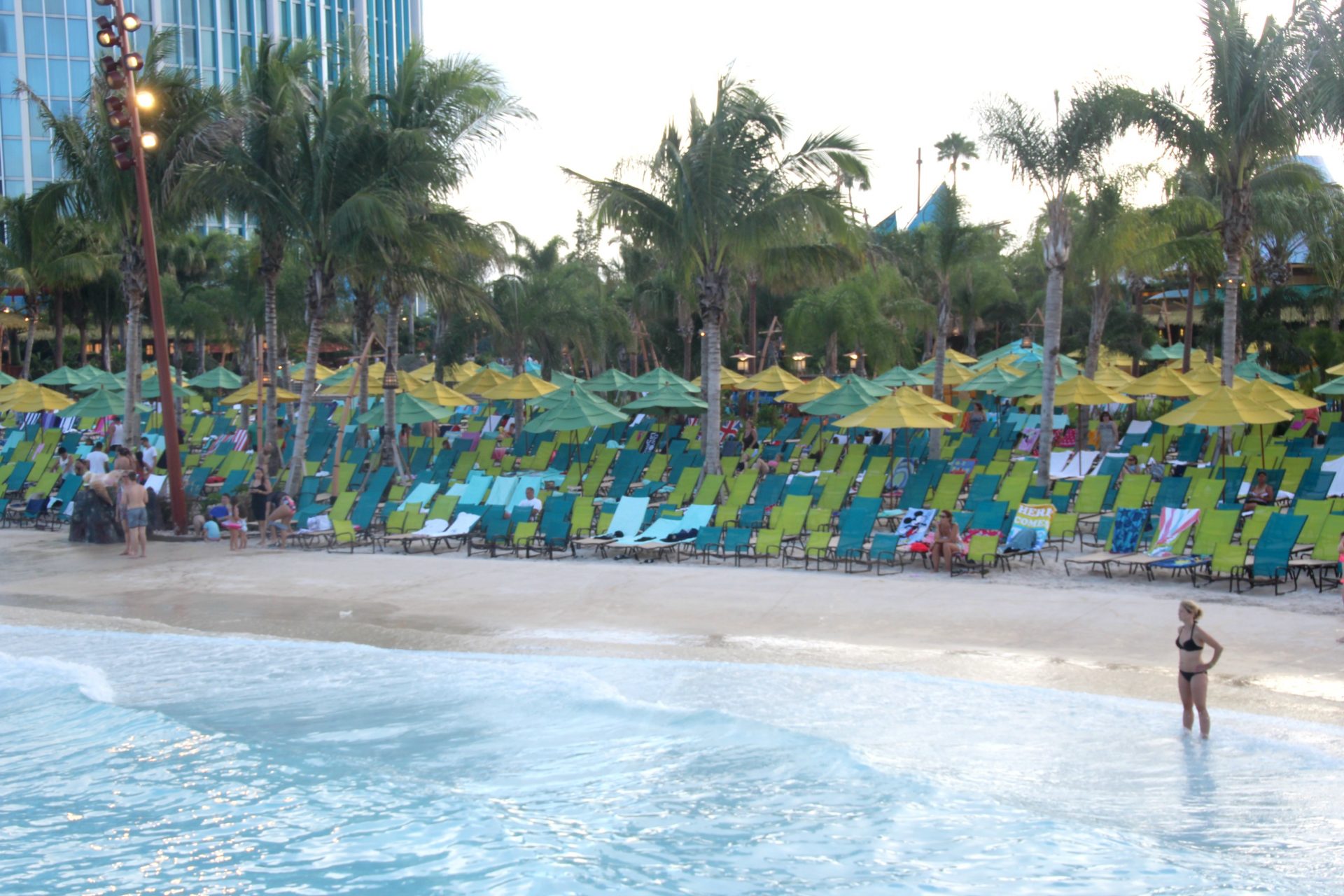 One of the biggest complaints we heard was that it is simply too busy.  While the water park did not reach capacity the day we went, it apparently has happened several times since the park opened a few months ago.  At the current time, tickets are not date – specific and this is a big problem on days where the park reaches maximum capacity.  Excited guests are showing up with tickets in hand only to be told that they cannot enter. Volcano Bay is such an awesome Orlando Water Park and I highly suggest visiting, but I also strongly suggest calling ahead to make sure plans aren't thrown off.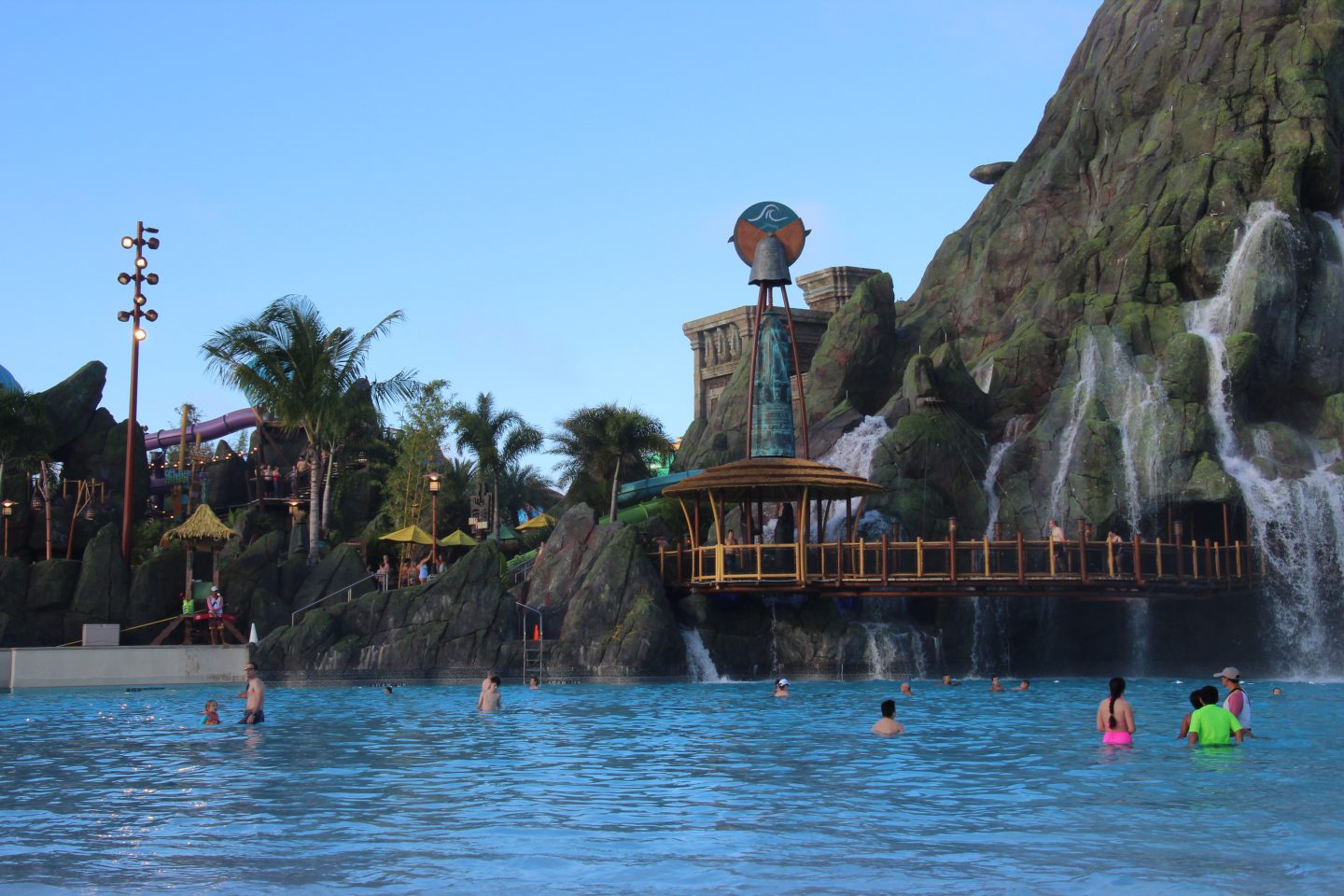 Volcano Bay is just a short walk (or shuttle bus ride) away from so much other Universal Orlando fun!  Come back for more features on Universal Studios Florida, Universal's Islands of Adventure, and CityWalk. Volcano Bay and every bit of Universal Studios was jam packed with magical family memories that we will cherish for a lifetime.
Save