The Pirates League at Disneyland for a limited time!
Disclosure : My son received a Pirates League make over as part of a family blogger event at Disneyland. Opinions are totally my son's and my own.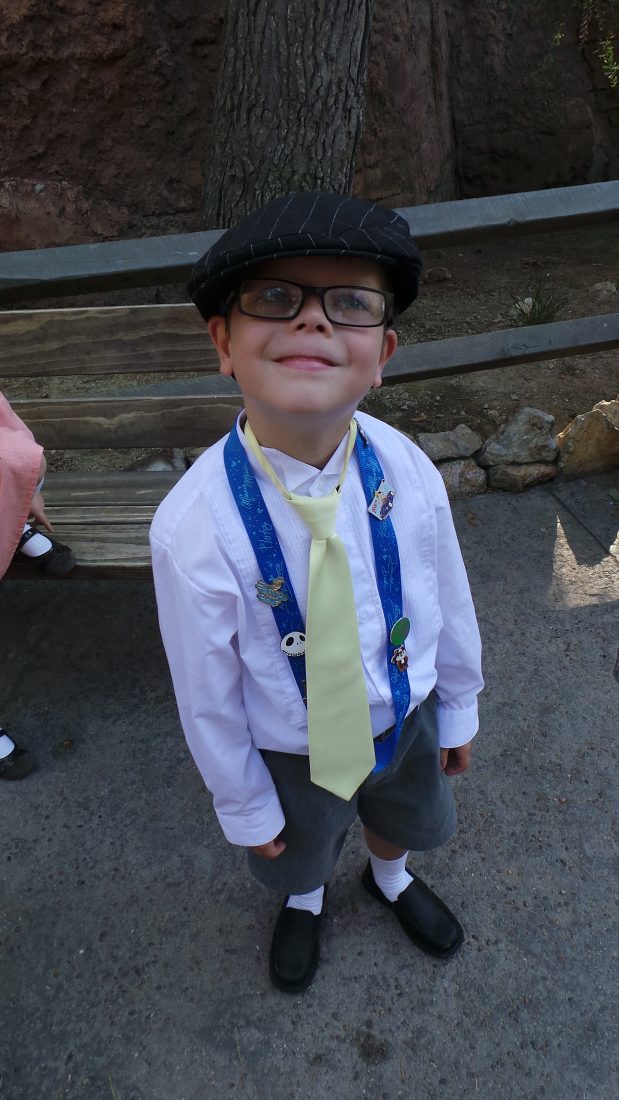 Above is a picture of my son before his transformation into a pirate at The Pirates League at Disneyland.  I was SO excited about having a family of five Mary Poppins group costume – but to be honest, S wasn't super jazzed about the idea.
He WAS very excited when I suggested a pirate make over in exchange for a few big smiles in his Michael Banks outfit.  This was his first experience with Pirates League, but a buddy of his at school did it once and it is kinda all he talks about.  S was super excited for a really cool 'boy' dress up opportunity!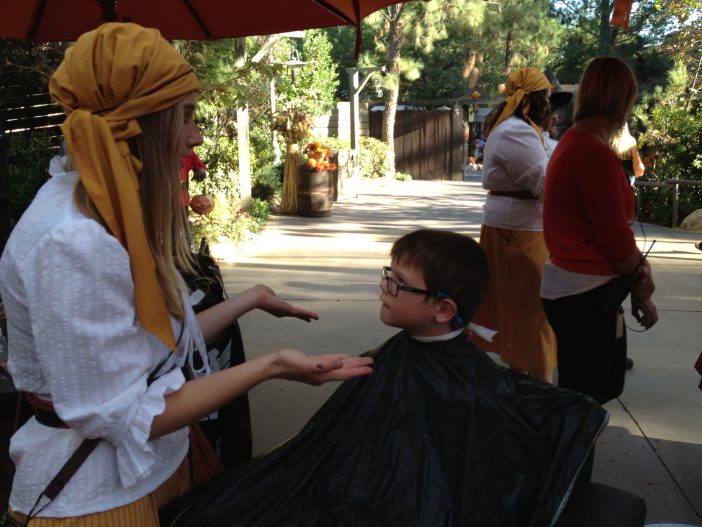 Above you can see him trying to understand what this pirate lady is trying to say to him….. he didn't quite get the 'pirate accent' or the lingo, but he picked up on it quick and was cracking up in no time.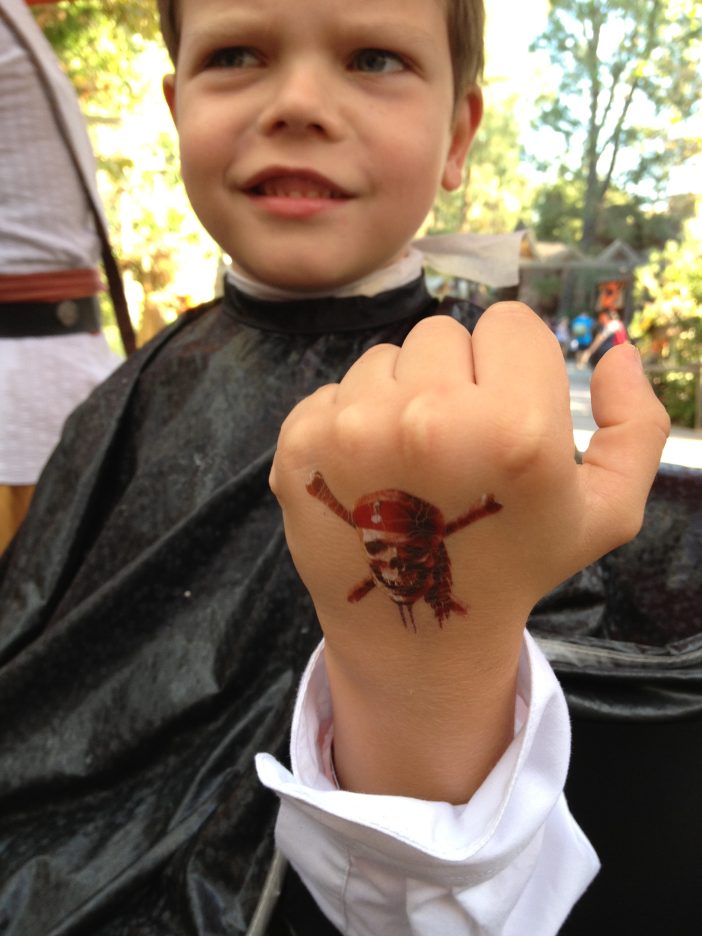 Of course, no pirate is a pirate at all without a tattoo – this one was legit.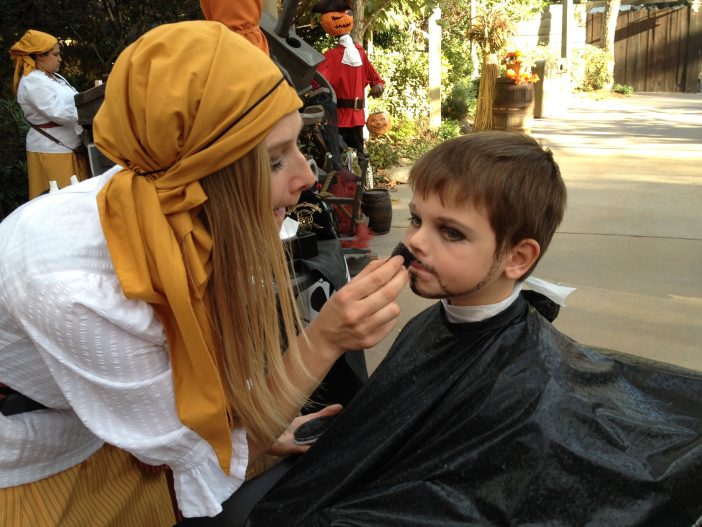 The Cast Members were super funny and kept the kids experiencing Pirates League entertained during the process.  My son is a bit squirrely, so I thought it might be a challenge for him to sit tight while getting all Piratey….. but the 15 ish minute process flew by and he had a great time!
Cutest. Pirate. Ever.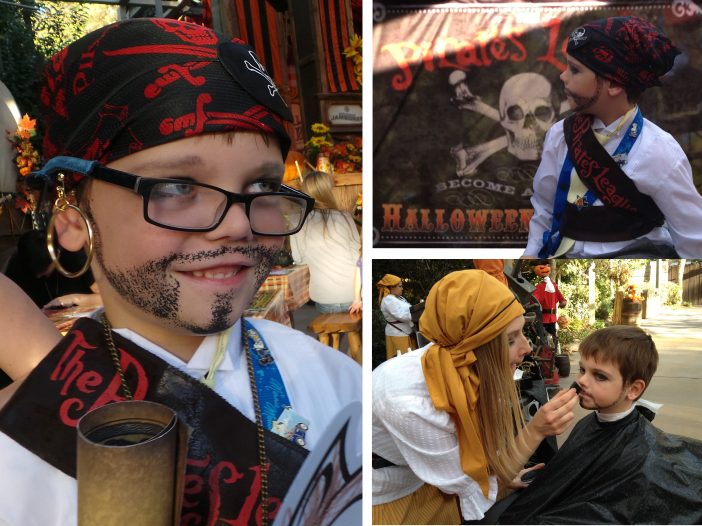 Boys AND Girls over 3 can experience Pirates League for a limited time at Disneyland Park in California!  If you are going to Disneyland for Halloweentime it is really a fun special treat!  Next year I think all our kiddies will be pirates and we will bring them by the Pirates league before we trick or treat! The Pirates League at Disneyland just added to the magical Disneyland at Halloween time experience!
Below is a little more info about The Pirates League at Disneyland experience………….
"At The Pirates League, landlubbers will be transformed into the most swashbuckling of pirates, receive a sea-worthy name, train with some of the League's most veteran Pirate Masters, take the official Pirates League Oath and learn the ways of the scurvy sea dogs as they apply yer buccaneer beard, scars, earrings and eye patches."
Kids can choose between Jake & the Neverland Pirates, The First Mate, The Empress, and more!
All include unique face paint, a official pirate name and oath, cool accessories, and an all around piratey time!
Reservations are recommended – you can call 714-781-STYLE or 714-781-7895 to book an appointment!  Check out more information on The Pirates League here!
Remember if you are planning on going to Mickey's Halloween Party they do sometimes sell out!  Make sure to reserve your tickets online!  Purchasing tickets online early is also a great way to save!