Pixar Soul – Hue Unlimited Collection
Disclosure: Highlights Along the Way is a participant in the Amazon Services LLC Associates Program, an affiliate advertising program designed to provide a means for sites to earn advertising fees by advertising and linking to amazon.com. Thank you also to Disney for sending our family several Hue Unlimited items to enjoy!
Pixar's Soul is now streaming on Disney Plus. It is a family tradition to watch the newest Disney or Pixar film in theaters on Christmas, but thanks to Covid things were a little different. Our family cuddled up on the couch and watched on Christmas day. The art and music in Soul are inspirational, and exactly what many are craving in 2020. Today I am excited to share about the Hue Unlimited Collection inspired by Soul. Disney and Pixar collaborated with HUE Unlimited to bring the beloved characters to life through a unique collection of wearable art pieces inspired by the film. I love seeing Disney and Pixar using the platform of a new animated film to elevate these incredible artists.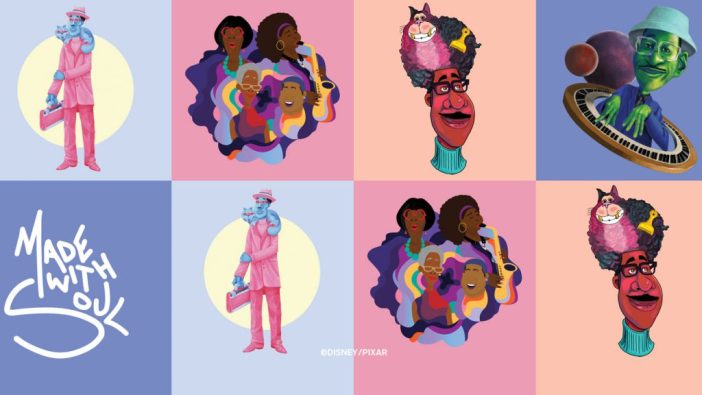 Here are a few of my favorite pieces from the collection. HUE Unlimited is available on Amazon (affiliate). These unique items are beautiful and perfect for any collector of Disney Pixar memorabilia. The winter holidays may be over, but consider these pretties for Valentine's day, birthday, or just because gift for your favorite Disney fan.
Disney Pixar SOUL 'Joe & His Fro' by Bianca Pastel & HUE Pullover Hoodie
Click to see the beautiful artwork on the back! I have been wearing this hoodie since I received it as a gift. It is so warm and cozy and the artwork is gorgeous!
Tervis Disney Pixar-Soul Insulated Tumbler, 20oz-Stainless Steel, The Gardner With several months of winter ahead, I am loving this insulated tumbler. The style I have is shown below but there are several options available inspired by Soul.

Disney Pixar Soul 'Joe's World' by Arrington "Heir" Porter & HUE Silk Touch Throw Blanket

This soft throw has been claimed by me as I work from home this winter. It is the softest throw in our home. We love that it is made in the USA. The design is artistic and inspiring

.
Disney Pixar SOUL 'The Village' by Bee Harris & HUE PopSockets PopGrip: Swappable Grip for Phones & Tablets
My kids and I love to swap out our Pop Sockets – this one is a conversation starter!
Disney Pixar SOUL 'The Great Gardner' by C. Van Lew & HUE Case
My kid already stole my HUE phone case. There are several designs and phone sizes to choose from.
Last but not least – my favorite toy….. A little Soul to cuddle up with..
I think we will be purchasing one of each as Valentine's Day gifts for our three kids.
Pixar Soul Printable Activity Sheets HERE!
Collection Artists
Bee Harris / The Village

Visual artist and activist reflecting the multi-faceted aspects of the Black Diaspora, social movements and community through art.
Bee in her own words, describes her inspiration: "Working on this collection was a dream come true! It was an honor to highlight the four Black women in Joe's village. These women represent the strong-willed, supportive women in my life who have helped me discover and walk in my purpose. I walked away with a deeper understanding of myself and my capabilities as an artist. It was both challenging and inspiring to create something so unique to things I've done in the past."

Bianca Pastel / Joe & His Fro

Pop artist recreating nostalgic moments and leaders in Black culture through over-expressive imagery and pastel elements.
Bianca in her own words, describes her inspiration: "Throughout the film, Joe learns some very valuable lessons on his journey, so I wanted to express the connection between colors, characters and stories in every detail. My favorite part of this process was choosing color palettes because, for me, it's like picking a feeling. How I want a piece to feel depends on the colors I create with. Throughout the process, I realized I could create authentically, be myself with my process and have fun with my art – which is exactly what I did."

Arrington Porter / Joe's World

Eclectic musician and painter visualizing the richness of Black culture, music, film and people with celestial exaggeration.
Arrington in his own words, describes his inspiration: "Creating artwork for this collection was an awesome experience! As an artist, I found myself connected to the film, relating back to a familiar place within my own love for music and being in constant pursuit of my dreams. Outside of being a visual artist, I too am a pianist – so I related to Joe's character on a more personal level."

Corey Van Lew / The Great Gardner

New-age artist reimagining real-world elements of the Black experience into unique multi-dimensional art.
Corey in his own words, describes his inspiration: "This was an amazing opportunity for us as artists to tap into our version of "The Zone" and create a visual representation of what this moment means to us! The parallel worlds in the movie go hand-in-hand with the parallel universe I depict in my paintings. Down to the digitally-made background paired with the hand-painted characters, I aimed to immerse people in an alternate realm of my own."