The new generation of Banks Children – A Mary Poppins Returns Interview
Disclosure: #MaryPoppinsReturnsEvent was hosted by Disney. Opinions are my own.
 The wait is almost over! Mary Poppins Returns opens in theaters tomorrow!  The entire cast of Mary Poppins Returns is just so talented. I was thrilled to have the opportunity to interview many of the cast as well as the director and musicians who made this soon to be instant classic.  The new generation of Banks children are as charming as they come.  I was thrilled to be able to speak with Pixie Davies who plays Annabel Banks and Joel Dawson who plays Georgie Banks as part of the Mary Poppins Returns press junket.  I can't imagine what it must be like as a fairly new child actor to be in such an iconic film, it was great to have the opportunity to hear from them directly. Here are some of the highlights from our interview.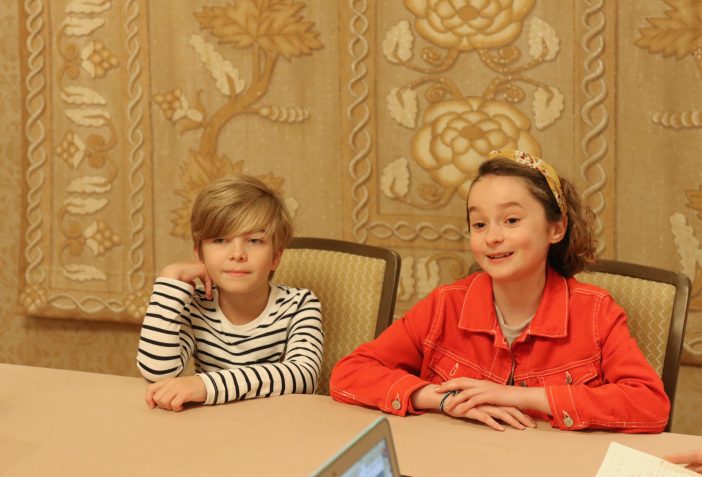 Make sure to print out these Mary Poppins Returns printable coloring sheets! I love that you can see Pixie Davies and Joel Dawson's characters in several of the printables.
One of the coolest moments in the film is a sequence that includes live action as well as animation.  The kids had so much to say about what it was like to participate in the filming and then seeing it finished.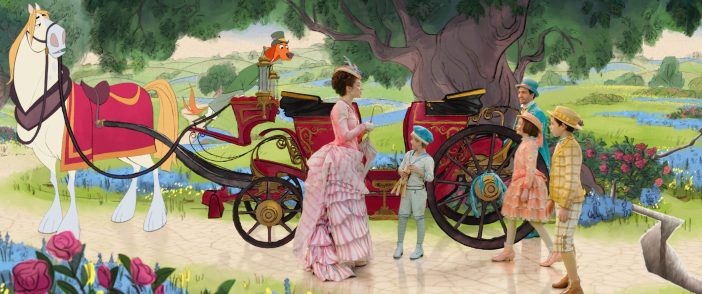 Pixie Davies said "It was really surprising because you don't know all the details that are gonna be there, and then you watch it and it's there." about viewing the completed scene.  The actors filmed much of the scene with a green screen and music playing, but so much was left to their imaginations.
What was your favorite scene to film?
Joel  "I really liked the part when I had to dive through the bushes and then got dragged along by the kite.  That was a really fun scene."
Pixie "I think it was Tripping the Light Fantastic because it was just incredible watching the dance.  It just gets better every time."
Pixie said she loved the costumes. "They were beautiful.  They were.  I really liked them 'cause I like dressing kind of funky.  And it was really awesome wearing some really cool clothes from another century."
Fun Mary Poppins Returns Printables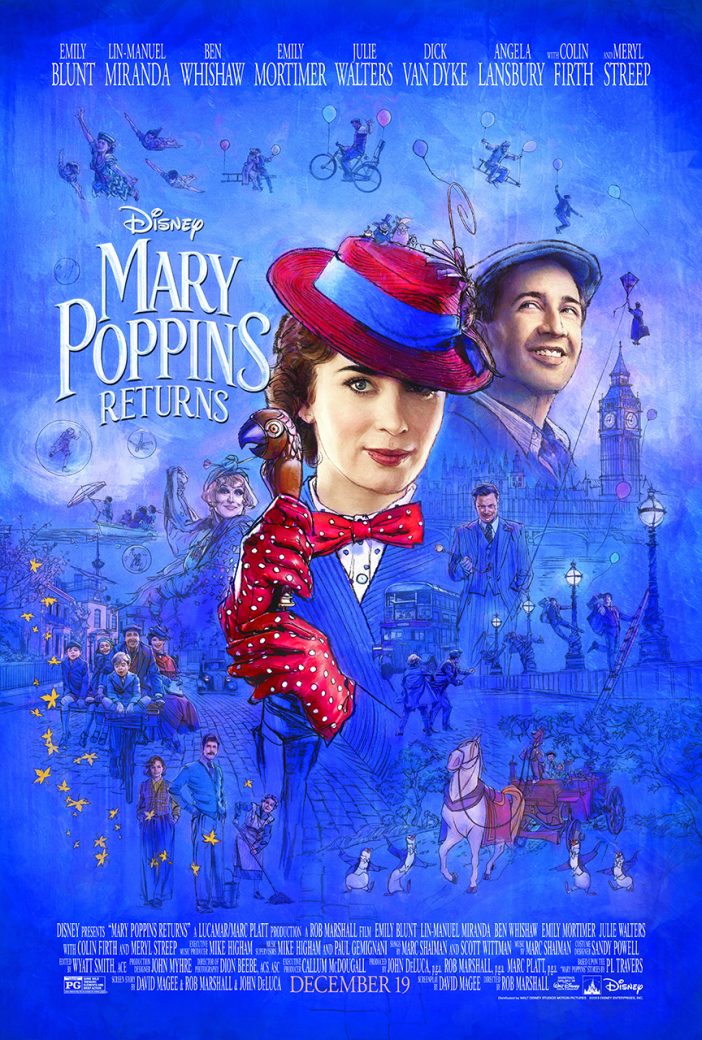 "How did you feel when you heard you had the role?"
How did you feel when you found out you got the part?
Pixie   "Yeah, I thought I was gonna burst."
Joel "Well my agent already knew so she came over and as she was there, then Rob Marshall called me and he said we want you to have the part.  And then I had it on speakerphone and everyone was just so silent and my eyes were watering.  And my mum was squealing after the phone call."
Two of my favorite questions and answers :
Favorite song in the film – they agreed it is really hard to choose, but these are their final answers….
Joel- Underneath the London Sky
Pixie – Trip a Little Light Fantastic
What advice would you give other kids that want to go into acting?
Pixie thought a bit about it and gave a very sincere answer  "If you really want to pursue it then just do, because honestly it's the greatest feeling when you're on set, and it just gives you that buzz."
Joel, on the other hand had a joke that he seemed to have been sitting on for a while. He simply said with a tiny shoulder shrug "Business is business." The entire interview room erupted in laughter!
Well, there you have it!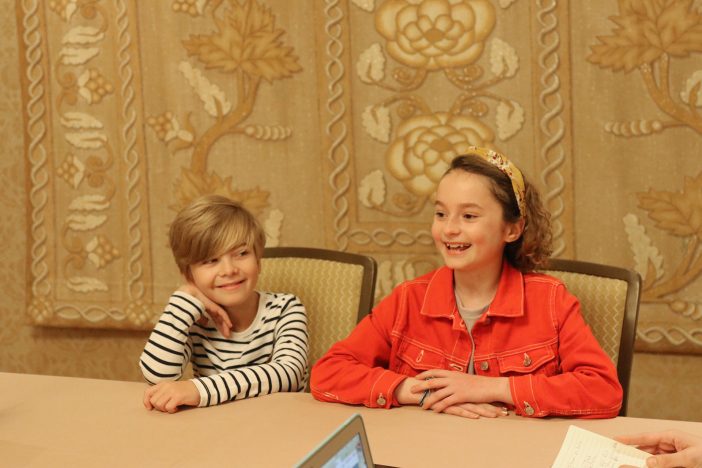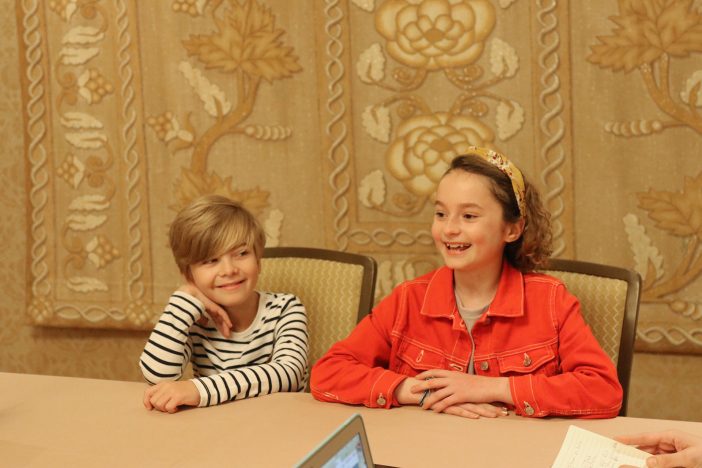 Mary Poppins Returns opens in theaters everywhere on December 19th.  Audiences are already excited so it is a good idea to grab your tickets early!  Purchase your tickets through Fandango and skip the lines! Giant thank you to Pixie Davies and Joel Dawson for taking the time to speak with us. I cannot wait to see where you go from here and I am thrilled I get to say I interviewed you for Mary Poppins Returns!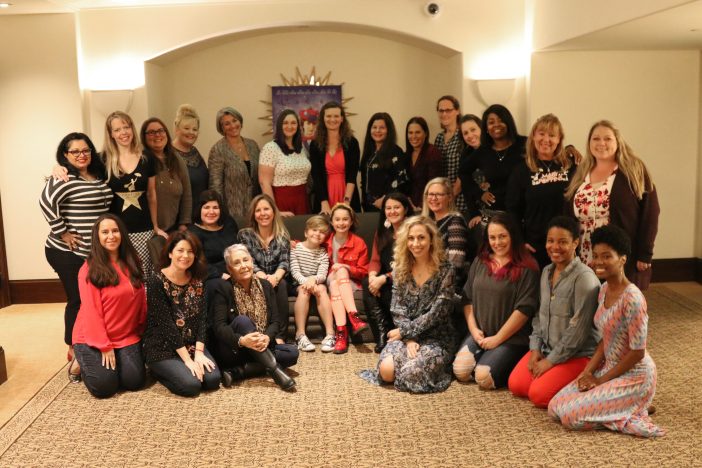 As always, thank you to Disney for having me along for #MaryPoppinsReturnsEvent – it was practically perfect in every way!
*Photos are by  Whisky and Sunshine or  Disney and used with permission*