Pre-Made Freezer Smoothies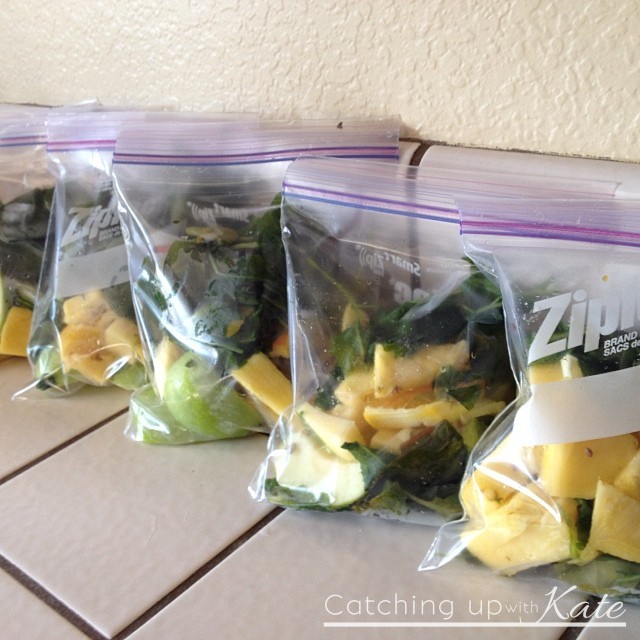 So I am one of those people that buys (or harvests) a boatload of produce with every intention of making delicious, nutritious, and organic smoothies for a week.  I bust out my vitamix almost as soon as I get home, make smoothies for everyone, then I put everything in the fridge, there was enough produce to make several more family sized smoothies.  The problem was I often didn't feel I had the time to make a smoothie every day, and sadly I would end up tossing out spoiled produce every week! The solution? Pre-Made Freezer Smoothies.
We have a fairly humble budget and we really try to keep things as natural and organic as possible.  It was always upsetting to toss any of our budget out with the trash.  Just because I like a challenge, and because we think that the money we still waste can be put to better use ( charity, braces, college fund, a percentage more into our retirement account, date nights, oh the possibilities are endless!) we have decided to cut our budget down yet again.  I'm thinking it is gonna be pretty easy, I just need to actually use everything I buy.  It seems simple right?
I have recently started bagging Pre-Made Freezer Smoothies contents in individual zip closure bags about a dozen at a time!
So I don't have a specific recipe, my smoothies tend to consist of what is coming out of our garden and what is on sale at the market.
Here is what I made last time………..
half an apple (I used granny smith, only because it was on sale, I use whatever apple is on sale)
whole orange peeled (I actually leave a wee bit of the skin on, I am told it is good for you so I think that adds some nutrients)
handful of kale (if you hate kale, try baby kale, if I still can't talk you into kale, try spinach)
about a cup of cubed pineapple
a couple baby carrots
slice of lemon, skin and all
This is really yummy and it is so good first thing in the morning (you know, when I am normally way too exhausted and distracted to pull all that stuff out of the fridge, wash, and cut individually).  I just pull a bag out of the freezer pop it into my vitamix, put in enough water for desired consistency, and mix it up!  If I want a little protein I will add greek yogurt and/or a little protein powder, I also sometimes add flaxseed and chia.
* Please keep in mind I am not at all into measuring, all is an approximation and you aren't going to mess it up by putting a little more or a little less or even just changing up the whole recipe to your liking!
* Also keep in mind once the fruit is frozen it will be very hard, this works just fine in my Vitamix, but I cannot speak for other blenders.
*another fun tip*  I purchased small BPA free containers for homemade baby food when our little Miss C was a baby.  She eats big girl food now, but I still have the little containers.  I pour the left over smoothie into these containers.  I can pop a couple containers into the vitamix with a little less fruits and veggies and make sure we don't waste that too!
Do you have any fun tips for stretching your budget and making sure food doesn't go to waste? I'd love for you to share them in our comments section!  Do you make your own Pre-Made Freezer Smoothies?  What do you put in them?