President Joe Biden Coloring Page
President Joe Biden is the 46th President of the United States of America. Joe Biden won the Presidency with more votes than any other President in the history of the United States. Joe Biden entered office after the attempted insurrection by homegrown terrorists. While many wanted to bring the inauguration ceremony indoors, Joe Biden and his Vice President, Kamala Harris stood outside for all to see. While Joe Biden was not most Democrats first choice for the nomination, he has won them over with the way he has already cleaned up a terrible mess left by the previous administration. For all those reasons and so many more, we are celebrating President Joe Biden with a free printable coloring sheet. Click and print for any Patriotic lesson or celebration.
I can only imagine so many men and women working blue collar jobs in the 80s and 90s would have loved to know that Joe Biden would be president someday. Biden's "Reward Work Not Wealth" plan is something I think my own 'pull up your bootstraps' left leaning blue collar dad would have really enjoyed. My dad was never a big fan of Reagan-omics…. mainly because they only worked for rich folks and hurt hard working middle class folks like my dad and mom the most. I remember him wanting exactly what Biden is proposing right now; I hope it brings him some joy. My mom was the first person to introduce recycling to me and she had a reusable canvas bag before anyone else I knew. I would hope she is finds peace in knowing that her grandchildren have a better chance at a habitable planet because of Joe Biden's proactive work to make up for lost time when it comes to caring for the environment. The previous four years really twisted some folks away from their former values, but I have hope that Joe Biden's presidency will help bring our country back together rather than divide us further. I guess we will have to see how much influence a reality star who loved to party with Jeffery Epstein and couldn't even keep his wealth after inheriting a 'small loan of a million dollars' still has on our parents that veered to the alt-right. Fear is weird, but hopefully a big cup of Joe is the medicine we all need. I guess I made that a little personal; it is a personal blog after all and I suppose I am still a little mad about seeing so many people lose their parents to Qanon and Proud Boys….. anyways…
Joe Biden is probably the first to say one of his biggest influences is his wife Dr. Jill Biden. We hope kids will also want to learn about the first lady living in the White House in 2021. For those who can remember the administration before Joe Biden, most are reasonable enough to admit how wonderful it is to see a couple that truly loves one another in the White House again. Don't miss our Dr. Jill Biden coloring page either!
Joe and Jill Biden also served as the Vice President and Second Lady during both of President Obama's terms as President. If you would like to see coloring sheets featuring the administration prior to Joe Biden, we have a Bigly Awesome Coloring Book where you will surely need an orange crayon. In all seriousness though, it is so wonderful to see someone doing their job instead of tweeting all day. This printable can be colored digitally or printed out and colored however you wish. Make sure to compost your paper one you are done. Feel free to use this printable in your classroom virtually or in person. Click to download and print from home or school.
If you enjoy this free educational printable coloring sheet featuring President Joe Biden, make sure to check out our educational printable section featuring Amanda Gorman, Hamilton, Harriet Tubman, California Missions, and so many more! We also have 'just for fun' coloring sheets featuring Gabby's Dollhouse Coloring Sheets , We Can Be Heroes Coloring Sheets, Sharkboy and Lavagirl Coloring Sheets, American Girl Doll Coloring Sheets , Olaf Coloring Sheets, Coco Coloring Sheets , Trolls Coloring Sheets and so many more on our site!
Teachers are welcome to share a direct link to this webpage to their students (pretty please do not just copy and share. I provide these for free, but traffic to my blog provides my money with a small income while I am virtual schooling my own three kiddos, I so appreciate sharing!). Thank you!
President Joe Biden Printable Coloring Sheet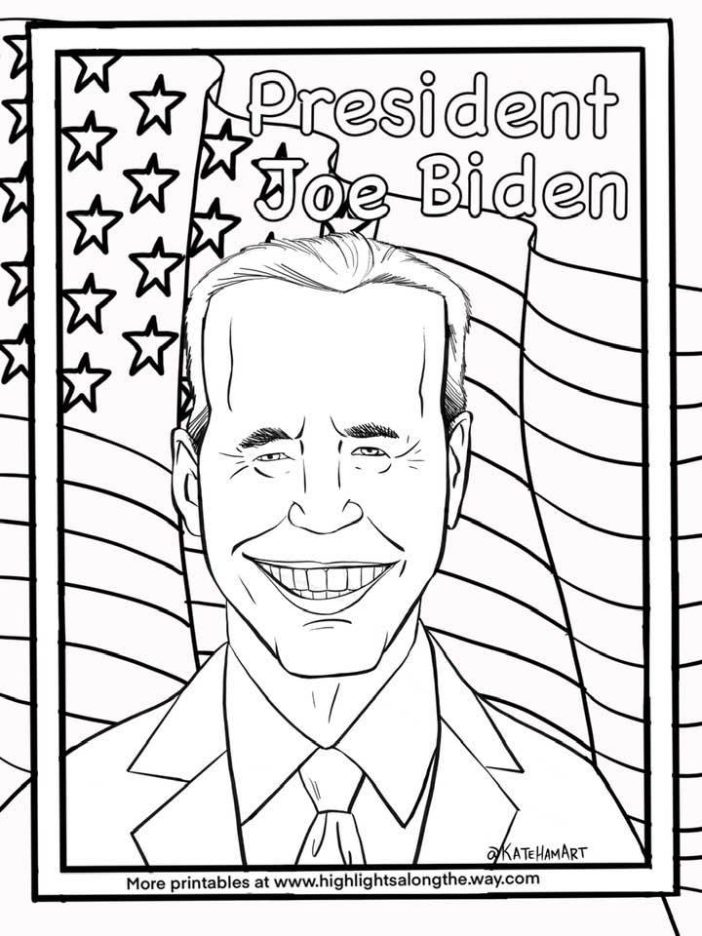 Thank you for stopping by Highlights Along the Way. Please check out our Printables page for literally hundreds more Broadway, Educational, TV, Disney, American Girl, Pop Culture, and other fun printable coloring and activity sheets!
MORE FREE COLORING SHEETS BELOW!
FREE Nature Themed Printables from WWF – click and print for FREE!
FREE Melissa & Doug Printables – print from home to learn and enjoy!
FREE Taco Bell Printables – so fun and may inspire a trip through the drive thru!
Star Wars themed activity sheets are some of our favorite things to share on our blog. These coloring sheets are free to enjoy by clicking and printing. We will add more Patriotic coloring sheets and artwork in the future.
If you are a blogger or writer looking for printable coloring sheets for your blog, magazine, or book, please check out my website Kate Ham Art and follow my growing Instagram account @KateHamArt . Do not hesitate to reach out if you would like me to create printables or book illustrations for your next project. If you or your child colors one of our printables, please share it on social media and tag our page. I will always share printables in our instagram stories and I would love to feature you!