Quinoa Greek Salad : Easy and Healthy Side Dish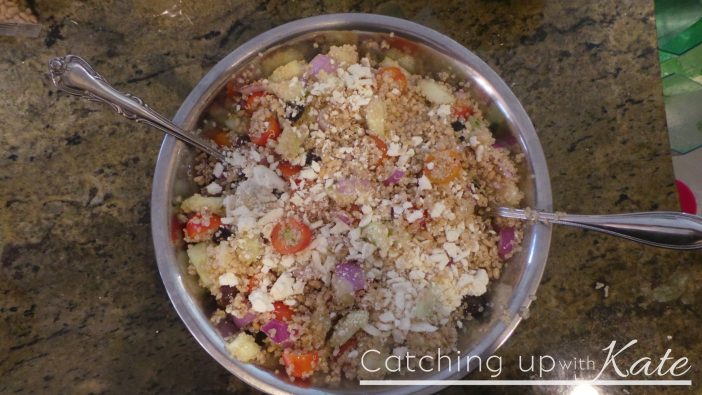 Quinoa Greek Salad is one of our favorite easy and healthy side dishes.  With Spring brunches, Summer BBQ, and pool parties around the corner we find ourselves needing a side dish more weekends than not.  Quinoa is one of our favorite side dishes because it is really yummy, but a healthier, leaner, and less expected choice than pasta or potatoes.  Our family is always trying to find healthy foods to keep us on track but that are still fun and for us that is totally quinoa!
We love a Greek Salad but sometimes a salad isn't substantial enough for a side dish.  We've made Greek Pasta Salad over the years but I finally wised up and swapped out pasta for quinoa and it has been such a hit!  The ingredients of a Greek salad are so flavorful I don't even use a bottled salad dressing, I just sprinkle in some fresh lemon juice and olive oil.  It is seriously SO easy you guys!  Here is the ingredient list and process for making your own Quinoa Greek Salad – enjoy!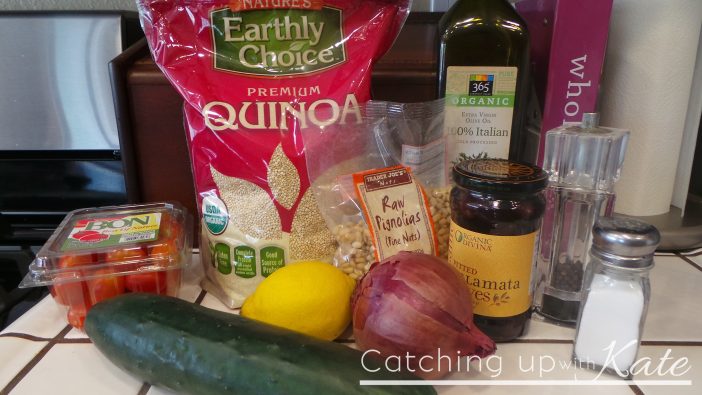 Ingredients
Cooked Quinoa (follow instructions on your quinoa – ALWAYS rinse.  I personally cook in homemade vegetable broth for added deliciousness, but you can cook it in water if you prefer)
Tomatoes (I use Grape tomatoes or cherry tomatoes, larger diced tomatoes would work too)
Kalamata olives (pitted – seriously, pay the extra for the ones that are already pitted – it is totally worth it)
Lemon & Olive Oil to taste
*Please note – there is no amount written purposefully – this is totally your preference, we like the veggie to quinoa ratio to be about 1:1 – but that doesn't necessarily work for everyone.  The beauty of this salad is it is just that the ingredients are delicious together – mix it how you see fit!
Instructions
Cool Quinoa Completely (I actually cook a big batch the night before so it is nice and cool when I go to mix in veggies, you don't want Greek salad veggies getting all wilty!)
Add tomatoes, diced cucumbers, diced red onion, and kalamata olives into the cooled quinoa.
Add in the lemon juice and olive oil and give a good mixing (we personally like a lot of lemon and just a bit of oil, but again – your preference). Some may choose to add in salt and pepper at this point – I think with olives and feta there is plenty of saltiness and our kiddies turn their nose up at too much pepper, so we personally skip it.
Just before serving we toss in Feta Cheese and Pine Nuts.  If you are taking this as a side dish somewhere or even dropping off for someone as a care meal I would suggest bringing these items on the side.  You want both items just barely added before serving.  Feta can get a little soggy and the pine nuts can lose their crunch if they sit too long.  Both of these are great flavors and a little goes a long way so use sparingly.  (Or use a bunch…. I mean, it is your salad)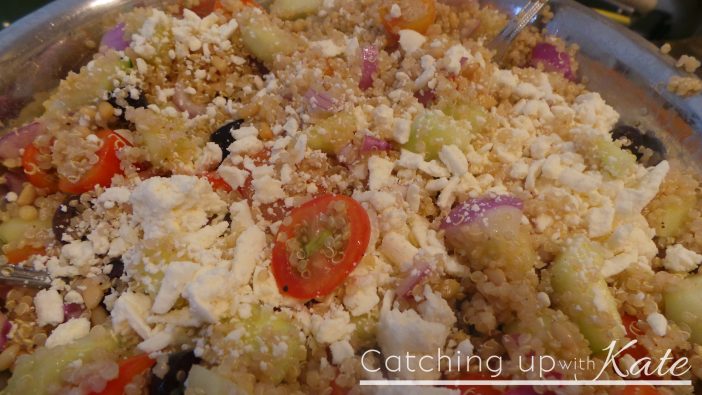 Greek Salad with Quinoa is a delicious, inexpensive, easy, and healthy side dish for brunch, lunch, or dinner!  Bring it to the next fun Spring or Summer event you are invited to or as just a quick light dinner.