Rainbow Unicorn Party Punch
Disclosure: Highlights Along the Way is a participant in the Amazon Services LLC Associates Program, an affiliate advertising program designed to provide a means for sites to earn advertising fees by advertising and linking to amazon.com.
Rainbow Unicorn Party Punch will go down in our family history as one of the best birthday party treats of all time. Rainbow sprinkles, a recipe my mom used to make in the 1980s, and a fancy cup is something my kids will not stop talking about.
Friends who came to parties where this was served say their kids will not stop talking about it. While this is not healthy in any way, it is the stuff memories are made of, so turn a blind eye to food coloring and soda for just a second. If your kiddo wants to have a rainbow unicorn themed party, this dessert drink is a must. It is super easy to make and is sure to delight your party guests!
Rainbow Unicorn Party Punch can be made with classic ingredients that include dairy and lots of sugar and food coloring. You can also EASILY swap out a few ingredients and make vegan non dairy rainbow unicorn party punch and kids will honestly never know. With stevia sweetened soda, artificial dye free sprinkles, and dairy free sorbet and whipped coconut cream this dessert can completely transform. The ability to make this rainbow dessert in different ways is one of my favorite things about it!
Easy Rainbow Unicorn Party Punch
So my littlest went through about five hundred different themes for her birthday party. She started with Dora, Princess, Frozen (She decided against Frozen because "Grandma's birfday is right after my birfday and I bets her's gonna want an Elsa party so I will lets her." direct quote), Hello Kitty, Unicorn and the list went on. She kept coming back to Unicorn. When I asked her what her favorite color was she said "Pink!" *pause* "And all the colors!" I responded "Like a rainbow?" "Yes! I like all of the rainbow!" So there was our theme "Rainbow Unicorn" – and with a ridiculous theme like "Rainbow Unicorn" you are obviously gonna need a silly, over the top treat to serve your guests right? Today I bring you Rainbow Unicorn Party Punch!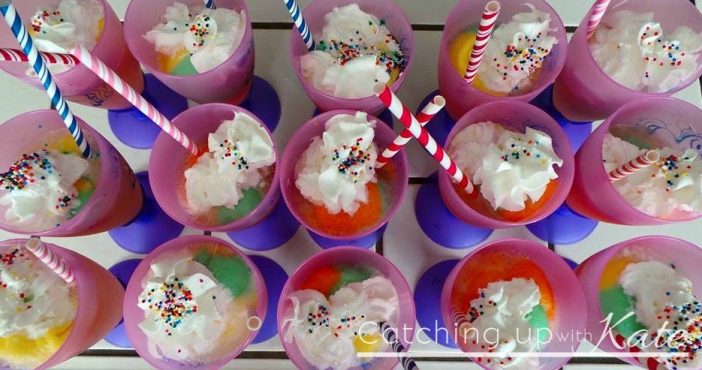 Rainbow Unicorn Party Punch is as easy as it is fun!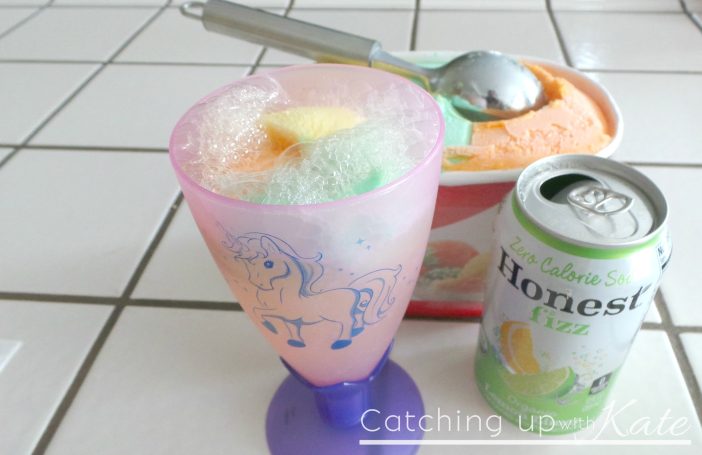 We don't really drink soda in our house, but this is a special occasion. I think fun kid's party drinks makes a birthday party even more memorable. My mom used to make a punch like this for birthday parties. I just kicked it up a notch with the whipped cream and sprinkles and a really awesome cup! You will need soda of your choice, ice cream, colorful sprinkles, and whipped cream. Having a cute straw and fun cup really brings it home. Kids love to have fancy drinks and this made for a very colorful party dessert.
This is so easy and your guests will really love it!
Rainbow Unicorn Party Punch Ingredients
Lemon Lime Soda (I used Honest Fizz – no chemicals or sugar – sweetened with stevia!)
Rainbow Sherbet
Whipped Cream
Sprinkles
Fancy cup and straws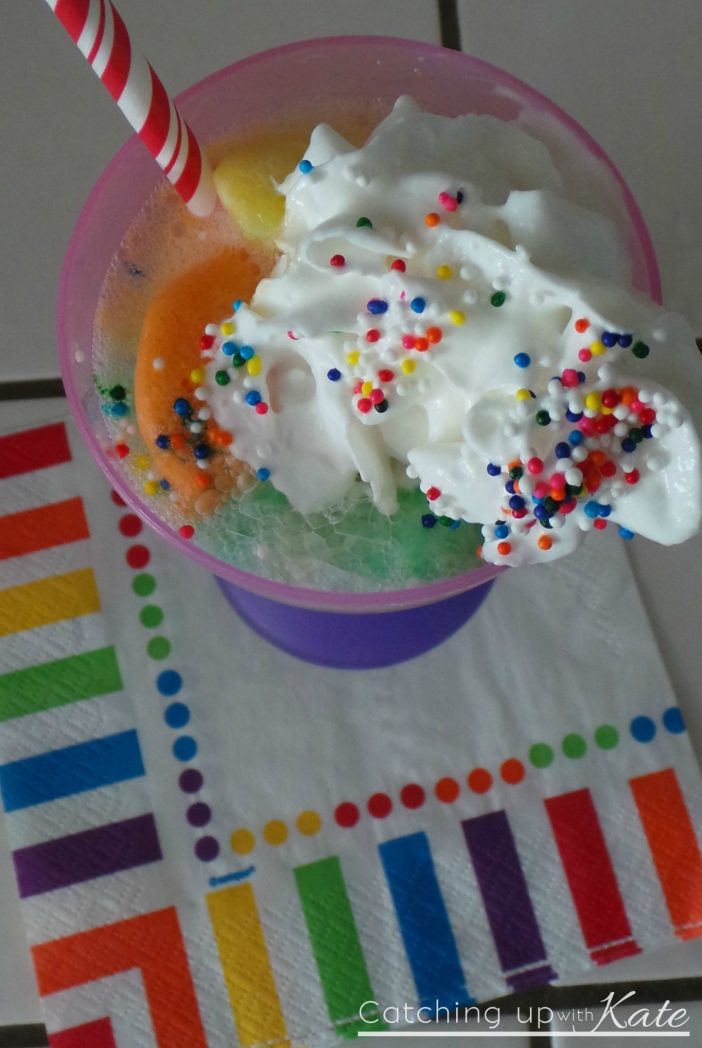 Process – My mom used to make a version of this punch when we were kids in a big punch bowl. I have too much OCD anxiety thinking of kids plunging their dirty fingers into a community punch bowl to have any fun that way so instead we made them individually.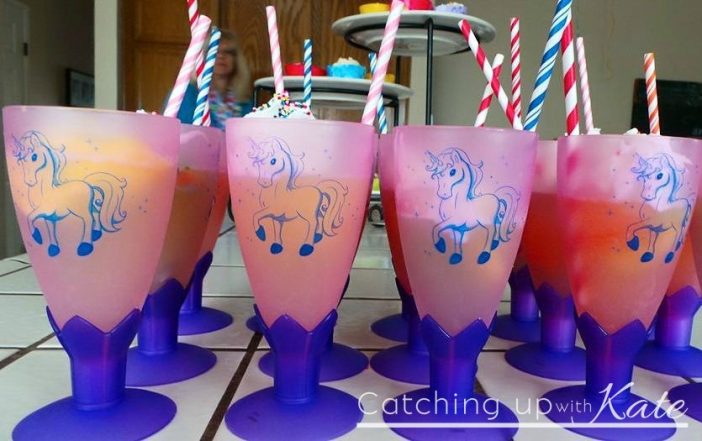 1) Pick out a fun cup (a regular old cup will work too – but I mean, how cool is this Unicorn cup?! Also, ours doubled as a bonus take home gift for our friends – win win!)
2) Pour chilled lemon lime soda to about 2/3 full.
3) Add in one scoop of rainbow sherbet.
4) Add a shot of whipped cream on top.
5) Dash of rainbow sprinkles and a colorful straw.
Enjoy!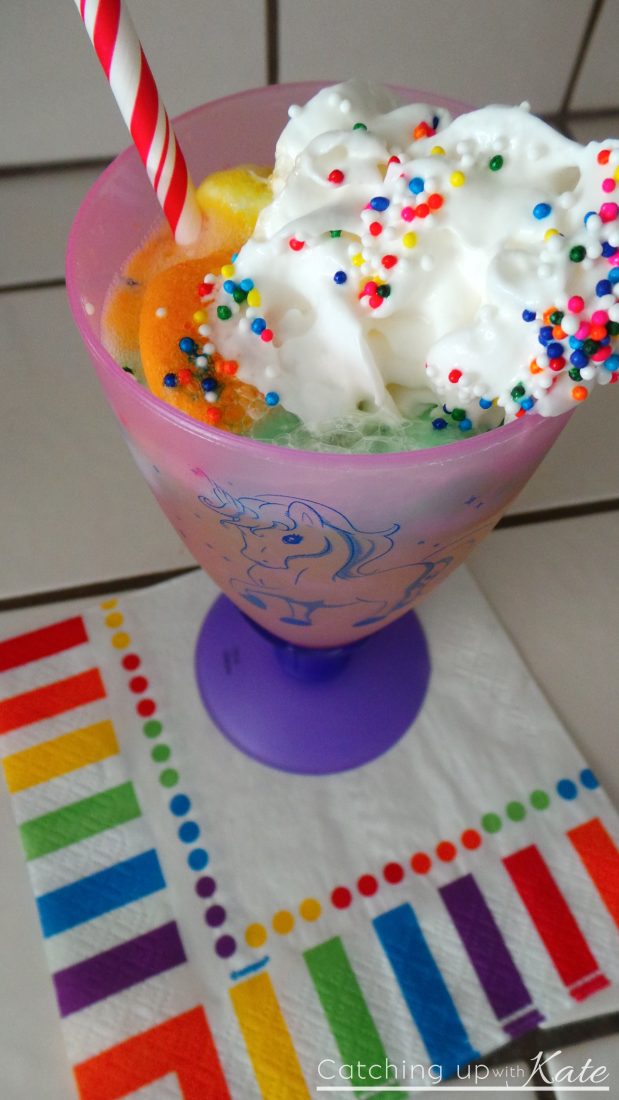 Vegan Rainbow Unicorn Party Punch
Since the writing of this post we have discovered our daughter has a mild allergy to dairy. Our family has become dairy free, but we can still enjoy this dessert with modifications. You can make this rainbow unicorn party punch easily for dairy free and vegan guests as well! The dessert maker can use Sorbet in multiple colors and a coconut based whipped cream for a completely vegan friendly treat!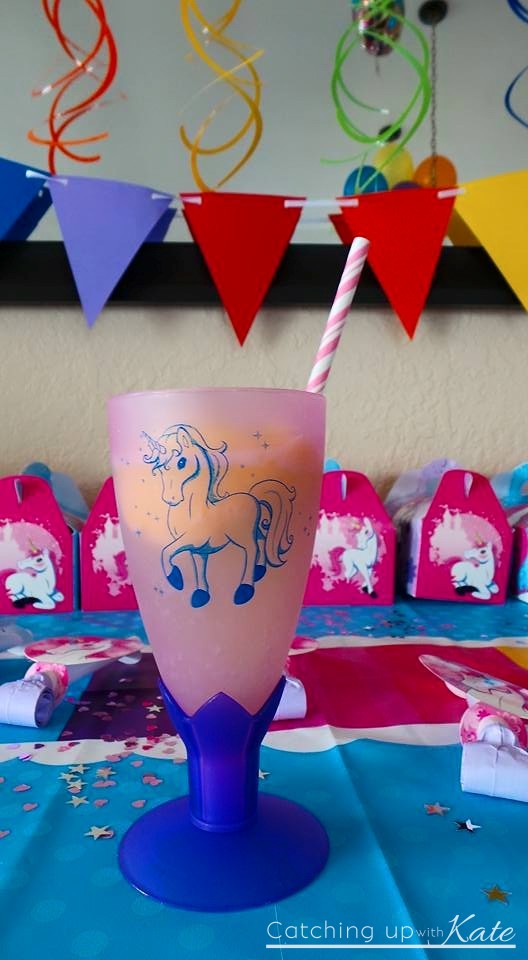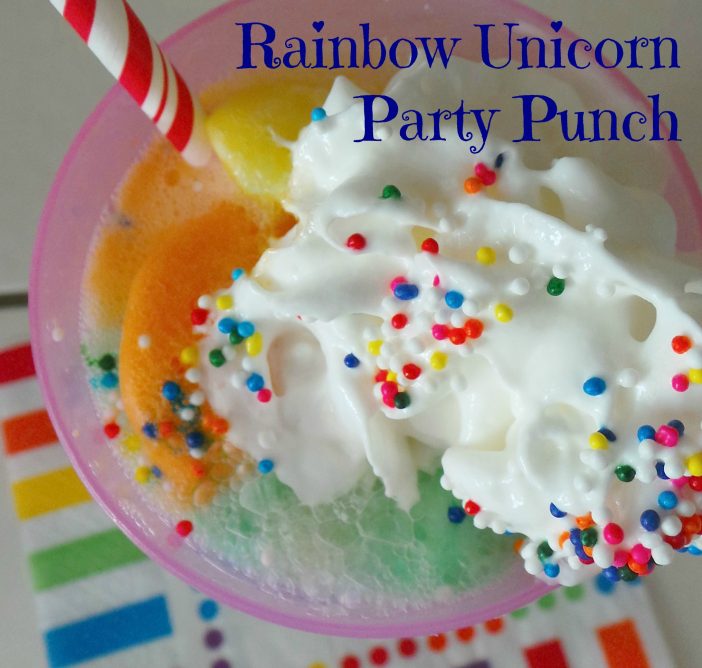 * Thank you to the good folks at Honest Tea for sending us drinks for our party!