Ralph Breaks the Internet BluRay bonus features!
Disclosure: This site uses affiliate links. Thank you to Disney for sending us an advance copy to screen at home as well as my new favorite sweatshirt!
Animation lovers, rejoice!  Ralph Breaks the Internet is now available to enjoy at home! On February 12, 2019 the follow up to Wreck it Ralph became available on Digital and Disney Movies Anywhere, and it is available on Blu-ray and DVD on February 26th.  In case you missed Ralph Breaks the Internet in theaters, we shared "Is Ralph Breaks the Internet too scary for kids" a few months back. This Disney animated feature film is perfect for a movie night at home with the whole family. Thrown on your comfy princess pajamas, pop some popcorn, and make a cozy night of it! Check out the fun bonus features below.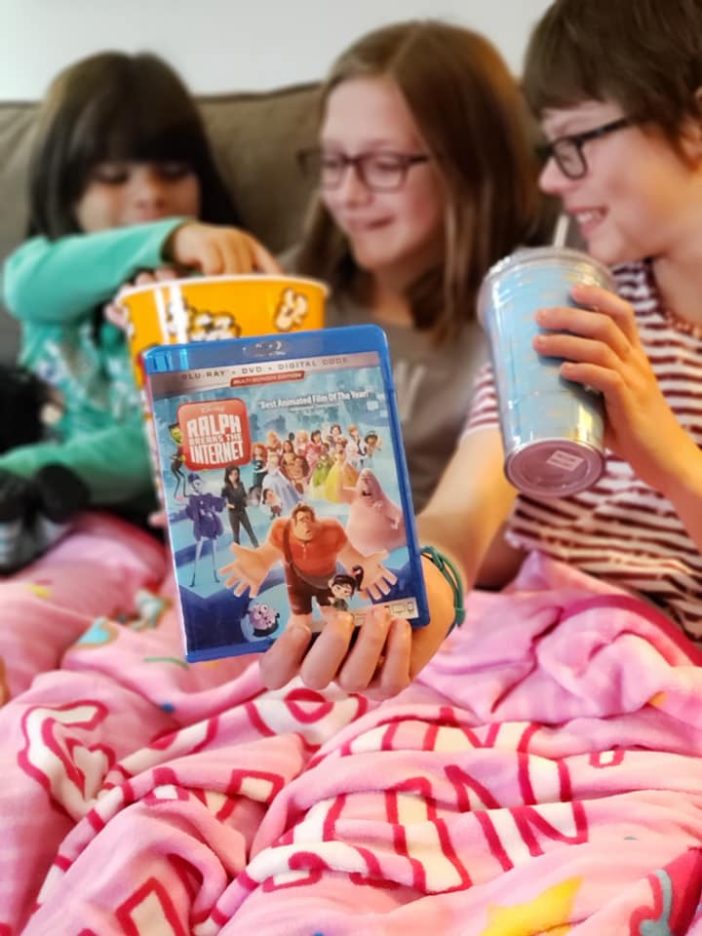 We see almost every Disney movie when it first opens in theaters, but we love getting to relive the fun in our pajamas from home! Speaking of pajamas, our family's favorite scene in Ralph Breaks the Internet is when Vanellope convinces the original Disney princesses that comfy pajamas and lounge wear are the best.  Disney nerds like myself have to check out the Comfy Princess line at ShopDisney.  My Pocahontas inspired sweatshirt that says "Blue Corn Moon" makes me want to sing "Colors of the Wind" every single moment of the day; which my kids are super into and not at all embarrassed by.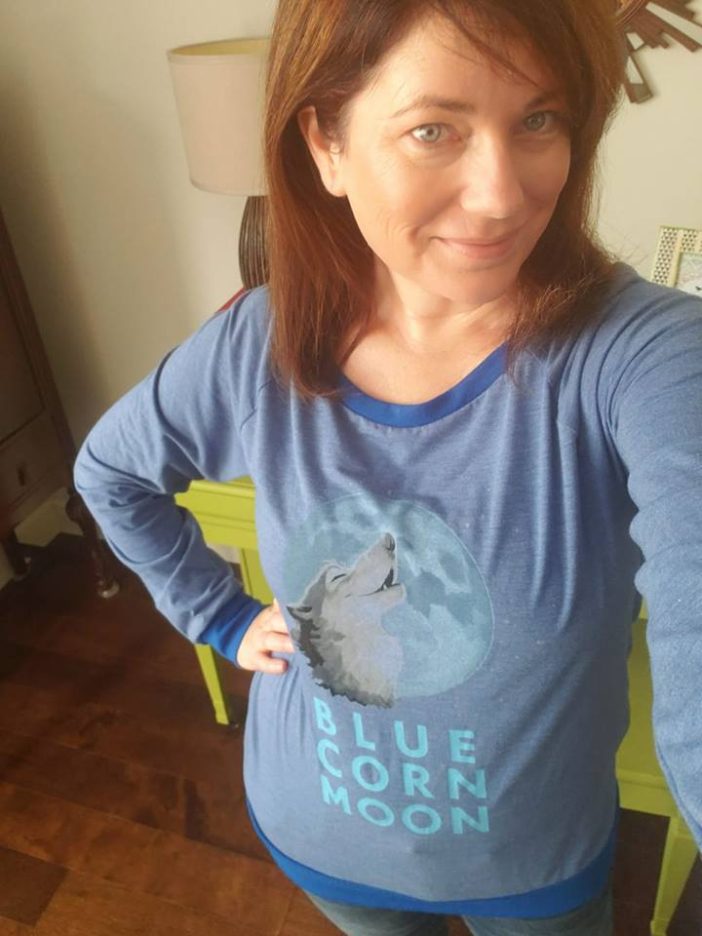 The entire "Comfy Princess" collection inspired by that now iconic scene is so adorable.  The Pocahontas themed sweatshirt reigns supreme of all the choices in my mind.  First of all, sweatshirts are the best for lounging, especially this time of year.   Second, Pocahontas was one of the amazing movies from what many refer to the Animation Renaissance of the 1990s. While everyone knows it was historically problematic, it is artistically and musically one of the best animated movies ever made (or at least in my humble opinion).  And because of that, this sweatshirt is the best.  "Colors of the Wind" is the big dramatic ballad that of course all Disney princesses gotta sing. I mean, if a Disney princess doesn't sing, is she even a Disney princess? I mean, no. Vanellope makes that point in Ralph Breaks the Internet.  "Have you ever heard the wolf cry to the blue corn moon, or asked the grinning bobcat why he grins?……." One little line in a dramatic ballad where Pocahontas is just singing her heart out about everything that is important to her.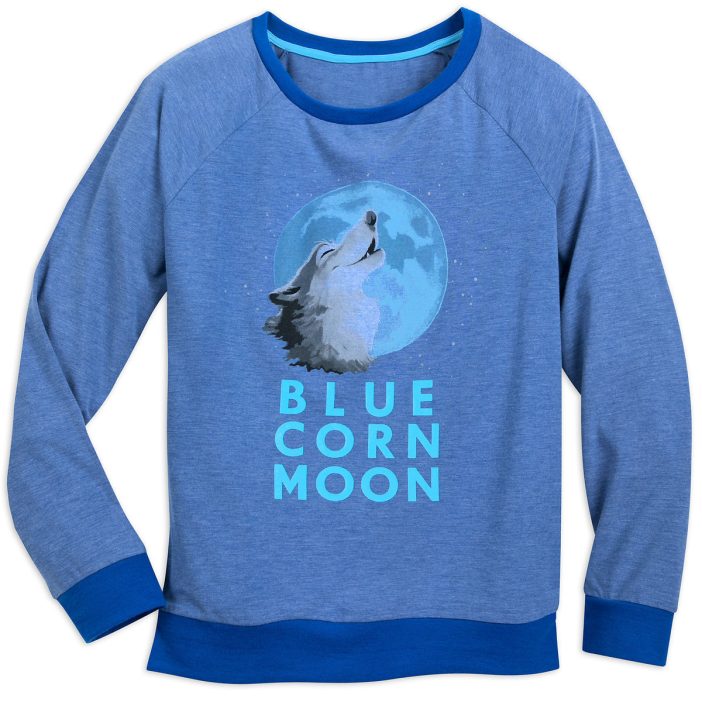 While fringe Disney fans might understand right away that the adorable "Nap Queen" set belongs to Aurora, and that "Just Let it Go" is obviously for Elsa, only the most legit of Disney fans will know "Blue Corn Moon" refers to Pocahontas. I take an odd pride in knowing this reference right away and when strangers who point at my shirt and let me know in their own little way (prolly by singing the line) I know they are my people immediately. Anyway, some of the outfits and pieces are already sold out, so if comfy princess attire sounds like fun to you – you should probably check it out ASAP!
OK, back to the movie…..If you missed Ralph Breaks the Internet when it was in theaters, make sure to check out the official trailer below. It is hilarious and full of heart felt messages.
Bonus features are some of our favorite parts of adding a new movie to our Digital collection. I still love to own a DVD or Blu-Ray (maybe this is a nostalgia from getting the VHS copy as a child), but Digital is the best. Ralph Breaks the Internet can be purchased as a single DVD, a Blu-Ray, Digital, or combination. We love to use Disney Movies Anywhere when we go on road trips and of course at home.  Below are some of the awesome bonus features.  My favorite is seeing deleted scenes and Easter Egg reveals (there are SO many Easter Eggs in Ralph Breaks the Internet!).  My kids especially love games that tend to come as a bonus feature and behind the scenes.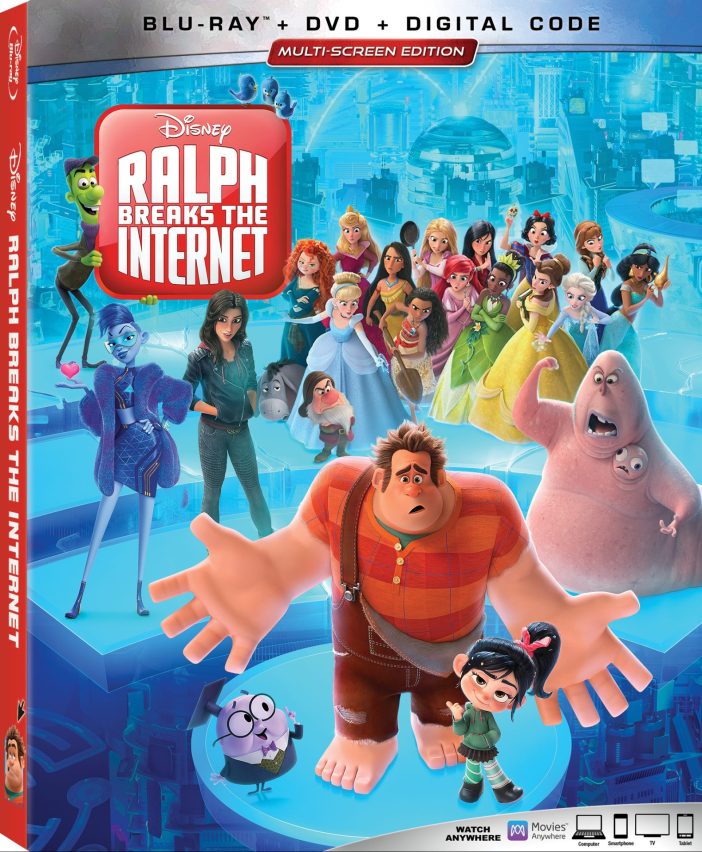 Blu-ray & Digital:
How We Broke the Internet –Go behind the scenes at Walt Disney Animation Studios to get an in-depth look at how the filmmakers brought a world to life that billions of people visit every day but never actually see – the internet. Take a front-row seat as the team reveals the inspirations for the story and what it took to bring it to the screen. Discover all that went into developing the characters of the film including netizens like KnowsMore as well as characters like Double Dan. See the lengths the team took to create the car chase scenes in Slaughter Race and much, much more.
Surfing for Easter Eggs – Surf the web for the near-countless Easter Eggs, inside jokes and references hidden throughout the movie.
The Music of Ralph Breaks the Internet – Take a look at the music of Ralph Breaks the Internet with appearances by Imagine Dragons, Julia Michaels, Alan Menken, Sarah Silverman and more.
Deleted Scenes – Five deleted scenes with intros from directors Rich Moore and Phil Johnston. Scenes include Into the Internet, Opposites, Domestic Hell, Bubble of One & Recruiting "Grandma."
BuzzzTube Cats – Many videos were created by the animators to fill the screens of the Internet world…and lots of them are of cats! Check out the BuzzzTube to watch this hilarious cat compilation.
Music Videos – "Zero" by Imagine Dragons and "In This Place" by Julia Michaels.
Digital Exclusive:
Baby Drivers – Slaughter Racing School – Take a spin behind the wheel with the artists behind Ralph Breaks the Internet as they go to race car driving school.
The bonus features are some of our favorites!  The BuzzzTube Cats had my kids rolling on the floor! Disney Easter Eggs is always my favorite bonus feature, it is so cool to see what animators sneak in just for fun.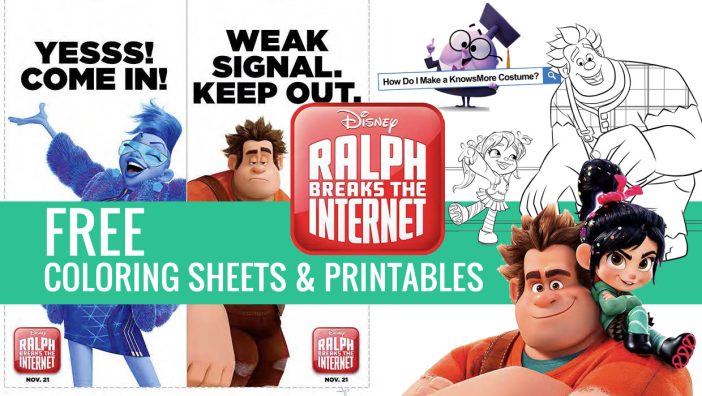 Don't miss these awesome free Ralph Breaks the Internet printable activity sheets!
Ralph Breaks the Internet fans should also check out our Ralph Breaks the Internet Ultimate Gift Guide.
You can purchase Ralph Breaks the Internet NOW digitally! If you really love to own a hard copy, BluRay will be here before you know it on 2/26. Make sure to come back on the 26th for an easy tutorial on how to draw Vanellope!
Follow Ralph Breaks the Internet on Social Media!

Facebook:                                                             Facebook.com/WreckItRalph
Twitter:                                                                 Twitter.com/wreckitralph
Instagram:                                                            Instagram.com/wreckitralph
ABOUT MOVIES ANYWHERE:
Movies Anywhere simplifies and enhances the digital movie collection and viewing experience by allowing consumers to access their favorite digital movies in one place when purchased or redeemed through participating digital retailers. Movies Anywhere brings together the movies from Sony Pictures Entertainment, Twentieth Century Fox Film, Universal Pictures (including DreamWorks and Illumination Entertainment), The Walt Disney Studios (including Disney, Pixar, Marvel Studios and Lucasfilm), and Warner Bros. Participating digital retailers are iTunes. Amazon Prime Video, Vudu, Google Play, Microsoft Movies & TV and FandangoNOW. Movies Anywhere offers a library of over 7,500 digital movies, including new releases, and will continue to expand the consumer experience as more content providers, digital retailers and platforms are added. Using the free Movies Anywhere app and website, consumers can connect their Movies Anywhere account with participating digital retailers and enjoy their favorite digital movies from the comfort of their living room and across multiple devices and platforms, including Amazon Fire devices; Android devices and Android TV; Apple TV; Chromecast; iPhone, iPad and iPod touch; Roku® devices, Windows 10 and Xbox devices; and popular browsers. Consumers can also redeem digital codes found in eligible Blu-ray Disc™ and DVD packages from participating studios and enjoy them through Movies Anywhere.