Ralph Breaks the Internet – Is Wreck it Ralph 2 Too Scary for Kids?
Disclosure: Thank you to Walt Disney Studios for hosting #RalphBreaksTheInternetEvent - all opinions are my own. This site uses affiliate links.
The wait is over! Ralph Breaks the Internet opens in theaters today! Everyone is asking if the sequel to Wreck it Ralph is too scary for kids.  Families with young children will want to know that this latest Disney cartoon is rated PG for some action and rude humor, but there are also some scary moments.  Today I am sharing my official Mom's Review of Ralph Breaks the Internet so you can decide if this newest Disney movie is safe for kids.  This parent's review of Ralph Breaks the Internet contains no spoilers.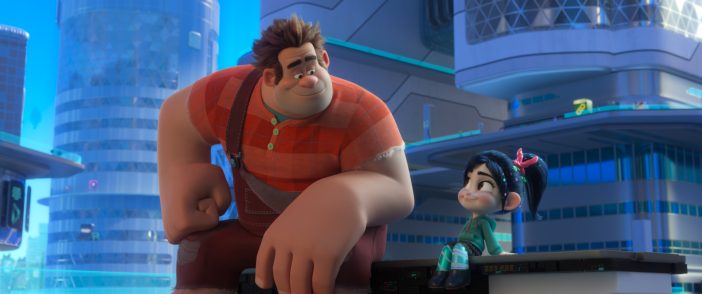 Earlier this month, I had the privilege of attending the Ralph Breaks the Internet World Premiere. As a mom of a young child and tweens, my number one question about new movies is "Is it safe for little kids?"  I have a reputation for being protective of what my kids watch.   We are also well aware that every family and every child is different.  While some things might be OK for our family, it might not be a good fit for yours.  We always suggest you reading more than one review to decide what is best for your child.
At almost a decade in the making, Ralph Breaks the Internet is a perfect follow up and evolution of Wreck it Ralph.  Ralph, Vanellope, Fix it Felix, and several original characters are back.  Moving from the world of video games to the world wide web seems like a natural progression for the group.  Hundreds of new characters and environments do make this version seem much bigger and complex.  With this growth there is a richness added to the first, but there are also bigger themes to conquer.
I personally wish all Disney movies were rated G.  This would make life easier as a parent of littles.  I understand Disney is trying to strike a delicate balance of making movies that little ones can enjoy, but also big kids and adults. I know they have to push the envelope a bit. I personally did not think Ralph Breaks the Internet was too scary for kids, but there are a couple scenes worth mentioning. I think the PG rating for Ralph Breaks the Internet is fair.  While there are some decidedly scary scenes; there is no graphic violence, sexual innuendo, or naughty words.  Without spoilers (this might be challenging), I am going to give a little information about what scenes I think might be spooky for the youngest viewers.  I will disclose that my kids will be seeing Ralph Breaks the Internet this weekend, we are just going to prep our child with a couple spoilers so she isn't too scared.
The first scene that stood out to me as potentially scary for little ones, is when Vanellope finds her way into "Slaughter Race".  From the moment Vanellope enters this game, everything is decidedly spookier.  The color palette invokes a feeling of danger, races are more dangerous, and at first glance the characters are much edgier than you have encountered before.  Vanellope seems to be in real danger while racing and also when talking with the characters of this particular online game.  With names like "Shank", "Felony", and "Butcher Boy" it is sure to scare my little one. Without giving too much away, there is more than meets the eye. As is generally the case, these characters are edgy, but multi-faceted and not quite the villains you might conclude they are when they are first introduced.
So Shank and her friends are the easy ones, this next guy I am gonna have a harder time softening though…. because it is impossible. He is the worst. There is no other way to say it…..
You guys, I can't spin this.  Double Dan and his SECOND HEAD named "Little Dan" (NO I AM NOT JOKING) are what all my current nightmares are made of. Your kids will definitely be scared of Double Dan and all adults will be scared of him too. I can't stop thinking about him. His grossness will haunt me forever. While those of us who nerd out on animation will be fascinated by how his skin texture was created digitally for like 3 seconds, even those of us in that very narrow niche will be back to dry heaving in no time.  He is disgusting. Disney, don't do this again. Please. While his influence has clearly set in, his actual screen time is quite minimal.
There is one more part of the film that may be intense for little ones.  Our friend Double Dan *shudders* is a bad guy who creates internet viruses.  Again, I do not want to give spoilers, but let's just say these viruses get out of hand.  While nobody dies and there is no real violence, the sequence where the virus takes over is unsettling.  If your child is anxious, it is just good to be aware that this might be a moment where you will need to reassure them that there is a happy ending and nobody is going to be hurt.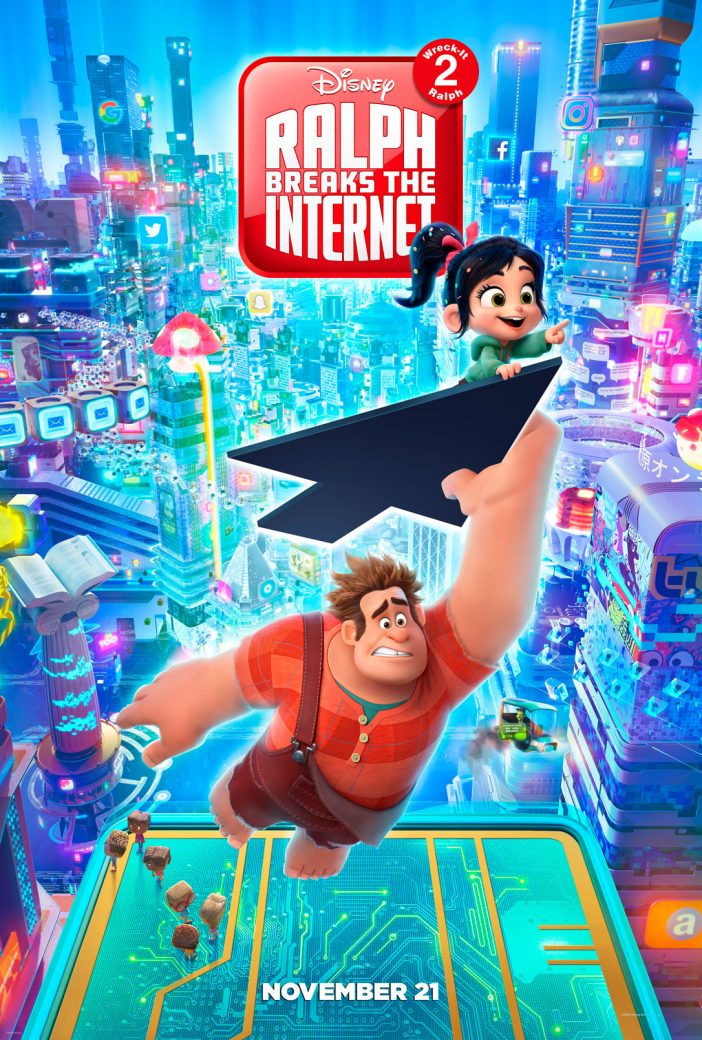 OK, now that I have covered everyone's number one question – can I move on to what I liked? As with just about every Disney film, I loved Ralph Breaks the Internet. I had missed Wreck it Ralph in theaters, but watched with my kids for the first time last year. We joke that Ralph is our son and Vanellope is our littlest.  The original Wreck it Ralph holds a special place in our hearts. It is fair to say I was a little hesitant about a sequel. That said, Ralph Breaks the Internet made me fall in love with the characters all over again, and even more so!
Where we left off, Ralph and Vanellope's friendship is sweet and genuine, but this movie tests that love and friendship further. The introduction of the internet introduces experiences and challenges to them that we are all familiar with.  My favorite aspect of a family movie is not just the escape, but the opportunity to talk about what we learned afterwards.  Ralph and Vanellope give viewers a lesson in how there is courage and strength in admitting your vulnerability.  They teach us in their own goofy way that love conquers all and nothing else in life is worth more than someone who accepts you unconditionally.  That's a good lesson for everyone in the family. Not only do Ralph and Vanellope grow and experience deeper friendships, but characters like Fix-it-Felix and his wife Sergeant Calhoun have a fun side stories that also drive the point of unconditional love home.  Where some might see Ralph Breaks the Internet as just another fun family-friendly cartoon, I see a sweet and squishy message about what life boils down to.  Stamp of approval!
Lastly, Disney fans are going to LOVE this.  I mean, Disney fans love just about every movie  made by Disney- right?  But Ralph Breaks the Internet is different.  Ralph Breaks the Internet is so full of Disney "Easter Eggs" it just might make your Disney loving mind explode.  It is like the ultimate Disney fan movie with references to movies and social media, especially OhMyDisney.com.  While the movie is fun and heart-warming for anyone, Disney fans like myself are going to love it even more. My group of Disney nerds is going to be first in line on opening weekend!
If you are a fan, make sure to check out these Ralph Breaks the Internet coloring pages!
Movies that the family can enjoy together tend to be very busy on Thanksgiving weekend!  Make sure to skip the crowds by purchasing your Ralph Breaks the Internet tickets though Fandango.