10 Reasons Why You Should Stay on Property at the Disneyland Resort
10 Reasons Why You Should Stay on Property at the Disneyland Resort – Highlights Along the Way
Hi everyone, it's Lexi with Get Away Today, here to talk to you about the Disneyland Resort. While any vacation to The Happiest Place on Earth is special, staying on property at the Disneyland Resort makes your experience more magical than ever before. With three different properties to choose from, there is something for every family to enjoy. Although these hotels come with a higher price tag, it's worth every single penny. Because of this, I'm going to list out my top ten reasons why you should stay on property at the Disneyland Resort. Plus, use promo code Highlights to get $10 off your next Disneyland vacation.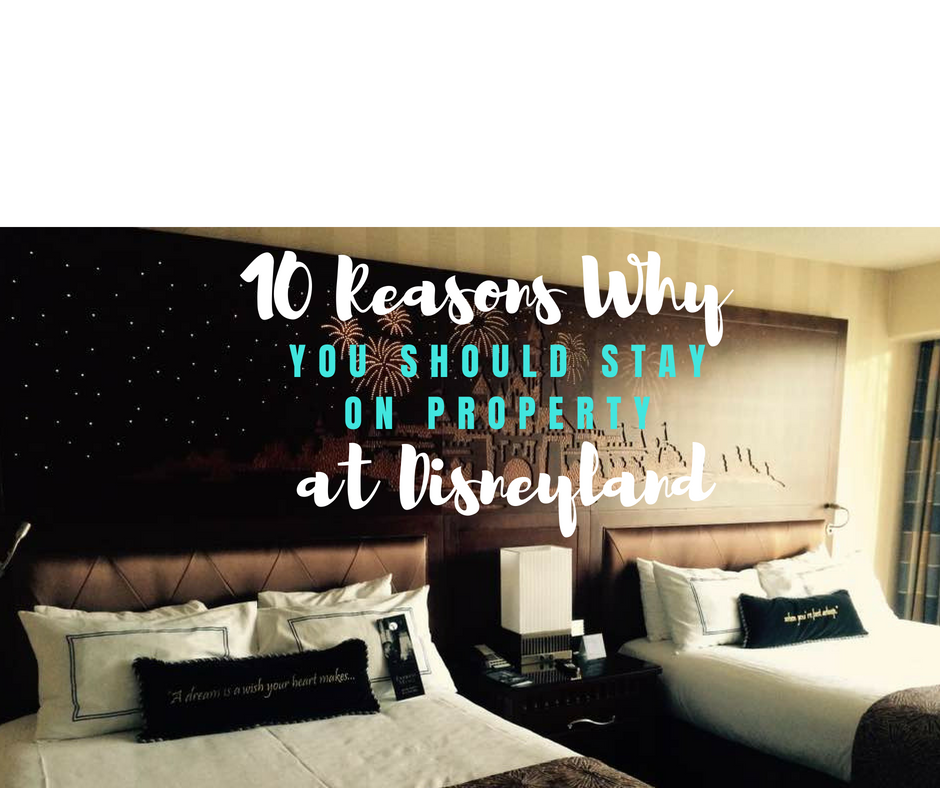 Extra Magic Hour
Extra Magic Hour is probably the biggest perk of staying on property at the Disneyland Resort. I mean, who wouldn't want to get into Disney California Adventure Park and Disneyland Park early? With Extra Magic Hour, you'll be able to get into both parks on select dates of your stay. This means you'll be able to ride all your favorite attractions and enjoy the park before it even opens! Extra Magic will save you SO much time and pressure while you're at the parks. Plus, only those staying on property can reap the benefits of getting into California Adventure Park early, so you'll see even fewer crowds than ever before.
Location, Location, Location
The hardest part of any Disneyland day is when you have to leave the park. However, it's always much worse when you have to walk all the way back to your hotel, car or wait for the shuttle. Fortunately, when you stay on property at the Disneyland Resort, you're just a hop, skip and jump away from everything you need. Want to make a splash at the pool or take a mid-day nap? You can easily leave the parks and go back to the hotel whenever you please. This also makes it convenient in case you need to change, grab a jacket or forget something in your room. Plus, you're just steps away from the iconic Downtown Disney which is filled with shops, restaurants and nightly entertainment. Being able to be so close to all of the magic is well worth the cost of staying on property.
Quick video tour of Disney's Grand Californian Hotel from my last trip to Disneyland
The Magic
Speaking of magic, Disney's Grand Californian Hotel & Spa, Disneyland hotel and Disney's Paradise Pier Hotel are filled with Disney magic. Staying at one of these properties makes it feel like you truly never leave the parks. With special touches around every corner, you'll get the most out of your Disneyland vacation. At each hotel, you can enjoy special amenities throughout your stay. One of my absolute favorite features to take advantage of is the Character Wake-up Calls. What better way to start the day than an early morning greeting from some of your favorite Disney Characters?
Plus, if you stay at the Disneyland Hotel, you'll be able to discover magic directly in your headboard. Next to the lamp, you can push a button to see the headboard light up as Tinkerbell flies around the beloved Sleeping Beauty Castle.
When you stay at a Disney Resort Hotel, you'll be able to enjoy themed décor, impeccable customer service and magical experiences around every corner.
Package Express
Have you ever made a big purchase at the beginning of your Disney day and then had to carry it around all day long? When you stay at a Disney Resort Hotel, you can actually send park purchases back to the front desk of your hotel with Package Express. This way, you can enjoy your day at the parks without having to worry about extra gear. Once you get back to the hotel, just simply ask the front desk for your purchases and voila. It's as simple as that! As a tip, we would recommend sending purchases back to your room in the morning or afternoon. If you purchase anything towards the end of the night, it might not be delivered until the next day.
Private Entrance at Disney's Grand Californian Hotel & Spa
When you stay at Disney's Californian Hotel & Spa, you'll be able to use the private entrance that allows you to enter Disney California Adventure Park. The best part? This entrance is an exclusive amenity just for Grand Californian guests. This means you'll never have to worry about a long line at security or at the ticket turnstile. Having a private entrance to Disney California Adventure Park is an incredible perk that saves you so much time and gives you added convenience while at the park.
 6. Swimming
What would a vacation be without a dip in your hotel pool? Luckily, each Disney Resort Hotel property has world-class pools that your family is sure to enjoy. At Disney's Paradise Pier Hotel, you can soak up some fun at a boardwalk-inspired pool, located on a rooftop terrace. Not only is this the perfect place to take a dip, but it has an amazing view of nighttime entertainment at Disney California Adventure in the evening.
At the Disneyland Hotel, guests can enjoy two retro-themed pools. The E-Ticket pool pays tribute to Disneyland's beginnings, while the D-Ticket pool is a refreshing spot for guests looking to swim laps or have a leisurely time. The best part? The E-Ticket pool has two waterslides for everyone to enjoy. If a good pool is important to your vacation stay, I would highly recommend staying at the Disneyland Hotel.
Last, but certainly not least, Disney's Grand Californian Hotel & Spa has three different pools for every type of person. The Fountain Pool provides a relaxing and serene setting, while the Redwood Pool includes a 90-foot-long waterslide that's perfect for kids and families. If you're looking for a more leisurely pool, you'll want to stop by the Mariposa Pool that pays homage to the hotel's arts & crafts theme.
7. Convenient Dining
Not only do you get the convenience of staying close to the parks, but you'll also be able to conveniently indulge in any of the hotel's in-house restaurants. At each of the hotel properties, you'll be able to find a Character Dining location. Character Dining is a perfect way to spend time with characters, while being able to enjoy a delicious meal. You can enjoy Goofy's Kitchen at the Disneyland Hotel, Mickey's Tales of Adventure at Disney's Grand Californian Hotel & Spa and Donald Duck's Seaside Breakfast at Disney's Paradise Pier Hotel. However if you're looking for more fine dining options, you can splurge on restaurants like Steakhouse 55 at the Disneyland Hotel and Napa Rose at Disney's Grand Californian.
In addition to this, each hotel has casual dining options for guests to enjoy. Whether you're by the pool, or want something quick to eat, there are a variety of options for you to choose from when you stay at a Disney Resort Hotel.
8. Family Activities
If you're traveling to the Disneyland Resort with a family, the Disney Resort Hotel properties are the perfect place to stay. Not only are they filled with magic, but they have SO many activities for both kids and adults.
On select evenings, you can gather 'round as a family and enjoy a Disney film under the stars. If you're not sure when the movie nights are, be sure to ask a Cast Member when you check-in or anytime during your stay.
Are you or any of your family members interested in art? You can take an Art of Craft Tour to learn how the architecture and design of Disney's Grand Californian Hotel & Spa. You'll be able to get a behind-the-scenes glimpse of the artifacts located in the lobby and dining areas. To reserve your spot, you'll want to stop by the Guest Services desk at Disney's Grand Californian.
If you're an early riser, then you might enjoy a 2-mile power walk through Disney California Adventure Park before it opens to the public. It's important to note that this is a fast-paced walk, so guests are required to keep a 15-minute mile pace and isn't recommended for everyone. However, this offer is open to every guest (14 and older) staying at the resort. To reserve a space, you need to sign up at the Guest Services desk in the main lobby of any of the 3 Disneyland Resort Hotels.
9. Celebrations
There truly is nothing better than celebrating a special occasion at the Disneyland Resort, and staying at one of the Disneyland Resort Hotels is no exception. For an extra cost, you can have any of the Disneyland Resort properties surprise you in your room with a custom celebration cake, birthday packages, anniversary treats and more. Because these surprises vary in value, it's best to talk to a Cast Member directly about pricing. However, these celebrations can make your stay even more magical than ever!
10. Amenities
Staying at one of the Disneyland Resort Hotels also comes with small, but meaningful amenities. If you've never tried their H20+ complimentary products, then you are missing out. These luxury shampoos, conditioners, lotion, soaps and more are great travel products to use throughout your stay.
Depending on what type of room you book at each of the three properties, you'll also receive evening turndown service. This means that you'll receive maid-service and even some special treats before you head to bed. Since room type varies for turndown service, make sure to give our travel experts a call directly for more information.
As you can see, staying at a Disneyland Resort Hotel is truly an unmatched experience. To book your next Disneyland Resort Hotel stay, visit getawaytoday.com or call one of our travel experts at 855-GET-AWAY. With incredible Disneyland Resort Hotel rates and discount Disneyland tickets, you'll be guaranteed the best price on your next vacation. Don't forget to use promo code Highlights to get an additional $10 off your hotel and tickets package. Let them know that Highlights Along the Way sent you!
Make sure to pin it!