Summer Movie Express – $1 movies all Summer long!
The Regal Summer Express $1 movies is a highlight of our summer!  We can't wait to share the entire 2019 discount summer movie schedule with our readers.  Over the years, Regal Cinemas has offered dozens of $1 movies that are perfect for the whole family. Typically the updated movie schedule comes out in April.  As soon as the 2019 Summer Movie Express schedule and pricing is available we will update! Typically movies are $1 and offered on Tuesday and Wednesday all summer long.  The Regal Summer Movie Express has always been nation wide and budget friendly!  Check back for the 2019 Regal Summer movie schedule real soon! Update! The Regal Summer Movie Express 2019 schedule is here!

The Regal Cinema Summer Movie Schedule is something I typically post on San Diego Deals and Steals.  This is the first year I will be sharing the Regal Summer Movie Express over here on Highlights Along the Way. The Summer Movie Express 2019 listing seemed like it needed to be here because it is nation wide! For those that have never heard of it before, Regal Summer Movie Express offers $1 matinee movies all summer long. This is the perfect outing for many families on a budget.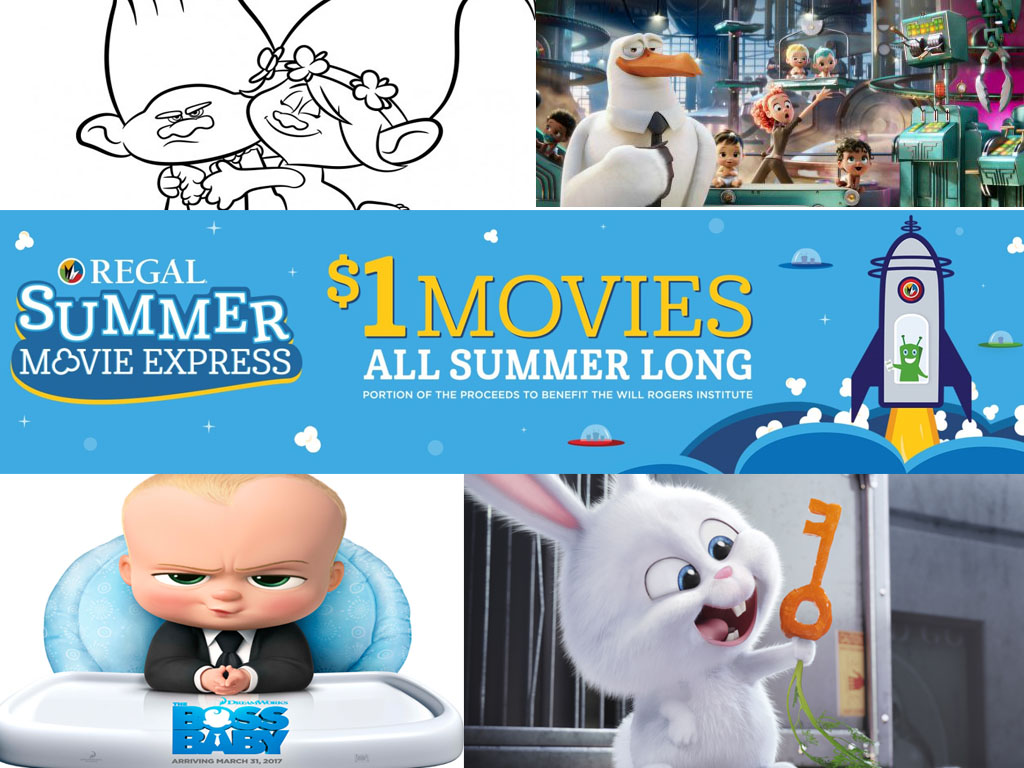 Regal Summer Movie Express is a morning matinee that is a great summer treat for families.  While all the movies are intended for kids, it is always best to check out the schedule beforehand.  Admission to the Summer Movie Express is only $1. Tickets available for purchase at the box office and all movies start at 10:00 am. There are two movies to choose from.  Both movies play on Tuesday and Wednesday.
This Summer Movie series tends to get very popular.  Sometimes school and daycare groups bus in dozens of kids.  It is a good idea for your family to be there early.  In our area it is quite popular.  We get there about thirty minutes early and find that is plenty of time.  Ask your Regal Cinema employee what they think is best.  Some theaters are sure to be busier or slower than ours.
The Regal Summer Movie Express is nine weeks long.  Dollar movies begin on June 19th.  You can enjoy the series until August 15th.  Over the years we have enjoyed a fun movie and cheap air conditioning most of July and August.  While all of the movies are second run movies, we haven't seen many of them.  Even if we have seen the movie, it is only a dollar, and it is fun to see it on the big screen.
Each Regal Cinema has a different schedule for the 2018 Movie Express.  Make sure to check your closest Dollar Movie Listings. Below is an example of the schedule for our closest theater.  Each theater will have the same movies, but the dates are often swapped.  Remember that both movies play on both days.
Before you go, make sure to subscribe to Highlights Along The Way!  Don't miss any of the fun family friendly entertainment, giveaways, and exclusive sneak peeks.  We offer our subscribers amazing giveaways and fun on a regular basis. We promise not to spam or give out your information to anyone.  Pinky promise!
This is the actual schedule for the 2018 Regal Movie Express for San Diego – please see the link for your closest theater's schedule.  This is an example of our closest Southern California theater.  As in year's past, each week has TWO choices!
Week 1 Tue. Jun 18 to Wed. Jun 19 Lego Batman Movie  / House With A Clock In Its Wall
Week 2 Tue. Jun 25 to Wed. Jun 26 House With A Clock In Its Walls / Paddington 2 
Week 3 Tue. Jul 02 to Wed. Jul 03  Despicable Me 3 / Dr. Suess' The Grinch (2018)
Week 4 Tue. Jul 09 to Wed. Jul 10  LEGO Movie 2 / How To Train Your Dragon: The Hidden World
Week 5 Tue. Jul 16 to Wed. Jul 17 Smallfoot / Secret Life Of Pets
Week 6 Tue. Jul 23 to Wed. Jul 24 LEGO Movie / Captain Underpants
Week 7 Tue. Jul 30 to Wed. Jul 31 Sing / How to Train Your Dragon 2
Week 8 Tue. Aug 06 to Wed. Aug 07 Penguins of Madagascar / The Boss Baby
Week 9 Tue. Aug 13 to Wed. Aug 14  Kung Fu Panda 3/ LEGO Ninjago Movie
Week 10 Tue. Aug 20 to Wed. Aug 21  Trolls/ Minions
Week 11 Tue. Aug 27 to Wed. Aug 28 Madagascar / Shrek 2
Week 12 Tue. Sep 03 to Wed. Sep 04 How to Train Your Dragon / Storks
Below I am keeping last year's schedule because many of these movies we included printables and other fun that you can still enjoy even though the movie line up is outdated =) Enjoy!
Week 1 – Tue. Jun 19 to Wed. Jun 20 
Storks /Mr. Sherman and Peabody
Storks note – (As a family through adoption, we weren't fans of this movie – read why)
Week 2 – Tue. Jun 26 to Wed. Jun 27 
Despicable Me 2  / How to Train Your Dragon 2
Free printable coloring sheets and activity sheets for How to Train Your Dragon 2
Free printable coloring sheets for Despicable Me 3
Week 3 – Tue. Jul 3 to Wed. Jul 4 
The LEGO Movie  /Alvin & The Chipmunks
FREE Printable The LEGO Movie activity book!
Week 4- Tue. Jul 10 to Wed. Jul 11 
Sing! / The Peanuts Movie
Sing wasn't our favorite – but here are some FREE Sing Movie Printables
Free printables for The Peanuts Movie
Week 5 – Tue. Jul 17 to Wed. Jul 18
The LEGO Ninjago Movie / Ferdinand
Read about the press junket for The LEGO Ninjago Movie here
Here are some FREE The LEGO Ninjago Movie Printables
Week 6 – Tue. Jul 24 to Wed. Jul 25 
Secret Life of Pets / Alvin and the Chipmunks the Squeakquel
Week 7 – Tue. Jul 31 to Wed. Aug 1 
The LEGO Batman Movie / Trolls
Trolls was one of our favorite movies! Here are some free Trolls printable coloring sheets!
Week 8 – Tue. Aug 7 to Wed. Aug 8 
Minions / Boss Baby
Boss Baby Free coloring sheets
Week 9 -Tue. Aug 14 to Wed. Aug 15
Paddington 2 / Captain Underpants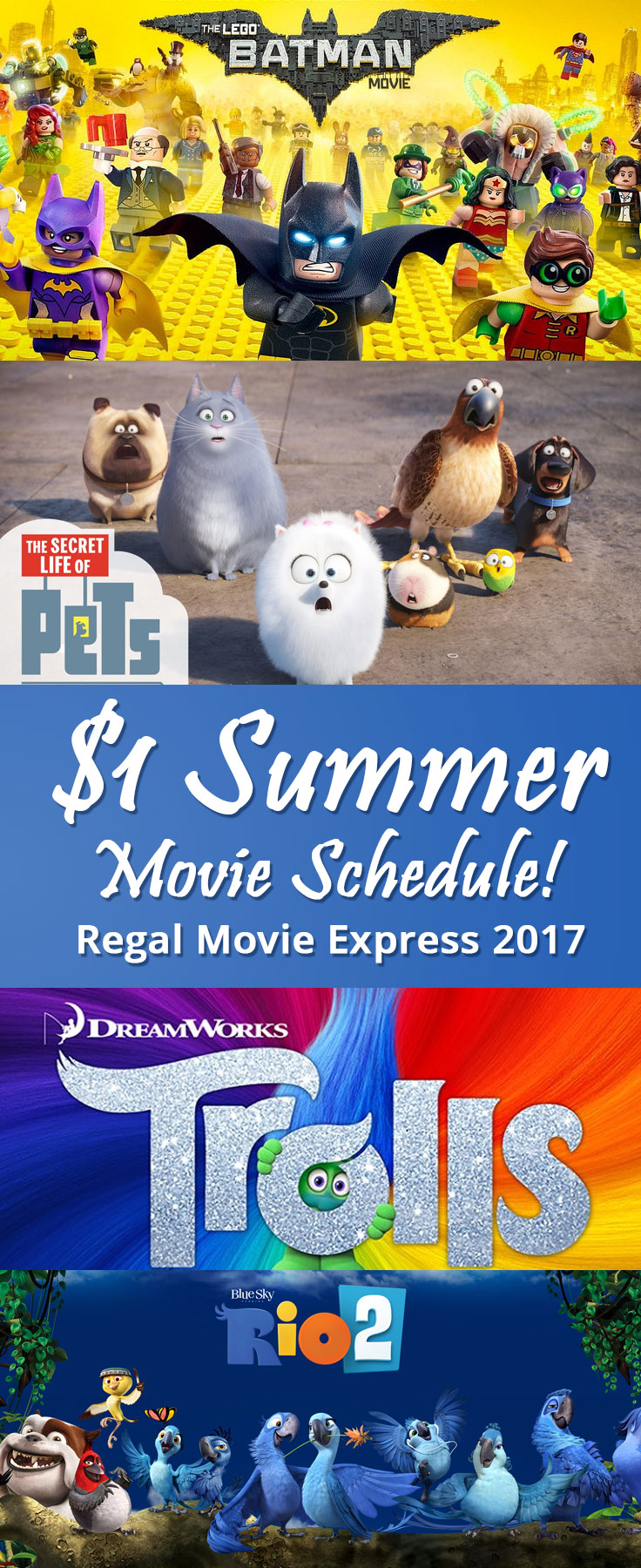 We love that this fun summer outing is also a fundraiser for a good cause. A portion of the proceeds goes to the Will Rogers Institute.