Rob Marshall on making Mary Poppins Returns
Disclosure: #MaryPoppinsReturnsEvent was hosted by Disney. Opinions are my own.
Rob Marshall is the talented director that took on the insane task of bringing us a Mary Poppins sequel. Mary Poppins Returns hits theaters in just a couple days and I can't believe it is almost here! As you know, I was able to get a sneak peek at Mary Poppins Returns at the red carpet World Premiere and it is magical! Read my Mary Poppins Returns Review here. I was also able to interview many of the actors and film makers from Mary Poppins Returns. Today I am thrilled to share the highlights of our interview with Rob Marshall. Get ready to be encouraged and inspired!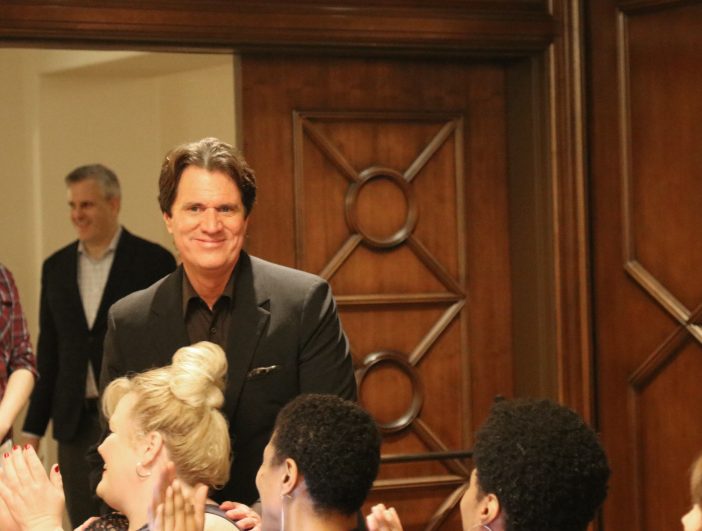 If you have been following our blog for a while, you may remember this is actually the second time I have been lucky enough to sit down with Rob Marshall.  I was thrilled to interview Rob when Into the Woods hit theaters back in 2014.  He was as gracious and inspiring as he was 4 years ago.  From the moment he walked in he was all smiles.
Mary Poppins Returns Printable Coloring Sheets!
As he sat down he said our group is his favorite; "Thank you. Thank you so much.  You know I've said this to Leslie, my Publicist, it's always my favorite moment to be with you guys.  It's a whole different experience so thank you." Awe, you are welcome Rob Marshall.  At the end of the interview he told me I looked "So much like Emma Stone." which I found even more flattering, so obviously Rob Marshall is 100% winning in the competition of the my favorite person award…. but maybe back to the interview….
Many of the actors humbly shared that they were unsure of their singing and dancing abilities.  They all shared that Rob Marshall was one of the most encouraging directors in the business. He shared his philosophy, which we all found quite refreshing.
"You know it's sort of interesting when I work with Actors I really find they need to feel positive reinforcement you know and it's such a simple thing to do.  It's like being a really good parent you know.  And I try and achieve that when we're working you know. 
For instance Ben Whishaw, who plays Michael Banks, he's never sung before you know.  He was sort of nervous about how do you do that and I always feel that people can do so much. It's just feeling that they can and knowing that they can.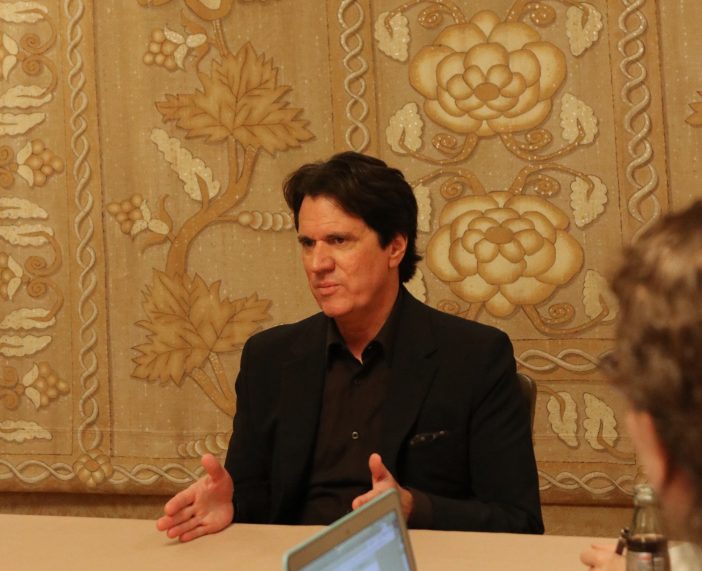 I like to protect them in rehearsals when you know we had over 2 months of rehearsal.  So it was during that time that you know you can fail and be bad you know and then learn to get better and, and not feel judged.  That's a really important thing. I like to protect Actors to make them feel they can do things and try things.  And everybody was so nervous on this film because you know we were following that extraordinary film that means so much to me and so much to so many people.  I'm sure everybody in this room. 
And so we knew we were you know doing the impossible, but I honestly felt like if we did it together from the right place with a great respect for the first film and found our own way at the same time then we would at least have done it in the right way you know and then you hope that it works you know."
 FUN FACTS : Rob shared that there were several items replicated and even one item that was from the original film. A snow globe and blocks from the original Banks children's nursery can be seen in the attic.  The kite was also replicated after the original (you can see a "Votes for Women" tail that looks just like the one in the first film).  The only real piece that was used in the original film was a table in the foyer.  This table is usually at Club 33 in Disneyland, but was on loan for the making of the film.
When asked what it was like to work with the legendary Dick Van Dyke, he did not hold back his admiration.
"He's something else.  I mean there's no one like him.  I was so excited and nervous to even call him to ask him to do this you know because he's a hero for me you know.  I mean and that's the Dick Van Dyke Show for me honestly. Chitty Chitty, Bang Bang you know all of it. Bye Bye Birdie, all of it, so you know talking to him he just disarms you immediately.  He's so joyous and it's just sort of who he is and he said yes so quickly.  He was excited to be part of it. And when he came onto the set he honest to God grabbed my arm as we were walking on.  He said, "I feel the same spirit here on this set that I did you know in the first film." And I thought okay well that's everything.  That's all I need to hear. That was everything for me to hear that from him."
He shared that the most magical moment that actually made him cry on set was a monologue with Dick Van Dyke.
"I will say when Dick Van Dyke does that monologue to the kids where he tells the story about Michael as a little boy and the toppins and so all of that and you hear Feed The Birds.  I will tell you now that when I shot that scene, I like to work with music. So I had Feed The birds, the music, in my ear and I'm watching Dick Van Dyke and I have him in my ear too and he's delivering this monologue and I honestly broke down.  I couldn't breathe and I couldn't say cut. I couldn't say it. I just could– nothing came out.  I was so moved.  I mean I think Emily said cut or something. [LAUGHS] I think that's it, that's it because I just couldn't believe my life had come full circle.  From a 4 year old boy having–seen the film with Dick Van Dyke there, hearing Feed The Birds, watching him say that.  He's in our film 54 years later as a 91 year old man.  I mean that's just magic to me. It was total magic, I'm still not over it."
Many know that Rob Marshall is an incredible choreographer. Mary Poppins Returns has some amazing dance numbers that are unlike anything we have seen in a long time.  He shared about what went into the making of the incredible dance numbers.
"I grew up in the era, I worked with Michael Bennett and Fosse and Jerome Robbins, that's my time.  But Mark Breaux is a huge influence on me too because of his work in Mary Poppins, his work in Sound Of Music, his work in Chitty Chitty Bang Bang, Dee Dee Wood.  You know I feel like those Choreographers live inside me that work. That's the style of dance I did as a Dancer when I started and John deLuca too.  John deLuca worked with Bob Fosse and was in Bob Fosse's Dancin'.  And so all of that is in our– it just becomes part of you.  And so it was never an intentional sort of let's do that or this or that, it just comes out of us."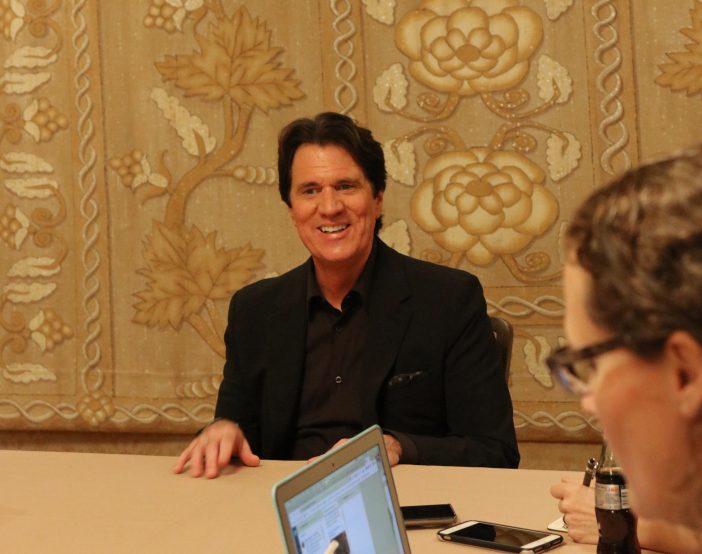 He also shared about the animation sequence.  Most people know that traditional hand-drawn animation is almost a thing of the past.  Rob Marshall made the decision to make the animation in one scene hand-drawn to mirror the original.  It was so fun to hear him talk about the making of the animation in Mary Poppins Returns.
"That (the animation) really because that was the most challenging part of the whole film-making and it's the first thing we shot, right away, because the Animators– you know it's all hand drawn animation, every frame.  So we needed to get that material to the Animators right away.
And the reason our post production was I think close to 14, 15 months was because of the hand drawn animation.  They needed that time.
You know I would say the majority of them came out of retirement to do this.  It's kind of a lost art, although I have just to say I was somewhat hopeful because a lot of the Artists there really were also in their 20's who were more interested in working on the hand drawn animation than the computer generated work.  So that was really good."
He also shared that because there was live action within the animation scenes had to be shot multiple times!
"And so you know putting that together we started with the musical number Covers Not The Book and we had to shoot it like literally 3 different times.  So the first time you shoot it you shoot it with Mary Poppins.  Let's just for instance, say Mary Poppins and the Penguins that section. So it'll be Mary Poppins and then we would have Reference Dancers being the Penguins. And then we would take them out and she would dance alone and pretend they're there.  And then I would take Mary out and put just the Penguin, Reference Dancers in so that the Animators would know exactly how, so all that's very specifically choreographed. You know 'cause I wanted to be able to control the choreography of even that. So the layers of it were so complicated you know.  You walk into a huge green room and everybody's– you know I'm trying to pretend that they're in a carriage.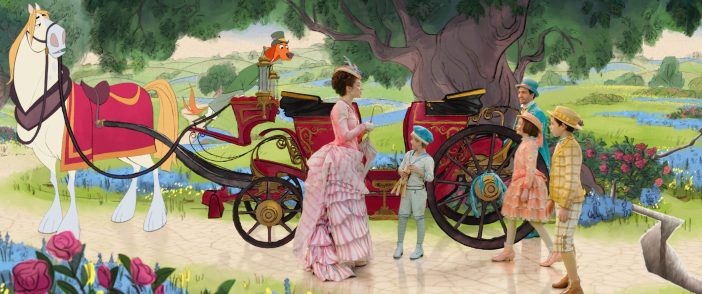 You know the carriage isn't moving because it's background, but the kids have to have an eye line that watches like a big giraffe go by.  And we have this huge Giraffe, for instance, on a pole just walking it past to the kids are imagining it. Everybody had to really launch their imagination to see what it was gonna' be. But I don't think anybody quite expected what it was going to end up being until they saw it.  And that was mind blowing for Lin and Emily and the kids.  They were blown away by, "Wow that's what we were doing you know.""
One person asked if there would be another sequel, that there are 8 Mary Poppins books after all.
"You know of course I'm just sort of holding my breath to see how this movie's embraced, you know hopefully, and how it does.  And if you know people accept it and are excited by it. And if it does I think there will be talk about it 'cause there is a lot of material.  You know we walked through it and cherry picked what we thought were the best adventures that we could musicalize and create like a set piece to. But I will say there was a lot left on the table as we were working through that. She definitely can visit other families and other you know there's other stories there for sure you know.  There's a lot of Star Wars stories.  There can be a lot of Mary Poppins stories."
This needs to happen. I need there to be a Mary Poppins franchise that parallels the Star Wars franchise. Mary Poppins Returns opens in theaters everywhere on December 19th.  Audiences are already excited so it is a good idea to grab your tickets early!  Purchase your tickets through Fandango and skip the lines! As always, thank you to Disney for having me along for #MaryPoppinsReturnsEvent – it was practically perfect in every way!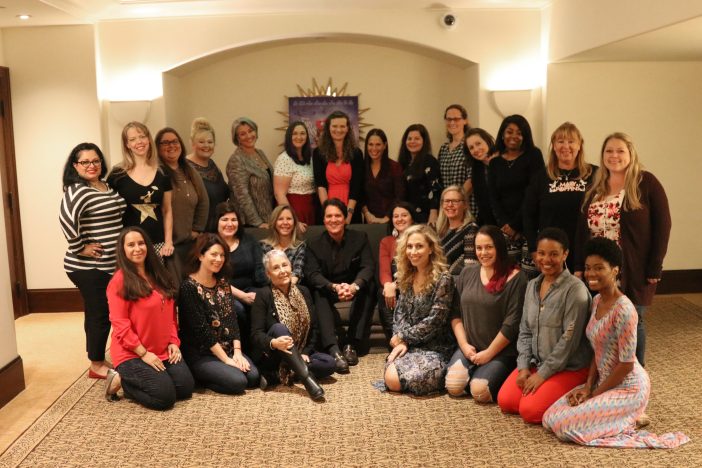 Thank you to Rob Marshall and to Disney for having me!
*Photos by Disney and WhiskynSunshine and used with permission*