10 ways to save at the San Diego County Fair
The San Diego County Fair is one of the best things about Summer in San Diego!  The Del Mar Fairgrounds are getting ready for the fair. There are new fun things to experience, and old favorites we look forward to every year.  The SD Fair can be a splurge for sure, but there are always deals to be found! Here on San Diego Deals and Steals we like to find discounts to help you stretch your budget. Here is an updated list to help you plan a budget friendly trip to the San Diego County Fair in 2018!
The San Diego County Fair is a tradition for so many! Growing up in North County San Diego I have many fond memories of what was once "The Del Mar Fair".  We love to share budget saving strategies here on San Diego Deals and Steals. Here are ten ways to save at the San Diego County Fair.
Here are 10 ways to save so you can splurge! (Updated! We actually have more than 10 ways!)
Go EVERY DAY!
The "Best Pass Ever" is really the best deal if you plan on going to the fair more than once. For just $28 you can enjoy the fair every single day.
FREE tickets for the Kids!
Kids get in FREE – There are so many opportunities for kids to get in FREE! Kids ages 5 years and younger are always free! Kids up to age 12 can get a free ticket simply by reading! (Printable certificate for your teacher is in the link).  On June 27th all kids 12 and younger get in FREE! Kids can also enter contests for a free admission the day of! Make sure to check out the link for info on kid's meals, ride discounts, and more!
FREE Tickets for Military on the 1st day!
Military FREE day – Grab your 2 free tickets on base for opening day of the San Diego County Fair. Active duty, Reservists, Retirees, Dependents, and DoD employees are eligible. Thank you for your service.
FREE ticket for helping Foster Youth!
 With a donation of new clothes or cash, you will be rewarded with free admission to the Fair between the hours of 11:00AM and 2:00PM on Thursday, June 7, 2018. Your donation will help Mattress Firm help San Diego foster kids!
FREE Teacher & School Staff tickets!
Everyone who helps to educate the next generation are all VIPs in our book, so we want to reward your dedication with a free day at the San Diego County Fair.
School Staff Appreciation Days (NEW!)

Friday, June 15, 2018
Friday, June 22, 2018
Friday, June 29, 2018
Get four free tickets from any San Diego County Mission Federal Credit Union branch* when you present your school employment ID.
Bonus! In 2018, these Fridays also are Kids' Day, when children 12 and younger receive free admission, and we have lots of fun, special things for them to do. So use your free tickets for the "big kids!"
*Tickets will be available starting June 1 at Mission Federal Credit Union, while supplies last. The tickets are not available at the Fairgrounds.
State Employee Appreciation Day (new!)
State civil service employees can get two $6.00 admissions to the Fair on three Fridays (June 8, 15 and 22, 2018)  by showing their State of California employee ID or paycheck stub at the Will Call window at our main Fair entrance (O'Brien Gate).
This offer is valid for civil service employees only. Employees of California colleges, universities and schools qualify for our School Staff Appreciation Days.
Unemployed? No Problem!
Unemployed?  Unemployment Day is on June 13th. Those who can show proof that they are unemployed can get 2 free tickets to the fair to kind of forget about being down on their luck for the day.  Make sure to read up on where to grab free parking and also remember you can pack your own food.  The Fair can be very pricey, but there are several things to do that do not involve an additional charge.
$5 tickets are available!
$5 fair days – There are three days of the Fair where you can get in for only $5!  Tickets must be purchased at Albertsons.
Friday, June 1 (Opening Day; gates open at 4:00PM)
Saturday, June 2 (Gates open at 10:00AM)
Wednesday, June 6 (Gates open at 11:00AM)
College Discount!
$10 tickets for College Students – on June 8th – College Students can get a $10 ticket – an $9 discount!
Groupon!
https://www.groupon.com/deals/gl-san-diego-county-fair-admission-2018

Hot tip! Groupon often has a bonus code for an even greater discount!
Costco!
Costco members – Make sure to check out the awesome package currently available at your Costco.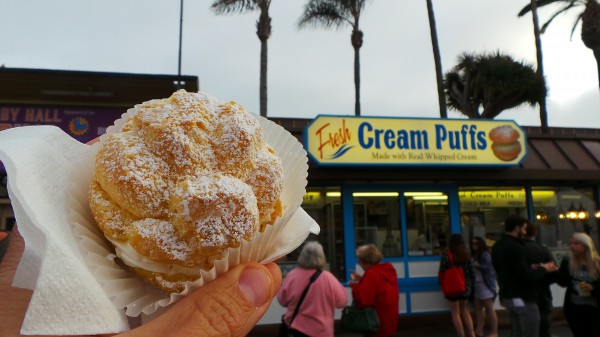 You CAN bring your own food!
Pack your own food! Did you know you can bring outside food into the Fair with you?  We love fair food, but it can add up.  When we go as a family we always bring our own water bottles and also some snacks. This always saves our family of five quite a bit!
Park for FREE!
Park in a free lot!  Don't pay to park.  Our kids actually think parking in the free lot is part of the experience.  Not only do we get to check out horses when we park, we also get to ride a bus! If we are lucky we even get to ride a double decker bus.  The shuttle buses are completely free and run all day and night during the fair.
Believe it or not, there are even more ways to save!  Check out all the discounts available at the 2018 San Diego County Fair! You might be surprised to see how much you can save.  Have a great day at the Fair!
Get ready for treats that will tempt all of your senses at the 2018 San Diego County Fair presented by Albertsons|Vons. Visitors will discover, with kid-in-a-candy-store wonder, just how sweet the San Diego County Fair truly is.
You'll leave the ordinary world behind the minute you step into this magical sweet spot overflowing with opportunities to truly savor summer with the excitement of a wide-eyed kid. Whether it's sampling chocolate bubbling from a fountain, soaking up the glittery ocean views from atop the Ferris wheel, discovering how nature's sweet fruits grow and ripen, or enjoying the Fair's golden-ticket entertainment, your toughest decision will be choosing what to indulge in first!