Avocado "Ice Cream" – EASY, healthy Vitamix Recipe
So – as you already know – we are having way too much fun with our
Vitamix! We also have friends with a small private avocado grove – and they let us pick whenever we come over – free avocados – WHAT?! So with a budget like ours you don't turn down free healthy food and I have been putting them in EVERYTHING!
This past week I have tried a couple variations of Avocado "Ice Cream" – I tried one that involved a can of sweetened condensed milk – I personally was not a fan, the kids liked it (let's be real – 6 year olds pretty much like anything that involves sugar and you put sprinkles on), but I felt it was too much sugar so I wanted to try some other ideas.   Some were too sugary, some were too 'avocado-y' – but we found one that was JUST right!
Just in time for St. Patrick's Day!
This is so easy it might blow your mind.
five ripe avocados
2 cups unsweetened almond milk
1 cup raw organic sugar (I am sure any sugar would do – but this is what we had)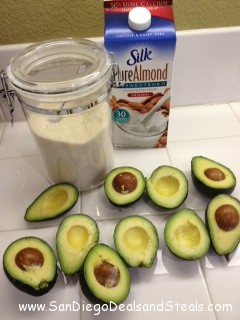 Of course if you have a nut allergy you should avoid almond milk – BUT if you do not have a nut allergy, I found this to be yummier than regular (cow) milk.
Put items in the Vitamix and blend until smooth (about a minute)
Pour into a freezer safe container and freeze for about 6 hours.
There is still sugar in this recipe – but I consider it a pretty healthy dessert choice!
*Note* This was my favorite of the bunch – my kids asked if we could put in one less avocado and a 'teensie' more sugar next time (it was pretty avocado-y in taste!) – that being said, even with that constructive criticism, they both asked for seconds 😉
Pin It to have on hand for St. Patrick's Day, Avocado Season, or just when you are in the mood for something a little wacky!
Enjoy ~ Kate
* We received a Vitamix for review purposes.   All opinions are my own.   All recipes are ours or will be linked to the original.