LEGOLAND Waterpark : San Diego Fun Family Outing!
Disclosure - as stated before - our family was provided with LEGOLAND park hopper tickets in exchange for hosting a running a giveaway as well as feature LEGOLAND in a few articles here on San Diego Deals and Steals. All opinions are my own.
Have you enjoyed a Water Park yet this Summer? If you haven't yet – I wanted to suggest a very fun splurge worthy option! LEGOLAND Water park is an AWESOME Water Park for young families and even for older kids! Our family consists of a 7 year old, 6 year old, and a 2 year old and we seriously could have stayed ALL day.
Our kids are not super strong swimmers but we were pleasantly surprised to see that so many of the features were in shallow water and there were always several lifeguards watching over pretty much everywhere we went! Our first stop was DUPLO Splash Safari! This area has little water slides that kids can go on with a grown up or even by themselves. The water is shallow for wading and splashing for kids of all ages. We love the DUPLO animals – Baby C had to wave "Hello" to every one.
Our big kids really enjoyed going on the Build a Raft River and I was super happy to see that it was only about 2 1/2 feet deep – that was great for walking along side with littles or if kids are in that inbetween stage (like my big kids) – they seemed totally safe (especially with all the lifeguards). Kids do need to be 42 inches to ride in the Build a Raft – so make sure to eat your veggies kids!
The big kids spent a bulk of their time at the Joker Soaker – this was a lot of fun for bigger kids, but you didn't really need to be a strong swimmer as it is mostly shallow water as well. They loved the water guns and how you would hear an alarm sound and that meant a HUGE splash of water was coming from the Soaker!
This is a picture of where I was standing while watching the big kids in the Joaker Soaker area – this photos is completely unedited and taken without any filters – how gorgeous!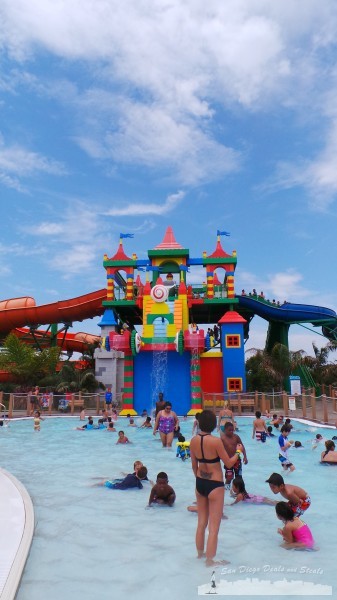 The big kids joined C at DUPLO Splash Zoo for the remainder of our visit. This is a perfect size for little ones and it is out of the way so it is a bit more relaxed for young families. Even though it was built with little ones in mind – our big kids still had a blast – splash grounds are just so much fun!
One of my favorite things at LEGOLAND Water Park is the "Potty Break" Shut down that happens every 2 hours. Every two hours folks gotta get out of the pools for 10 minutes. They can't force anyone to use the bathroom – but they encourage guests to use this time as a potty break. I like to think this keeps the water a bit cleaner – right? It worked like a charm for my kiddies! Remember your swim diapers if you have kids under 3 years old. If you forgot a swim diaper – no worries – they have them available for purchase!
If you are reading this article in August 2013 – make sure to hop over to our LEGOLAND Resort Park Hopper GIVEAWAY! One lucky reader is going to win FOUR Park Hopper Tickets so they can enjoy LEGOLAND themepark, the Water Park, and SEA LIFE Aquarium! How fun!
Have you been to the LEGOLAND Water Park? What is your favorite feature?
*All images are my own and are not allowed to be used without my written consent.*