How to make a Mickey Mouse Club Mouseketeer Costume for Halloween
Last week our family was invited to Disneyland for Mickey's Halloween Party and boy were we excited!   Our only problem was we 'needed' Disney themed costumes in less than a week!   OK, technically we didn't 'need' them – any costume would have worked, but we really wanted to join in on the Disney fun.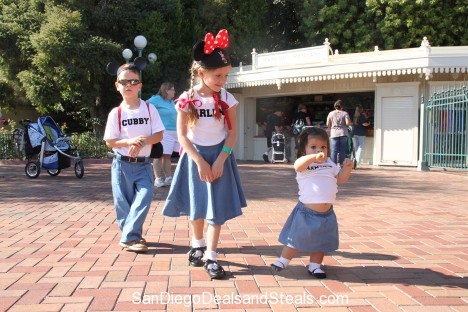 My oldest has pretty much every Disney princess dress, but we wanted to have the kids all match.   We were going in only a couple days and we didn't have time to order a costume, and we hadn't quite budgeted for costume purchases yet – so we were kind of in a pickle.   Grandma Deals & Steals is quite the seamstress – but we didn't want to ask her to whip up something too intricate, especially since the party was only in a couple days.
I was sitting thinking of possible scenarios that weren't going to be too difficult or too expensive and wouldn't you know it – my son bounds into the living room and announces "I am ready for DISNEYLAND with my *dramatic pause* mousketeer ears!"
*Stands proudly, hands on hips, Mickey Mouse ears on his head.*
"Buddy, you are a genius!"
In all honesty – I would have loved to buy this costume from the Disney Store, but they actually do not have a Mouseketeer option, and we wouldn't have had time to order even if it was. Luckily, it is a pretty easy costume to make!
My kids LOVE to watch classic Mickey Mouse Clubhouse episodes and seriously – how cute is they idea of little mouseketeers?!   All we really needed to play the part was the following……
Mouseketeer Ears – check! (already had those from their first trips to Disneyland!)
White tops with classic names across the chest – that can't be hard to make!
light blue pants & skirts – also easy peasy!
Black Mary Jane type shoes for the girls – check! (already had those too!)
So it is pretty easy!   We really just needed to make their tops & bottoms!
For the tops we used white t-shirts.   Our daughter had a plain long sleeved tshirt in her closet that we used, our son's came from Michaels Arts & Crafts – it was a thin t-shirt, but it was only $3!!   We found a three pack of baby t-shirts for only $5.99 at Ross – we used one for the baby's top and she still has two left over for future projects (or jammies!)
When you make your top – you need to decide if you want to use your own name or a classic Mouseketeer name.   We don't really like the idea of our kid's names on their clothing, but we saw many people who did.   I think it added to the fun of the costumes to have classic names and I cannot tell you how many times people said…
"Awwww, look! The baby is Annette! That is SOOOO cute!"
We bought iron on letters (you can get these at any craft store.   Follow the instructions – it only takes a few minutes to make a very cute T!
We saw probably two dozen other honorary Mickey Mouse Club members while at Mickeys Halloween Party – proving that this is classic fun, and not too hard to make.   Most people were simply wearing their Mickey ears and name shirts with jeans and jean skirts and it looked super cute.   Because of my minor OCD (that I inherited from Grandpa Deals and Steals) and my intense love for authenticity when it comes to old school Disney, my mom was kind enough to make the kids skirts and pants that matched and looked a little more old fashioned.   They sure were cute, but if you aren't a seamstress, and you can't sweet talk your mom into it like I did – light/medium blue pants/jeans will get the point across.
One final touch – Mouseketeers wear tap shoes.   Of course we were not planning on wearing tap shoes around the park (or anywhere other than tap class) – but a pair of Mary Jane shoes with BIG black ribbons tied across the strap sure looked like tap shoes.   This really finished off the look!
So there you have it!   Again, if we had more time to prepare, we likely would have purchased a costume from The Disney Store – BUT I am so glad we didn't for this event!   It was a fun badge of honor to have a cool homemade costume at the park during Halloween Time, so I am glad we were part of the handmade costume crowd.   I also love that it was SO easy and so budget friendly!   Once again – if you get the chance – try to make it to Mickey's Halloween Party!   We LOVED seeing all the creative homemade costumes, the cool Villains that only come out that time of year, the dance parties, and of course the Trick or Treating!   It isn't free – but it is one of those 'worth it' splurges!
Happy and Safe Trick or Treating to all!
Kate