Simple and Healthy Egg Salad Recipe ~ Back To School Series
Here is an EASY Back to School recipe that is both simple, healthy, and Deals & Steals kids approved! Over the next couple weeks we will be sharing some easy recipes for lunch boxes and easy recipes for getting food on the table quick on those busy school nights.     This series has been sponsored by the good folks at Whole Foods Market in Encinitas! We are like just about everyone else, we occasionally are just too busy and we gotta grab dinner to go.   We have noticed that with just a little preparation we can save quite a bit and avoid the drive thru.
My kids and I made a very easy egg salad recipe that would be great in a sandwich, as a dip with chips, bell peppers, or celery.   It is inexpensive and contains no mayo! We also packed it with some extra protein and vitamins!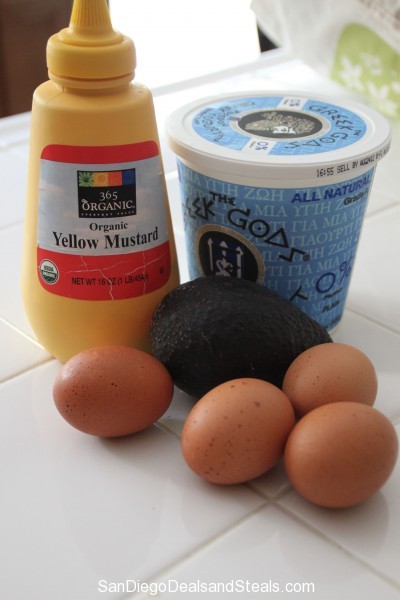 What we used
plain Greek Yogurt (about 2 large spoonfuls – honestly I let my 6 year old scoop it in, I have no idea the actual measurement)
a couple tablespoons plain mustard (my 6 year old did this too – not an exact science.   We used plain mustard, I bet dijon or other flavors would be yummy too)
salt and pepper to taste – again, ask the 6 year old………. apparently I didn't actually do much in the actual preparation of this dish!
So easy – cut up hard boiled eggs, fold in cut up ripe avocado, and in a few spoonfuls of Greek yogurt, squirt in some mustard, dash of salt & pepper and stir to your desired consistency.
I experimented and we had great results!   I normally make egg salad with mayo.
My pants are threatening to give up on me again
It really has no redeeming value nutritionally – certainly less than Greek yogurt
It could spoil in a lunch box (not that other stuff couldn't spoil- and we take proper precautions with an ice pack in their lunch boxes, but still, we try to avoid mayo when we can for that reason too)
We substitute Greek Yogurt in a lot of recipes where we normally would use mayo or sour cream so it was naturally my first choice.   I have friends that use avocado instead of mayo and while I would like it, my kids don't really care for avocado, so I just put in a little.   Combined with the eggs and Greek yogurt they actually really liked it – score!
Next time I will probably add celery and or green onions to the mix.   It was delicious as is, but I love to put more veggies into stuff when I can.   I actually had celery on hand, not sure why we didn't use it – oh well!
We put this on toasted whole wheat bread and had it with an apple and kettle chips for dinner.   It is an easy thing to make ahead!   We will make it as a dip for veggies or chips in lunch boxes but I will also buy firm bread and make sandwiches with it too (I think it needs to be a strong bread to avoid your kiddo having a soggy sandwich by lunchtime)
I also plan on making batches of this to have in the fridge ready to go just to have sandwiches for dinner – toast up some bread and pile it one – easy peasy!   Fancy? Nope – but we never claimed to be fancy 😉   While it was not exactly fancy, it was actually quite healthy!   All our ingredients were from Whole Foods Market in Encinitas and all were organic!   You of course can buy products anywhere, but even at Whole Foods this was a very inexpensive and easy meal!
Don't you love my plates?   Remember this was one of my favorite Garage Sale finds!
We will share a few more EASY and healthy recipes over the next couple weeks too!
Enjoy ~ Kate