THREE St. Patrick's Day EASY Kid Friendly Recipes!
Who here is excited about St. Patrick's Day?   We are!   We love a fun holiday in the San Diego Deals and Steals house!   Here are three green recipes that are super easy and pretty healthy that are super kid friendly!
Make sure to pin them for later and make sure to share with a friend!   Your friends don't need to be in San Diego to love these EASY recipes!
Kid Friendly Green Smoothie – this was the first success in our vitamix as far as our kids were concerned – they love this and it is just a ton of veggies and fruits!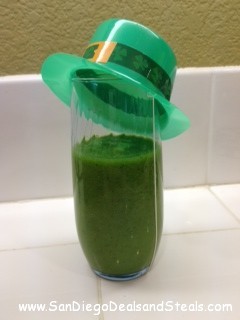 Avocado "Ice Cream" – this involves three ingredients (four if you want to include sprinkles) and it is beyond easy, unique,and is actually vegan!
Have a fun St. Patrick's Day!   I hope these green recipes are as fun for you as they were for us!   As always – I really love when you share these with a friend!   We make it easy peasy to share with facebook, twitter, pinterest, and other sites via the share bar below!
Enjoy ~ Kate