Vitamix Vegan Tortilla Soup Recipe!
As you know by now, we are loving our Vitamix! We are using for fresh made fruit and veggie juice every morning! The kids are LOVING afternoon smoothies! We made Kid Friendly Green Smoothies for St. Patricks Day along with Avocado Ice Cream for a pretty healthy dessert! Oh how I wish I had a Vitamix when we were making baby food purees!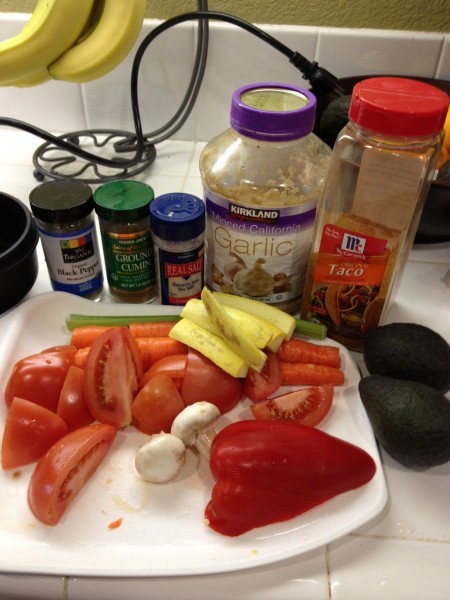 With the weather still having some cozy, soup worthy days ahead I thought I should share some of our favorite soup recipes – starting with one of the most popular recipes you can make in a Vitamix (with a little twist!)
Our family is not vegan, or even vegetarian for that matter. We do however love to make fun and healthy vegetarian and vegan meals often simply because they are so budget friendly – not to mention healthy!
This soup takes about 2o minutes to make – START TO FINISH! Chopping and washing ingredients is included as well as cooking time! For the most part there is very little chopping included as the Vitamix pretty much does that all for you!
Here is a video demo…………..
*Please note again – we used a Vitamix and I cannot speak for other blenders. You will need something very strong to puree these kind of raw veggies! I can only speak of Vitamix blenders – I HIGHLY suggest this only be made in a Vitamix! *
So this is our version of Tortilla Soup in the Vitamix – Vegan Style!
4 cups vegetable broth – we make homemade veggie stock in our slow cooker (recipe to follow) – but of course you can use premade stock. It is important that your stock is at least room temperature – or warmed.
2 Raw Roma Tomatoes – halved
2 Raw Carrots – halved
1 raw stalk of celery
Slice of raw onion (we used a white onion)
Slice of cabbage (we used green cabbage)
Slice of raw red pepper
1 small yellow squash
A spoonful of crushed garlic – you can also just pop in a whole garlic clove (peeled)
3 small white mushrooms (raw)
1 1/2 avocados
Step one – Place ALL ingredients into the blender in order above. The order is fairly important, mainly that the liquid is towards the bottom, this is just to help it all blend appropriately.
Select Variable 1 and move quickly up to Variable 10 and then to high. Now this is where it gets fun! Let the soup continue to blend for at least 5 minutes (we did ours for 8). Blending for this long will actually heat the soup right in the Vitamix!! You will start to see steam come out of the top at about 5 minutes – how cool is that?! This is really where you gotta use a Vitamix! I don't know of any other blender that you can do this!
IF you plan on doing step two – adjust the speed down to Variable Two…….
Step two – Place any/all of the following ingredients in through the top.
Cooked Corn
Tortilla Chips *If you are interested in this being a vegan recipe make sure to double check that the ingredients in the chips are appropriate*
jalapenos
black olives
* The amount you put in (if at all) is totally up to you. I put in maybe a quarter cup of cooked corn and black olives. I also put in a handful of tortilla chips.
*This step is also where you could add in COOKED chicken if you would like…… but that goes against the whole vegan concept…. just letting you know this is where you would do that if you wanted to include chicken.*
Put whatever of the above ingredients sounds fun to you in the top while the Vitamix is still on Variable Two (very low setting) – turn it up to Variable 5 for about 20 seconds and then turn off.
Now your soup is ready to serve! For reals! That is it!
Serve as is or top with some fun ingredients!
Topping Ideas…..
Tortilla Chips (of course!)
Cilantro
Greek Yogurt or Sour Cream (obviously this is for the non vegans of the group)
cheese
green onions
sliced avocado <—– my favorite
The last month I have kept these ingredients on hand and I make a big batch of it and personally eat it for lunch almost every day. It is so easy, and it is so healthy! It tastes creamy without any cream or oil, it is FULL of raw veggies, and it helps me stay on track with my healthy eating! My husband has brought it to work with him and it reheats nicely too. When you make it from fresh ingredients it tastes amazing but it is also SO inexpensive! Most of the veggies are very inexpensive – since we make our own veggie broth it is even cheaper! (that recipe is coming soon I promise!).
Even if you are not a true vegan – try to add in a few vegan recipes into your meal plan each month! Cutting out meat, eggs, and dairy might not be something you can do every day, but it is really cost effective and SO good for your health! Try just a couple days a month – if you find fun recipes like this one you might not even feel like you are missing out!
Enjoy ~ Kate
*As stated before, I received a Vitamix for review purposes. All opinions are always my own. All recipes are something our family came up with in our kitchen or our source will be shared.*