Scary Dog Costumes
Disclosure: Highlights Along the Way is a participant in the Amazon Services LLC Associates Program, an affiliate advertising program designed to provide a means for sites to earn advertising fees by advertising and linking to amazon.com. This site uses affiliate links.
Are you planning on bringing your dog along with you for your Halloween adventure this year? Dogs are the baby of the family; you really shouldn't leave them out when it comes to costumes! These scary dog costumes are perfect for anyone looking to dress their dog up for Halloween. These costumes are not only adorable but also iconic. They're perfect for both horror enthusiasts and people looking to include their dogs in their Halloween fun.
These costumes range from iconic characters like Chucky, Jason from Friday the 13th, and the Demogorgon from Stranger Things. These costumes also come in different sizes, so you can choose which size would fit your dog the best. If you're looking for costumes that are not as scary, be sure to check out our Super Hero Dog Costumes.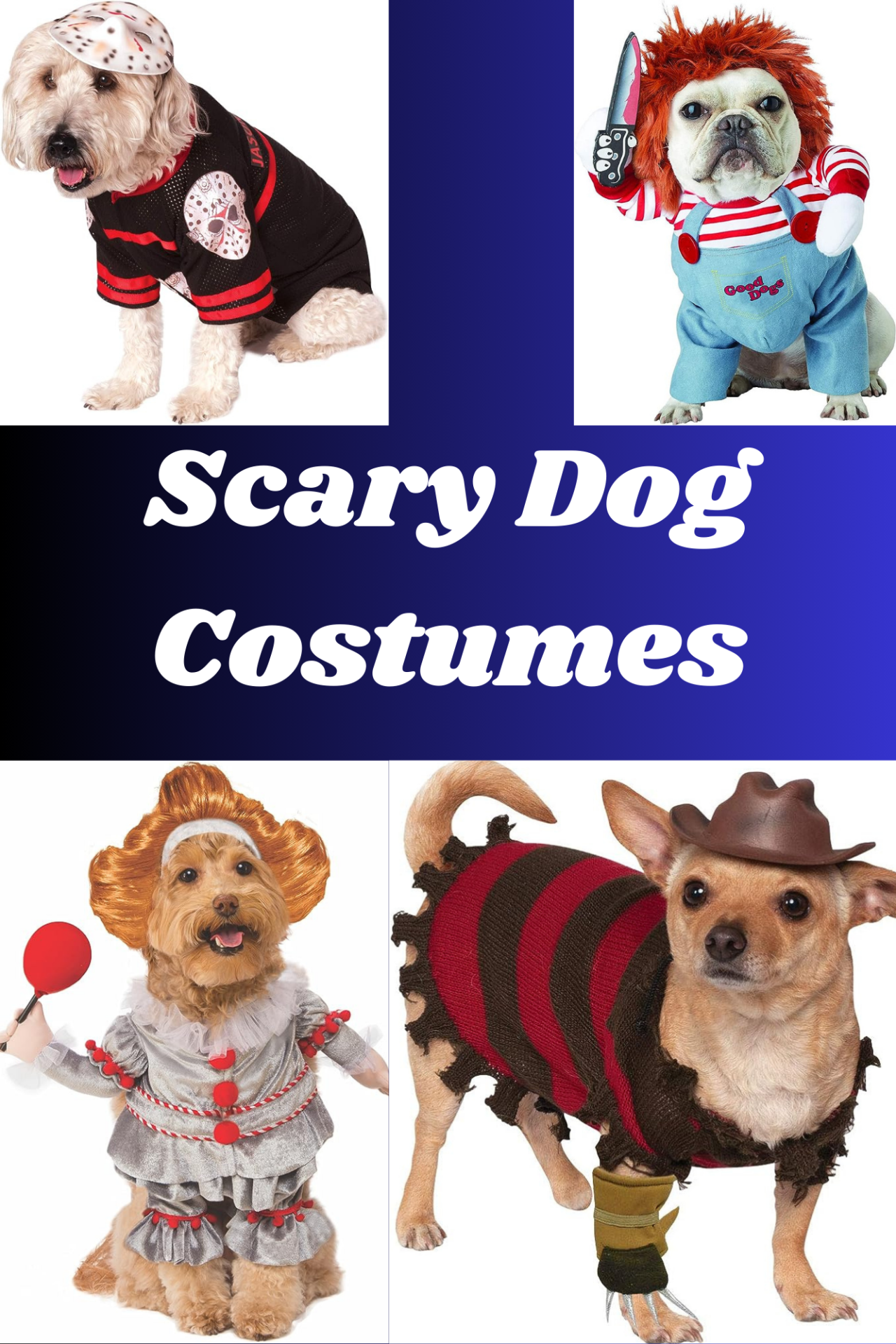 Scary Dog Costumes
This Friday the 13th Jason costume will turn your dog into the iconic character from Friday the 13th, Jason Voorhees. This scary costume features a blood-red hockey mask that will fit comfortably around your dog's head. This costume also includes the black torn hockey jersey that you can get in any size for your dog. Be ready for your dog to scare the unsuspecting campers and have people looking twice at your Halloween party.
Be prepared to turn your dog into your best friend 'til the end, Chucky. This pet-friendly costume captures the iconic look of Chucky. It features the red-haired wig and the striped overalls. This costume comes in multiple different sizes, so it will fit whatever breed you have. This scary dog costume is perfect for Halloween parties, trick-or-treating, and much more. Watch out, because this pint-sized Chucky is ready to playfully terrorize your heart and steal the spotlight at any event! Your furry friend will be the life (or should we say afterlife) of the party, and you won't be able to resist snapping photos of their adorable and eerily accurate portrayal of this classic horror character.
This Freddy Krueger costume will have your dog haunting the dreams of all Trick or Treaters. This costume includes the iconic red and brown shirt, as well as the fedora that Freddy Krueger himself wears. As an added feature to the costume, the razor blade hands are also included. This costume also comes in several different sizes, so you don't need to worry about finding the right size for your dog.
If you're a fan of Stephen King's "IT" look no further than here for a perfect dog costume. This Pennywise costume is as funny as it is scary. With the ruffled collar and fiery crimson wig, your dog will capture the essence of Pennywise perfectly. This costume includes adjustable straps ensuring that you can adjust the fit of the costume. Whether you're looking to join a Halloween party, or just trick or treat, this costume is perfect for all Halloween occasions.
Stranger Things has been extremely popular, and especially with the new season, everyone wants a piece of it. This Demogorogon costume is perfect for Stranger Things enthusiasts looking to include their dogs in their Halloween fun. This costume includes the hat, which is shaped like the mouth of the Demogorgon. It's a simple costume, and there are multiple sizes to fit all dogs. Be prepared to have your dog scare all the citizens of Hawkins!
This ghost costume is a simple, yet scary costume. If you're not a huge fan of big horror franchises, or are just looking for a simple costume, look no further than this ghost costume. This costume has different sizes to fit all dog breeds, so be sure to check out this costume for your dog. It features a one-piece ghost dress with straps to ensure that it doesn't fall off. It's also comfortable for your dog, so your dog will have a great time walking around scaring everyone during Halloween.
Everyone knows your good boy would never hurt a fly, but it sure would be funny for him to be dressed as a killer clown. Introducing the killer clown costume for dogs. Is it scary or is it hilarious? This pet-friendly ensemble channels the eerie essence of a circus clown gone rogue. Whether you're planning to showcase your dog's inner trickster at a costume party or aiming to add a dose of spooky charm to your evening stroll, this killer clown costume will have your pup captivating attention and infusing a spine-tingling twist into your celebrations.
If you're a fan of the Addams Family, this costume is perfect for your dog. With the black suit and white collar, your dog will look just like Wednesday Addams. The tie is removable, so you won't have to worry about having to cut it off or leave it out of the costume completely. This costume is available for dogs of all sizes, so no matter what breed you have, you can have them look like Wednesday Addams in no time.
These scary dog costumes offer creativity, comfort, and charisma that allow our dogs to partake in the Halloween festivities with awesome style. From scary clowns to ghosts and iconic horror icons, these pet ensembles cater to a wide range of tastes and preferences. As we celebrate the season of thrills and chills, don't forget to capture those precious moments of your furry companion donning these spine-tingling costumes, as they bring an extra layer of spooktacular fun to your Halloween gatherings and eerie evening strolls. Embrace the playful spirit of the season, and let your dog's inner monster, clown, or ghost shine through as they take center stage in their hauntingly adorable outfits. With these pet costumes, it's not just humans who get to revel in the Halloween magic – our loyal canine companions can join in on the fun, making memories that will last a lifetime. Also, if you're looking for more dog costumes, be sure to check out these Superhero Dog Costumes!