Schitt's Creek Coloring Pages – Instant Download
Fans of Schitt's Creek, get excited! Today we are sharing printable Schitt's Creek coloring sheets. While we are all social distancing and working very hard at not connecting with people, it is the best time ever to print out coloring sheets from your favorite quirky show. Fans of the Rose family can download a quirky coloring book and contribute to a good cause too!

Schitt's Creek Coloring Sheets
I hope you will love the collection of downloadable coloring sheets celebrating our beautiful friends from Schitt's Creek. Moira, Johnny, Alexis, David, Patrick, and more! Please share with those who love Schitt's Creek in your life. Please share on Pinterest, Twitter, and Facebook – I would love to see what kind of journey this little coloring book can have.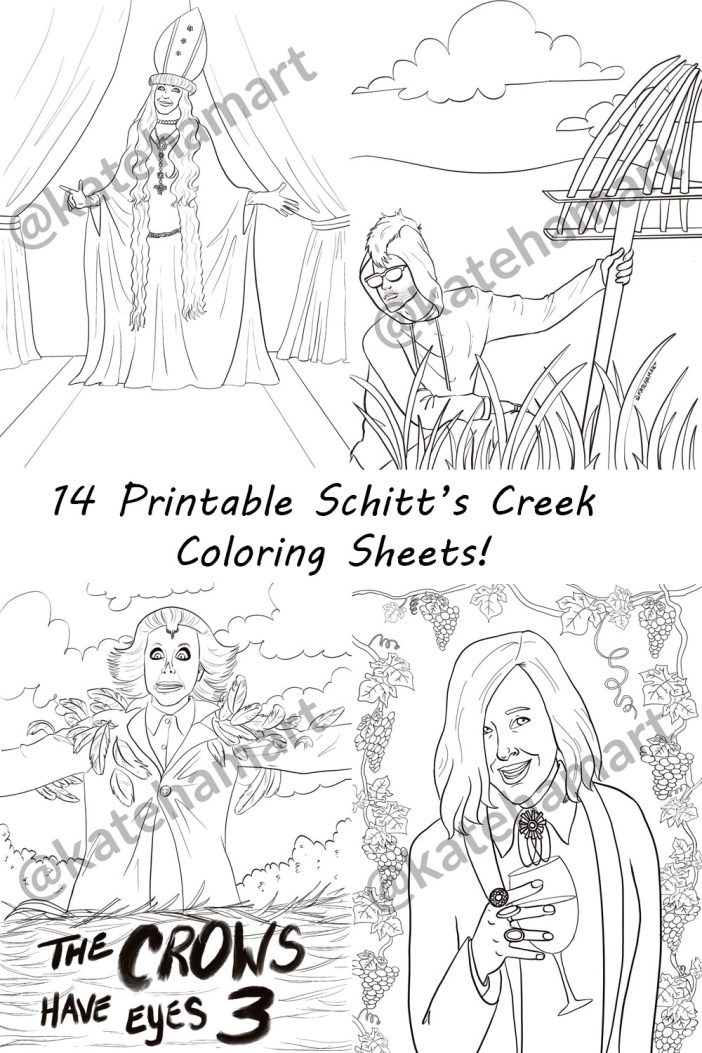 Printable Coloring Sheets for Charity!
For the first time, I am offering a printable coloring book for a small fee. I have never offered printables for a fee before and I truly hope this is well received! One of the first things that worried me about a global pandemic was how so many charities would lose funding. With people losing jobs and a very likely economic downturn, I know that charitable contributions will be down. Our digital coloring book can be downloaded for only $4.99. Payment is easily made with PayPal. Every sale in June we will donate half of every single download. We have chosen the charity The Trevor Project – The Trevor Project is the leading national organization providing crisis intervention and suicide prevention services to lesbian, gay, bisexual, transgender, queer & questioning youth.

Friends and Schitt's Creek fans – I REALLY need your help. First, please spend $4.99 on this coloring book, but also please help me spread the word. Please pass this along. Please share it on social media or pass it along via email to other Schitt's Creek fans. Our blog has a great little community, but not everyone is a Schitt's Creek fan (I know, it is crazy). My fear is that we will sell like 7 sets and then I will die of humiliation. Please don't make me die of humiliation.

Purchase by clicking the Blue "Buy Now" Button Below (make sure you are on a computer, not a phone or tablet)
Schitt's Creek Coloring Book – $4.99 -Buy Now
DOWNLOAD DOES NOT WORK ON A PHONE – PLEASE MAKE YOUR PURCHASE ON A COMPUTER.
Use the PayPal Buy Now button above to make your purchase. You will redirected to Paypal to make your purchase. Once you complete the purchase, you will be brought back to HighlightsAlongTheWay.com to your receipt page that has the download link. PLEASE READ THIS PART. For real. We had a lot of friends buy these on their phone last year and it was a whole thing. PLEASE do this via computer, if you mistakenly purchase on your phone and cannot download, we are not able to manually send you the coloring book.

Thank you so much for your purchase! In June 2020 we sold just over 50 and my goal is to double that this year.

If you are not watching Schitt's Creek yet, you really need to be. Schitt's Creek is a show about the filthy-rich Rose family who suddenly finds themselves broke. They are forced to leave their fancy, pampered lives and downsize. They choose to rebuild in Schitt's Creek, a town that they purchased years ago as a joke. We discovered it on Netflix just a few months ago and we were sold from the start. The all star cast includes Eugene Levy and Catherine O'Hara; so these nerds were all like "Why did it take us so long to discover this show?!"
During the first season of Schitt's Creek I convinced my family to dress up as Johnny, Moira (me), Alexis, David, and Stevie for Halloween. If you are looking for the best Schitt's Creek Fan photo shoot. We were the first, and maybe I am bias, but I am pretty sure we are still the best!
If you are a blogger or writer looking for printable coloring sheets for your blog, magazine, or book, please check out my website Kate Ham Art and follow my growing Instagram account @KateHamArt . Do not hesitate to reach out if you would like me to create printables or book illustrations for your next project. If you or your child colors one of our printables, please share it on social media and tag our page. I will always share printables in our instagram stories and I would love to feature you!