Scooby Doo Room Decor Ideas
Disclosure: Highlights Along the Way is a participant in the Amazon Services LLC Associates Program, an affiliate advertising program designed to provide a means for sites to earn advertising fees by advertising and linking to amazon.com. This site uses affiliate links.
Kid's rooms are so much fun to decorate! Today we are sharing a "Scooby Doo" inspired room. Our groovy kid loves dogs, cartoons, and various shades of blue and other bright hippy colors. Scooby Doo is a classic cartoon that is such a great inspiration for kid's rooms. I think a Scooby Doo nursery would be super fun, but this room is made for our tween. Scooby Doo is a fun room that is really a unisex option and our child is super excited.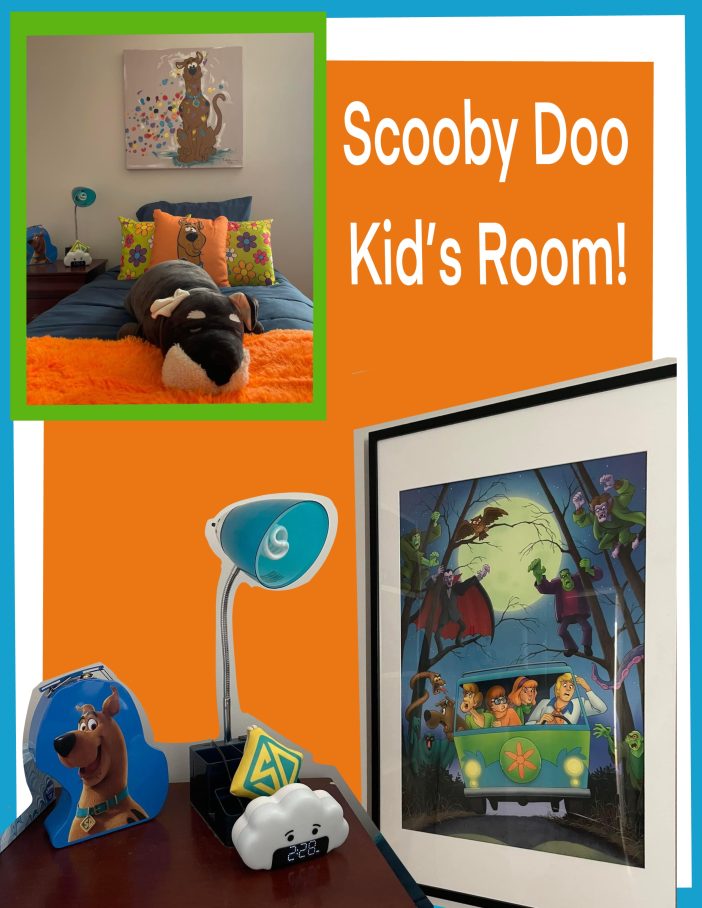 Below are some of the things we used to make a really fun Scooby Doo theme to our rental property room. We were not allowed to paint the walls, but we think that the decor really works. With furniture we already had, her giant dog decor collection, and a few new pieces, we were able to make a great room for our tween.
While there is no end to Scooby Doo themed products, we didn't to just buy things with a Scooby Doo picture on it. We relied on things we had, colors, a few Scooby themed items, and things that brought out a hippy vibe. We hope that these ideas inspire your Scooby Doo room, but make sure to add your own personal touches.
Scooby Doo Room Color Scheme
Scooby Doo is a little spooky and often the adventures happen at night time. Make sure there is some dark blue in your color scheme. The iconic 'Mystery Machine" is bright teal, green, and a very groovy orange. We made sure to lean into the dark blue as well as bright cartoony colors when developing our room.
As always, we work with what we have. We did not want to purchase any new furniture for her Scooby Doo dog themed room. We also had a large poster print of the whole Scooby Doo cast that we knew we needed a poster frame for. Our daughter loves blue and already had a navy blue comforter. She had a pink oversized "C" to hang her backpack, but everyone who knows her knows she is no friend of the color pink. Her room was kind of boring, but we knew we could really make it groovy with a little bit of creativity.
Our daughter had a twin bed, a white dresser, white bookshelf, a white and orange desk (freebie on our local 'buy nothing group'). a teal desk chair (also a buy nothing freebie!), and a dark wood side table (also 'buy nothing'). We had no interest in purchasing new furniture, so we are working with this! We will eventually paint her side table, but for now, we just put it behind the bed so the fact that it does not match is not a problem! Her comforter and curtain are both navy blue. Let's get creative!
We found a couple little Scooby Doo themed items – a Funko Pop, a pencil box, and a little key chain at another local thrift store. Always keep your eyes open. Sometimes you get lucky!
Scooby Doo Homemade Artwork – $14 and a little time!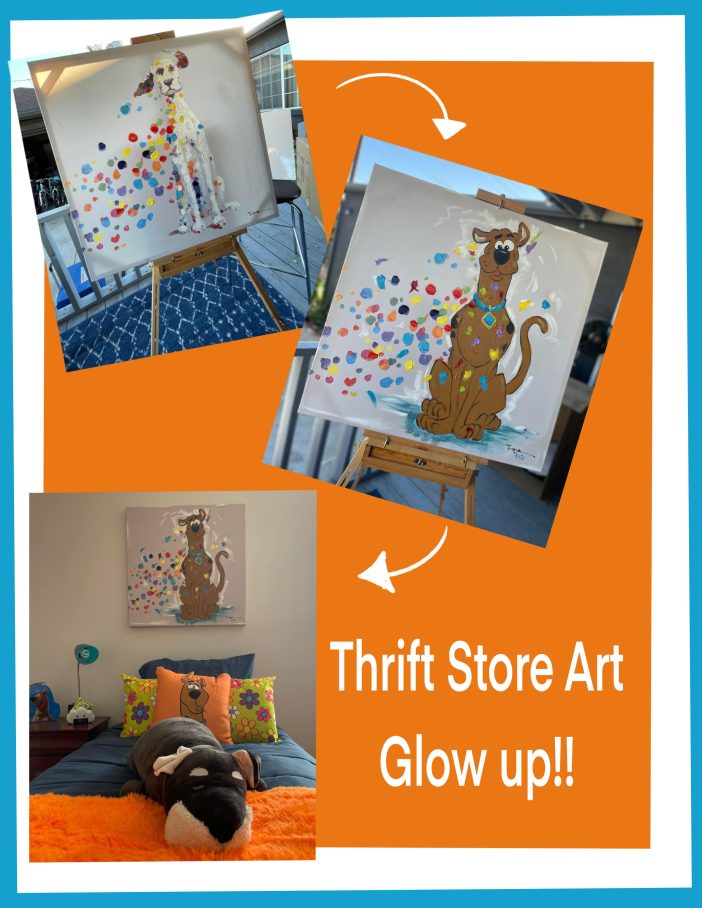 I have always wanted to 'glow up' a thrifted painting. My husband and I love to thrift and I have always said I am going to make a rescued painting into something new. We found a large square gallery-wrapped canvas painting of a dog at our favorite thrift shop "Out of the Closet". While we often go to Goodwill, we really prefer actual charities and try to go to those shops as often as possible. This print was in good shape and had a dog with splotchy paint all over the canvas. The thrift store wanted a very fair $14 dollars for this large canvas print, which was less expensive than a blank canvas. I purchased the print knowing I would be covering the original dog image with Scooby. The painting took a couple hours with acrylic paint. It was so much fun! Unfortunately I cannot link this one of a kind homemade Scooby Doo painting, but I hope it may inspire you to get creative as well.
The rest of these fun items are linked to our Amazon affiliate store. We curated this list with items we also purchased. Our blog does have an Amazon affiliate link meaning we will receive a small commission if you purchase any of the items below from our link. Affiliate links never cost the buyer a penny more, but it helps pay for the upkeep of this blog. This post was in no way sponsored, so we truly appreciate your purchases!
Scooby Doo Room Decor to Order Online
Scooby Doo Poster – already had it in the garage – just bought a poster frame!
We purchased this limited edition Scooby Doo print for an unknown reason before we even had kids. Now we know, it was the perfect inspiration! The one linked here is similar to our poster. This one comes preframed and ready to hang. There are several other fun Scooby Doo art pieces, but this one is a great price point.
Groovy Rug for the reading corner – $30
Bright Pink and Orange in a small spot of the room works great!
Small bean bag chair – $52
This was perfect for her little reading area. Sometimes they are on sale. We bought her one in her favorite shade of blue for $52, shipped!
Letter Back Pack Hanger – $0 – already had it and used paint we already had!
This used to be Pink and a coat of the 'Mystery Machine Blue' paint took just a minute. It will surprise nobody to hear that this little wall hanging was purchased at a garage sale and used to hang in her very pink toddler Minnie Mouse Room. I believe I paid a quarter for it! Always shop second hand first and always use what you already have.
Obviously a shag rug in teal blue makes her room cozy and comfy. We bought it on sale for only $25 – shipped!
We opted for one Scooby Doo themed bedding item
This was a set of two and the colors were perfect!
We put this faux beaded curtain over her blue curtain for just a little whimsy
Glow in the dark dog paw print stickers
These stickers are SO inexpensive and easy to stick and peel off. Glow in the dark paw prints seemed pretty perfect for our friend Scooby Doo. We put a few on her closet door and she added a few later when she came home to the room reveal!
We are all tired and I think we need a Scooby Snack! As soon as every piece comes in we will be sure to share a full reveal here. Until then, we'd love to see your Scooby Doo inspired decorations.
Don't miss our other cute room makeovers! We love to create rooms inspired by cartoons and movies. We hope you like them!
Disneyland Themed Kid's Bathroom
Disneyland themed Unisex kid's room